---
I wasn't originally going to write about my transit in Jakarta, though it ended up being more of an adventure than I had bargained for.
It was also one of the more challenging transits I've had. I'm a firm believer in always being overly friendly to front-line staff, because I tend to think you get the best results by treating people the way you want to be treated. Well, during this layover I almost lost it. Almost.
My flight from Hong Kong landed at 8:05PM, and my Japan Airlines flight to Tokyo Narita was scheduled to depart at 9:25PM, leaving me 80 minutes to transit. That seems like a comfortable enough connection, though doesn't leave much room for error. I didn't yet have my boarding pass for my flight to Narita, so upon deplaning headed to the transit desk to hopefully get it issued.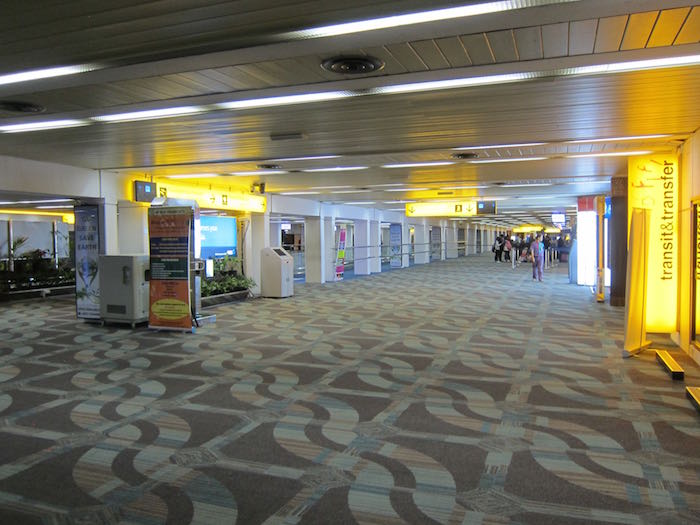 Jakarta Airport arrivals hall
As luck would have it, the transit desk was not far from my arrival gate. There were two transit desks — one on the left side of the concourse, and one across from it on the right side of the concourse.
Both transit desks had signs for which airlines they serve, and the desk on the left clearly stated it provided ground handling for Japan Airlines.
There was no queue and there were four agent staffing the desk — my lucky day, eh?
I guess I should start by clarifying what I mean by "staffing the desk." There were four people sitting at the transit desk — two were watching TV with headphones in, while the other two were playing games on their phones with headphones in. I literally had to wave to get their attention.
The conversation went something like this:
Me: "Hi, I'm booked on JL726 to Tokyo Narita and was hoping you could issue my boarding pass?"
Agent: "Which airline you arrive on?"
Me: "Cathay Pacific."
Agent: "Then you use other desk over there."
Me: "Sorry, to clarify, I'm booked on the Japan Airlines flight, and the sign says that you do transit for Japan Airlines."
Agent: "No. You arrive Cathay Pacific, you go to Cathay Pacific desk."
Me: "I arrived on a separate ticket. This ticket I'm flying is all Japan Airlines, so why would I use the Cathay Pacific desk?" (which was mostly true, given that the previous segment was part of a one-way, and this was the start of a new one-way)
Agent: "You go over there."
Okay, fine, so I went over to the other desk, except it wasn't staffed. But I figured I'd wait a few minutes. After five minutes I decided to go visit my friends at the other desk again.
Me: "There's no one at the other desk. Do you know when they'll show up?"
Agent: "Soon."
Me: "Do you know how soon? My flight is in a bit over an hour."
Agent: "Oh you don't fly tomorrow?"
Me: "Ummm… no. I'm in transit. I fly tonight."
Agent: "Okay, just keep waiting."
Me: "Do you think you could maybe call someone and see if they can send someone to that transit desk?"
Agent: "No, just keep waiting."
As I said at the beginning of the post, I do everything in my power to be nice, but this was the point at which I started to get a bit irked, and I wasn't as friendly as I'd usually be.
Me: "I'm sorry but you guys are all sitting here playing games and I have a flight that leaves in an hour, and I'm waiting on someone that may or may not show up. If you're not willing to make a phone call, can you please get your supervisor?"
Agent: "I already tell you, Japan Airlines not our job."
Me: "Then you need to get your sign changed, because it clearly says you do the transit desk for Japan Airlines."
So I go back to the other desk and keep waiting. And waiting. And waiting. I'd be lying if I didn't say my blood pressure was progressively increasing.
After another 10 minutes I went back to the other desk, and very firmly told them that they were going to need to help me. And once I was firm they finally made a phone call, and a few minutes later a representative showed up.
He said "the other desk is supposed to do this, but I will help."
He took my passport and left me standing there for about 15 minutes. That's not the most reassuring feeling in a foreign country when your flight is about to depart, but it's not like I had another option. After about 10 minutes he returned and said I needed to pay him so he could pay the visa fee. So I gave him $20, and he returned 10 minutes later with my boarding pass.
At that point he walked me through a roped off area and I found myself in the departures hall. The departures hall was sort of cute in a rundown way. It felt like a cross between the Honolulu and Bali airports.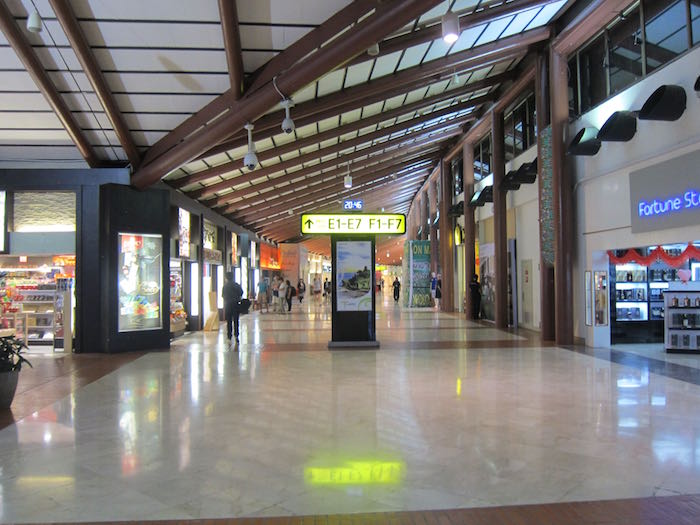 Jakarta Airport departures hall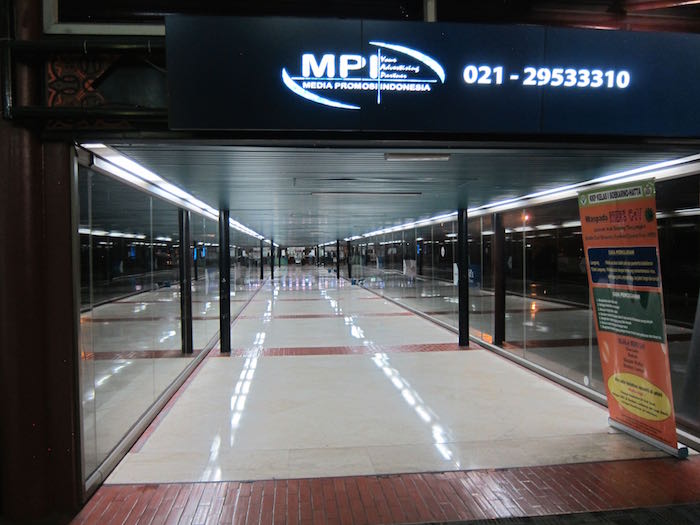 Jakarta Airport departures hall
We headed towards gate D7, where my Japan Airlines flight was departing from.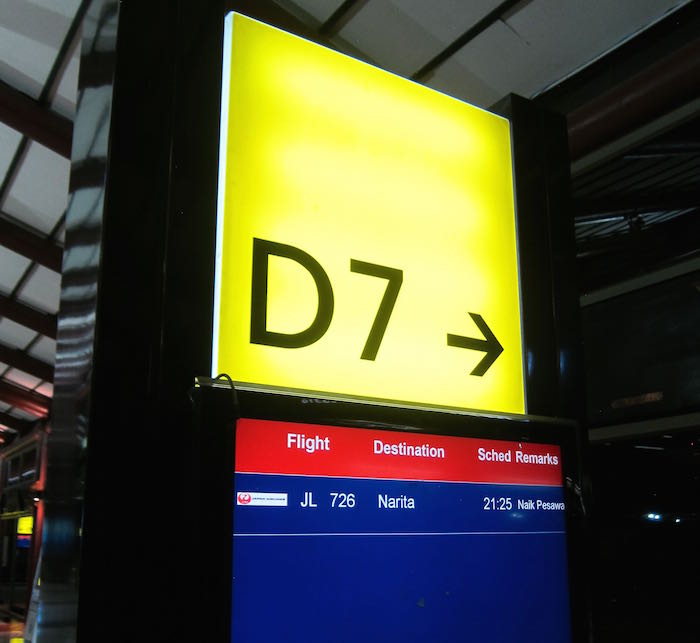 Jakarta Airport departure gate

The gate area was super-cool, with high ceilings.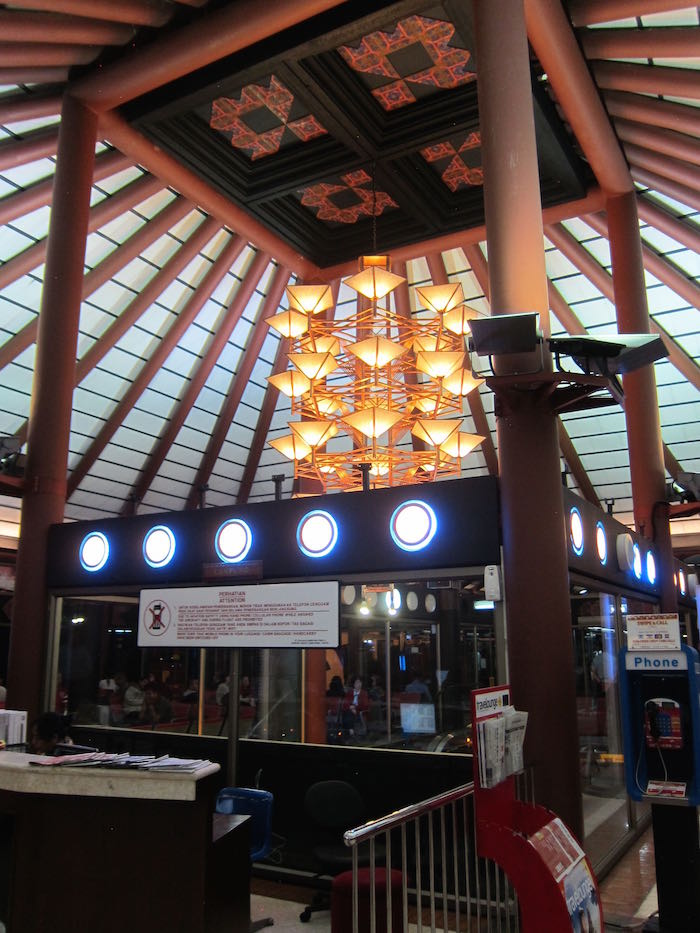 Jakarta Airport departure gate
Boarding was already underway, so I proceeded right aboard.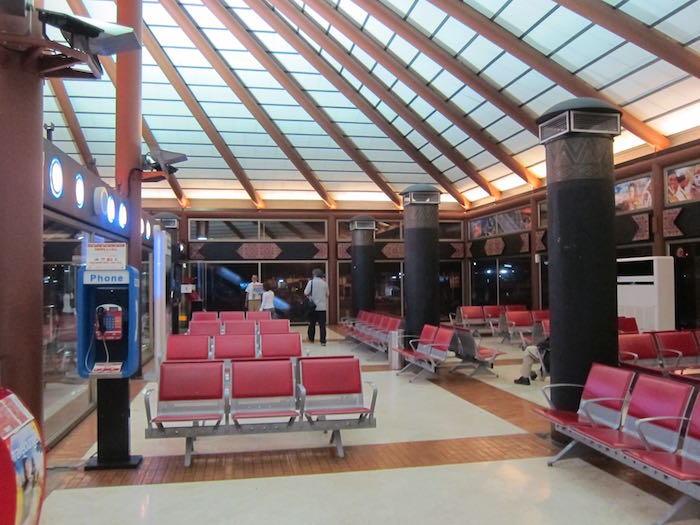 Jakarta Airport departure gate
Bottom line
This was one of the more complicated transits I've had in a while. It still wasn't a big deal, but ultimately I'd always much rather be the nice guy than the firm and pushy guy, though I had to be the latter towards the end.
All's well that ends well, I suppose!
Fortunately what was awaiting me for the next 24 hours was nothing but blissful, over-the-top, beyond accommodating service.
Have you transited Jakarta Airport? If so, what was your experience like?