Back in August I stayed at the InterContinental Chicago O'Hare on United's dime, since I got bumped off my United flight and they put me up there. Despite being on a heavily discounted airport accommodation rate, they gave me a junior suite and honored all Royal Ambassador benefits. I was insanely impressed by the hotel, especially since it's an airport hotel. Check out my full review here (and note that this review will build on that one, and not be comprehensive).
This time around I was in town for a FlyerTalk dinner, and the advanced purchase rate for this hotel was $89. The Priority Club website already showed me as being upgraded to a one bedroom executive suite prior to my arrival, which was even a step up from the amazing room I received last time.
I arrived at the hotel at around 8AM (just after my early morning flight from Tampa landed), and was the only one at check-in. I presented my Royal Ambassador card and credit card, and was instantly thanked for being a Royal Ambassador. The agent informed me that my "very nice suite" wasn't ready yet, though he had a holding room available for me, room 559. As I blogged about a couple of days ago, guaranteed 8AM check-in and 4PM check-out is one of my favorite perks of being a Royal Ambassador. He also reminded me that I had free internet, a free in-room movie, and free minibar consumption.
I proceeded up to the standard room on the 5th floor that I was assigned, which was incredibly nice. Like I said, this is the nicest airport hotel I've stayed at. The room was bright, nicely decorated, and felt "fresh."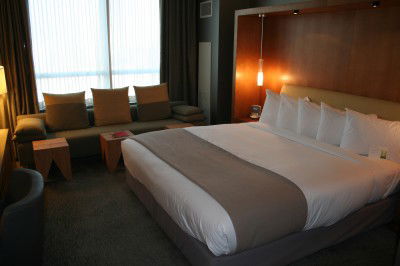 Holding room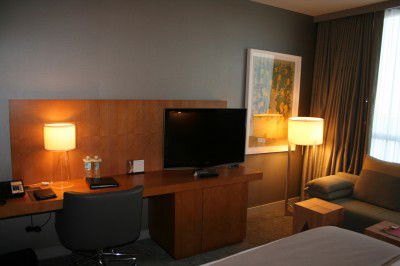 TV and work desk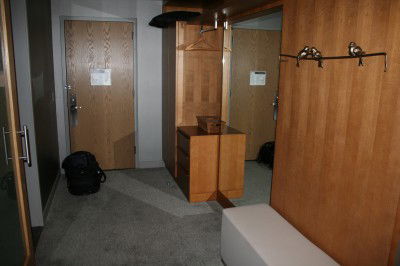 Entrance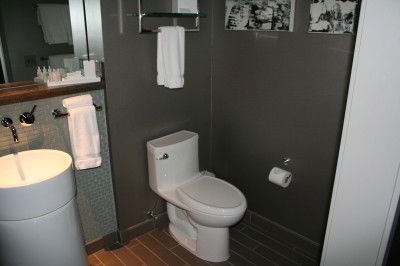 Bathroom
After working for a few hours and ultimately taking a 90 minute nap (I pulled an all nighter the night before), I proceeded down to the check-in desk, where I was welcomed back by name by the same gentlemen that checked me in earlier. Within moments he gave me the key for a room on the top floor, room 1259.
I proceeded towards the elevators, at which point I realized that my room number ended in the same two digits as my "holding room" (XX59). For a moment I thought to myself that he tried to get away with upgrading me to the same room on a higher floor, which would have ticked me off (since it's not worth moving for that). As I walked down the hallway I became more and more confident that this had happened, though when I finally reached room 1259 I noticed that there was just one door, as opposed to the two sets of doors that are usually next to each other.
So I was indeed upgraded to a beautiful one bedroom suite on the top floor. At the entrance was a foyer leading to the guest bathroom and the living room, which featured a couch, some chairs, a work table, flat screen TV, and of course minibar!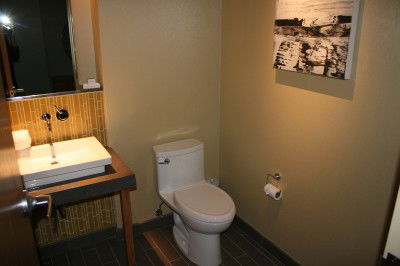 Guest bathroom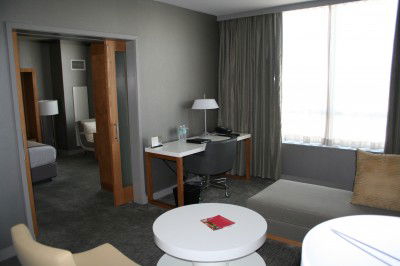 Living room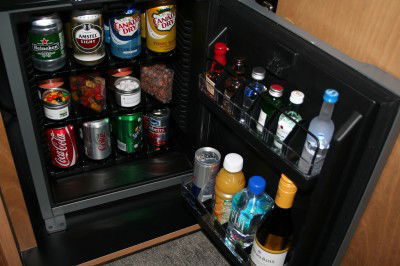 Minibar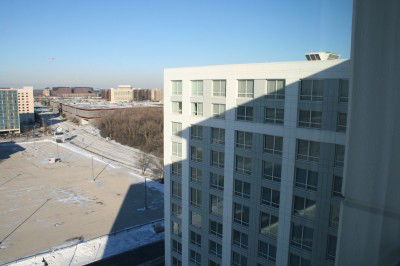 View from the living room
Through the sliding double doors was the bedroom, which led to the huge bathroom, with a full shower and tub.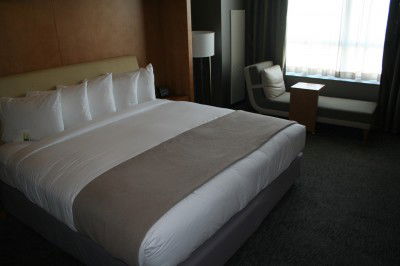 Bedroom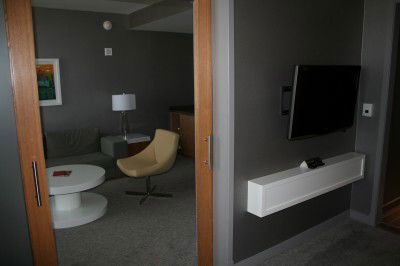 Living room from the bedroom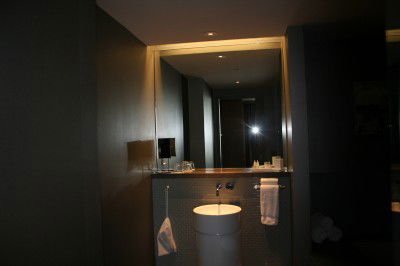 Bathroom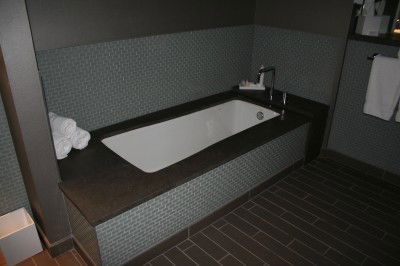 Bathtub
In the evening my welcome amenity arrived, which consisted of a couple of bottles of water, a fruit plate, and Poppie's cookies (coincidentally the same ones United recently switched to).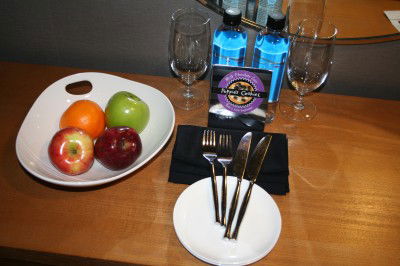 Welcome amenity
The service at this hotel was phenomenal. All of the employees I interacted with were eager to please, and I really didn't feel like I was at an airport hotel (other than the bloody Brits complaining about their canceled flight to Heathrow). 😉
At $89/night, this hotel was an absolute bargain. I'd say it would've been a good value at $189/night. The service and hotel itself rivals just about any city InterContinental. As some may remember, I stayed at the InterContinental Tampa not too long ago, and asked whether one can really expect an "InterContinental experience" on a $79/night rate. Well, based on this stay, I think the answer is yes — every hotel can deliver if they want to.