Posts from me are going to be a bit lighter over the next week as I travel to the Maldives. As you may (or may not) know, I also have a points consulting service, whereby we help people redeem their airline miles. I have several colleagues working with me, and they're some of the most knowledgeable and passionate people I know in this hobby. During my dad's round the world surprise birthday trip they offered to step in and help with some guest posts. Thanks to the positive feedback, they're back with more. This post is from my friend Tiffany, whom you've heard from before.
---
Monday morning I awoke, as I often do, at an airport hotel with a view of the runway.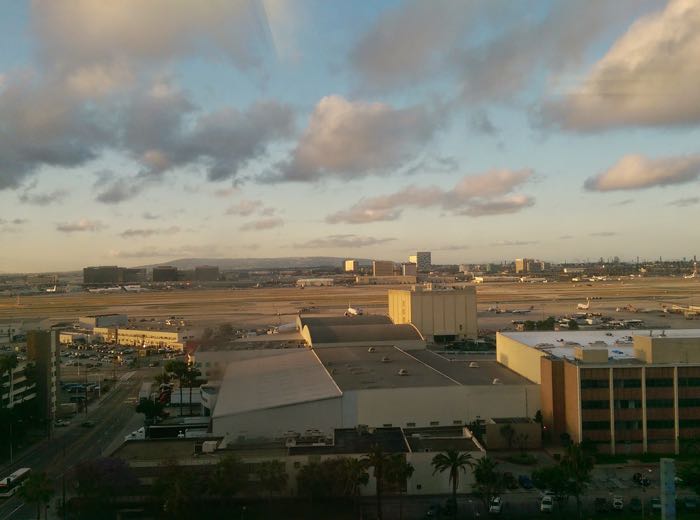 Los Angeles LAX Airport
After a very typical morning, I was joined by Alex, and we headed to the airport for a very atypical event.
Emirates Premier of Living in the Age of Airplanes
Thus far this is the best thing about Ben's trip to the Maldives (sorry Ben!), and as someone who grew up on airplanes, possibly one of the best things I've ever done.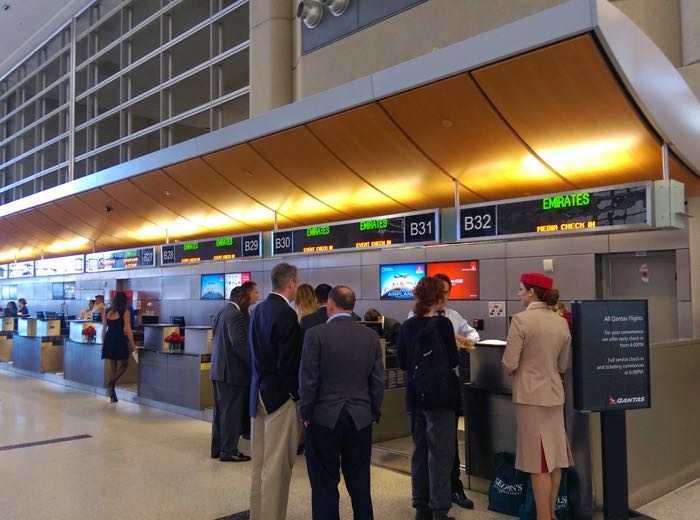 After arriving at the airport we headed to the Emirates check-in desk, which was specifically staffed for the event. We were given boarding passes, and then made our way through security and to the new Emirates lounge.
We had Champagne (Veuve Clicquot Brut), and canapés while the production crew filmed some short snippets and interviews.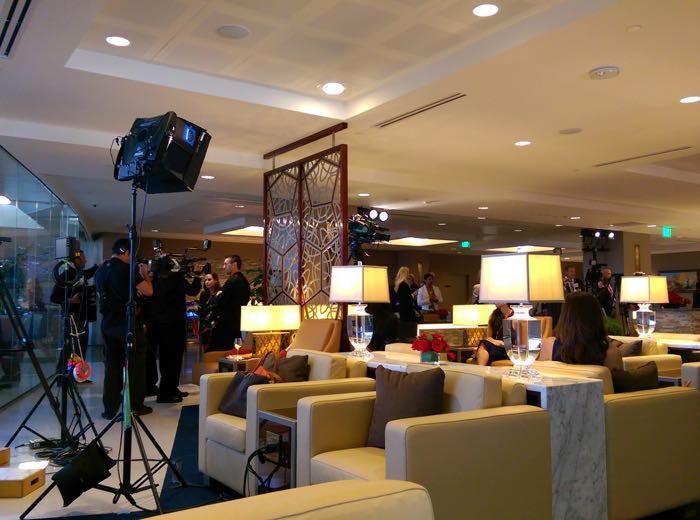 Then we gathered around to hear thoughts on the film from the various people involved in the production, along with Patrick Brannelly, Emirates' Divisional Vice President of Customer Experience, who spoke to Emirates' sponsorship of the event (and the film distribution), and how the themes of the movie aligned with their corporate vision.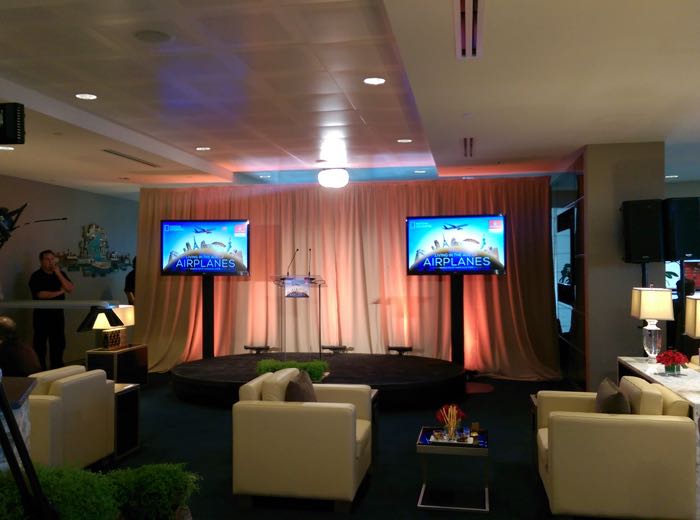 The pilot, Captain Saeed Al Maktoum, who along with the remainder of the Cabin Crew had been shuttled in just for this event, then took some time to "introduce" everyone present to the A380. His pride in his job was pretty adorable, and though the majority of the people in attendance were not aviation geeks (or really even frequent travelers), the crowd seemed very impressed.
The Cabin Crew, of course, looked fabulous, because: Emirates.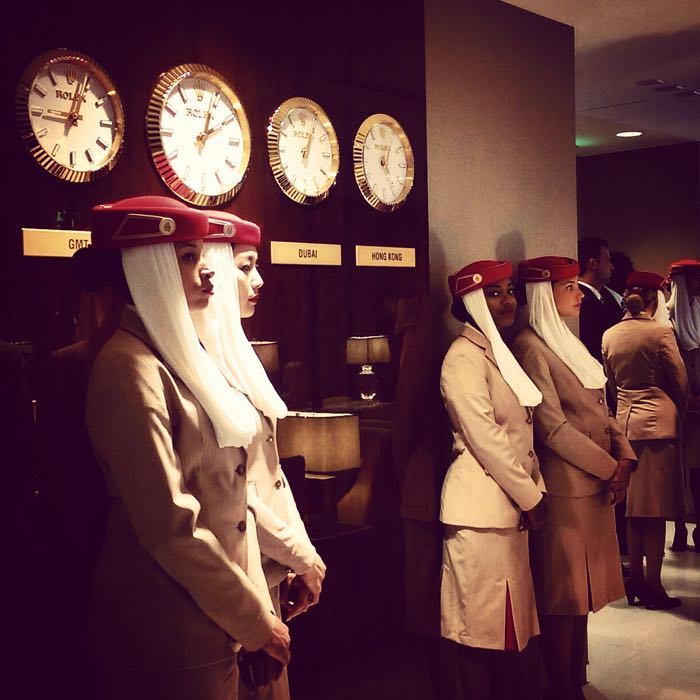 And then we watched a movie about airplanes on an airplane!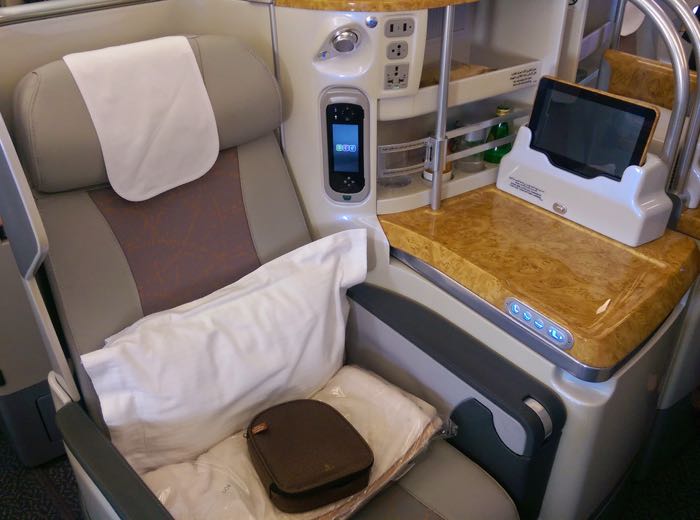 No complaints about this movie theater, even if does ruin my perfect Emirates-shower record!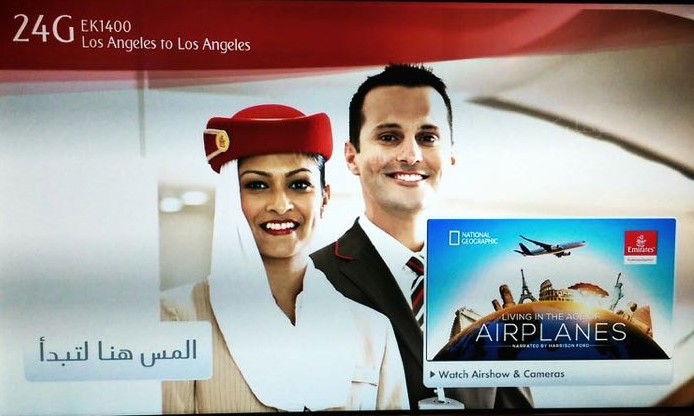 Custom messaging for the #airplanesmovie screening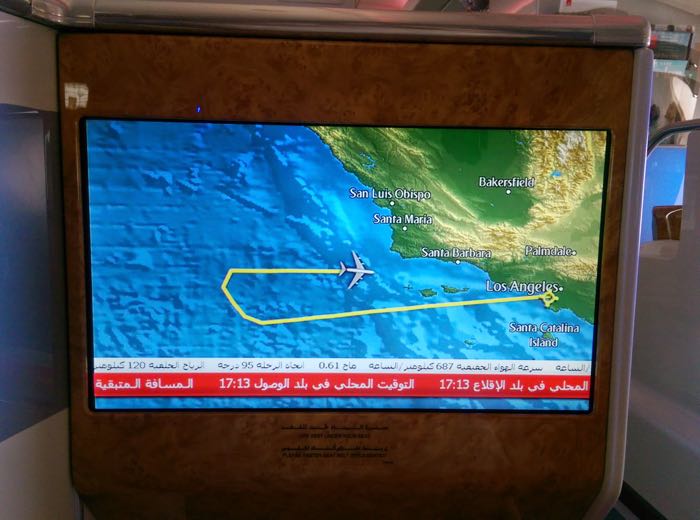 Our flight path from (and to) Los Angeles
It was every bit as fantastic as it sounds.
The Movie
The film, directed by Brian J. Terwilliger, is beyond gorgeous.
The crew spent over a hundred days filming on location, and it shows in the finished product. Incredible shots of widebody aircraft soaring through the sky are juxtaposed against natural landscapes worthy of David Attenborough, and James Horner's inspired score is perfectly punctuated with narration by Harrison Ford.
And it's all just really fantastic.
Beyond the cinematography, the messaging of the film is beautiful, and though-provoking.
If we couldn't fly, we wouldn't go.

And if we didn't go, how different our lives would be.
Given the collective experiences of the people reading One Mile at a Time, there are probably few audiences for whom this line will resonate more profoundly.
Our lives are amazing! The world is amazing!
I had the best Thai curry of my life in Prague. The mere fact those words can be combined to form a sentence is, truly, amazing. Few people (if any) would have said that a hundred years ago (or fifty years ago, and as a young female from a lower middle class family even 25 years is probably a stretch).
Yet we have conversations like this all the time, with people from all walks of life across myriad continents. Granted, we are an incredibly privileged group, but I loved that the film pushed past the idea of air travel as a luxury commodity to airplanes being the connective tissue for our increasingly global society.
You just have to see it for yourself.
And starting Friday April 10th, you can!
Living In The Age Of Airplanes is distributed by National Geographic, and is intended for museum theaters. This is fantastic in that theaters will have the reels and show the movie for months, but the downside is the initial release is rather limited.
As of the time of writing, the film will be showing in the following theaters: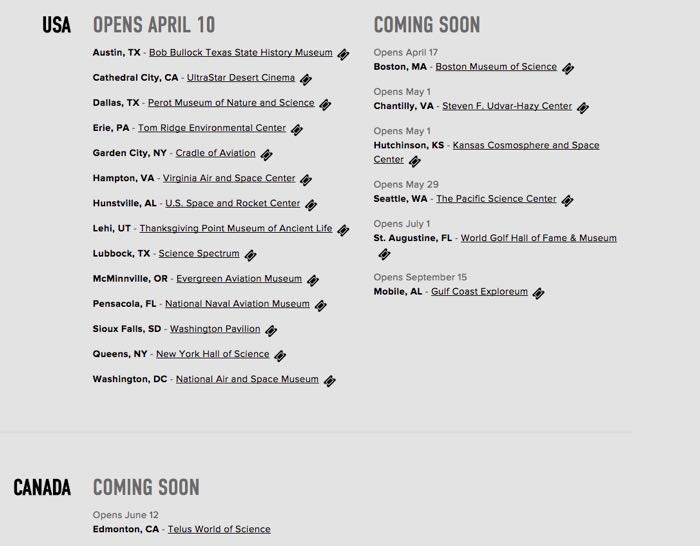 If you don't see a theater near you (seriously, California? Very poor effort, all things considered), you can reach out to your local museum, or directly to National Geographic via the film's website.
Bottom line
This was an incredibly fun way to launch a movie, and while I don't know that it will inspire a trend for future premieres (I just don't see shark movies ending well with this model, for example), this was very clever.
Emirates did a wonderful job hosting the event, and the invitation list was well thought out. Rather than just having aviation geeks or frequent travelers, the attendees were a mix of writers from all different publications, museum staff, etc. I'm pretty sure Alex and I were the only guests who had flown an A380 (although Derek from Cranky Concierge was there, so I'm not positive on that), much less on Emirates, much less in a premium cabin.
So everyone in attendance was visibly blown away by the aircraft, the amenities, and the crew. At one point in time the woman across the aisle from me leaned over to say "Noise canceling headphones! Can you believe it?!" Seeing that kind of excitement just made my day, and added a very sweet tone to the entire event.
In speaking with the production crew, director and producer Brian Terwilliger mentioned he wanted this film to inspire others to love airplanes and aviation as much as he does. With this screening, at least, that wish was met and exceeded.
Has anyone else seen Living in the Age of Airplanes? What did you think?