A couple of weeks ago I needed to spend a night in San Francisco in order to get my Chinese visa, and unfortunately hotels were outrageously expensive. After looking at all of the options I ended up booking Le Meridien for $269 per night through American Express Fine Hotels & Resorts. By booking through Fine Hotels & Resorts I received a $100 food and beverage credit, complimentary continental breakfast, a room upgrade, and 4PM late check-out. As was the case with my stay at the Westin Grand Frankfurt, the food and beverage credit are incredibly valuable to me, while the room upgrade and 4PM late check-out benefit aren't worth much to me, since I get those anyway as a Starwood Platinum member.
I made it to the hotel at 3PM and was promptly helped at check-in. All of the Fine Hotels & Resorts benefits were explained, and the agent commented that I would be getting a great room upgrade with "more room than [I'll] know what to do with."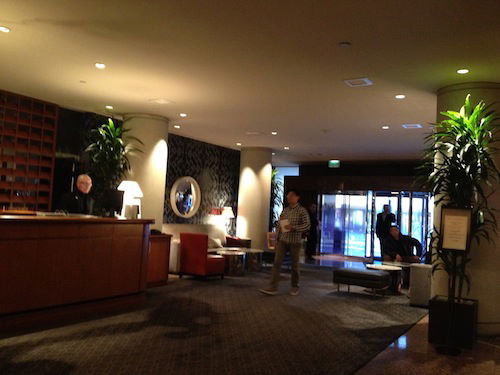 Lobby
Sure enough I did get an upgrade to a "named" suite on the 18th floor, the "Villa Magna Suite." Starwood technically excludes "named" suites from Platinum upgrades, so this was the first Starwood stay I've ever had where I got a suite upgrade without asking, let alone an upgrade to a suite I wasn't technically entitled to. So kudos to the hotel for that.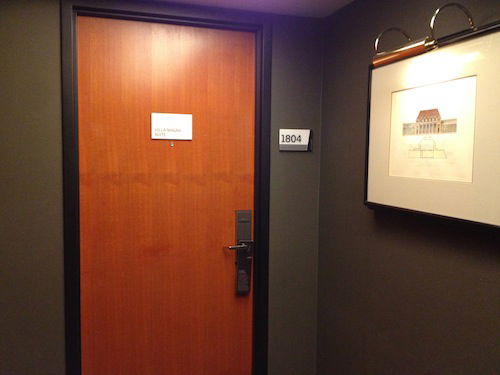 Room entrance
And the room was indeed massive. It wasn't a traditional two-room suite but rather a huge single room with a small divider in the center.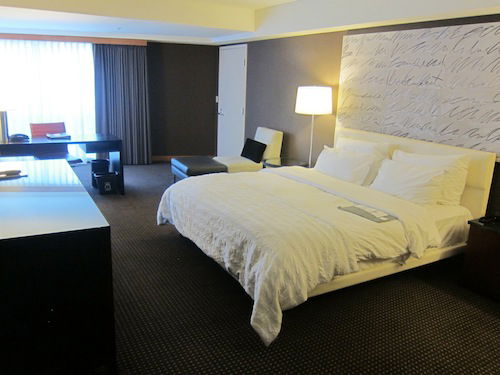 Bed and desk
The divider in the center of the room had a flat screen TV facing the bed, and then on the other side was the living room.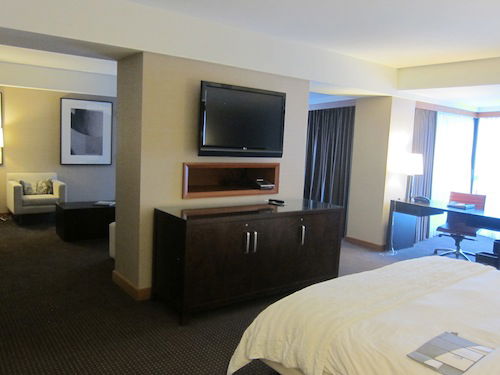 TV

Desk and seat with ottoman
The living room was huge with a three piece sofa set.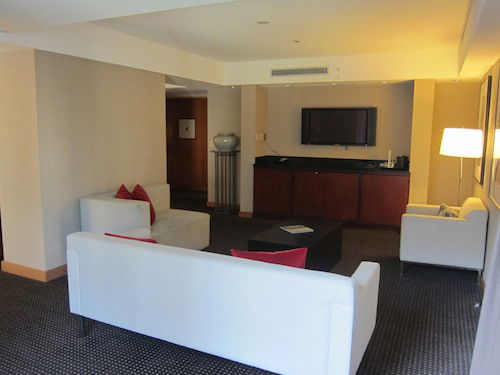 Living room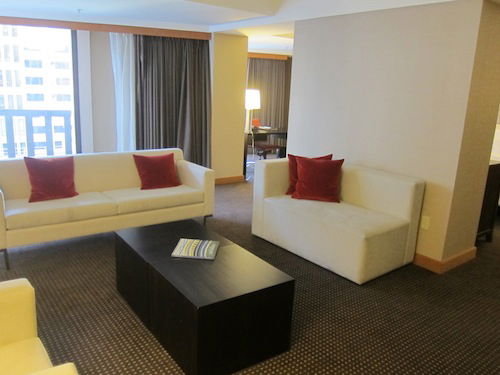 Living room
The room boasted views of nearby buildings in the Financial District.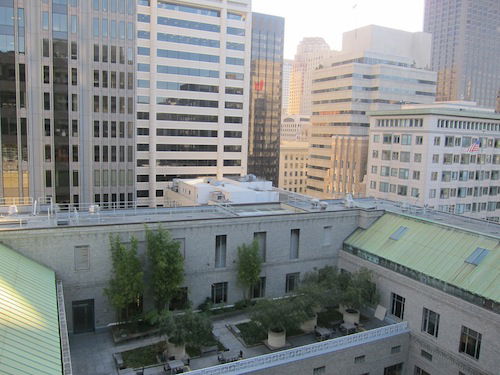 View from room
The bathroom featured a single sink, shower/tub, and toilet.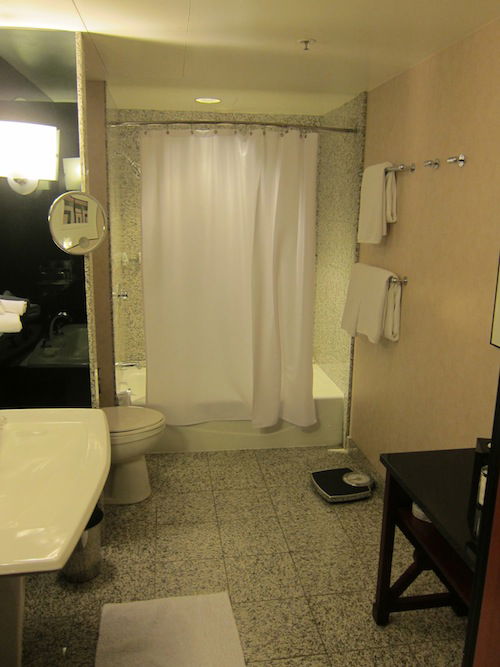 Bathroom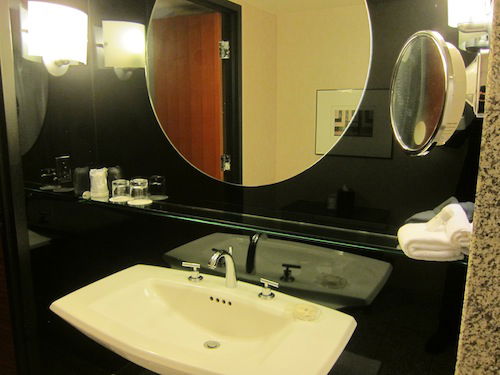 Sink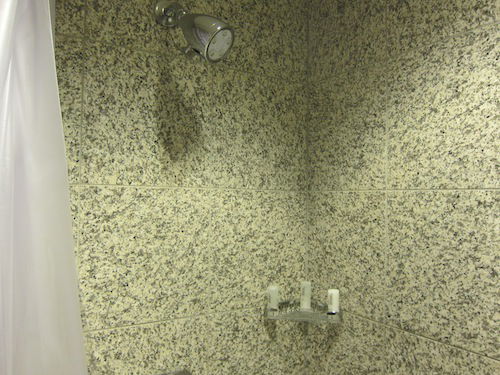 Shower
Since I had a $100 food and beverage credit and was alone, I decided to order room service. I had some crab cakes and mushroom ravioli. Both were good, though neither great. I wouldn't order either without a food and beverage credit.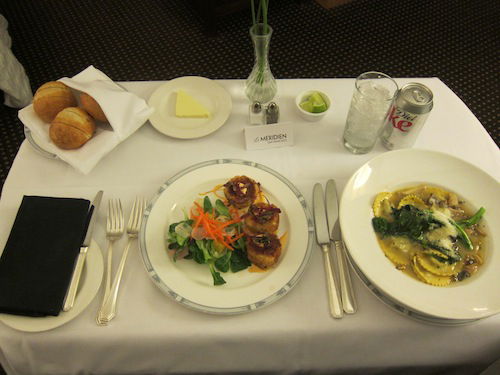 Room service
The following morning I had my "continental breakfast" in the restaurant, Park Grill. While the restaurant was decorated nicely, I was surprised to find out that "continental breakfast" consisted of coffee, juice, and a croissant OR toast. Instead of getting into a discussion of that here, see my previous post on the subject to chime in.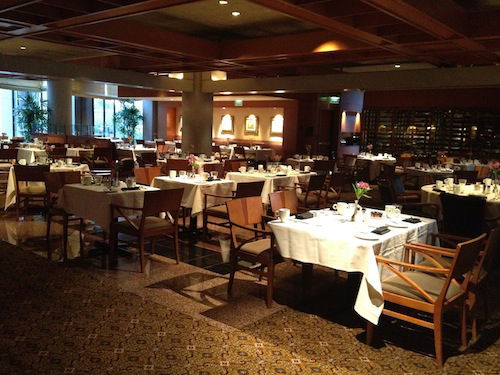 Park Grill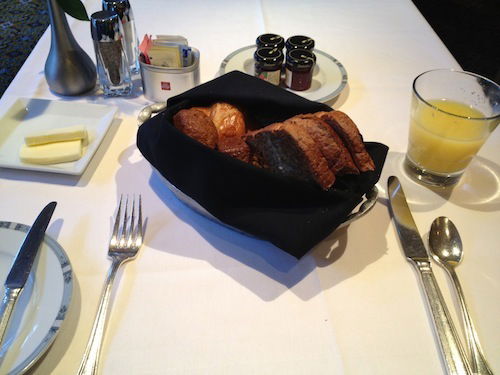 Continental breakfast
Overall I was very pleased with the upgrade I received, and compared to the rates the competition were charging, I think I got a fairly good deal. That being said, there was some element of "shabbiness" to this hotel that I can't quite put my finger on. I love Le Meridien as a brand, but this hotel didn't quite live up to the other great hotels they have, in my opinion (I loved my stay at Le Meridien Vienna, just as a comparison). In San Francisco my go to hotel remains the InterContinental, and I'll continue to stay there whenever possible. But with a decent rate (<$150) I wouldn't hesitate to recommend this hotel as being a good value.