Yesterday I asked you guys what constitutes a continental breakfast in the US. The answers were across the board, though I figured I'd provide a bit of background as to why I asked.
A couple of nights ago I stayed at Le Meridien San Francisco which was booked through American Express Fine Hotels & Resorts. One of the benefits is a complimentary continental breakfast for up to two in-room guests. When I stayed at the US Grant about a year ago on a Fine Hotels & Resorts rate, for example, it included a $55 breakfast credit, which seems reasonable for a continental breakfast for two. And I've actually found that most hotels that participate in Fine Hotels & Resorts offer you a lot more than the minimum when it comes to breakfast.
Anyway, technically a continental breakfast is just juice, coffee, and toast, if we're going by the European definition. But based on the US adaptation of it, I think a bit more is expected. I think a "reasonable" continental breakfast is what most hotels have in their club lounges in the US — maybe cereal, yogurt, fruit, pastries, or at least a couple of the above.
I went to the fairly nice white-tablecloth restaurant at Le Meridien San Francisco, Park Grill. I was a bit surprised, however, when I presented my voucher and was asked whether I wanted my two slices of toast to be white or wheat. As it turns out, their definition of a continental breakfast is very much in line with the European definition — a glass of orange juice, coffee, and two pieces of toast OR a croissant.
Sensing my surprise, the waiter was kind enough to bring out both the two pieces of toast (sliced in half) and a croissant.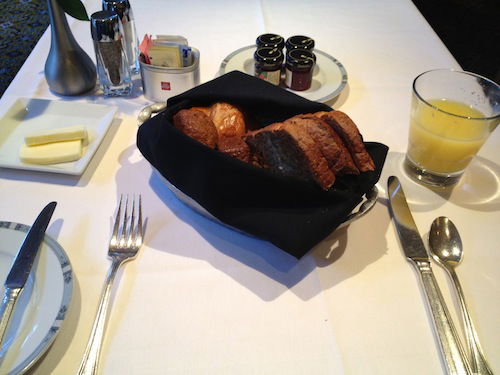 Had I know that this is what they consider to be a continental breakfast, I would have just gone to Starbucks. I felt like a total tool sitting down at a fancy(ish) restaurant to eat a bread basket (that might be because of the situation, or maybe just because I'm a tool… the verdict is still out).
Other than that I had a great stay, and even got a suite upgrade without asking — which, at Starwood, is a rarity in my experience. But be warned, not all continental breakfasts are created equal.