I booked my stay at the InterContinental San Francisco months ago at a rate of $189/night plus tax, which was the best flexible rate. At the time the non-refundable rate was $179/night plus tax. Since I planned on using a buy one get one free weekend night certificate, I decided to stick with the flexible rate. About a month before my stay the reservation showed online as a "king junior suite." Then a couple of weeks before my stay it showed online as a "1 king 1 bedroom suite," which I was very happy about.
I got to the hotel at around 5 PM on a Friday afternoon, and the lobby/outside of the hotel was packed. First of all, I was really impressed by the exterior; I'm a fan of the turquoise glass and bright white colors. It's stunning from the outside, in my opinion.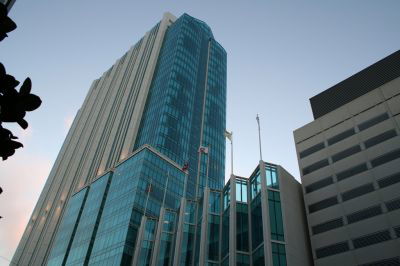 Hotel exterior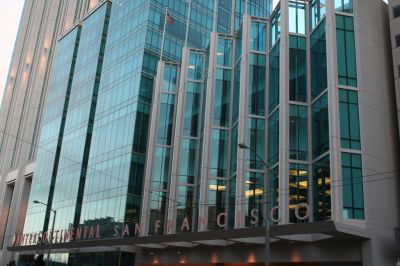 Another hotel exterior shot
The line for check-in was really long, but fortunately there was no line at the Ambassador desk. I was helped by a friendly agent who told me I was being upgraded into a "really nice suite," and was assigned room 3218. He explained some of the features of the hotel to me, and within a few minutes I was all checked in.
To get to the elevators one passes a set of stairs, a sitting area, and then turns right at the entrance of Bar 888. It seemed like the bar was a bit misplaced since it was busy when we arrived, which meant a lot of people were clogging up the elevator area waiting to get in.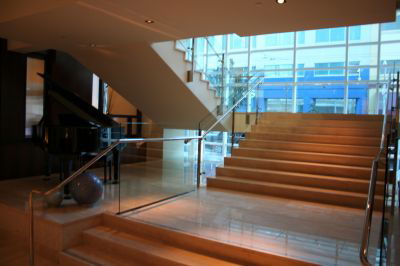 Stairs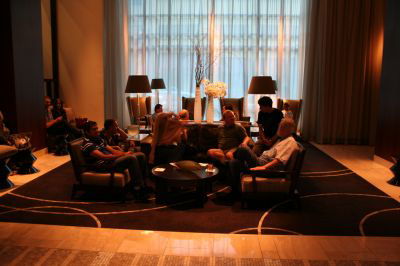 Lobby sitting area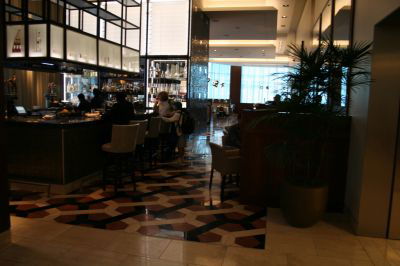 Bar 888
In the elevator I had to use my key in order to access floor 32, which seemed to be the second highest floor in the hotel.
As soon as I got off the elevator I knew I had a pretty nice room, since it was the door at the end of the hallway. Always a nice sign! As it turned out (and I later verified online), I was upgraded even further, all the way to a "king bay suite!"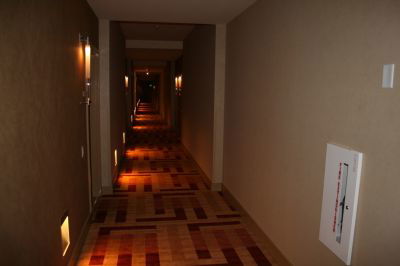 Hallway
I was damn impressed by the room. It had a nice sized living room with a couch and two chairs, along with a big TV. There were even three remotes on the table. Any hotel room that has three remotes earns my utmost respect. 😀
As if that wasn't nice enough, they were playing the InterContinental looping theme movie, which I always love seeing at IC properties.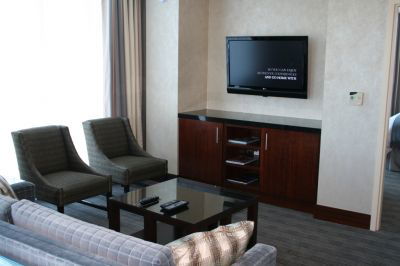 Living room
Behind that was the dining room, which had four chairs, and even had a chandelier of sorts.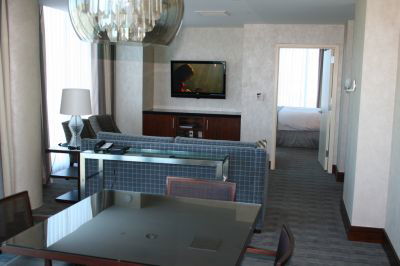 Dining area with view towards living room
This is also where the minibar was located, which was well stocked. It even had those fancy bottles of glass Coke and Diet Coke, which can instantly make just about anyone feel like they're special.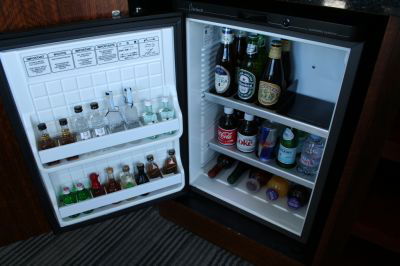 Minibar!
On top of the minibar was the welcome gift, consisting of fruit and water, along with an envelope which had in it a welcome letter along with a $15 cocktail voucher for Bar 888 as well as a free appetizer voucher for Bar 888. But wait, there's even more — there was also a $20 off Spa coupon, although that's not of much value to me. Overpriced minus $20 is still overpriced, at least as far as I'm concerned.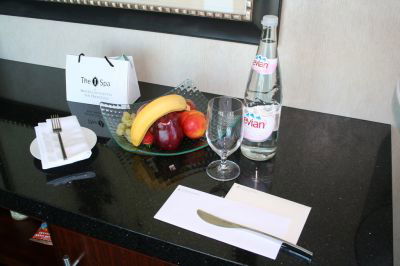 Welcome gift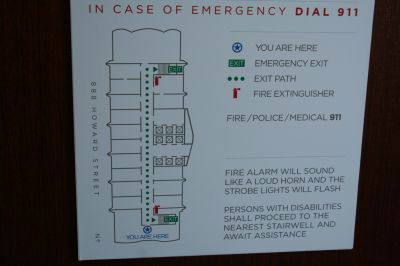 Floorplan
The main living/dining room had automatic curtains which revealed great views of the SF area. I also noticed a terrace belonging to the room immediately below mine, so I assume that would be the terrace suite on the 31st floor, the only room I know of which has an outside terrace/balcony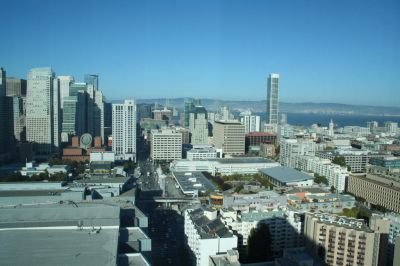 View from the living room
I headed over to the bedroom, which was a nice size, and once again had a massive TV, along with a desk.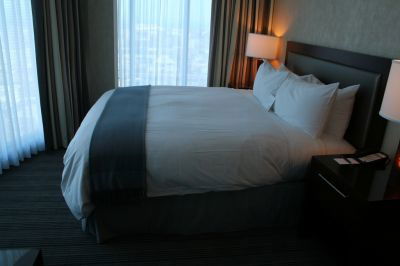 Bedroom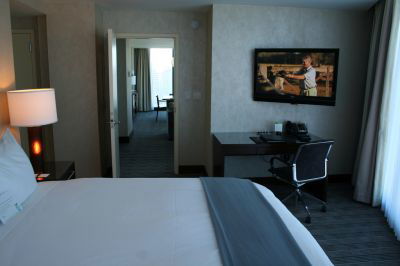 Bedroom facing living room and bathroom
The bathroom is located off of the corner of the bedroom, and has a hallway with a big closet on the right side.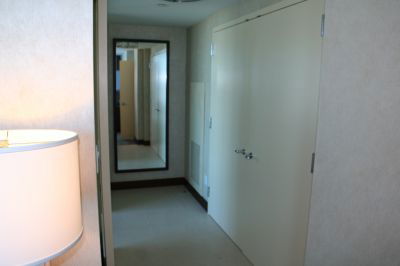 Hallway to bathroom
The bathroom was huge with incredible views, although sadly I didn't get any pictures that truly do it justice. For the last night there was actually a Princess cruise ship in the harbor, which I forgot to grab a picture of, sadly.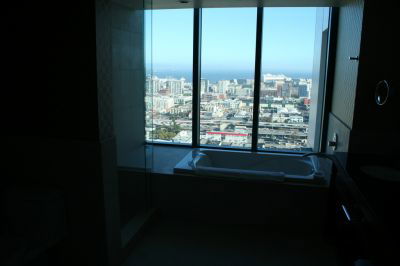 Bathtub/shower with great view of the city/bay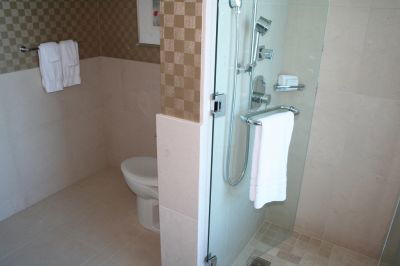 Toilet/shower
My only complaint is the lack of trash cans in the room. There was one small waste basket in the dining room and a tiny waste basket in the bathroom, but that's it. Guess they don't realize how quickly the contents of the minibar stack up. 😉
Other than that, everything about the room was perfect. Another nice touch was this channel on the TV with the same relaxing song over and over, separate from the IC theme video. Anyone know what this song is?
As a Royal Ambassador I also had access to the club lounge, which is located on the sixth floor. I'm not quite sure why the club lounge is on the 6th floor when a much better view could be had from the top, though.
The lounge requires a key to access, and once inside you again need to sign-in at the front desk. The service in the lounge was attentive, maybe even overly-personalized. It was clear they trained their staff to address the guest by their last name whenever possible, so in a short conversation with one of the agents they'll easily use your name five times.
The lounge has the following schedule:
Breakfast:
Monday through Friday 6:30am to 10:30am
*Saturday and Sunday 7am to 11am

Light Snacks Daily 10:30am to 3:00pm
Afternoon Tea Daily 3:00pm to 5:00pm
Hors d'oeurvres Daily 5:30pm to 7:30pm
Sweet Dreams Daily 7:30pm to 10:30pm
By US standards I'd say the lounge was excellent, although that's not saying a whole lot. On the plus side the lounge was almost never busy, even during "peak" breakfast and evening hours, despite the fact that it wasn't very big.
The breakfast consisted of muffins, fruit, cheese, meats, juices, cereal, etc. It was definitely on the continental side, although I wasn't expecting a cooked-to-order breakfast as I would in club lounges of some Asian hotels.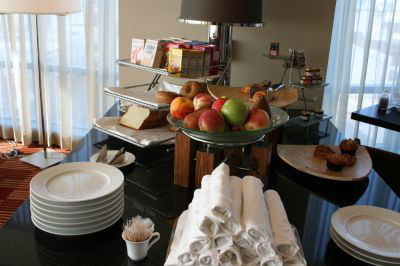 Some of the breakfast selection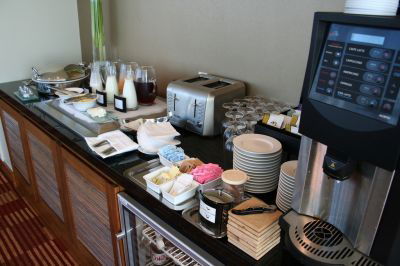 Coffee/toaster/milk/juices
As an airline geek I found it pretty funny that right outside of the club lounge was a massive advertisement for Virgin America.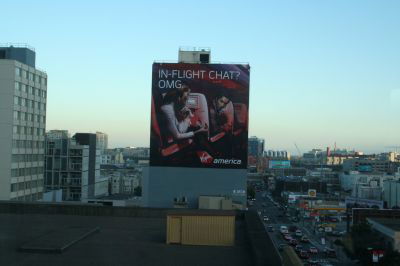 Virgin America advertisement
The offerings during the day were pretty minimal, although that was expected. They had pretzels, chips, and granola bars, along with all kinds of soft drinks and beer.
The selection in the evening was quite good by US standards, with a variety of veggies, bread, cheese, etc. There was one lounge attendant that was constantly offering drinks, and he did a great job.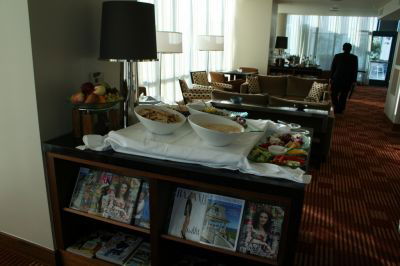 Evening snacks
Another nice thing about the lounge was that it had free Wi-Fi. You have to ask at the entrance for a one-time use code, which you can then use anywhere in the hotel, even in your room (although I specifically asked if the codes could be used in-room, and they said no). On the last day they ran out of codes so asked me to just buy the internet for $14.95 and they'd reverse the charge, which was awesome since I could continuously use the internet.
By the way, on a more entertaining note, the Folsom Street Fair happened to be the same weekend as the Mega Do, so that made the hotel a very interesting scene on Sunday. Never before have I seen so many people walk through the lobby of a nice hotel with so much leather, oftentimes wearing nothing more than a leather speedo, for lack of a better term. Oh, and then there's the one guy who came to SF for the weekend to watch Spring Awakening — for the SIXTH time, or at least that's what he told me in the elevator (yes, it was an entirely one-sided conversation)
Overall I was really impressed by this hotel — the service, rooms, public facilities, and club lounge were all top notch. Considering that I paid a total of $215 (with tax) for two nights at this hotel and received a huge suite, I'm definitely a happy camper. I realize it's not the "normal" RA upgrade and won't expect it the next time I'm at this hotel, but this is definitely a hotel I'll return to. Two thumbs up to a great new San Francisco property.