As long time readers know, I had a period a few years back where I was scared of flying, after a bad experience on Royal Jordanian between Bangkok and Hong Kong.
Following that incident I was terrified of flying for nearly a year. Every time I'd get on a plane my palms would be sweaty and I'd think of all the things which can go wrong (to me flying is a miracle — there are lots of things which can go wrong). Fortunately I eventually got over my fear, but it took a couple hundred thousand miles of unpleasant flying before I felt at home in the air again.
A while back I addressed a reader question regarding dealing with a fear of flying. There's a lot which goes through my head when I fly, so I simply wanted to reassure the reader that she wasn't alone, and that the best way to tackle a fear of flying is to remember the statistics and to just keep flying.
Anyway, I figured I'd share one thing about flying which creeps me out to this day. It's not extreme turbulence or aborted takeoffs or go arounds or being struck by lightning (all of which I've dealt with several times), but rather I'm creeped out by flying over large bodies of water without diversion points.
Crossing the Atlantic from the US to Europe is fine, as you're typically not too far from the coast of Greenland, Iceland, etc. That's comforting.
However, last night I flew Avianca from Bogota to Madrid, which has to be one of the longest Atlantic crossings out there. Just about the entire flight is overwater, and there aren't many diversion points in the mid-Atlantic region.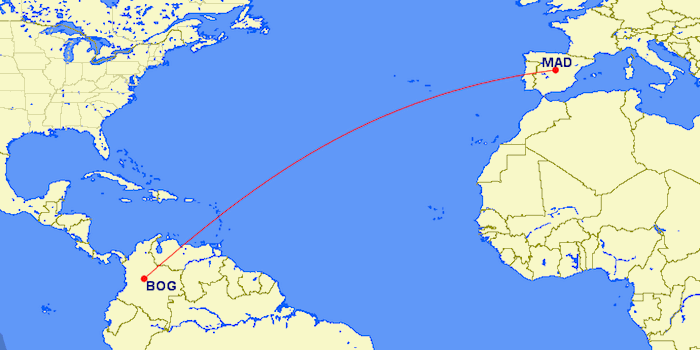 Maybe there are some tiny civilizations in the middle of the ocean I'm not familiar with, but I think this is the longest stretch I've flown without a diversion point. Someone correct me if I'm wrong, but on this route I don't think there are any diversion points between the Caribbean and the islands off the coast of Africa and Europe.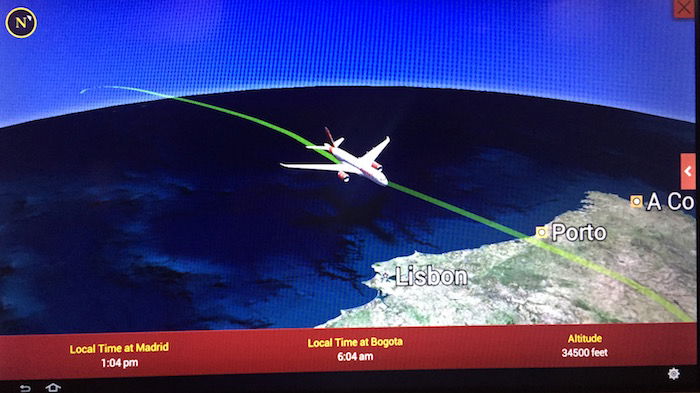 It's not that I'm actively scared or am convinced anything will go wrong, but rather what I theoretically struggle with is that if something does go wrong, you're several hours from your nearest diversion point.
I suppose this is no different than flying between the US mainland and Hawaii (I think this was a slightly longer stretch, though), but there's just something which feels uncomfortable about knowing there's no diversion point. So whether we're talking about a medical emergency or another type of emergency, it's several hours of flying before you can get on the ground.
What it comes down to is that diversions happen all the time, whether they're due to an engine overheating, smoke in the cockpit, an indicator light going off, etc. We're just lucky that most of the time it doesn't happen over water.
When I think about this I always remember the Cathay Pacific video I posted a while back, where the crew was preparing for a water ditching after smoke was discovered in the cockpit.
They ended up diverting to Eareckson Air Station, which is a US Air Force Military Airport on the island of Shemya. I can't even begin to imagine how terrifying that must have been.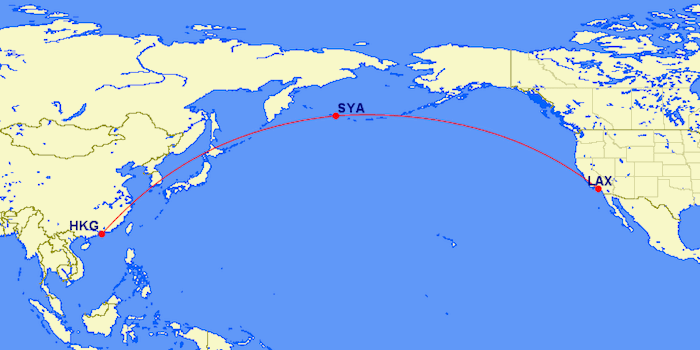 Bottom line
Fortunately I'm not scared of flying anymore, and even the above doesn't actually scare me. But it's a "what if" scenario which is always in the back of my head. I can't make a long oceanic crossing without subconsciously thinking to myself "well, if anything goes wrong now, we're screwed."
Anyone else always have this in the back of their mind when flying, or is it just me?