Well, let me first start off by saying that I'm not one to write reviews on restaurants, but since Encounter is plopped right in the middle of LAX, it's kind of hard to not call this restaurant airline-related. 😉
Encounter is located in the middle of LAX, in between terminals, and isn't the easiest restaurant to find. We (friend that went with me and I) didn't park, but it's $6 to valet park. The restaurant is located in the iconic spider building that seems to be designed with form rather than function in mind.
As soon as we entered the building, we noticed how shabby it was. The entrance was not clean, and it was completely deserted inside which seemed a bit odd. It also smelled a bit musty. Not a very good first impression. There is an elevator near the entrance to take you up to the restaurant, and as soon as the doors close (to the elevator), it becomes apparent how cheesy the evening is going to be as sci-fi music starts to play. It was like an episode of The Jetsons.
The interior of the restaurant was obviously the follow up to the "groovy" elevator ride. The decor was very retro with bright colored carpets and lava lamps, not to mention the space-themed furniture. It was quite comical, but the views outside the windows of LAX were amazing. The windows go floor-to-ceiling, so it's not hard to spot an aircraft while taking a bite.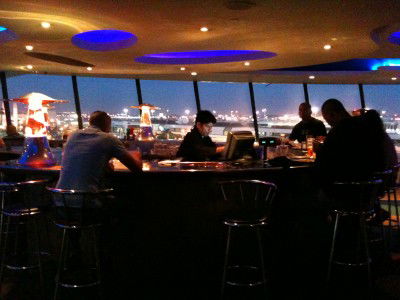 Encounter bar area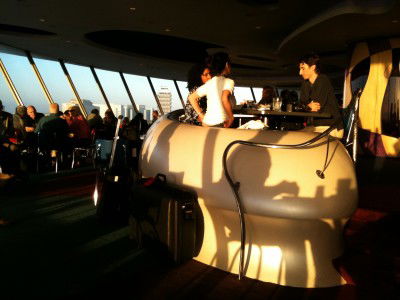 Encounter restaurant
When we were eating dinner, we couldn't take our eyes off of the windows. The views of the heavies just a couple hundred feet over at Terminal 2 were just amazing. First it was the arriving Virgin Atlantic A340-600 that caught our attention. Then it was the Air France 777-200, which distracted us from eating even more. The third strike was the Air New Zealand 747-400 that pulled in between the Air France and Virgin Atlantic bird. The views were about as good as they get.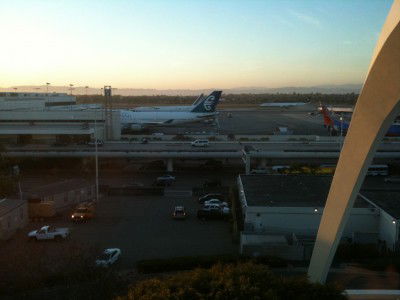 Views from table
Unfortunately the service was as lackluster as the first impression, but that may be more a function of the number of employees working. There were only two people that we could see waiting tables in a mostly full restaurant. They were obviously overworked, but there was no excuse to just flat out ignore my request for a Diet Coke.
Regarding food, the menu consists of, "award-winning 'California Fresh' cuisine," according to Encounter's website. We noticed that the menu was quite small, and not too appealing – at least to our eyes. For an appetizer, we settled on two Caesar Salad Halo's. They weren't bad, but it's hard to mess up a Caesar Salad. Along with the salads we were also served some really great rolls that were warm and soft.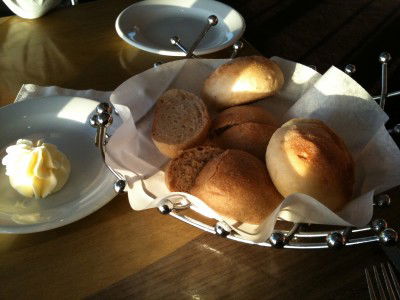 Delicious rolls
For my friend's dinner, he had the lamb, which he said wasn't very good because it was overcooked. Hmm, sounds like red meat on an airplane…
I had the mushroom ravioli, which was good but that may have just been because it is a bunch of cream and cheese. Also, as you may have expected, everything is overpriced.

Ravioli
Overall, the food wasn't great. It wasn't bad either, but for the price I expected a bit better. The decor is also very cheesy. Not to mention the service is quite lackluster. However, these are obviously not the reasons why anyone would go to Encounter. So while the views are great, I don't really feel the need to return. Though if you haven't been, I'd certainly consider paying them a visit for the views…