While Emirates was added as an Alaska Mileage Plan partner back in 2012, initially the partnership only applied to being able to earn miles on the other carrier. It wasn't until early 2013 that they began to allow reciprocal mileage redemptions. I was super excited about being able to redeem Alaska Mileage Plan miles for travel in Emirates first class, especially since they allow one-way awards, and even allow stopovers on one-way awards.
Beyond that, this makes Alaska Mileage Plan the only US program through which you can redeem miles for an in-flight shower. 😉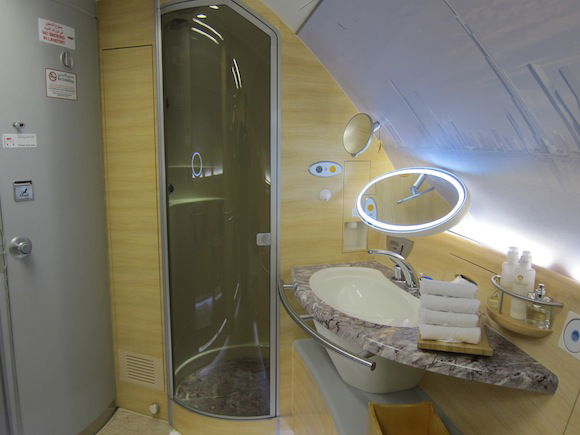 Emirates A380 first class shower
Then in May of 2013 I wrote about how Emirates first class award space had sharply decreased. I don't think there's a single cause for this — more likely it's a combination of added redemptions from Alaska, the economy recovering and therefore more demand for premium cabin seating, etc.
Anyway, I've received several emails the past few weeks about Emirates awards using Alaska Mileage Plan miles, so I figured I would clarify a few things:
Alaska doesn't have access to all Emirates first class award space
I don't know why, but in many cases Alaska has access to one fewer Emirates first class award seat than Emirates does directly.
For example, take the inaugural A380 flight from Dallas to Dubai, which shows one "Z" class seat on ExpertFlyer:

However, if you pull up the space on Alaska's website you'll see economy and business award space, though no first class award space:

Unfortunately this isn't just a glitch with the website, but reservations agents over the phone don't see the space either. Some report being able to get an agent to manual sell the space and then it will confirm, but in practice it's very tough to find an agent willing to do that.
So to recap, it's not always the case — sometimes the flight will be "Z2" and Alaska has access to both seats. I actually find that to be the case a lot. But also be prepared for a flight to be "Z2" but for Alaska to only have access to one of those seats.
Emirates uses married segments logic
This is a very important concept to understand in case you're trying to progressively lock in a first class award.
Lets say you're trying to book an award ticket from Los Angeles to Dubai to Singapore. Lets say there's award space from Los Angeles to Dubai but not space from Dubai to Singapore. Naturally you'd want to lock in the Los Angeles to Dubai space as soon as possible.
However, the issue is that if Dubai to Singapore space opens up you can't just add it to the award, but you actually have to start over, as there needs to still be space for the entire itinerary. And Emirates award space doesn't always go back into award inventory when cancelled.
Similarly, say you can find space from Los Angeles to Dubai and Dubai to Singapore, but the Dubai to Singapore flight isn't at your preferred time. If space later opens up on your preferred Dubai to Singapore flight, there would have to be award availability for the entire itinerary in order to make that change.
So it's just an added wrinkle if you're ever looking to lock in or make changes to Emirates award space.
Emirates still opens up some award space 14 days out
Last year when I wrote about Emirates award space having sharply decreased, I mentioned how Emirates was consistently releasing first class award space 14 days out. I don't find that to consistently be the case anymore, though it still happens sometimes. So that's something to keep in mind.
Los Angeles to Dubai is no longer a first class award gold mine
Last year Emirates launched A380 service to Los Angeles, which was exciting on many levels. For one, it's the world's longest A380 flight. But equally exciting was that Emirates was consistently releasing two first class award seats per flight. That was awesome, since there weren't really any other US routes on which they were consistently releasing that much space.
Sadly that no longer seems to be the case, and now Los Angeles is one of the tougher routes on which to score first class award space. Oh well, guess I shouldn't really be surprised.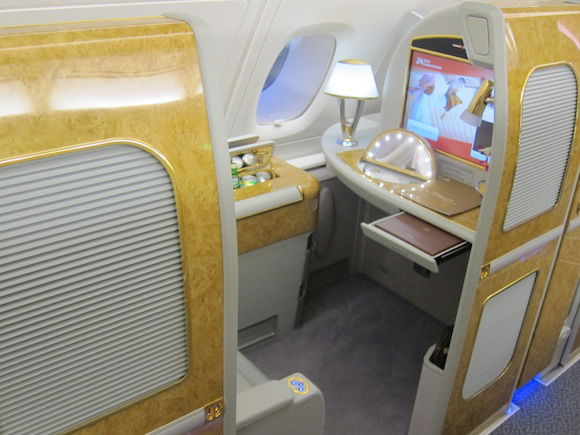 Emirates A380 first class
Bottom line
It's still perfectly possible to redeem Alaska miles for travel on Emirates, though it does require a bit more work than a year ago, especially if multiple passengers are traveling. That being said, it's well worth it for the onboard shower, bar, Hennessy Paradis, and A380 First Class Lounge in Dubai. 😉