This is an update to a previous post to note that the promotional Iberia Avios earned through this promotion expire today. Not just today, but technically at midnight in Spain, which is 6PM ET. Get redeeming!
---
Over the summer Iberia Plus had a ridiculously generous promotion where they were offering 9,000 bonus Avios for every flight booked during that period, for a total of up to 90,000 Avios for booking 10 flights.
The best part was that they didn't actually require you to take the flights in order to earn the bonus Avios. The bonus Avios posted after you booked the flight, rather than after you flew it. So you could book cheap flights within Spain for ~$30 one-way, and in the end could earn a total of 90,000 Avios for ~$300.
The catch with these Iberia Avios is that they expire on December 1, 2018. So you need to redeem the Avios by that date, though you can travel on subsequent dates. What matters is that you've booked your ticket by then.
Of course this promotion was very generous, though I actually haven't gotten around to redeeming these Avios yet, and I only have a bit over two weeks remaining until they expire.
When the promotion was published I knew I couldn't not take advantage of it, though at the same time at this point I'm almost wondering if this promotion will end up working out quite well for Iberia, if a lot of people are in a similar situation to what I'm in.
I'm still not sure what exactly to redeem these Avios for. That's not because there aren't good uses for them, but rather because most of my travel for the rest of the year is firmed up, and I'm not yet able to commit to that much travel with certainty for next year.
So, how am I thinking of redeeming these Avios? Iberia has different award charts for many of their partners (you can find them here by clicking on the individual airline).
For example, here's the American Airlines award chart, based on roundtrip travel: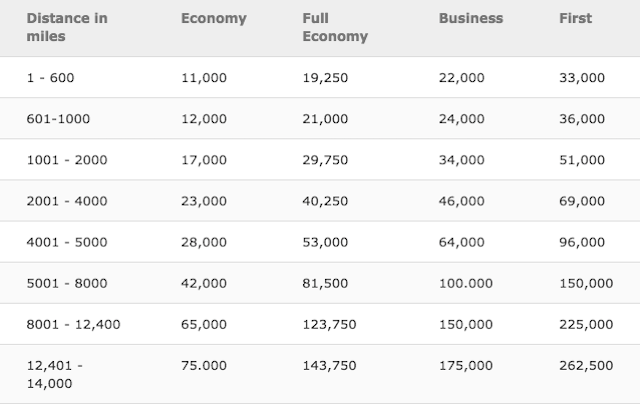 Since I fly American most, I could see this being useful, especially for a flight from Miami to Latin America.
I'm also intrigued by redeeming on Royal Air Maroc, which requires roundtrip travel:
As you can see, 100,000 Avios would be enough to cover a roundtrip business class ticket from New York or Washington to Casablanca.
Alternatively, Iberia allows one-way redemptions on their own flights, with both peak and off-peak dates.
Here is the off-peak chart:
Then here is the peak chart:
So yeah, I'm still not sure exactly how to redeem these Avios, though Ford and I each have 81,000-90,000 in our accounts, so it's about time we decide.
I'll post another reminder when we're days from the deadline, but I think this is a good time to start putting some serious thought into how you want to redeem, before you're in too much of a time crunch.
If you took part in the Iberia 90K promotion, have you redeemed your Avios yet? If so, how? If not, what is your plan?