This offer is simply crazy. Up until now I've held off on writing about it because I figured there was no way they'd honor this or intended for the promotion to be as such, but… it seems like this is for real?
The promotion is pretty simple. You can earn 9,000 bonus Iberia Plus Avios for every Iberia ticket you book by June 24, 2018:
You can earn a maximum of 90,000 Avios during the promotion period
The promotion is valid for tickets booked on iberia.com for flights operated by Iberia, Iberia Express, and Air Nostrum
There are no restrictions suggesting that one-way tickets don't qualify
The Avios will be added to your account within 10 days of when you purchase your ticket (and not when you fly)
Avios earned through this method need to be redeemed by December 1, 2018, or else they'll be withdrawn from the member's account
There's no registration required, but rather you just have to add your Iberia Plus number to the reservation at the time of booking (you can sign-up for an Iberia Plus account here)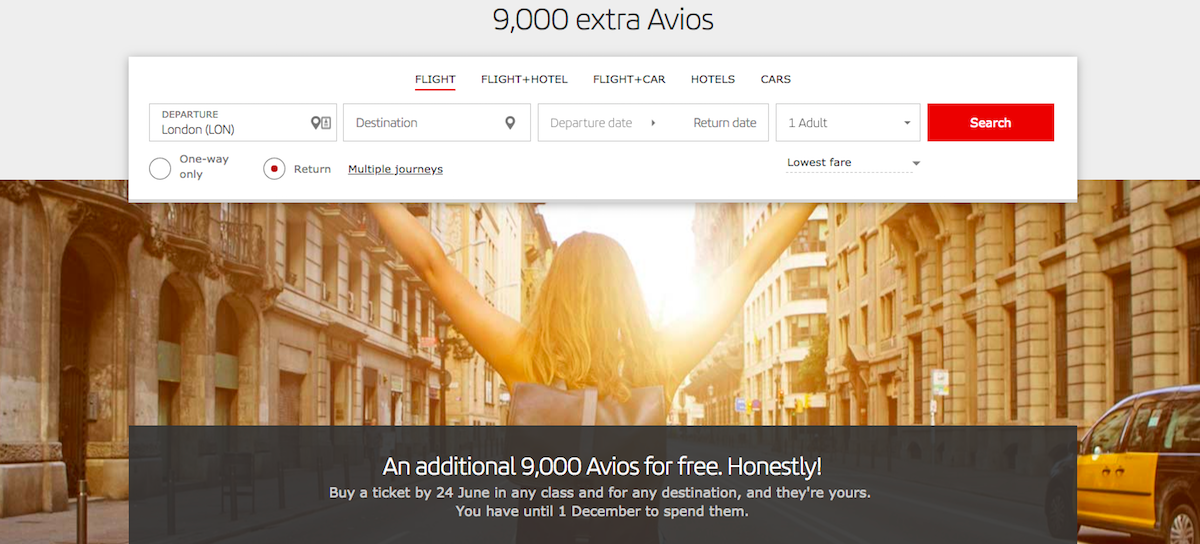 Since this promotion is so ridiculously generous, let me just copy and paste the terms, so everyone can read through them and make sure they're good with them:
Special offer of an extra 9,000 Avios for each ticket purchased between 21 and 24 June 2018 (maximum of 90,000 promotional Avios per member) on iberia.com for a flight operated by Iberia, Iberia Express or Air Nostrum. The Avios will be added within 10 days of the purchase to the Iberia Plus account of all customers identified as members of the Iberia Plus programme during the purchase process.

If the customer requests a refund, either because it is permitted by the fare or for any other reason, the promotional Avios will be withdrawn from their account. The extra promotional Avios not redeemed by 1 December 2018 will be withdrawn from the customer's account. The redemption terms and conditions are subject to the general terms and conditions of the Iberia Plus programme.

For example, if a customer purchases tickets on Iberia.com for three people to fly from Seville to Madrid and two of the people are identified as Iberia Plus members during the purchase process, 9,000 Avios will be credited to both of these people within 10 days of the purchase. These two people must have redeemed at least 9,000 Avios by 1 December 2018, or this same amount of Avios will be withdrawn from their account.
As of now it looks like the cheapest tickets are one-ways from Palma de Mallorca to Madrid, for $33 all-in: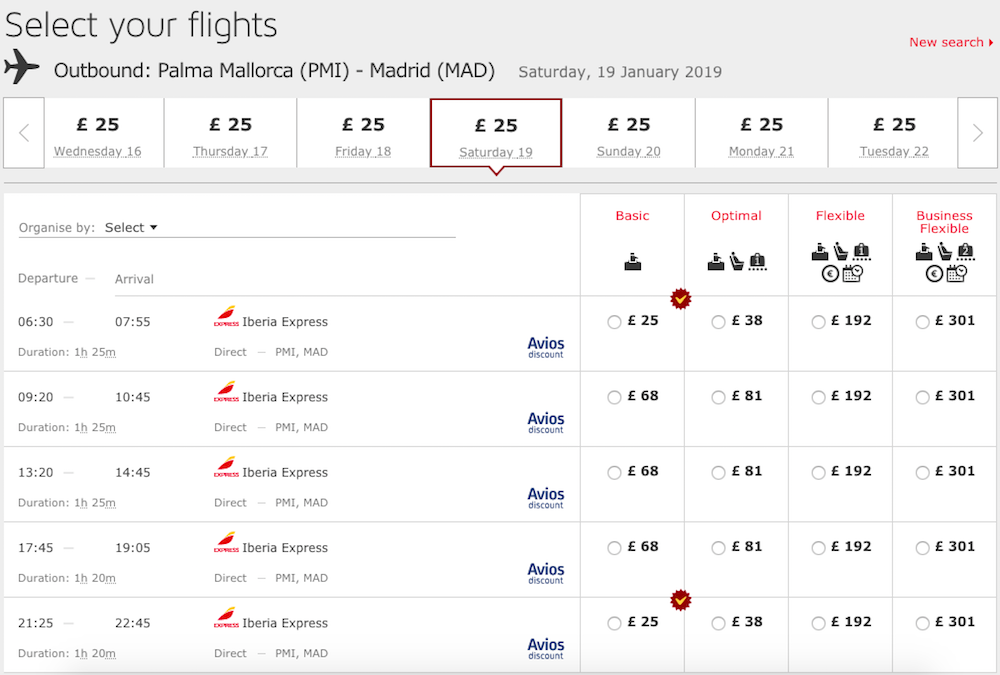 There also seem to still be a decent number of $34 fares between Madrid and Seville (SVQ) or Santander (SDR) available for next Spring.
The fare is wide open for travel early next year. Personally I'd book for travel after December 1, after the Avios are set to expire. So you could book 10 of those one-way tickets, and you'd earn 90,000 bonus Avios.


A few more general thoughts:
Iberia has confirmed that this promotion is legitimate, so I feel comfortable taking advantage of it, though you never know what a company will do. Surely they aren't expecting the level of demand they're getting here. But the terms are very clear.
Usually you can transfer Iberia Avios to British Airways Avios, though they say that if you transfer these Avios to British Airways then you will have a negative balance. Given the different expiration of these Avios, it seems they do come with some restrictions.
Iberia has confirmed that you don't actually need to fly on the tickets to earn the Avios.
Here's what an Iberia spokesperson said, via LoyaltyLobby:
Our Iberia Plus cardholders will be able to keep the promotional Avios, if they don't fly the purchased segments. And you can only redeem the Avios awarded through this promotion through the Iberia Plus programme. If the customers transfer these Avios to their BA Executive Club account, they will have a negative balance in the Iberia Plus programme, as those Avios wouldn't have been spent by the date mentioned above.
There are all kinds of great uses of Iberia Avios, and Tiffany has written about the differences between the Iberia Plus and British Airways Executive Club programs. Being able to acquire 90,000 Iberia Plus Avios for $330, or paying ~0.37 cents per Avios, is an astonishingly good deal.
I'll 100% be taking advantage of this, and suggest others do as well. I'd also recommend doing so ASAP, because they could change the terms any minute to add a minimum ticket cost, etc.
If this is honored and all goes down as planned, I'd consider this to be one of the best points promotions in recent memory. Just remember to book directly on iberia.com, and include your Iberia Plus number when you do so.
(Tip of the hat to Head for Points)