Through tomorrow, Iberia is running what I'd consider to be the airline promotion of the year. The airline is offering 9,000 bonus Avios for every flight you book directly on iberia.com. The best part is that the Avios are supposed to post within 10 days of when you book. Given that some Iberia tickets are $30 one-way, this is an opportunity to essentially buy 90,000 Avios for about $300, which is an insane deal. Yesterday I booked 10 tickets from Malaga to Madrid to take advantage of this offer.
The catch to be aware of is that the Avios have to be redeemed by December 1, 2018, so they come with a different expiration than your normal Avios.
While I've covered most of these things individually, I'm getting many of the same questions over and over, so wanted to answer some FAQs in this post, for anyone who is still on the fence about this promotion.
Can you convert these Iberia Avios into British Airways Avios?
Typically you can convert your Iberia Avios into British Airways Avios at a 1:1 ratio, though don't count on this being possible here. These Avios not only come with a special expiration policy, but also apparently can't be transferred regularly. They say that if a customer transfers these Avios to their Executive Club account, "they will have a negative balance in the Iberia Plus programme, as those Avios wouldn't have been spent by the date mentioned above."
I don't know what exactly that means in practice, but I wouldn't count on being able to transfer points in such a way. Or at least I wouldn't take advantage of the promotion with the specific intent of doing that. It's possible that you will be able to transfer Avios, though I'm not sure about the implications of having a negative Iberia Plus balance.
What's the deadline to book under this offer?
The promotion is valid for bookings through Sunday, June 24, 2018. Since Iberia Plus is based on Spain, I'd expect the promotion to expire on local time, so you'll have to book by 6PM ET, for example.
If I book multiple passengers on one reservation, does everyone qualify?
Yes, as long as you have everyone's Iberia Plus number on the reservation, each member should qualify for the 9,000 bonus Avios.
Are one-way tickets eligible for this promotion?
Yes, absolutely, and Iberia has confirmed this on Twitter.
https://twitter.com/Iberia_en/status/1010193190706733057
Can I book through a third party website?
Some have asked if it's possible to book through a third party website, like wanting to redeem Ultimate Rewards points towards the cost of these tickets. Nope, in order to qualify you have to book directly on iberia.com.
Do I need to register for this promotion?
Nope. Just make sure you book an Iberia ticket through iberia.com during the promotion period, and add your Iberia Plus number to the booking. If you do that, you're all set.
Do my Iberia Avios have to be redeemed for travel by December 1, 2018?
You have to redeem your Avios by December 1, 2018, though you can travel on a subsequent date. Generally Avios can be redeemed for travel up to 355 days out, so you could book for travel through November 2019.
Are there residency requirements for taking advantage of this promotion?
The terms & conditions don't indicate that there are any residency requirements. However, some other blogs have mentioned that you have to book your ticket through iberia.com in Spain, France, Italy, Germany, Portugal, Russia, Switzerland, United Kingdom, Brazil, Argentina, Colombia, Chile, Peru, Mexico, or the US, regardless of the origin of the flight.
I don't see that in the terms, and I also don't see any indication that the Iberia Plus account has to be registered in one of those countries, though this is one of the few grey areas of the promotion.
Do you actually have to take your flight?
An Iberia spokesperson has said "our Iberia Plus cardholders will be able to keep the promotional Avios, if they don't fly the purchased segments." The bonus Avios are supposed to post within 10 days of when you book the ticket, so if you book the ticket for travel next year, you'll have earned and spent your Avios long before you have the chance to take the flights.
Do you need the Iberia Plus Credit Card to take advantage of this offer?
Some people have been confused since because many of the official statements from Iberia have talked about "Iberia Plus cardholders." Outside the US, being a frequent flyer program member is often referred to as being a "cardholder," and that's the case here as well. So you don't need any credit card to take advantage of this offer.
Is it too late to take advantage of this promotion?
Nope! Fares are still readily available. The best deal I see right now is for travel from Santander (SDR) to Madrid (MAD). Just book 10 one-way tickets on iberia.com for travel next year (there's lots of availability in April and May).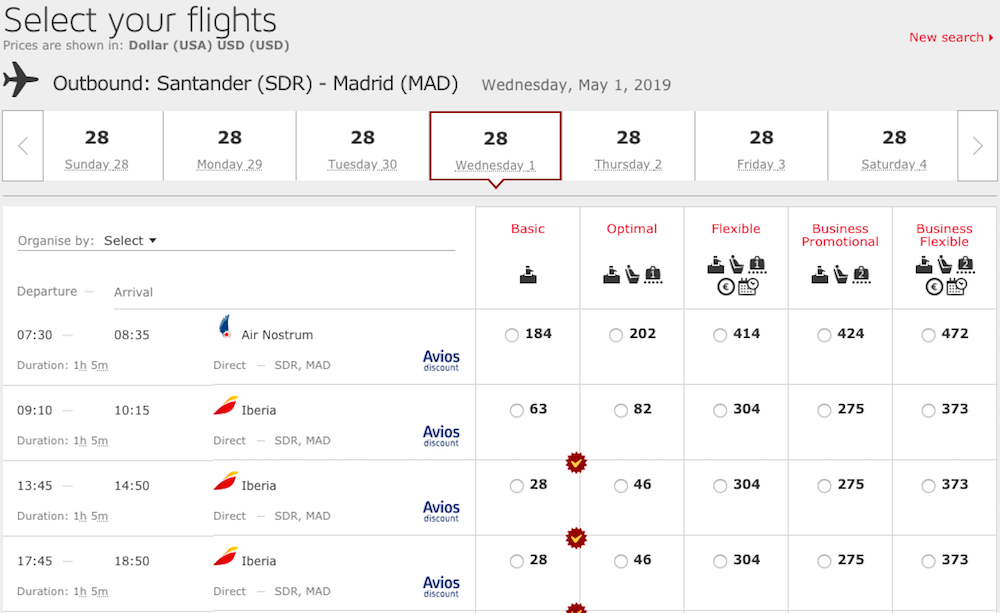 The all-in cost is $27.73 per ticket.

Can you open multiple Iberia Plus accounts to take advantage of this multiple times?
The program terms limit you to one Iberia Plus account per person, so I wouldn't mess around with that. However, your family members and friends can certainly open up their own Iberia Plus accounts (and you can assist them with that), and then you can book tickets for them.
Will Iberia honor this promotion?
Not only are the terms of this promotion pretty clear, but Iberia has been actively promoting the promotion and responding to people about it. This isn't us taking advantage of some fat finger mistake, but rather this genuinely seems to be how they published the promotion. Whether or not a high level executive will be happy with this at some point is a whole different question when they see how widely this was taken advantage of is a whole different question.
Given all the restrictions, is this really worth it?
There are certainly a few restrictions here. You have to redeem Avios by December 1 (though travel can be on a subsequent dates), and there are general questions about whether or not they'll honor the promo (I don't see how they can't, at this point).
So, is it worth it? What it comes down to here is that you're acquiring Avios for about a third of a cent each. That's an insanely low price, about a quarter of what I value them at. Everyone has to decide their risk vs. reward tolerance, but in my case I feel comfortable with this. If I were paying close to a cent per Avios I might not take advantage of this given the expiration date of these Avios, but at this cost I absolutely think it's worth the (relatively) small risk, not to mention I'm just generally excited about seeing how this plays out.
As I explained in a previous post, my plan is to redeem 96,000 Avios for roundtrip American A321 first class between New York and Los Angeles, with no carrier imposed surcharges. I'll just need to transfer over another 6,000 Avios (either from British Airways or Ultimate Rewards), and then I'll have a three cabin first class ticket for less than I'd pay for coach.
How are you guys feeling about this promotion? How many tickets have you and your family booked? Anyone voluntarily sitting this one out?