I'm trying to plan what I think would be an epic review trip, but unfortunately I seem to be hitting a stumbling block.
Kenya Airways is starting flights to New York next month
At the end of October Kenya Airways will be launching daily flights between Nairobi and New York. I've been wanting to review Kenya Airways for a long time and am fascinated by the route (in an Air Belgium kind of way), so naturally I'd like to fly the route as soon as possible.
While we're talking about it, I might as well call that I think the route will be reduced to non-daily in a matter of months. This route just makes very little sense for an airline losing a ton of money, not to mention that they're starting off with daily service.
Trying to redeem miles on Kenya Airways
On the surface this flight appears to be wide open when redeeming miles. Almost every flight shows as being "O7," meaning there are at least seven business class award seats per flight.

So my plan was to book an award ticket from New York to Nairobi on Kenya Airways, and then fly RwandAir from Nairobi to Kigali to Brussels to London.
I was super stoked and after finding the award space phoned up Delta to try and redeem SkyMiles for the New York to Nairobi ticket, at the cost of 95,000 SkyMiles plus roughly $400 in taxes and surcharges. While not exactly a deal, it seemed like the best option.
Unfortunately Kenya Airways awards aren't bookable on Delta's website, and the phone agents don't seem to see any of the space. I called a few times just to be sure it wasn't agent error.
So after putting some more thought into it I decided to redeem Korean Air SkyPass miles for the ticket, since they showed the space directly on their website. They charge 120,000 miles plus $800 in surcharges for a roundtrip ticket, so I figured I'd just use the return portion of the ticket at some point in the future, since it's a change that should be easy enough to make.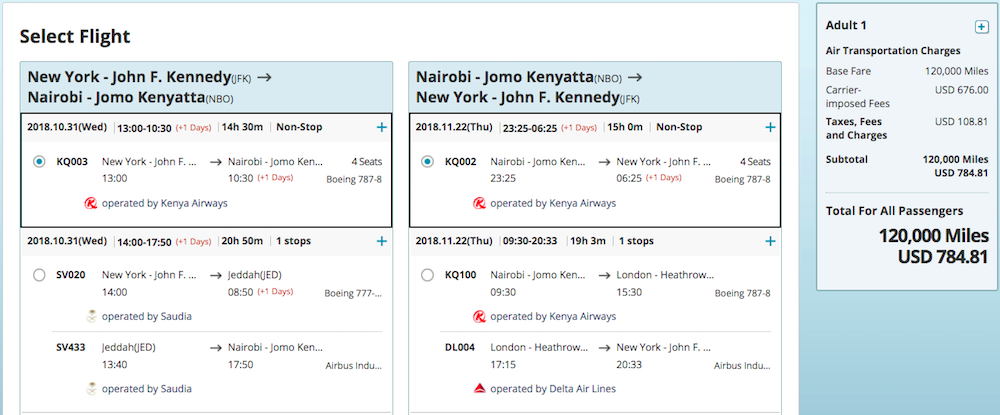 I went all the way to the ticketing page, and then got an error message after trying to submit payment.
Kenya Airways' frequent flyer program is Flying Blue, which is the same program that Air France and KLM uses. My guess is that the "O" space I've been seeing online is only bookable through Flying Blue. So I imagine I could book this at the cost of 115,000 Flying Blue miles plus $400 (or who knows, maybe it errors out in the same way as with Korean Air, but I have to imagine that the "O" space is accurate for some program).
Maybe this is an arbitrary place to draw the line, but at the cost of 115,000 Flying Blue miles plus $400 I lose interest, so I'd rather find another way to book a seat on this flight.
Reasonable business class fares on Kenya Airways
Kenya Airways has some really reasonable business class fares on their New York flight, though none of the deals are for travel originating in the US.
For example, for just $1,170 you can fly one-way business class from Dubai to New York via Nairobi, which is insanely cheap.

Or for $1,540 you can fly one-way business class from Johannesburg to Nairobi to New York.

I'm tempted by the Dubai fare, but I can't decide on a fun way to get to Dubai. The thing is that I plan on doing this just shortly after flying from Singapore to Newark on the world's longest flight, so I don't want to be too crazy with my routing.
Do I fly Washington to Abu Dhabi on the Etihad 787 in first class, since I haven't reviewed that before? Do I fly Norwegian to London Gatwick, and then RwandAir from London to Brussels to Kigali to Mombasa to Dubai? That doesn't seem very direct.
I really, really want to try Kenya Airways' 787 business class on this 15 hour flight, I just can't come up with anything I'm all that happy with.
If anyone has any inspiration, I'm all ears!