I can't believe this is actually happening. Since last year it has been rumored that Kenya Airways will launch flights between Nairobi and the US. The airline actually followed through with requesting permission from the US Department of Transportation to operate the route, and that was granted.
After silence about the route for a while, it's finally happening. Kenya Airways will begin flying daily between Nairobi and New York JFK as of October 30, 2018. The route will be operated with the following schedule:
KQ002 Nairobi to New York departing 11:25PM arriving 6:25AM (+1 day)
KQ003 New York to Nairobi departing 12:25PM arriving 10:55AM (+1 day)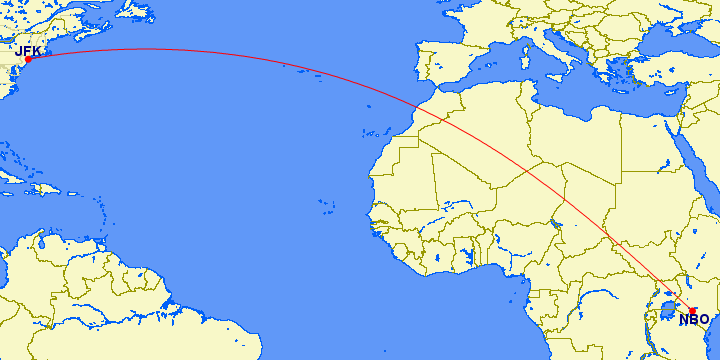 Kenya Airways will use a Boeing 787-8 for the route, featuring 30 fully flat business class seats and 204 economy seats. The route will cover a distance of 7,360 miles in each direction, so this is an ultra longhaul route. The flight is already bookable, and there's even award space — it looks like there are two business class award seats available every date.

I'm super excited about this route as I've been wanting to try Kenya Airways, though it's sad the airline is lighting money on fire in this way. The airline is doing horribly financially, and nonstop routes from the US to Africa are notoriously difficult to make money on (just look at South African Airways' financial performance). Clearly the motivation here is prestige over profits. What seems especially crazy is that they're operating this flight daily, rather than just starting with a few frequencies per week.
Nonetheless I find this route pretty awesome. When the route was first rumored, the airline claimed they'd launch it within a few weeks. Giving about nine months lead time makes a lot more sense, so at least they're being rational there. Then again, it also gives them time to change their mind (or at least reduce the number of frequencies). Somehow it wouldn't surprise me if they do.
Now we'll have to wait and see if RwandAir also launches flights to New York, as has been rumored.
What do you make of Kenya Airways launching flights between Nairobi and New York?
(Featured image courtesy of BriYYZ)