EVA Air is one of my favorite airlines, due to their cappuccinos and Hello Kitty-themed aircraft, though to be honest I've never given much thought to their fabulously named Infinity MileageLands program.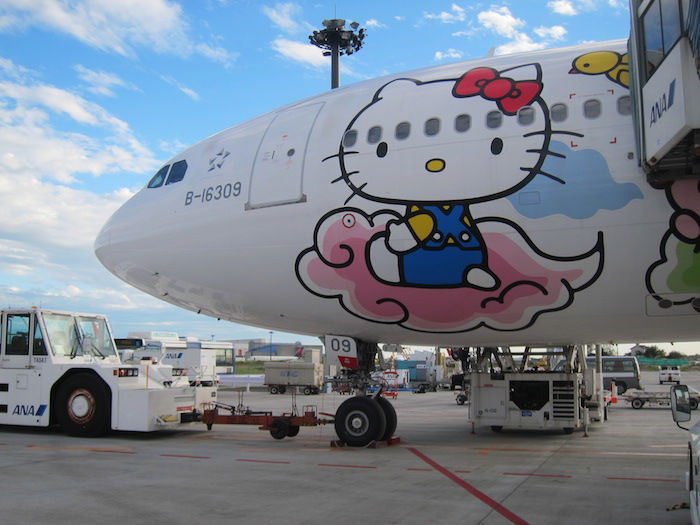 The name itself is pretty much the gift that keeps on giving, so I've never really looked for rewards from the program beyond that. 😉
As of a few weeks ago though, EVA Air's Infinity MileageLands (I can't even) is now a transfer partner of select Citi ThankYou cards, so I thought it might be helpful to go through the basics of the program.
The Award Chart
EVA has a zone-based chart, and the regions themselves are pretty straightforward:
| Award Zone | Countries Included |
| --- | --- |
| North America | Canada, USA (excluding Hawaii) |
| Hawaii, Central America | Bermuda, Caribbean, Costa Rica, El Salvador, Guatemala, Hawaii, Mexico, Nicaragua, Panama, Puerto Rico |
| South America | Argentina, Bolivia, Brazil, Chile, Colombia, Ecuador, Paraguay, Peru, Uruguay, Venezuela |
| Europe | Albania, Austria, Belgium, Bosnia and Herzegovina, Bulgaria, Croatia, Czech Republic, Denmark, Estonia, Finland, France, Germany, Greece, Hungary, Ireland, Italy, Latvia, Lithuania, Luxembourg, Macedonia, Malta, Montenegro, Netherlands, Norway, Poland, Portugal, Romania, Russia, Serbia, Slovakia, Slovenia, Spain, Sweden, Switzerland, Ukraine, United Kingdom |
| Middle East | Armenia, Azerbaijan, Bahrain, Cyprus, Egypt, Georgia, Iran, Iraq, Israel, Jordan, Kuwait, Lebanon, Oman, Qatar, Saudi Arabia, Syria, Turkey, United Arab Emirates, Yemen |
| North Africa | Algeria, Canary Islands, Libya, Morocco, Tunisia |
| Central Africa, South Africa | Angola, Botswana, Burundi, Congo, Cote d'Ivoire, Equatorial Guinea, Ethiopia, Ghana, Madagascar, Malawi, Mauritius, Mozambique, Namibia, Nigeria, Senegal, South Africa, Sudan, Tanzania, Uganda, Zambia, Zimbabwe |
| Hong Kong / Macau | Hong Kong, Macau |
| China | China |
| North Asia | Guam, Japan, Micronesia, Palau, Russian Far East, South Korea |
| South East Asia | Brunei, Indonesia, Malaysia, Singapore, Cambodia, Laos, Myanmar, Philippines, Thailand, Vietnam |
| Central Asia, South Asia | Afghanistan, Bangladesh, India, Kazakhstan, Kyrgyzstan, Maldives, Nepal, Pakistan, Sri Lanka, Tajikistan, Turkmenistan, Uzbekistan |
| South West Pacific | Australia, Cook Islands, Fiji, New Zealand, Niue, Norfolk Island, Samoa, Tahiti, Tonga, Vanuatu |
EVA Air Infinity MileageLands Award Zones
From North America, the redemption rates are as follows, but you can also find the full Star Alliance award chart here.
| North America to: | Economy | Business | First |
| --- | --- | --- | --- |
| North America | 39,000 | 58,000 | 77,000 |
| Hawaii, Central America | 50,000 | 80,000 | 125,000 |
| South America | 68,000 | 105,000 | 170,000 |
| Europe | 68,000 | 130,000 | 170,000 |
| Middle East | 86,000 | 135,000 | 210,000 |
| North Africa | 93,000 | 160,000 | 250,000 |
| Central Africa, South Africa | 100,000 | 185,000 | 290,000 |
| Hong Kong / Macau | 115,000 | 175,000 | 210,000 |
| China | 115,000 | 175,000 | 210,000 |
| North Asia | 115,000 | 175,000 | 210,000 |
| South East Asia | 120,000 | 195,000 | 225,000 |
| Central Asia, South Asia | 120,000 | 195,000 | 290,000 |
| South West Pacific | 120,000 | 195,000 | 290,000 |
EVA Air Infinity MileageLands Award Chart from/to North America
I seriously love this chart, because it is just as nonsensical as I'd expect it to be from something called "Infinity MileageLands."
I find the range of mileage premiums for first over business to be fascinating. Taiwan to North America you pay a 35K mile premium for first over business, while Taiwan to Hawaii you pay a 105K mile premium. Yow!
Zones are fascinating. Taiwan to Hawaii should be cheaper than Taiwan to mainland US, but it's the opposite. And they group Hawaii with Central America, which should in fact be more expensive.
"Rounding" on redemption rates is hilarious. Sometimes ends in "5" or "0", other times rates are 81,000 miles or 90,500 miles. WTF?
One-ways are priced at half the cost of a round-trip, for what it's worth.
Routing Rules
For the most part, EVA's routing rules are pretty "typical," and I don't see anything that really stands out.
Two stopovers are allowed on a round trip award ticket, including one on the outbound and one on the inbound
Neither the turnaround point nor stopover cities can be in the same country as either the origin or destination
Stopovers are not allowed on a one way ticket
One open jaw segment is allowed for the entire itinerary;however, the open jaw must be at the origin/destination or turnaround point
Open jaws between regions are not allowed
For an award ticket containing more than one zone, the zone with the higher mileage requirement will be applied
A maximum of six segments are allowed on an award ticket, but there doesn't seem to be a MPM restriction
Changing Award Tickets
For a partially flown award ticket, the return flight can be changed three days before the return departure, but only the travel date or flight number can be changed. The carrier and route have to remain the same.
Otherwise, it's $50 to change or refund the award ticket.
Fuel Surcharges
I've priced out several different awards, and in every case the taxes and fees were almost identical to what I'd expect to pay through Air Canada's Aeroplan program.
This is interesting, as EVA doesn't have fuel surcharges on their own award tickets, but it seems they're happy to pass those fees on where other carriers include them.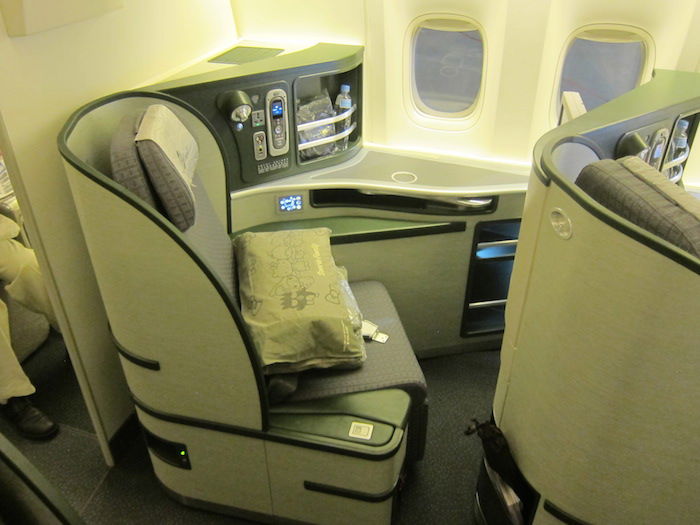 Booking
All partner awards have to be booked over the phone, and the number for the North American service center is 310-362-6600. When you call, you'll want to follow the prompts for "Passenger Services" then "Evergreen Club." That was the name of EVA's old mileage program, and apparently they haven't updated their phone tree.
In speaking with several different agents it doesn't seem like EVA offers holds on award tickets. Given that we have no idea how long transfers will take from Citi, I'd be very hesitant to transfer points to Infinity MileageLands.
Blocking Lufthansa First Class?
I haven't done exhaustive research here, so I'm hesitant to say this is absolutely the case, but it appears that it isn't currently possible to book Lufthansa First Class through the Infinity MileageLands program.
I'm not 100% confident this is the case, but multiple agents couldn't see even a single seat this week, and there is plenty of space to and from Germany on various different routes, so if they aren't intentionally blocking there is certainly a system issue.
Bottom Line
I certainly could be missing something, but doesn't look like there are many unique opportunities, and I don't see a longhaul option where it wouldn't be more lucrative to book through Singapore KrisFlyer, which is also a ThankYou points transfer partner (and an American Express Membership Rewards, Chase Ultimate Rewards, and Starwood Preferred Guest transfer partner).
Have you ever redeemed EVA Air miles? If so, what was your experience?