Earlier Spencer wrote a post about the best ways to redeem Amex Membership Rewards points for travel to Europe, which I think is a great resource. Obviously he covered as many things as he possibly could, though it's impossible to share every possible redemption without being totally overwhelming. In the comments section of the post, reader Sam mentions one redemption option that it's probably worth posting a refresher about.
Back in early 2015 I wrote about the great value of redeeming Etihad Guest miles on Royal Air Maroc. It has been over three years, and this redemption opportunity is still available. Given that other programs have devalued their award charts since then, I think it's once again worth posting a reminder of how useful this can be.
The great value of redeeming Etihad Guest miles on Royal Air Maroc
Etihad Guest has a unique mix of airline partners, with each partner having different redemption rates. Some redemptions are distance based, while others are city pair based. As a result I find some of Etihad's redemption rates to be excellent, while others are pretty lousy.
One of the best values is being able to redeem Etihad Guest miles for travel on Royal Air Maroc. Here's the Etihad Guest award chart for travel on Royal Air Maroc:

As you can see, any one-way redemption covering a distance of 2,001 or more miles costs 44,000 miles one-way in business class, which I'd consider to be a very good value. Note that the distance isn't calculated on a per segment basis, but rather on a per direction basis, so there are some great opportunities here, which make this useful for travel beyond Morocco.
Where does Royal Air Maroc fly?
Royal Air Maroc operates flights to two US destinations — New York JFK and Washington Dulles. They operate:
2x daily flights between New York and Casablanca
4x weekly flights between Washington Dulles and Casablanca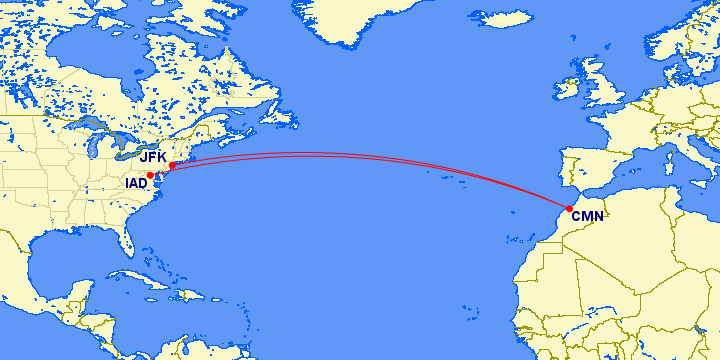 Beyond that, they have an extensive route network to destinations in Africa, the Middle East, and Europe. You can find the full list of their destinations on this page. This means that 44,000 miles will cover a one-way ticket from New York to Casablanca to Frankfurt, or from Washington to Casablanca to Doha, for example. That's potentially a lot of flying for very few miles.
Note that you'll be responsible for any taxes, fees, and carrier imposed surcharges on Royal Air Maroc award tickets booked through Etihad. The best way to estimate these is to price out the flights you're trying to book through ITA Matrix, and add up all the costs other than the base fare. For example, for a one-way ticket from Casablanca to New York, the total taxes, fees, and surcharges come out to about $220 one-way, which isn't too bad. It's even a bit cheaper flying in the other direction (around $140).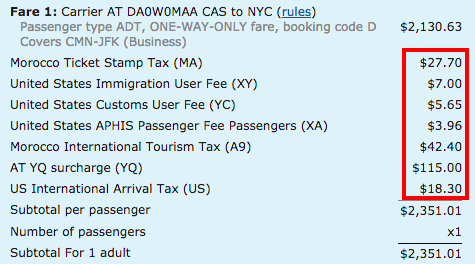 What is Royal Air Maroc award availability like?
Etihad Guest doesn't actually let you book these awards online, so you have two choices for determining award availability:
It might sound like a total no brainer to use Royal Air Maroc's website to search availability, though their website is really, really bad. Like, it's so bad that it's almost not worth searching. It's so bad that somehow my mileage balance with them is negative one miles.
If you do decide to search online, just log into your Safar Flyer account and then when you do a search select the "buy your ticket with your miles" option.

If the flight shows up when you search then it has award availability.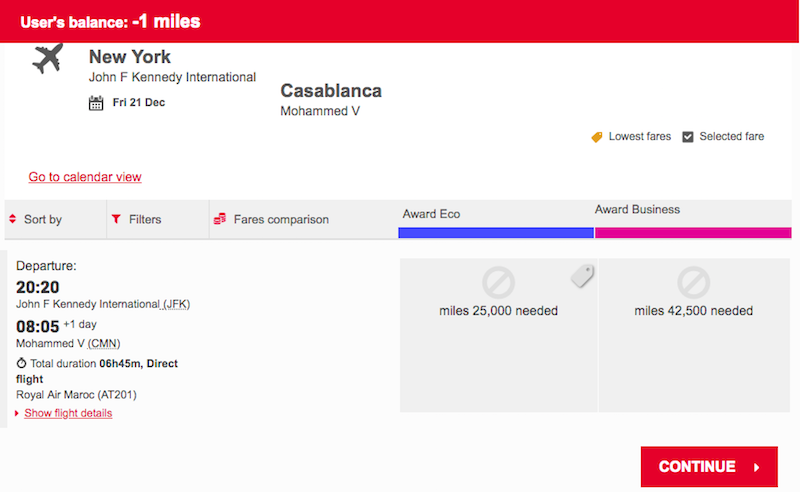 The only time it doesn't have award availability is when it shows "no fare."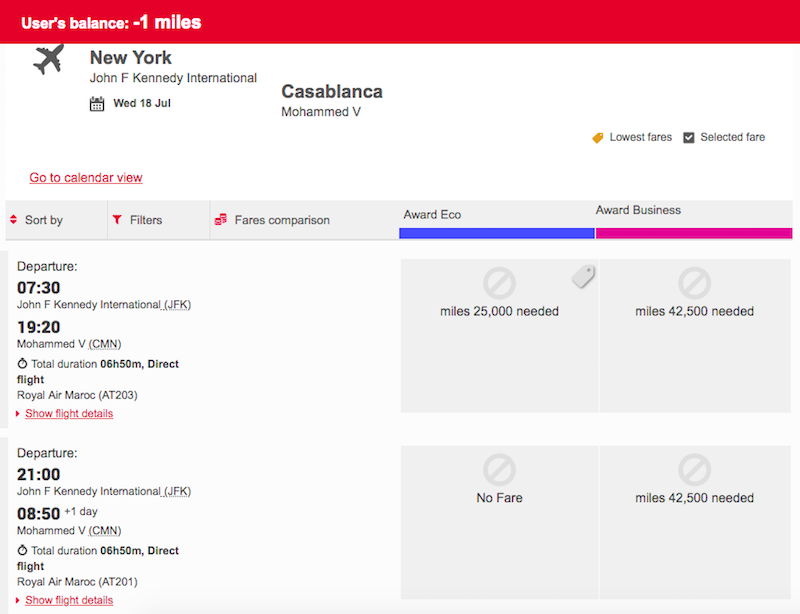 Royal Air Maroc business class award availability is exceptionally good for up to two passengers. Almost all flights seemed to have award availability, and it almost took effort to find a flight that didn't.
Given how clunky Royal Air Maroc's website is, this makes me think that for many it might just be easier to phone up Etihad Guest to ask about award availability, since there seems to be space more often than not.
How do you actually book RAM awards?
Once you've found award availability (or even if you haven't, but just want to call to ask about award availability), you'll want to contact Etihad Guest. They're open 24/7, and can be reached at 877-690-0767.
Etihad Guest agents are a real mixed bag, so if you get an agent who says that there's no award availability, just hang up and call again. It might even take a few tries to find someone who can find the space. Some might also be confused by the redemption costs, like the ability to include multiple segments of a one-way ticket for the 44,000 mile cost.
Hopefully it shouldn't be too complicated, though. For the two calls I just made, the agents were able to pull up the space, but only after placing me on hold for about 10 minutes.
After booking, in the event that you need to cancel your ticket, the refund cost is 10% of the mileage required for the ticket, and you'll be refunded taxes and fuel surcharges. No stopovers are allowed on these awards.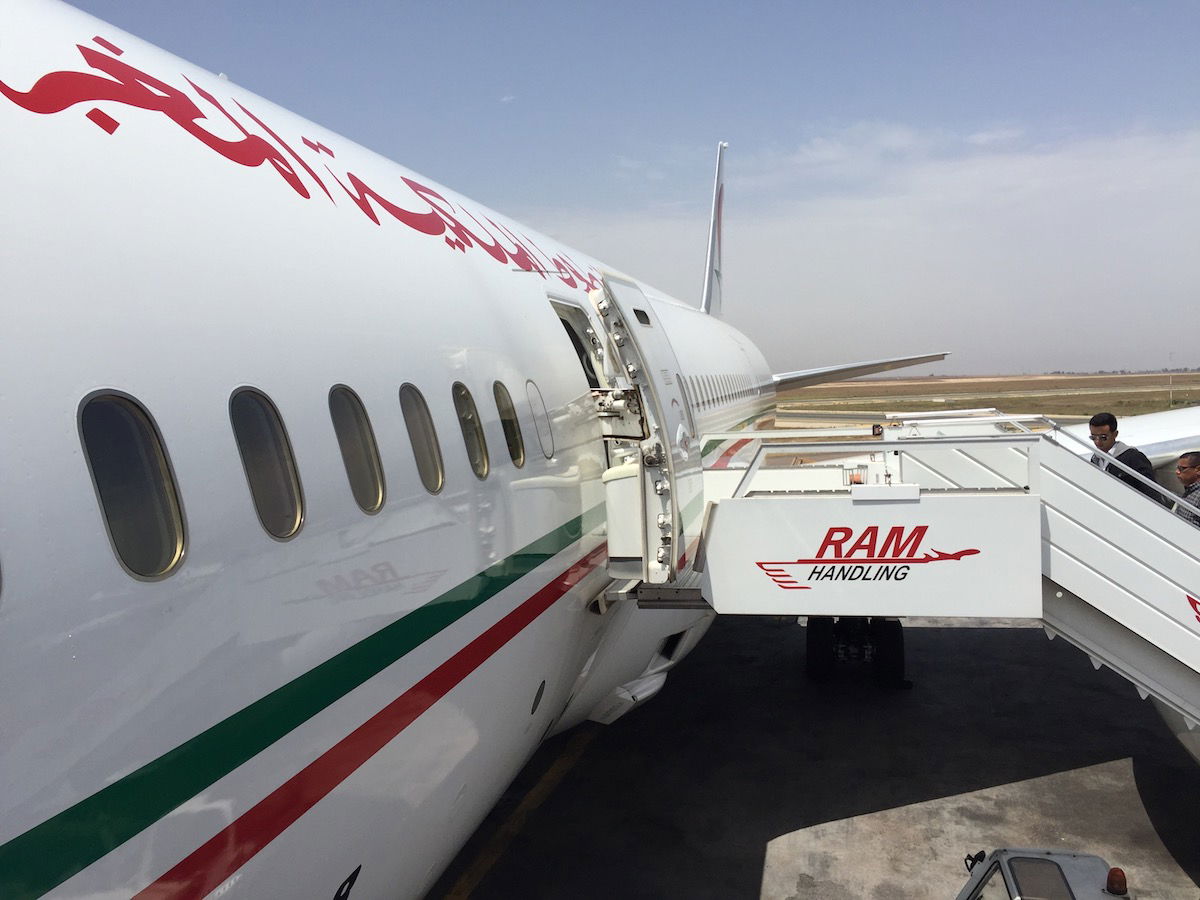 How is Royal Air Maroc's business class?
RAM exclusively operates Boeing 787s on their routes to the US. I reviewed Royal Air Maroc's 787 business class between Doha and Casablanca in 2016, which is roughly comparable in length to their US flights. I was pleasantly surprised by the experience.
Royal Air Maroc has flat beds in business class on their 787s (though it's an odd configuration), the service was friendly, and the food was quite good. I wouldn't hesitate to fly them again.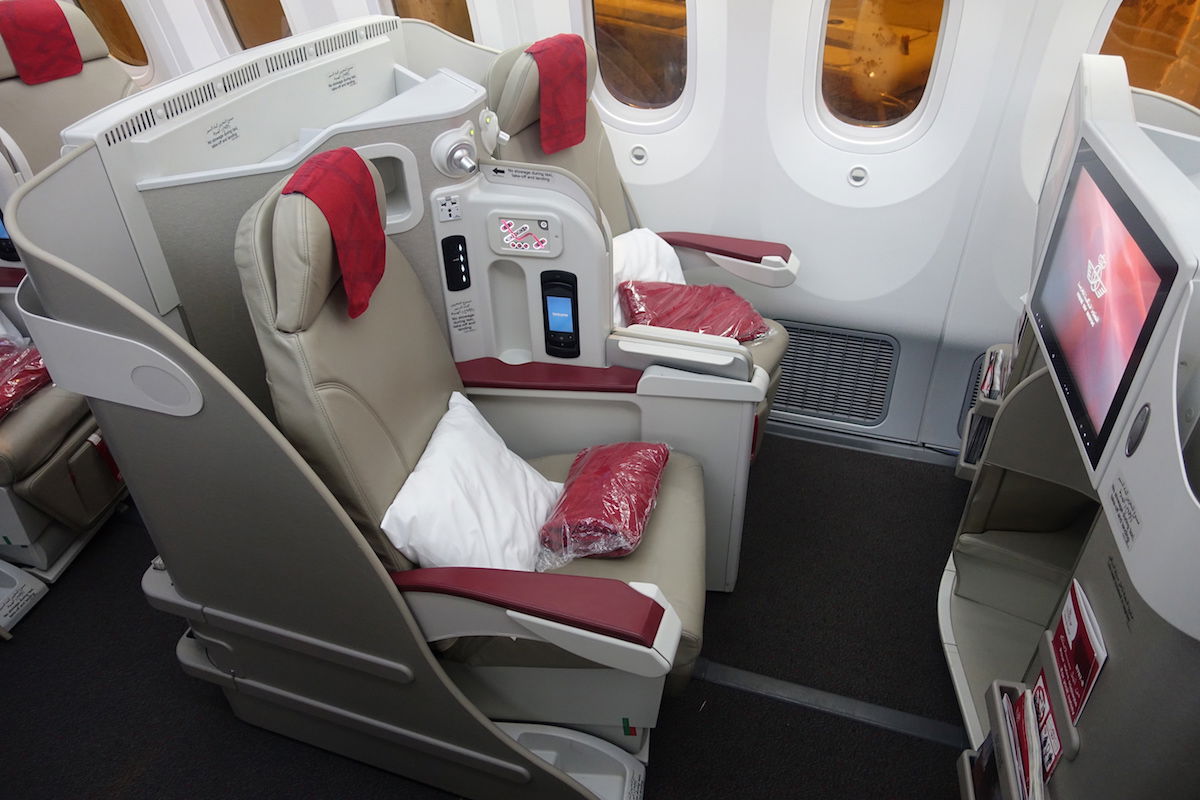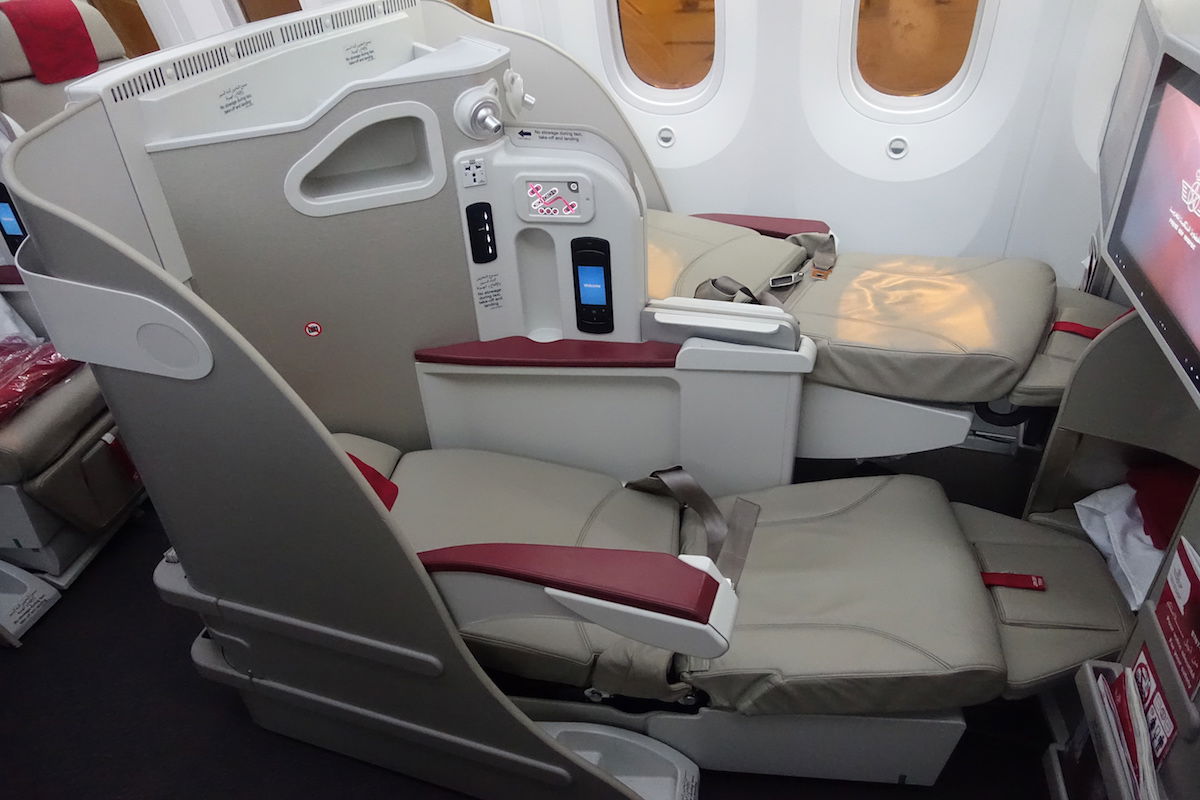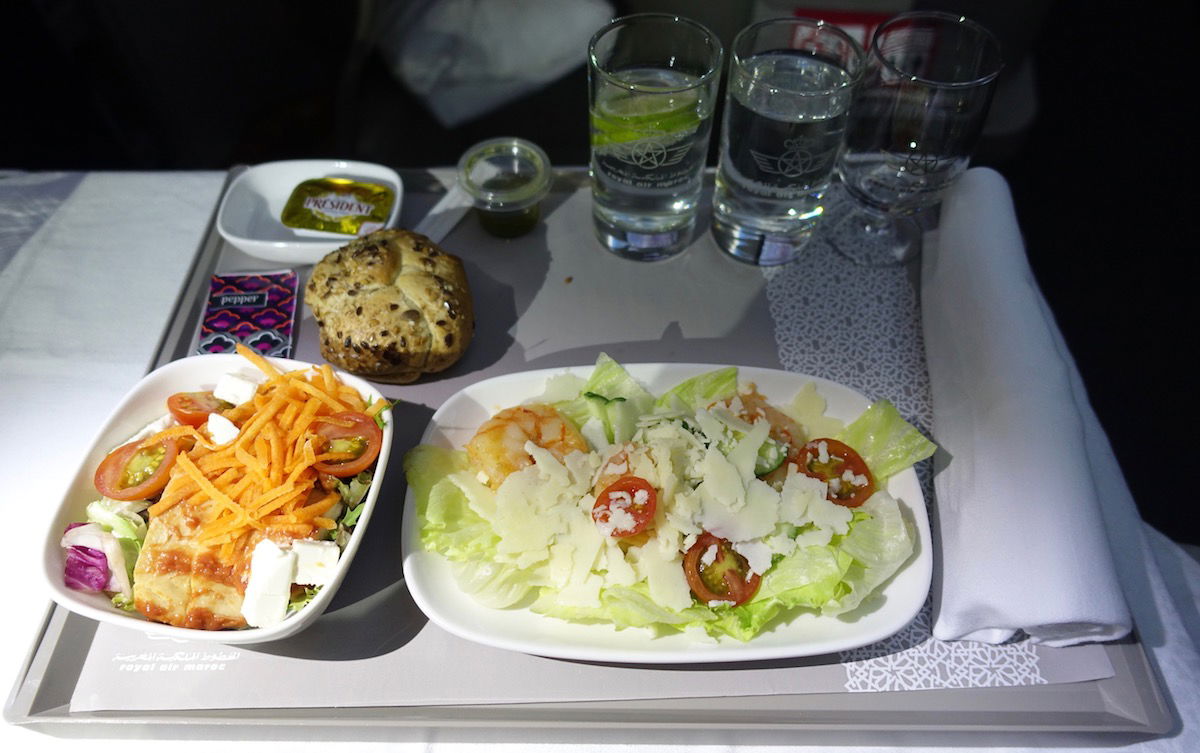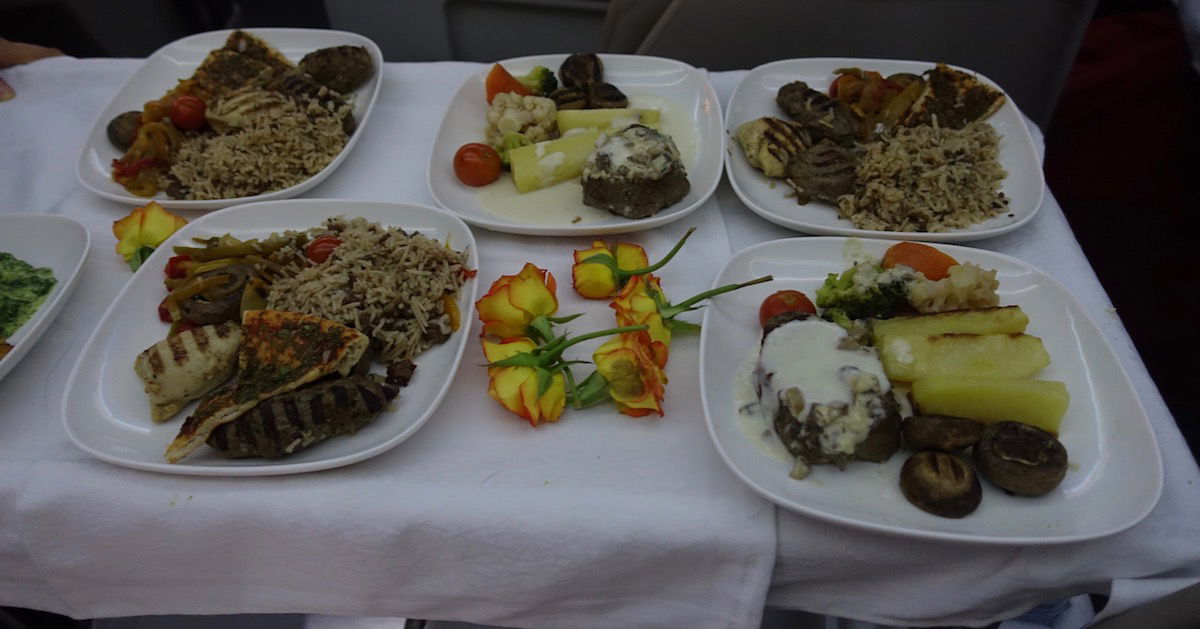 If you're connecting on Royal Air Maroc to Europe or another destination, there's another cool thing to be aware of. Royal Air Maroc's 737s feature proper business class seats, similar to what you'd find in domestic first class within the US. This is much better than what you'd usually find on an intra-Europe flight, for example, where business class is just economy with a blocked middle seat. So in many cases this is quite a comfortable way to get to Europe as well.
How can you earn Etihad Guest miles?
Etihad Guest is transfer partners with Amex Membership Rewards and Citi ThankYou, so it's pretty easy to earn these points. Here are some of the popular credit cards with which you can earn Etihad Guest miles:
Bottom line
While I've written about the ability to redeem Etihad Guest miles on Royal Air Maroc before, sometimes it's worth posting a refresher about these niche redemptions. This is an excellent award option if you're looking for a good value transatlantic flat bed business class redemption that's almost always available. Not only is this useful if you want to visit Northern Africa, but this could also be valuable for travel to Europe, the Middle East, and even other parts of Africa.
Has anyone redeemed Etihad miles on RAM, or plan on doing so?