For years major US airlines seemingly barely used their loyalty programs to fill planes. After all, they didn't really have to, with airlines having experienced record profitability and loads. The pandemic has changed that, and we've once again started to see airlines offer more frequent flyer promotions.
Yesterday Southwest launched a promotion offering 20% off award redemptions, and today American has kicked off a promotion to incentivize redeeming AAdvantage miles.
American offering bonus when you redeem miles
American is offering 250 bonus AAdvantage miles for every award flight you take:
You must register by October 7, 2020, and book travel after registering
You must travel between October 1 and October 31, 2020
You can earn up to 2,000 bonus AAdvantage miles
Only the ticketed passenger can earn bonus miles, so if you're booking travel for someone else, have them register for the promotion so they can earn the bonus miles
Only flights flown on American Airlines are eligible for this promotion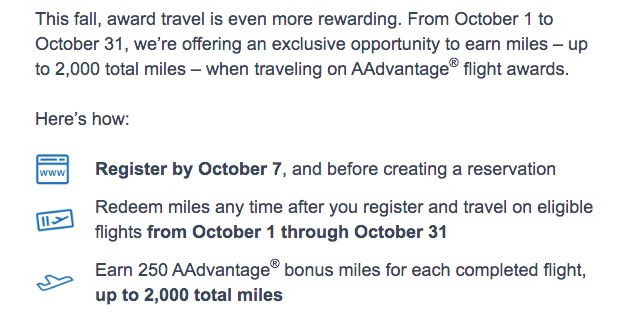 I get the idea, but the execution isn't good…
While I appreciate the concept behind this promotion, I can't help but feel like American AAdvantage is being incredibly stingy here:
You have to register before booking travel
You can only travel over the course of a month
You can only earn up to 2,000 bonus AAdvantage miles
You earn 250 bonus AAdvantage miles per flight; I value AAdvantage miles at ~1.5 cents each, so to me that's like earning $3.75 worth of miles per flight through this promotion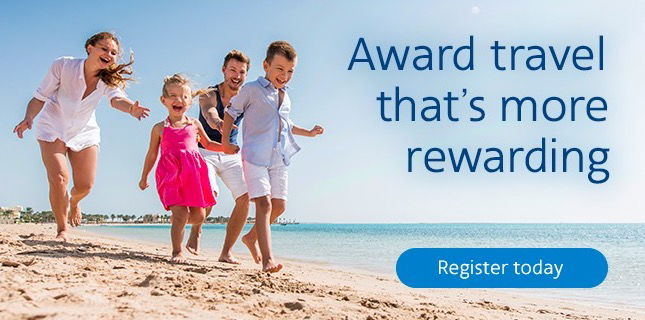 Individually any of those restrictions would be fine, but when you combine them, I can't help but feel like this promotion just comes across as… extremely stingy.
12,500 AAdvantage miles is a normal cost for a one-way domestic award ticket, so you're getting a grand total of a 2% discount on your award ticket.
Want to fly nonstop from New York to Los Angeles in first class? The absolute cheapest one-way award in the month of October is for 74,500 AAdvantage miles, so getting 250 miles back is like getting a ~0.3% discount.
Look, I don't want to look a gift horse in the mouth — something is better than nothing, I suppose. But I also believe that if the goal is to move the needle when it comes to consumer behavior, 250 bonus miles isn't gong to do much. At that point American is just giving away (a very small number of) miles for "free," rather than doing something that actually impacts member behavior. At least that's my take.
20% off award tickets plus blocked middle seats on award tickets, like what Southwest is doing? Yeah, that could cause people to book. Getting bonus miles worth less than the cost of a bottle of water at an airport? Meh…
Bottom line
American is offering 250 bonus AAdvantage miles per flight to members who register and then redeem miles for travel in October. While it's nice to see American incentivizing AAdvantage redemptions (which we otherwise haven't seen in a long time), this is definitely on the stingy side.
What do you make of this promotion — is this promotion well thought out, or stingy to the point of not impacting consumer behavior much at all?