I seem to have jinxed myself, because in the past six weeks I've collectively had over 30 hours in flight delays, including a 14 hour delay between Seoul and Abu Dhabi yesterday. I thought it would make sense to provide some general tips on dealing with rebookings during operational issues, especially as it pertains to award tickets (after all, many of us primarily fly on award tickets).
Whether due to a strike, maintenance, political unrest, or weather, delayed flights can screw up a perfectly good itinerary regardless of whether it's an award ticket or revenue booking. The complication with award tickets is that they are often booked by one airline for travel on partners. US Airways, I'm looking at you. 😉
If it's not the airline that issued your award ticket causing a flight delay, they are much less inclined to assist over the phone. Speaking from experience, operating airlines don't want to make any modifications to an itinerary over the phone if they didn't issue the ticket, as they don't "own" the ticket. This is especially frustrating if you're trying to be proactive and handle a flight delay before heading to the airport.
Back in July, I wrote about how long to leave for connections on award tickets, which is a great way to protect yourself from minor delays that are just part of day-to-day operations in the airline industry. Then again, a long connection probably wouldn't have saved a connection for my Etihad flight which was delayed by 14 hours.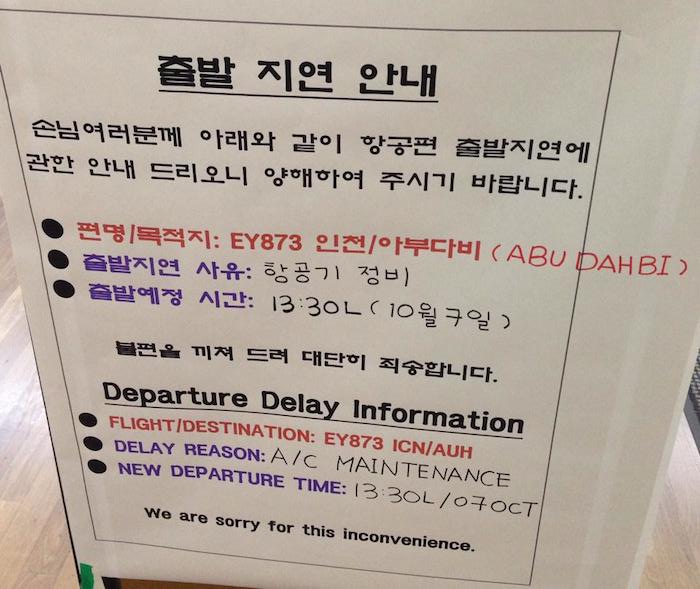 Etihad flight delay notification
As a rule of thumb, there are three general ways to handle rebookings:
Call the airline who issued your award ticket
Call the airline operating your flight
Work with an agent at the airport
Call the airline who issued your award ticket
This makes sense under a few different circumstances. First off, you want to be sure that the reservations office is open. It's mind boggling to me that airlines like British Airways still don't operate a 24/7 call "centre" for award tickets, even though they are just forwarding off US-originating calls to the UK.
Whenever I call an airline that issued the award ticket, I'll always have back up flights ready to present that are available with award space. Close to departure, especially within the timeframe of a delay being posted, there's usually several alternate options available unless there's a major event, like the recent Air France strikes which even impacted Lufthansa award availability from Paris.
Without presenting options for a reservations agent to book, they can't really help if the delay wasn't caused by their own airline. Their hands are tied, even though they likely want to help.
If the delay or cancellation isn't viewable by the issuing airline, they likely can't waive any change fees either. This is especially important to keep in mind with airlines like Delta or US Airways, which restrict changes close to departure or once travel has commenced.
Call the airline operating your flight
This makes sense in situations where there's no alternate award space, or you can't get ahold of the airline who booked your award ticket.
While you're going to get pushback 95% of the time with the reason they can't make any modifications to the ticket, the operating airline can often "sell in" flight segments without re-issuing the ticket. Then they can call the airline who booked the ticket to get it re-issued, or an agent can handle this at the airport.
For example, you're going to have better luck calling Lufthansa on a United MileagePlus award when you're within a few hours of departure than United itself. Agents are more willing to help in situations where there's time pressure, especially if it's their own airline causing the delay.
I find this technique to work best when the delay is caused exclusively by the airline, like a mechanical delay or strike. Weather is a great scapegoat for airlines.
Work with an agent at the airport
Agents at the airport are afforded much more leeway when it comes to rebooking. While there are general policies in place to first rebook on their own flights and then on partner flights, they can even rebook you on unaffiliated carriers. I've even heard of British Airways rebooking first class award passengers on Emirates. 😉
Basically, what's not possible over the phone might be possible at the airport. Customer service agents at the airport are the last resort for a customer suffering from irregular operations, so they'll usually do what it takes to get you on your way.
If an agent is struggling to find alternate options, it helps to be prepared with flights that have availability. You can easily find flights still selling seats by using ExpertFlyer. Worst case, just try using an online travel agency like Expedia to find flights for sale that you can feed an agent.
Sometimes airport agents can't see all the inventory that might be for sale on a flight because they are limited to what other airlines will display to them. This means they'll have to give a call over to the new operating airline to verify seats are actually available. This is even common for airlines that have "close" relationships.
Don't accept a downgrade
Often you'll find that an agent will want to book you in lower class of service than you were ticketed. If there are seats for sale in the cabin your ticket was issued in, you are entitled to those seats. You paid for a certain class of ticket, but the fare component is based on miles, not money. Don't feel pressured into taking an alternative that isn't going to work for you.
On the flip side, I've heard many stories of passengers on economy award tickets being rebooked into premium economy or business class because there were no flight options available in economy. This is especially true during peak travel seasons when economy is full, but premium cabins still have availability.
Getting rebooked into international first class when you aren't on a first class ticket is definitely a stretch, and not something I would propose to an agent. Airlines want to "protect the integrity" of their first class cabins, so they're usually off limits, even in irregular operations.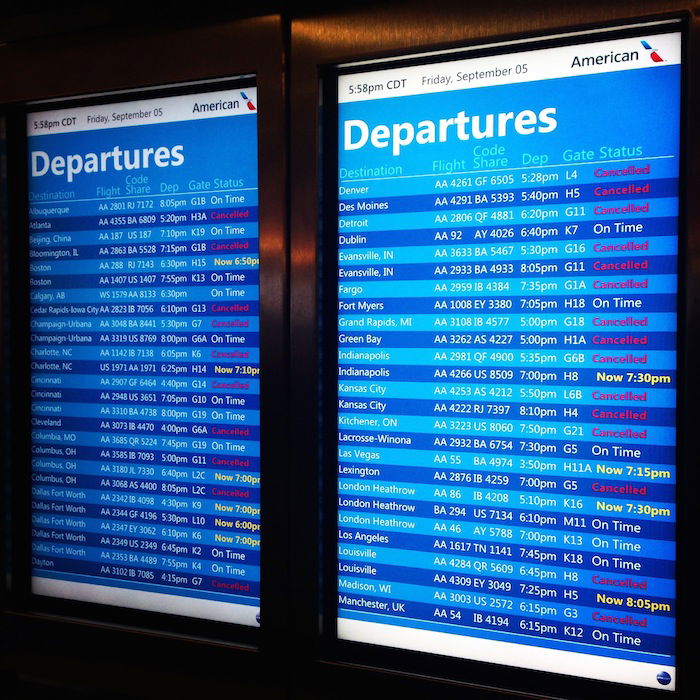 American Airlines departures board during a storm at Chicago O'Hare
Bottom line
While much of this post applies to international award tickets, the good thing is that longhaul flights tend to operate with more consistency and punctuality than short haul flights… unless it's Air India delaying a flight for a party.
I think I jinxed myself by writing about my first long delay in a while, because I mentioned how traveling longhaul is so much easier than short-haul. I guess that's only true sometimes.
Hopefully this post sets some basic expectations for what's realistic when it comes to rebooking your award tickets. I always hate to hear about awesome award itineraries that get ruined by irregular operations. Given how full flights are nowadays, it can be tougher than ever to get rebooked on an acceptable routing during irregular operations.
What has been your experience dealing with irregular operations while on an award ticket?