Last night I had one of those flying experiences that just leaves me cranky. Let me say upfront the two things I took away from this more than anything:
My travels have been so seamless lately. I really don't remember the last time I've had a major delay. I've flown over 600,000 miles since the beginning of last year, and don't actually remember a major delay in that time period. That's amazing, and it's not something I put any thought into until I had a flight which didn't go smoothly.
Traveling longhaul is so much easier than short-haul. Perhaps related to the above, a vast majority of my flying the past two years or so has been longhaul. While jetlag sucks, longhaul flying seems to rarely have any problems. Similarly, most of my domestic flying has been nonstop and on "mainline" aircraft, which might explain the lack of delays there. I think I've been on one regional jet in the US all year.
That being said, I still got a bit cranky last night, which kind of surprised me. Don't get me wrong, I didn't turn into this lady:
When you're a frequent flyer you mostly become immune to emotions at airports, I think. And you also become more understanding, since you know that stuff happens. But I did find myself getting irritated. Not at the delay as such, but rather the apathy of front line agents.
That brings me to the story of my flights yesterday from Tampa to Philadelphia to Toronto on US Airways.
Tampa to Philadelphia operated on time and the service was what I expected.
On arrival I headed to the US Airways Club. There I got into a bit of a kerfuffle with a fellow passenger/mass food procurer.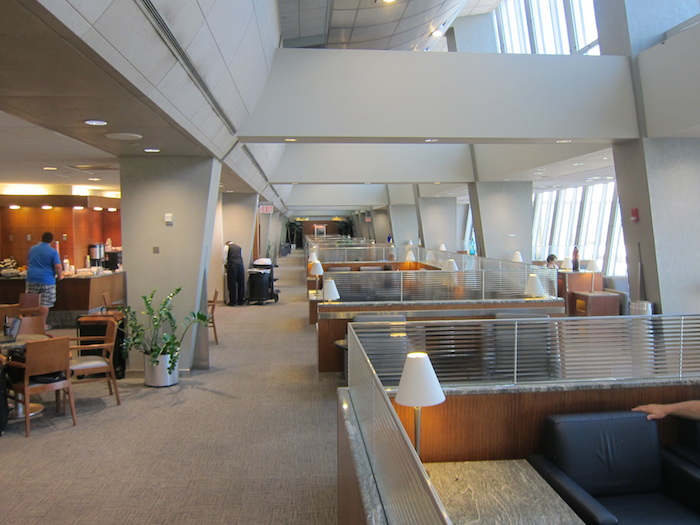 My layover was almost four hours to begin with, though as long as I have an internet connection I don't really care where I am, since I can work from anywhere.
About halfway through my layover I got a call from US Airways saying my flight to Toronto would be delayed by 30 minutes. Okay, whatever.
As the original departure time approached I went to see the agent in the US Airways Club and asked if she knew where the inbound aircraft was coming from. She explained it was coming from Detroit, and that the plane had a mechanical there. She insisted it would leave soon, since all the passengers were already aboard.
Okay, fair enough. Since I knew where the flight was originating, I could at least monitor to see when the plane actually left.
So I monitored, and the flight kept getting pushed back. And pushed back. And pushed back. At this point I went back up to the desk for an update. A new agent was working at this point, and she looked at the flight and said "it's a mechanical, but they're all boarded and should be leaving any minute." Right.
I was Tweeting about the delay, and as seems to be the norm at the "new" American nowadays, whenever you even mention them on Twitter they Tweet you. Of course I wasn't expecting them to actually have any insights.
After that I Tweeted them to (jokingly) ask what they thought the odds were of the flight leaving. They followed that up with the least insightful thing you could possibly say during a rolling multiple hour delay.
And when I told them that, they responded with this useful information.
Nothing beats being told a flight is estimated to depart… three minutes ago!
And then they followed that up by explaining that they mixed up timezones, because Detroit "isn't on Central time today" (or ever).
In retrospect I'm not sure what I was expecting, but I'd rather not get a response than useless misinformation.
Anyway, the US Airways Club closed at 10PM, so I headed out to the gate. There were three agents working the gate for a regional jet that hadn't even yet left the previous city, which seemed like an overkill. I figured "great, they're trying to be proactive with customer service."
My biggest question was where the crew was coming from, since I was wondering if they were going to time out. That's a perfectly reasonable question, in my opinion, because over the years I've had more cancellations from crews timing out than anything else. Here we're talking about a regional jet crew working the last flight of the night which is delayed by four hours. They're usually already working close to the maximum number of allowable hours, so it's useful to know if it's the same crew, or if they called in a reserve crew instead.
So the conversation went something like this:
Me: "Excuse me, can you tell me if the crew for the flight to Toronto is the same one coming from Detroit, or is it a different crew? I just want to be sure we're not going to wait here for a couple more hours only to have them time out, in which case I'd rather just get a hotel now."
Agent: "Why do you want to know?"
Me: "Because I'd like to know if this flight is actually departing when the plane arrives, or if there's a chance it will be canceled at that point."
Agent: "Well whatever crew is scheduled on the flight wouldn't be if they were timed out."
Me: "You have a lot more faith in Republic's scheduling department than I do. Could you please look it up?"
Agent: "It shouldn't matter either way."
Me: "I really don't want to be a pain, but could you please find out?"
She huffed and puffed. Keep in mind there were three gate agents, and none were actually doing anything, so I feel like having her pick up the phone wasn't too much to ask.
Apparently they gave out meal vouchers if you asked, though I only got one after I picked up food from the only place that was still open. Yup, glamorous jetsetter life, eh?
Anyway, eventually the flight did leave, exactly four hours late.
The looks on the faces of the people landing from Detroit were hilarious. A few of them stopped to look at our departure board and laughed, others looked like they just hitchhiked through the desert, while one guy in a suit walked past me and said "she's allllllllll yours."
The crew was quite lovely given the circumstances, and I thanked both the flight attendants and pilots for their work, since I realize their day was rougher than mine.
They had been working since around 12PM, so it was a 14+ hour day of flying for them. Apparently they can get their hours extended once per week, so this was that flight for them. Given what minimal rest they have to begin with I'm not sure about the safety implications of that, but fortunately the flight was uneventful.
Bottom line
The whole delay was a non-event and long overdue, though it did make me appreciate just how seamless my travel usually is. My issue with this situation was never the delay, but rather the misinformation and rudeness/indifference from all the front line agents I encountered. Not that it's their fault, but would it kill them to make a single PA apologizing for the delay and thanking passengers for their patience, or answering their questions with patience and respect?
I guess the answer is "yes," and also reflects how little I have to interact with front line agents nowadays. Between online check-in and how smooth my travels have been lately, the only time I interact with agents is when they scan my boarding pass.