While Qatar Airways has an excellent business class product throughout their fleet, they have very few planes with first class. The only planes to feature longhaul first class are their A380s. Qatar Airways has 10 of these in their fleet, and they each feature eight first class seats, at the front of the upper deck in a 1-2-1 configuration.
Qatar Airways presently flies their A380s from Doha to Bangkok, Guangzhou, London, Melbourne, Paris, Perth, and Sydney.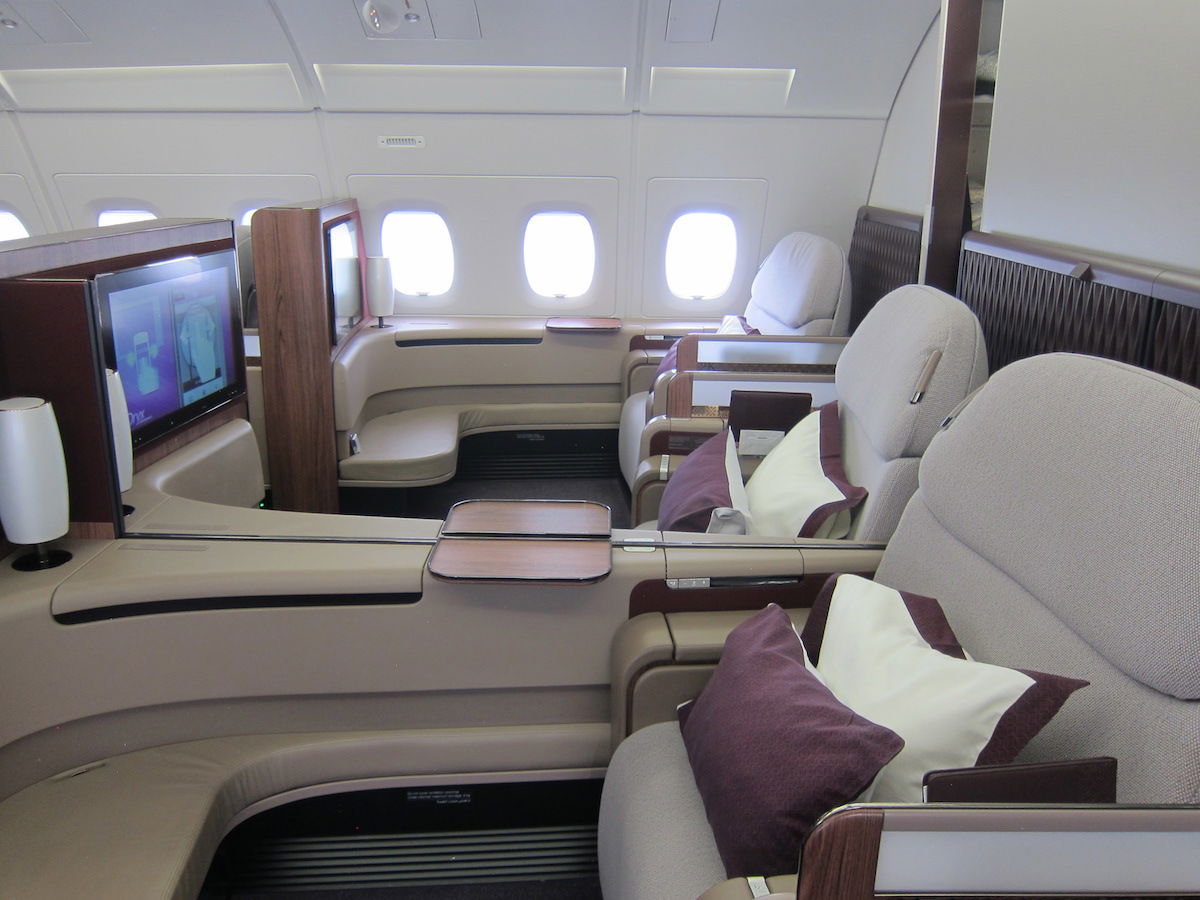 While I consider Qatar Airways' business class to be the best in the world, their first class doesn't impress me in quite the same way. It actually doesn't even rank in my list of the world's top 10 first class products.
Historically Qatar Airways hasn't been especially generous with making first class award seats available. There has been some variation over time, as sometimes I've seen some award space close to departure, sometimes I've seen some award space way in advance, and other times I didn't see much at all. Lately it seems like they're releasing fewer first class award seats than ever before.
It looks like there may at least partially be an explanation for that. Per Qatar Airways' website, Qatar Airways is no longer offering first class award seats to & from London. Their Privilege Club page has the following note:
Award tickets for First Class are not available on our A380 services to or from London.
London is presumably Qatar's most premium market, so I guess their logic is that they generally can fill the first class cabin quite easily with paying customers. However, to add a blanket restriction preventing people from redeeming miles for first class on the route seems a bit extreme.
For example, tomorrow there are two A380s flying from London to Doha — one has five of eight first class seats still for sale, while the other has all eight seats available for sale. So clearly the lack of any availability isn't because they always sell out. I guess they're trying to make the cabin seem more exclusive.
This is a disappointing development on the part of Qatar Airways, and only the latest devaluation to their loyalty program. In the past couple of months alone, Privilege Club has introduced new fees on award tickets, and also drastically devalued their award redemption rates.
So if you are trying to redeem miles for Qatar Airways first class to or from London and don't see any award space, now you know why…