ITB Berlin (one of the world's biggest travel trade shows) kicked off today, so you can expect lots of announcements from airlines. Qatar Airways unveiled their new Qsuites at last year's ITB Berlin, which was probably the highlight of the show.
While the announcement this year isn't quite as big, Qatar Airways has revealed service to several new destinations, due to commence in 2018-2019. New Qatar Airways destinations might include the following:
Cardiff, United Kingdom
London Gatwick, United Kingdom
Tallinn, Estonia
Lisbon, Portugal
Malaga, Spain
Thessaloniki, Greece
Valletta, Malta
Antalya, Turkey
Da Nang, Vietnam
Davao, Philippines
Langkawi, Malaysia
Cebu, Philippines
Luxembourg
Bodrum, Turkey
To be perfectly honest, I'm not exactly sure which routes Qatar Airways plans on launching. That's not sloppy reporting on my part, but rather I don't think Qatar Airways knows either:
During today's press conference, Al Baker mentioned about a dozen cities, claiming that "all these are new destinations previously not announced." The problem is that this isn't true, because at a minimum the airline announced flights to Cardiff, Lisbon, Mykonos, and Thessaloniki last year, all of which he mentioned.
On Qatar Airways' Instagram story, the airline says that they're starting flights to Bodrum, Turkey, and Luxembourg, though Al Baker doesn't mention those cities
¯_(ツ)_/¯
Today @ITB_Berlin we've announced 15 new destinations that will join @qatarairways network as part of our continuous expansion plan. #BerlinTogether pic.twitter.com/qkrJZqBdy8

— Salam Al Shawa (@salam_shawa) March 7, 2018
Even if Qatar Airways did give a full list of new routes they were launching, we couldn't really trust it, since the airline is notorious for announcing new destinations and then not following through on the service.
For example, last April Qatar Airways announced flights to San Francisco, Las Vegas, Cardiff, Malaga, Mykonos, Accra, Kiev, Lisbon, Prague, Chittagong, Mombasa and Abidjan.
How did the airline do?
The San Francisco, Las Vegas, Accra, Mombasa, Abidjan, and Chittagong flights never happened (well, unless what they intended all along was a Qatar Airways-coded 8hr30min overnight bus ride to Dhaka — see below)
The Cardiff, Lisbon, and Malaga flights are being "recycled" again this year as "never before announced" routes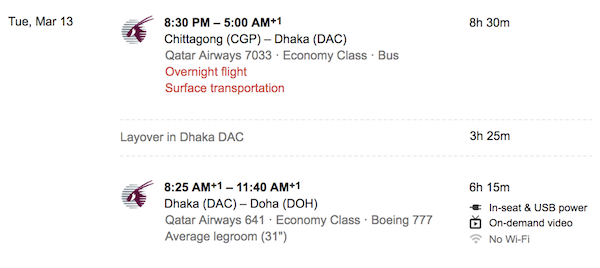 So I guess my point is that they might start some of the above routes, they might not, we don't really know. I do wish they'd get into a habit of announcing routes when they actually intend to launch them, and not just listing off destinations like Howard Dean at a rally.
I'd say the most interesting addition here is Qatar Airways adding flights to London Gatwick. The airline flew to London Gatwick until 2011, and then pulled out. They claimed that they largely relied on US carriers for connecting traffic there, but with the introduction of Open Skies, US airlines moved from Gatwick to Heathrow.
Now that Qatar Airways owns a stake in IAG (the parent company of British Airways), they believe they'll be able to make London Gatwick work. The airline intends to launch the route as of May 22, 2018.
Of their Gulf rivals, Etihad just flies to London Heathrow, while Emirates flies to London Heathrow, London Gatwick, and as of this summer, to London Stansted.
What do you make of Qatar Airways' expansion?