There are three carriers expected to take delivery of their first A380 aircraft this year — Asiana, Etihad, and Qatar — and I've been closely monitoring their delivery status.
Of the three carriers, the only one that has published any concrete information regarding their A380 schedule is Asiana. They've indicated that they plan to commence A380 service to Los Angeles as of July 30, 2014.
The next carrier to take delivery of the A380 is Qatar Airways, and they've also finally started to release some information about their plans. Qatar Airways plans to take delivery of their first three A380s in June of this year, and plans to launch scheduled longhaul A380 service by the third quarter of this year. Originally they were supposed to begin taking delivery of their A380s in April, though due to delays in the opening of Doha's new Hamad International Airport, they postponed the delivery by a bit.
Qatar Airways has revealed that their first A380 destination will be in Europe. There are only two markets in the world which they offer first class service to, and those are London and Paris, so I think it goes without saying that those are the routes which will see the A380 first. Given the number of frequencies that Qatar Airways operates between Doha and London (as of May they'll have six daily frequencies with the introduction of their all business class A319 service), I would guess that London will be the first destination.
Australian Business Traveller has some further information about the anticipated configuration of Qatar Airways' A380s. The first class cabin will be on the upper deck and feature just eight suites. This will be a completely new product, and they haven't revealed any further information on it yet.
I think it goes without saying that it will be a better product than what Qatar Airways offers on their other Airbus A330/340 aircraft in first class, which is a rather outdated product. I flew their first class from London to Doha and Doha to London back in 2011, and wasn't all that impressed.
Meanwhile they plan to have 52 business class seats in a reverse herringbone configuration, which is their "Super Diamond" product. This is a fantastic business class product, definitely one of the best out there. Qatar Airways will be the first airline to have a reverse herringbone configuration in business class on the A380.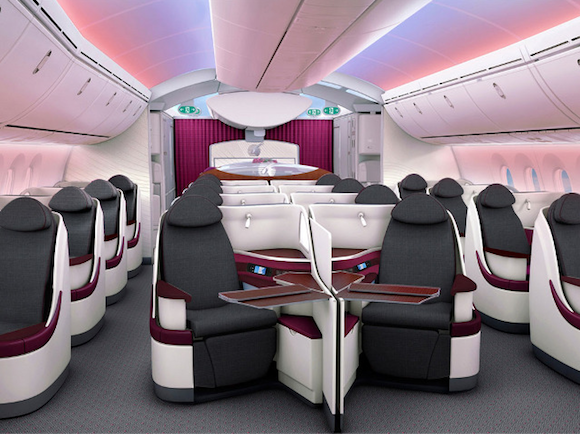 I can't wait till they officially reveal the schedule, though in the meantime at least we have some hints!