On Monday I had the amazing opportunity to visit the Airbus Delivery Center in Toulouse, France.
The occasion was to celebrate the delivery of the first Airbus A350 to Qatar Airways, which is the plane's launch customer. There were about 150 media people invited from all over the world.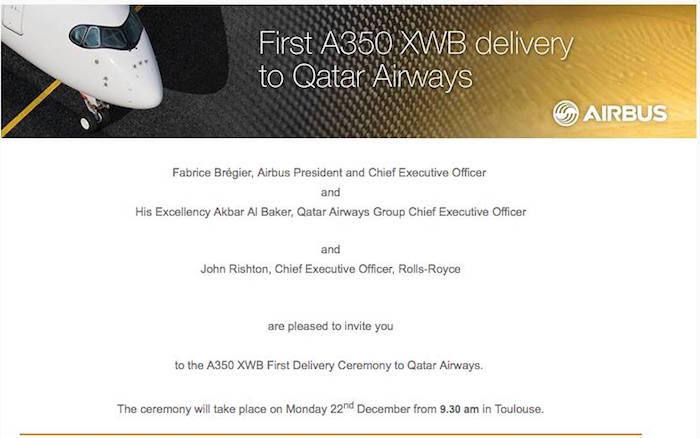 They really went over the top with the event, as I'll cover in more detail below. There were two press dinners (neither of which I attended), an amazing ceremony, and a 45 minute media flight on the Airbus A350.
To start, here's a short clip that Airbus made, with the highlights of the ceremony:
Or if you want to see the entire two hour press conference, here it is:
In the interest of full disclosure, Airbus covered the cost of my one night stay at the Radisson Blu Toulouse Airport. I paid for all my own transportation. Furthermore, to clarify, the invitation was from Airbus and not Qatar Airways (just so no one thinks I have an airline bias). Qatar Airways was the ultimate "guest" here. 😉
With that in mind, I figured I'd share my thoughts. One thing I love about blogging as opposed to "traditional" media is that I can share my unfiltered thoughts. I'm not here to rewrite any press releases, but rather to share my "fly on the wall" style impressions.
Well done, Airbus!
Airbus did an absolutely amazing job organizing this event. The day started with an hour press briefing, followed by an hour press conference, followed by an hour delivery ceremony, followed by a media flight on the A350.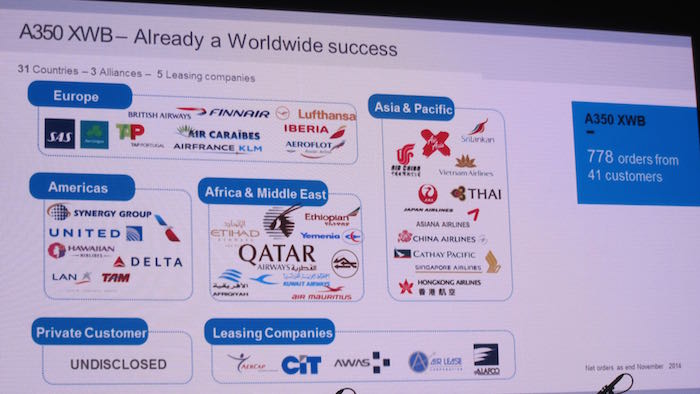 Then there were several meals, coffee breaks, etc. The only one I partook in was the Arabic coffee and dates, courtesy of Qatar Airways. 😉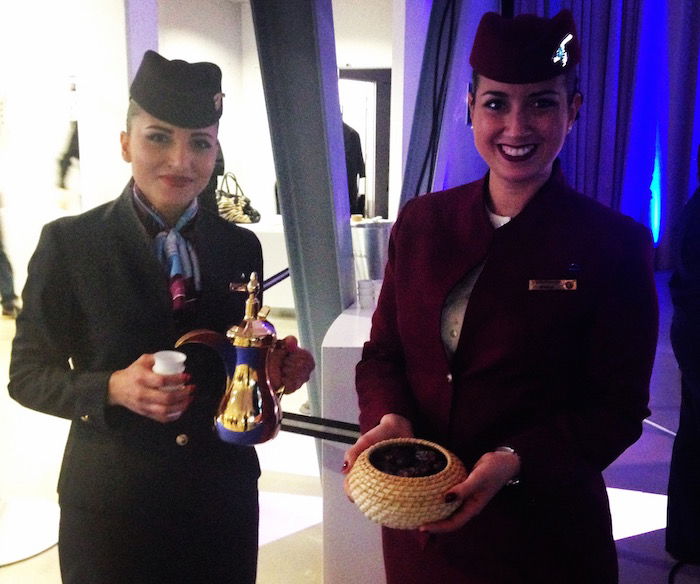 How over the top was the event? Well, during the delivery ceremony we had an Arabic opera singer, orchestra, and calligraphist, all "performing" at once.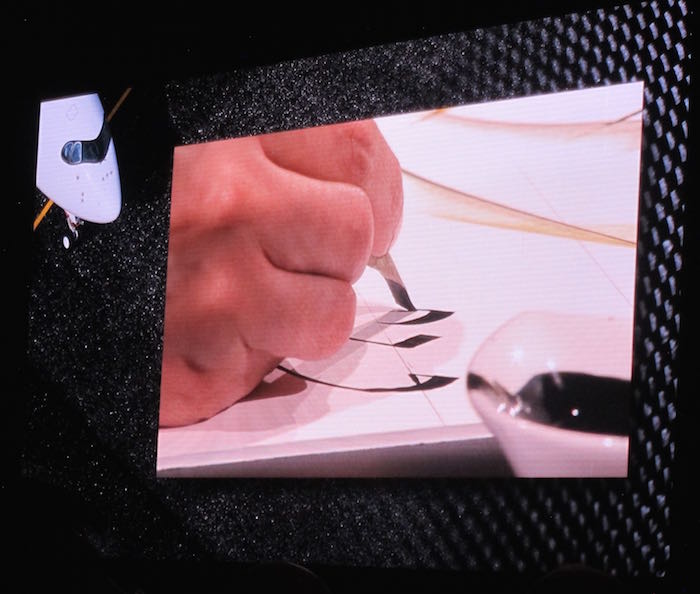 Upon the conclusion of the last "performance" the curtains of the delivery center opened to reveal the gorgeous Qatar Airways A350 in the background. The setup was just brilliant — it was quite possibly the finest transition into airplane porn I've ever see.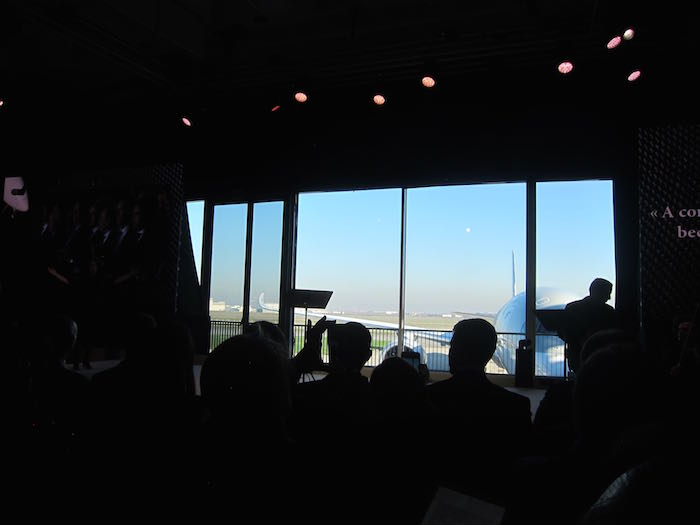 Here's the video of the musical performance:
https://www.youtube.com/watch?v=8D7sX1HNBV8?t=1h25m10s
So, what's special about the Airbus A350?
While I'm passionate about commercial airplanes, a majority of my knowledge is specific to airlines and frequent flyer programs.
So for all intents and purposes, what makes the Airbus A350 unique? Well, obviously it's intended to compete with the Boeing 787. What makes both of these planes so great are how low their operating costs are.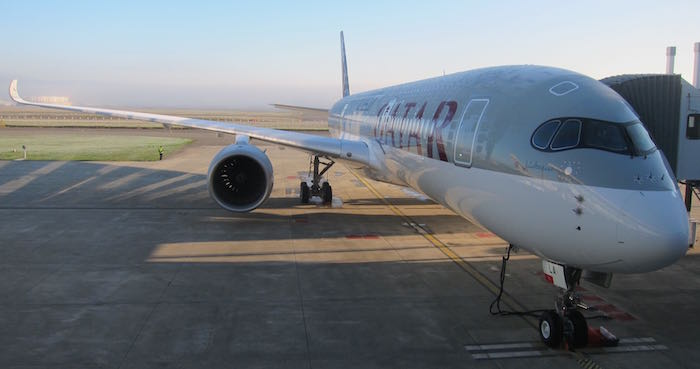 The Airbus A350 burns 25% less fuel than comparable previous generation planes. Fuel makes up roughly half of variable airline operating costs, so that's basically like reducing variable operating costs by 12.5%. That's huge.
Up until now I didn't actually get the difference between the 787 and A350 from the airlines' perspectives. What's the difference, really, and why would airlines take delivery of both types of planes?
I didn't realize that the sizes are substantially different. Boeing created the 787-8 and 787-9, while Airbus is creating the A350-900 and A350-1000.
The A350-900 is roughly comparable in size to the 787-9, while the A350-1000 is more of a 777 replacement.
I was surprised by how big the A350-900 was, and that's the smaller of the two models that will be in production.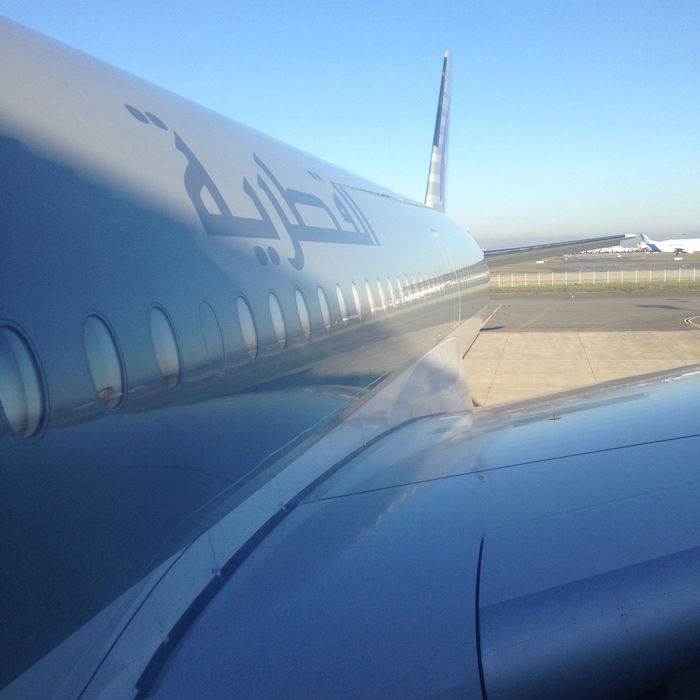 They also tout how it's a much better ride from a passenger's perspective, though I'll share my thoughts on that below.
His Excellency Akbar Al Baker
Y'all know I kind of fanboy over His Excellency. I figured the guy was totally ridiculous, but I don't think I was doing him justice.
The guy is quite possibly the most arrogant, opinionated, and unapproachable guy I've ever seen in my life.
It's hilarious, the executives from Airbus were walking around and talking to people, and you wouldn't even know who they were.
His Excellency always had at least a 20 person entourage. When they were setting up the press conference one of his handlers went to the stage to make sure that His Excellency's table setup was acceptable.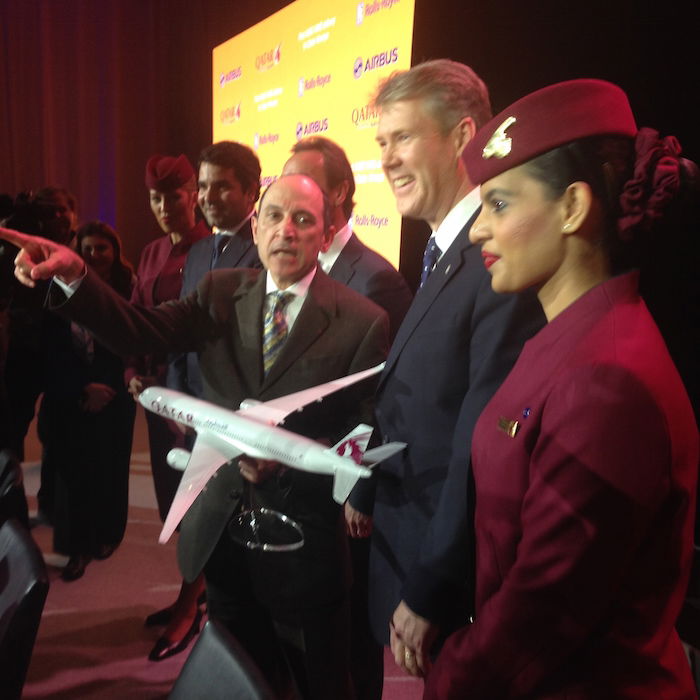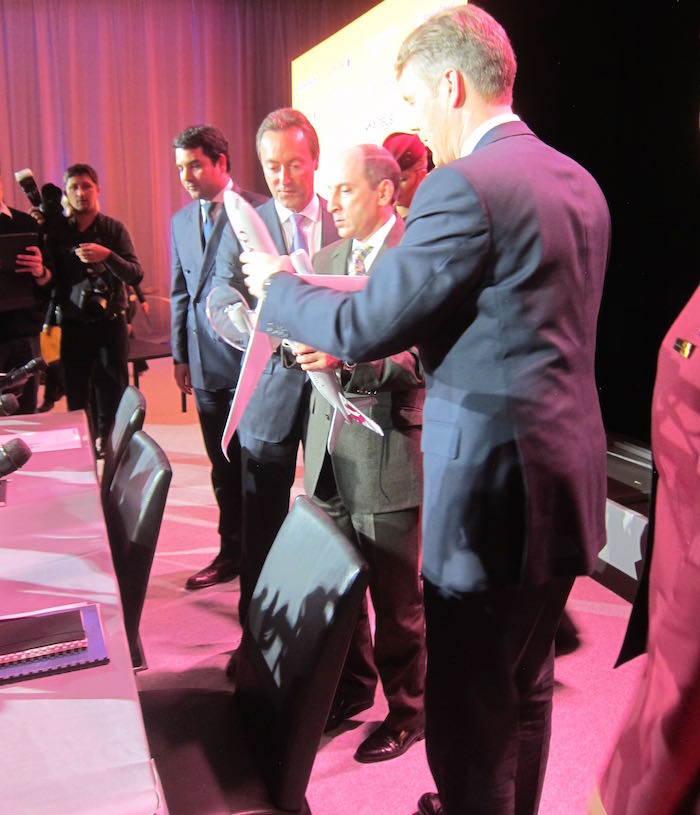 During the photo op, someone from the press said "Mr. Al Baker, smile." His response? "Not now." ROFL!
I'll share more about what he actually said below, but his demeanor was just off-the-charts.
All that being said, people loved it. The fact that he made himself so unapproachable made him all the more desirable. People barely snapped a picture of the Airbus CEO, while His Excellency had more pictures taken of him than One Direction at a concert.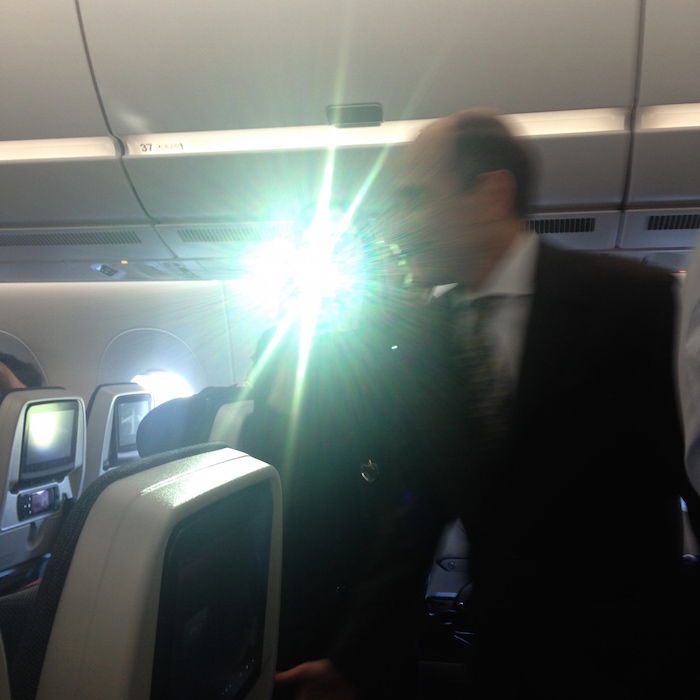 Lastly, he has quite possibly the greatest smirk in the history of the world. When he gives an answer and thinks he's funny/right, he has this absolutely brilliant smirk he lets off, which just can't be described. Amazing.
Fascinating press conference/Q&A
The CEOs of Airbus, Rolls Royce, and Qatar Airways were on stage to share their excitement over the event and then answer questions. His Excellency struggled with reading his script, which is sort of incredulous given that he never actually looked up from his page.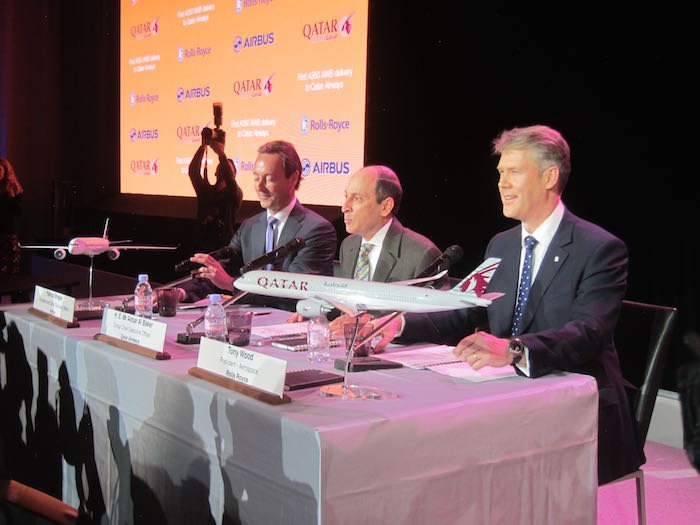 Most fascinating had to be the dynamic between the Airbus CEO and His Excellency. They both threw some fabulous shade.
The Airbus CEO said "Akbar, you're a difficult man to work with," and said he likes having Qatar Airways as a launch customer, because if Qatar Airways is happy then all subsequent customers will be happy. Akbar had his own shade to throw.
His Excellency said they planned to fly the A350 basically everywhere, given that they have 80 of them on order. In the US, the immediate plans seem to be to fly them to the "eastern seaboard."
He mentioned flying them to Europe. Someone asked about London specifically. His Excellency responded "is London not in Europe?"
As most of you probably remember, His Excellency's fight with Airbus was the most exciting drama in the airline industry in 2014. Someone asked how the A380 is performing for Qatar Airways. His Excellency said the plane is performing better than expected, with 100% dispatch reliability (which isn't really surprising, given how few they have).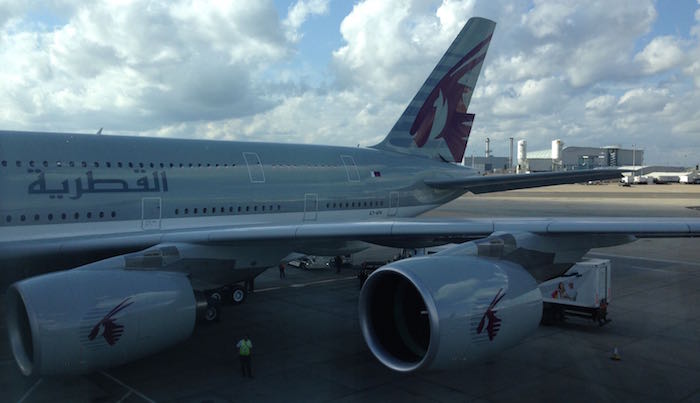 He said they would consider ordering more after they've been flying them for at least 12 month.
One of the oddest things His Excellency said while basically talking how he runs the greatest freaking airline on earth is how Qatar Airways gets "more" out of their employees than other airlines. Um, yeah, so we've heard…
Flying the Airbus A350
As I said above, I was surprised by how big the A350 is. It's huge, and feels much more like a 777 than an A330, for example.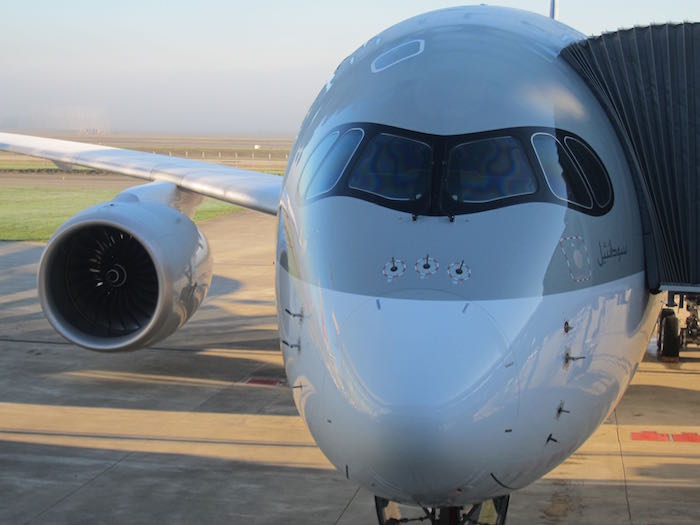 The Qatar Airways A350 features the same business class product as they have on their A380s and 787s, which is a lovely reverse herringbone seat.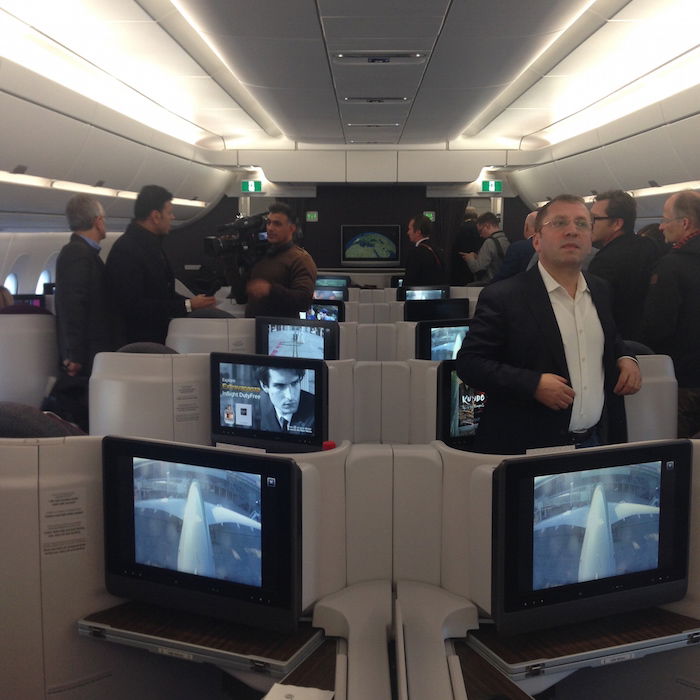 Economy is in a 3-3-3 configuration, with seats being 18" wide. Airbus explained that the plane was specifically designed so that it wouldn't allow for 10 across seating, which should make it more comfortable from a passenger's perspective.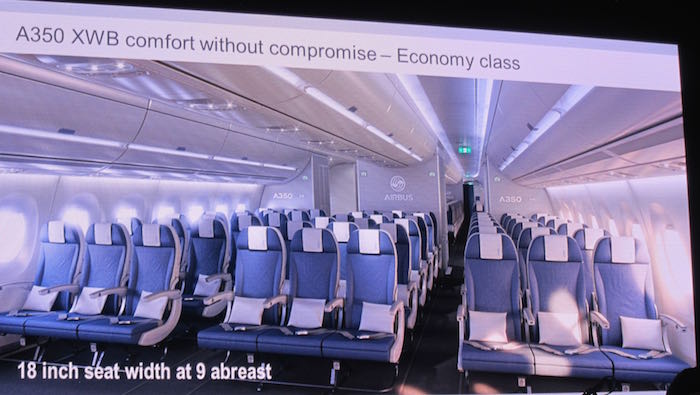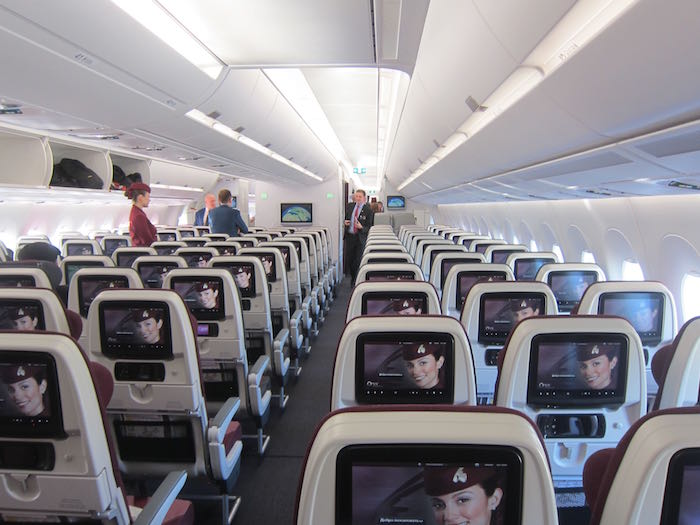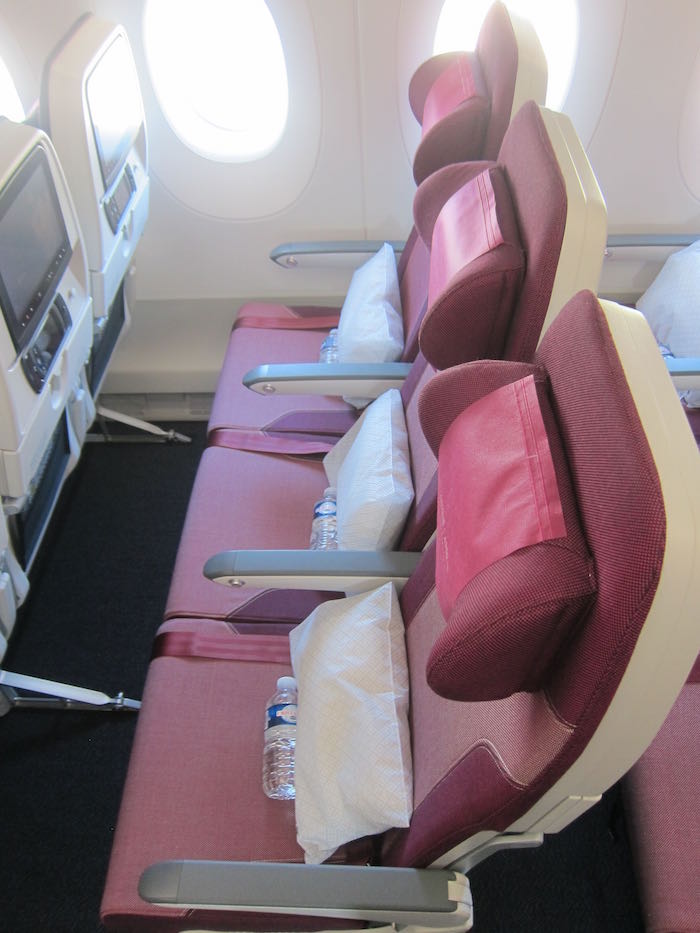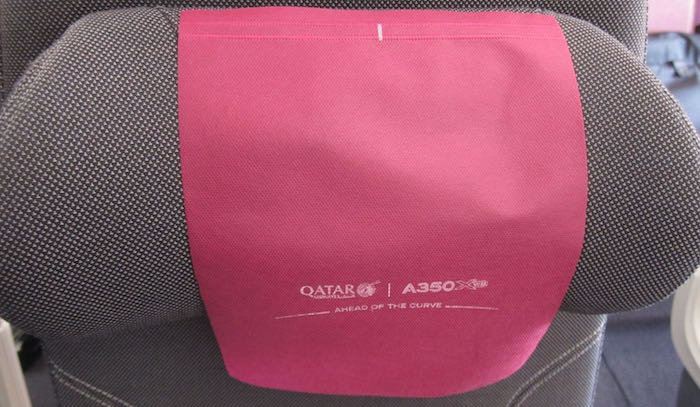 I was seated in economy for the media flight, and I'll be the first to admit I don't have much to compare the seat to. 😉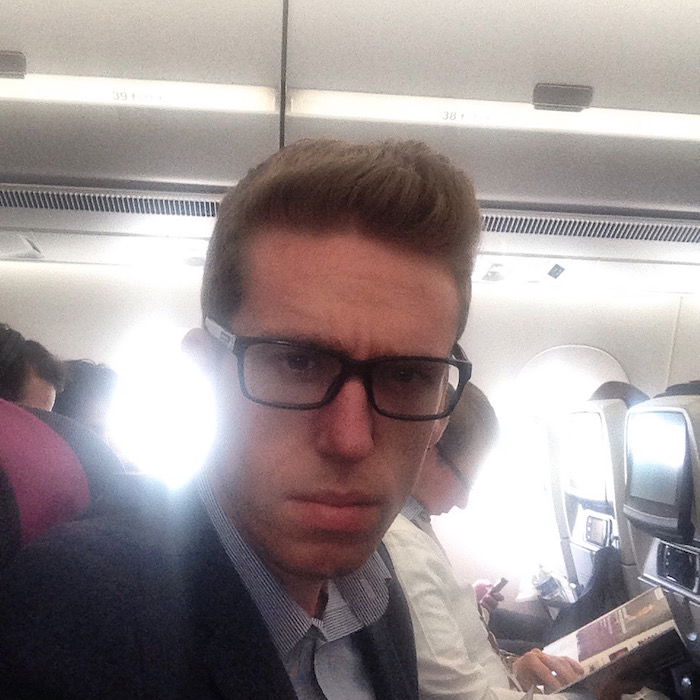 But it was actually reasonably comfortable. Legroom was okay and the seats reclined a lot, which is a double edged sword – everyone likes reclining, but doesn't like when the person in front of them reclines.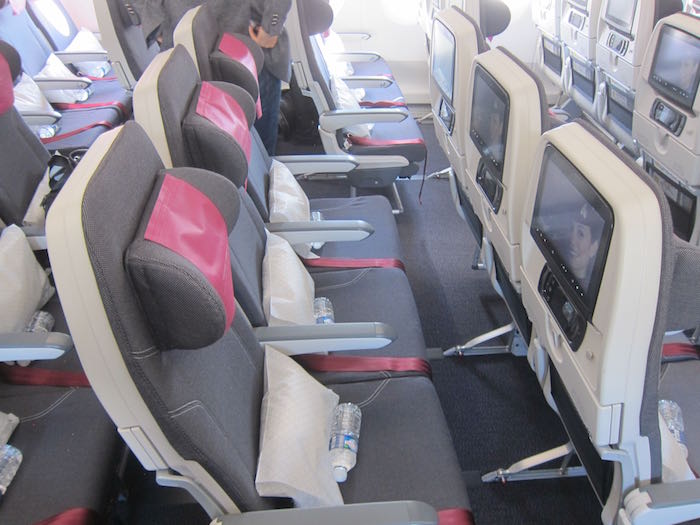 The entertainment screens were large, and there was nothing protruding legroom, which is great news.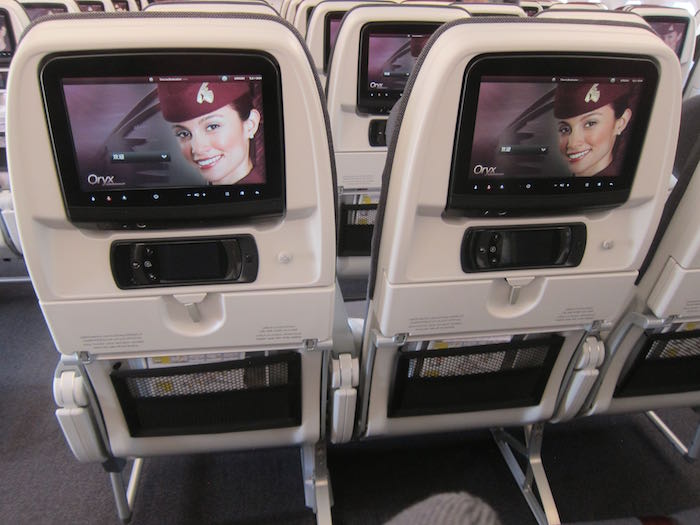 The seatbelt sign screens are pretty cool, as they're digital, so they show quite a bit of information.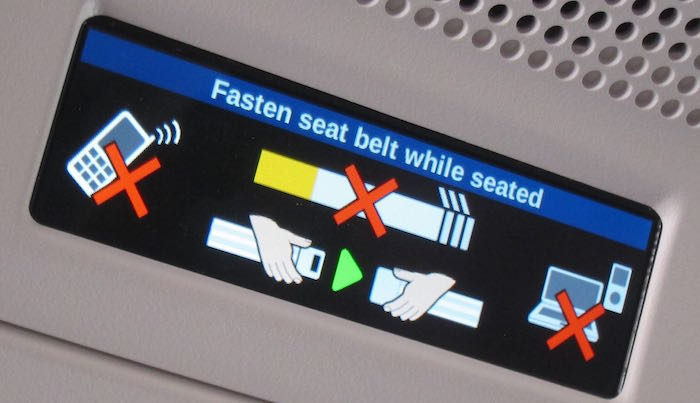 The safety video was pleasant.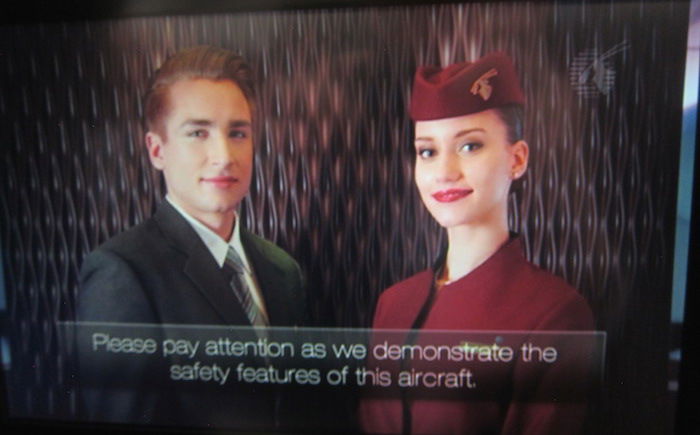 And the tail camera was awesome as well.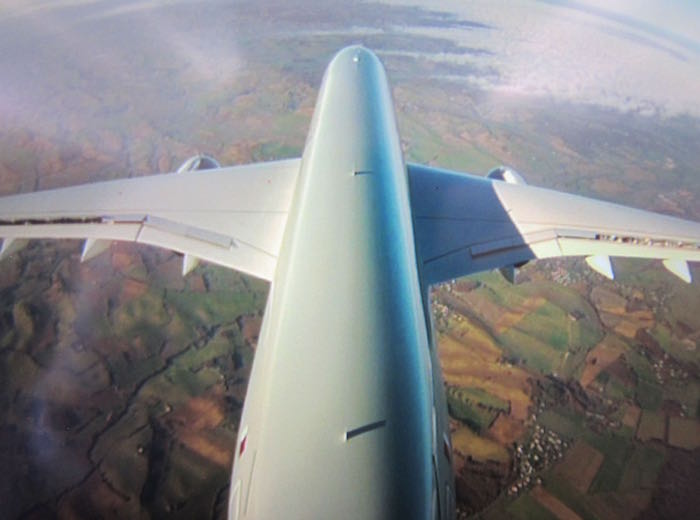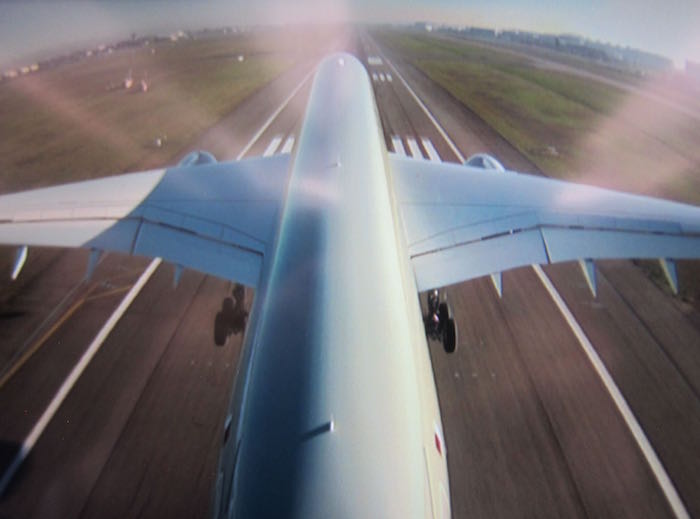 But there was nothing revolutionary about the product, in my opinion. And I wasn't expecting anything revolutionary, though they tried to market it as such during the product briefing.
The plane is quiet, but then again so is the A380. And I don't really see much difference between nine abreast seating on the A350 vs. 10 abreast seating on the A380. You still have sets of three seats by the windows, and what's the difference between three and four seats in the middle section?
The media flight itself was pretty cool, though. They served Krug, finger sandwiches, and macarons.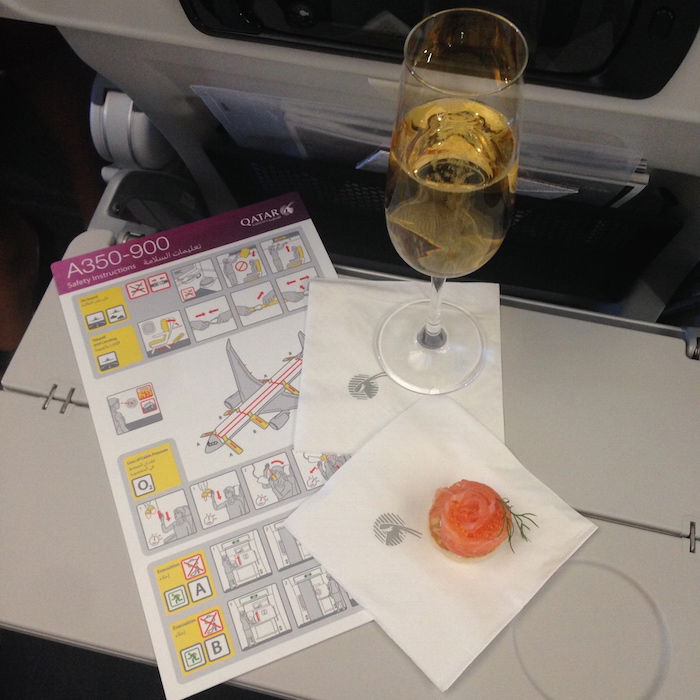 Bottom line
From a passenger comfort standpoint I don't really see the benefits of the A350 over the A380, 787, etc. There's no denying that there's a general trend towards quieter planes with better technology, but the A350 specifically isn't revolutionary in that regard.
That being said, the reasons consumers (and airlines) should be excited about planes like the A350 is because of the lower operating costs.
Lower operating costs mean the possibilities for more frequencies and more new nonstop routes, which is great news for consumers. It also makes it easier for competitors to enter markets, which long term lowers airfare.
So we should all be excited about the A350. But not because it's somehow going to feature flat beds in economy and showers and swimming pools in business class.
Thanks again to Airbus for the invite. This is a heck of a plane, and hopefully it doesn't have the same "growing pains" that Boeing had with the 787.