This past week Qantas started flying nonstop between Perth and London. This is the longest nonstop route Qantas has ever operated, and also the first scheduled commercial nonstop flight between Australia and Europe. This is all possible thanks to the 787-9, the first of which Qantas took delivery of late last year.
Qantas ordered a total of eight 787s, and they've already taken delivery of four of them. On top of that, they have up to 45 options with Boeing for ordering additional 787s, which they could take delivery of as early as late 2019. The airline isn't just using 787 to launch new routes, but is also eventually trying to use the 787 as a replacement for the 747-400, which they plan to retire in the coming years.
Qantas has already launched and announced several 787 routes:
It would seem to me like they're getting pretty maxed out on potential 787 plans, assuming they don't intend to purchase some of the options they have. Despite their small 787 fleet, the airline still has lofty goals. We've known that Qantas would like to launch further nonstop flights from Australia to Europe, and Qantas' CEO had hinted at the possibility of a nonstop flight from Perth to Paris.
However, before that happens, it looks like the US might be getting a new 787 route first. Bloomberg reports on what Qantas CEO Alan Joyce said yesterday while in London, following the launch of the 787. Specifically, Qantas is evaluating nonstop flights from Brisbane to either Chicago, Dallas, or Seattle.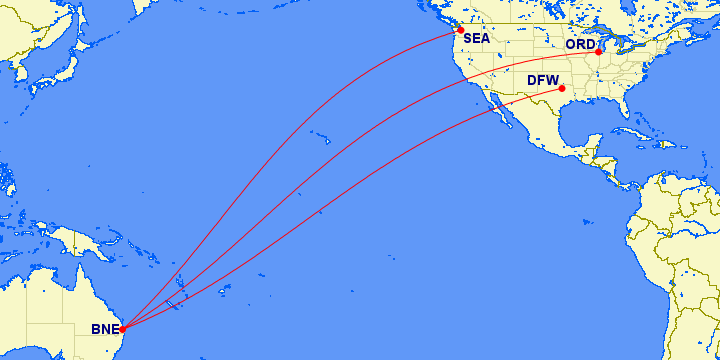 All of these routes are feasible nonstop, as the distances are as follows:
Brisbane to Chicago — 8,902
Brisbane to Dallas — 8,304
Brisbane to Seattle — 7,342
As a point of comparison, Qantas' new route from Perth to London covers a distance of 9,010 miles, so it's just marginally longer than a potential Brisbane to Chicago flight.
There's clear logic for each of these routes:
Chicago and Dallas are both oneworld hubs; Qantas already flies an A380 from Sydney to Dallas, and the flight has performed well, while Air New Zealand just announced flights to Chicago
Seattle is a booming market, an Alaska Airlines hub, and the route has the advantage of being significantly shorter than the others, which is great in terms of operating costs
Any of these routes launching is contingent upon the joint venture between American and Qantas being approved. I suspect it will be approved in the coming months, and if that's the case, Joyce says that whichever route they decide to launch could start by the end of the year.
Which do I think is most likely? If Qantas weren't hoping to operate this as part of a joint venture, you'd think Seattle would be the obvious choice. They'd have tons of connectivity with Alaska Airlines, the flight is significantly shorter than the other flights, and Seattle is a big market. However, the fact that this would be operated as part of a joint venture with American makes me think that unlikely, and that they'll probably go with either Chicago or Dallas.
Do you think Qantas will follow through on one of these new routes, and if so, which one?