We know that Qantas has plans to operate some of the world's longest flights, though here's a route I wasn't expecting would be in the cards…
Qantas reveals more "Project Sunrise" A350 routes
In May 2022, Qantas placed an order for 12 Airbus A350-1000s, which the airline will use for its "Project Sunrise" flights. The primary motivation for this is that Qantas wants to fly nonstop from Sydney and Melbourne to New York and London, though currently no commercial aircraft are capable of operating these routes in an economical way.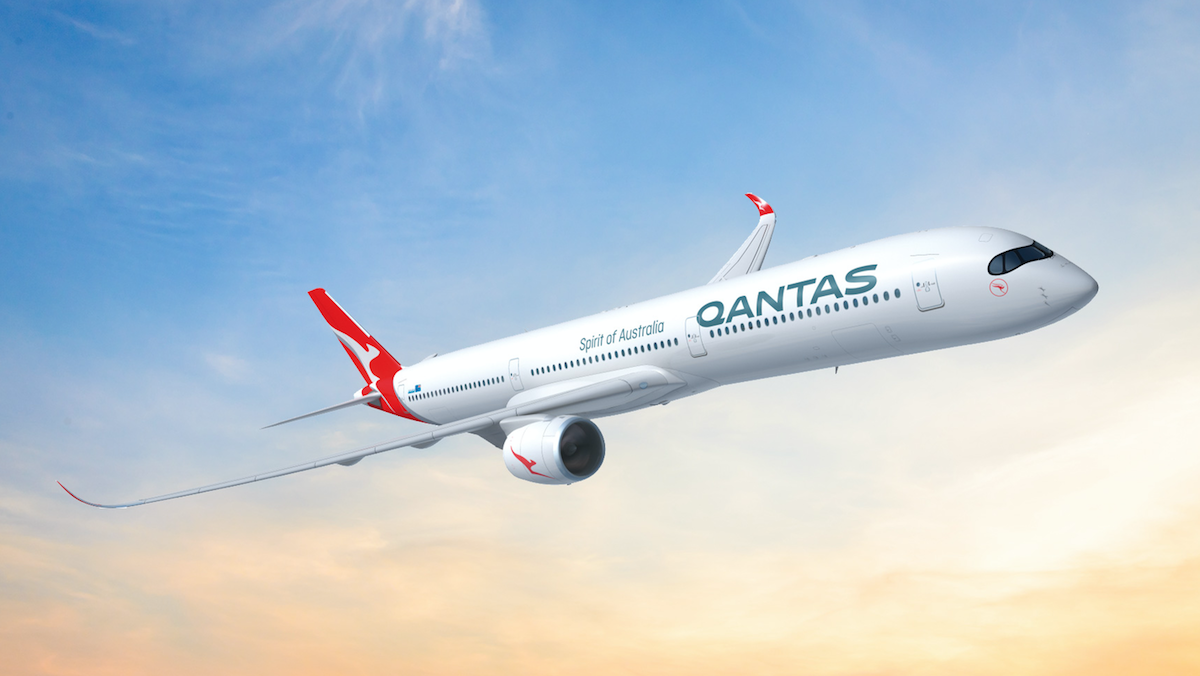 That's expected to finally change, as Airbus will modify the A350 (by adding an extra 20,000 liters worth of fuel tanks) to make it capable of operating these missions. Qantas hopes to launch these flights by the end of 2025. These planes will be in a super premium configuration, and will feature just 238 seats, including a new first class product.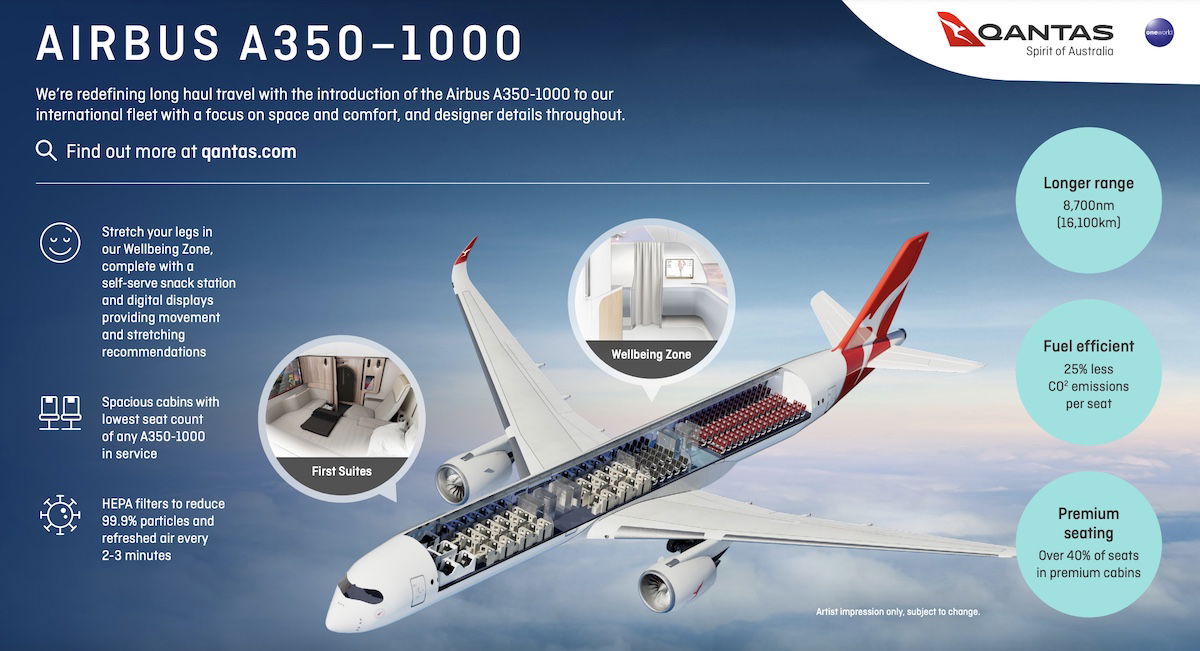 Qantas doesn't just intend to launch these four routes, but has other destinations in mind as well. Qantas CEO Alan Joyce had an interview with The Sunday Times, during which he revealed some potential routes the airline is considering as part of "Project Sunrise."
Specifically, Qantas is considering operating flights from Sydney (SYD) and Melbourne (MEL) to the following destinations (I'll also list the distance from the two Australian airports to the foreign airport):
New York (JFK) — 9,950-10,374 miles
London (LHR) — 10,503-10,573 miles
Paris (CDG) — 10,410-10,527 miles
Frankfurt (FRA) — 10,132-10,248 miles
Miami (MIA) — 9,336-9,691 miles
Chicago (ORD) — 9,232-9,663 miles
Cape Town (CPT) — 6,416-6,842 miles
Sao Paulo (GRU) — 8,163-8,318 miles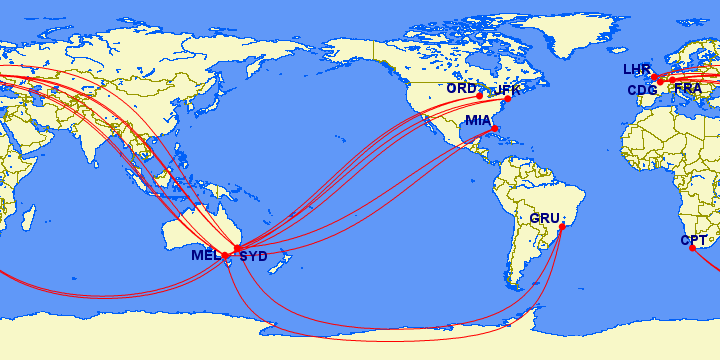 Now, a few important things to note:
All of these routes can't be operated by 12 A350-1000s, so I think this is more of a wish list, rather than a concrete plan
None of these routes are happening anytime soon, as Qantas will only get its first A350-1000 in late 2025 at the earliest, and it'll take years till the airline has all 12 planes
Qantas executives are notorious for claiming to be seriously considering routes that never come to fruition; that's especially true when you consider that Qantas isn't exactly an airline that's expanding fast
Some of these routes wouldn't need to be operated by A350s; the Sao Paulo and Cape Town routes are easily within range for the 787, while the Chicago route is right at the cusp
Could Qantas really fly from Australia to Miami?!
Most of the above routes are roughly what you'd expect to be on Qantas' radar, especially with planes capable of operating longer routes. Cape Town and Sao Paulo? Not surprising, if the airline has enough planes. Chicago? Qantas was going to start flying there from Brisbane around the start of the pandemic, but that was scrapped. Paris and Frankfurt? Those are destinations Qantas has operated to in the past.
But Miami?! That's a totally new one to me, and not something I've ever heard a Qantas executive mention before. Usually Seattle is the city in the United States that's thrown around as being at the top of Qantas' list, so Miami caught me off guard.
As a Miami resident, I'd sure love to see a Qantas A350 buzzing over my home, ready to start the ~20 hour journey to Sydney. Is there any chance this becomes a reality, though? A few thoughts:
Miami is a major American Airlines hub, so the route would have that going for it, given that the two airlines have a transpacific joint venture
The flights would be very similar in length to any Chicago service, and shorter than New York service
Australia to South Florida doesn't seem like a huge market to me; I mean, I suppose some Australians may be looking to go on cruises, but that's not exactly the high-yield traffic that makes routes like this sustainable
This would be convenient for any connections to the Caribbean, though the Australia to Caribbean market isn't huge
There's a portion of the southeast that could efficiently be connected through Miami, though I'm not sure there are many connecting markets where Miami would be more efficient than Qantas' existing flights to Dallas
Personally I don't see this route becoming a reality, though I certainly could be wrong. Call my a cynic, but am I the only one who thinks that Qantas simply announces a lot of theoretical routes in order to try to get publicity?
Executives at other airlines don't typically talk about routes they plan to launch years down the road (why would you let your competition know what you're planning?), yet it's something Qantas does consistently, even though more often than not the routes don't materialize.
But I guess it's not a terrible strategy? I see some "mainstream" media in Miami picking up on this, and if nothing else, it gives Qantas free PR for its overall "Project Sunrise" concept.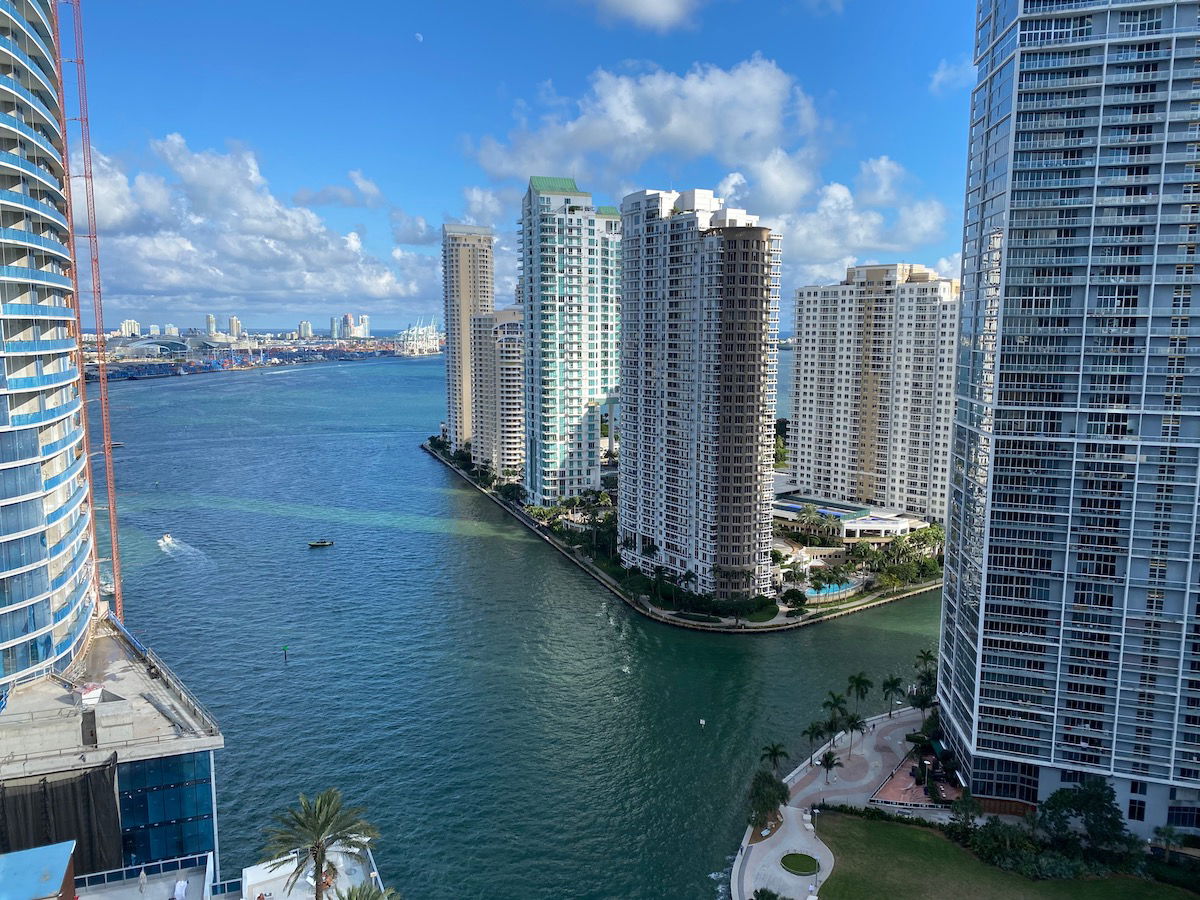 Bottom line
Qantas CEO Alan Joyce has revealed a variety of routes that the airline is considering as part of its "Project Sunrise" plans, whereby the airline will use A350-1000s to operate some of the world's longest flights. Beyond London and New York, most of the other destinations are what you'd expect, including Chicago, Frankfurt, and Paris.
The possibility of a Sydney or Melbourne to Miami flight is also being thrown around. While I'd love for that to become a reality, I think it's highly unlikely. I'd love to be proven wrong, though.
What do you think — could we see Qantas launch a nonstop flight to Miami?
(Tip of the hat to Simon)