While many of us can claim to have visited six continents, the seventh continent (Antarctica) is a bit tougher to reach.
A while ago there was an opportunity to bid Starpoints for a cruise to Antarctica, though that was on fairly short notice, and also ended up selling for a lot of Starpoints. Then there are some crazy cool expeditions to Antarctica, including staying at the world's southernmost hotel, though they'll cost you $70,000+ per person.
Of course there's some middle ground as well, as there are cruises to Antarctica that are more reasonably priced.
Anyway, if you'd like to get a general taste of Antarctica without actually setting foot on the continent, Qantas operates some cool charter flights every year that I think are worth pointing out.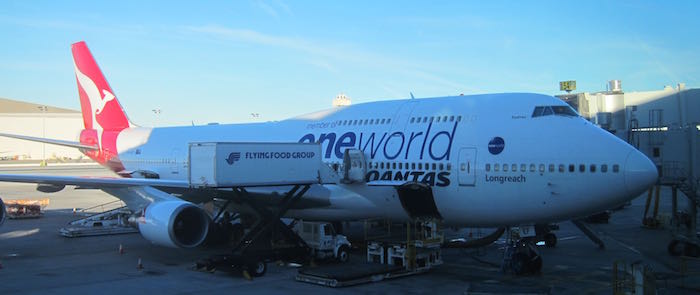 Qantas Antarctica charter dates
This season, Qantas is operating four flights around Antarctica out of three Australian cities, all of which last ~12 hours:
Depart Melbourne on December 31, 2016
Depart Perth on January 26, 2017
Depart Sydney on February 5, 2017
Depart Melbourne on February 12, 2017

What will you see from these Qantas charter flights?
Each of these flights lasts around 12 hours, and around four hours are spent flying over the Antarctica Treaty area, with 2.5-3 hours spent flying over the actual continent. The flights leave Australia in the morning and return at night, so you'll be flying over Antarctica midday (not that it really matters in Southern Summer).
You can check out the Facebook page for these charters to see more pictures from passengers who have taken the flights in the past.
How does seating work on Antarctica charters?
It goes without saying that window seats on this flight are in highest demand, so they've created many seating options and price points around that. Many of these seating options include changing seats halfway through the flight, to maximize the views everyone gets.
So, what's the pricing like? It varies slightly by charter, but to use the Perth flight pricing as an example (the pricing is in AUD, so it's a bit less in USD):
Economy Class Center: $1,199 (the two center economy seats for the entire flight
Economy Class Standard: $1,999 (seats over the wing, though you switch seats during the flight)
Economy Class Superior: $2,299 (rear economy seats, since you'll have a better view from there)
Premium Economy Class: $3,299 (switch seats during the flight)
Business Class Center: $4,299 (a fully flat business class seat, but in the center section)
Business Class Deluxe: $7,499 (a window or aisle seat, and switch halfway through the flight)
Ice Class: $7,999 (business class seats in the nose of the plane, which have the best views)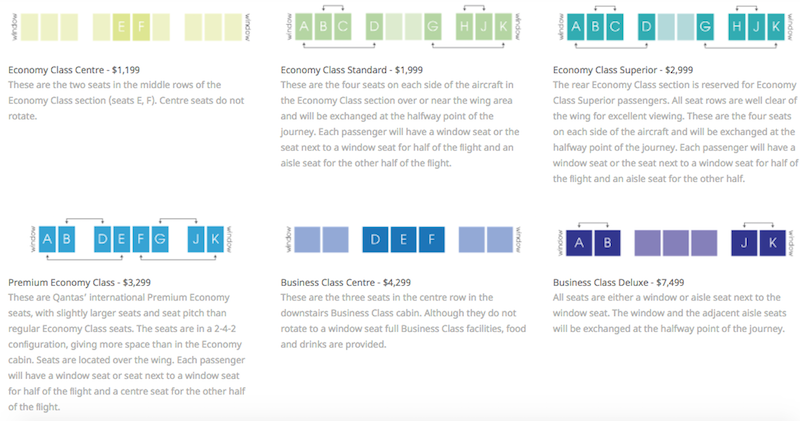 If you're a miles & points enthusiast, unfortunately this flight isn't eligible for mileage accrual, since this is a charter flight and isn't operated as a Qantas flight. Beyond that, since the origin and destination airports are the same, I guess you could say the flight would earn no miles even if it were eligible. 😉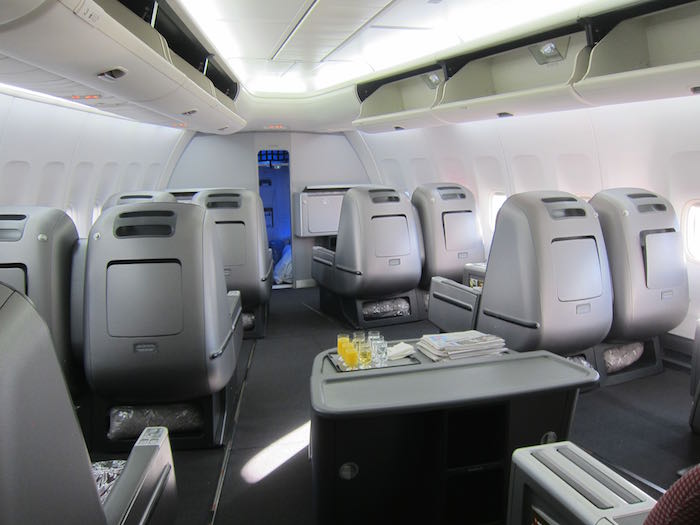 Ice Class on the Qantas charter flights
Bottom line
I think it's so cool that Qantas does these charter flights every year. As you can see, they're not cheap — while 1,200AUD for center seats isn't bad, you're also not really getting much of an experience there. Spending 2,300AUD+ for good seats isn't an insignificant amount of money for 12 hours of flying in economy.
I'm sure this will interest some people, and the people who have taken these flights in the past seem like they really enjoyed the experience. As much as I'm an aviation geek and a sucker for good views, I think I'd rather spend that money towards a cruise to Antarctica at some point, so I can actually visit the continent.
Has anyone taken one of these Antarctica charter flights, or plan on taking one in the future?