Update: We now know what this Qantas A380 charter is for.
Well this sure piques my curiosity. As reported by @airlineroute, Qantas has filed a one-time A380 charter service to Orlando in January 2020.
Qantas will operate the following flights from Sydney to Orlando on January 19, 2020:
QF17 Sydney to Los Angeles departing 10:25AM arriving 5:15AM
QF17 Los Angeles to Orlando departing 7:30AM arriving 2:55PM
In the other direction, Qantas will operate the following flights on January 24, 2020:
QF18 Orlando to Los Angeles departing 6:00PM arriving 8:20PM
QF18 Los Angeles to Sydney departing 10:35PM arriving 8:35AM (+2 days)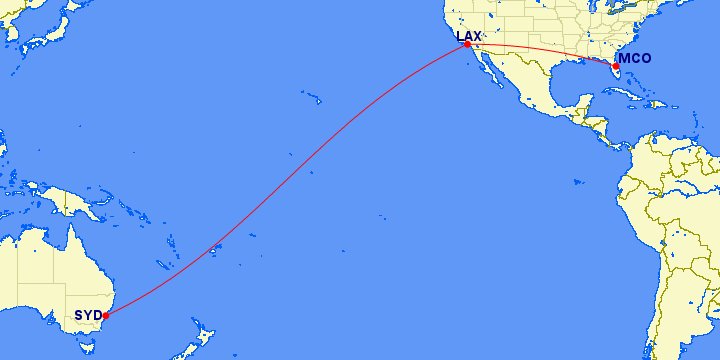 These flights aren't open to the general public, as they seem to be some sort of charter. We have no clue what this is for, though:
Both the flights between Sydney and Los Angeles as well as flights between Los Angeles and Orlando are charters, so it's not just that they're adding on a Los Angeles to Orlando segment for a scheduled flight
Qantas has filed for an additional flight from Los Angeles to Sydney on January 19, and an additional flight from Sydney to Los Angeles on January 24:

Those flights are open to the general public; so the plane won't stay in Orlando for five days
The only flights that would be empty will be repositioning flights from Orlando to Los Angeles on January 19, and a repositioning from Los Angeles to Orlando on January 24
I've reached out to Qantas to ask if they have any details they can share regarding these flights, though they haven't yet responded. Meanwhile Orlando Airport simply responded with the below emoji when asked about this.
🤐

— Orlando International Airport (@MCO) June 10, 2019
My first thought was that this could be a Flight Centre Global Gathering event. Flight Centre is the world's largest travel agency and they're based in Australia, and they have a "Global Gathering" event every year. Last year it was in Berlin, and they even chartered an Etihad A380 to take them there.
However, their annual event is usually in July, so the timing doesn't work out for that. But maybe they're doing something else, because that seems like the most logical company that would be chartering a Qantas A380?
Or maybe we'll see Qantas offer some sort of Points Plane flight again? They recently offered their first ever A380 Points Plane, where all seats onboard were bookable using points at the "classic" reward prices.
Looking at the convention schedule in Orlando for January 2020, I don't see anything obvious going on around those dates that would otherwise dictate an A380 charter from Australia.
Anyone have a theory as to why Qantas is flying an A380 to Orlando?