Qantas has just announced some significant developments for Project Sunrise. The airline has chosen a plane for this "mission," but hasn't yet finalized an order.
What Is Qantas' Project Sunrise?
Currently the world's longest flight is operated by Singapore Airlines' A350-900ULR, as the airline flies nonstop between Singapore and Newark. That flight covers a distance of over 9,500 miles and can take up to 18 hours.
For quite a while Qantas has been talking about how they'd like to be able to fly nonstop from Melbourne and Sydney to London and New York. They call this goal "Project Sunrise."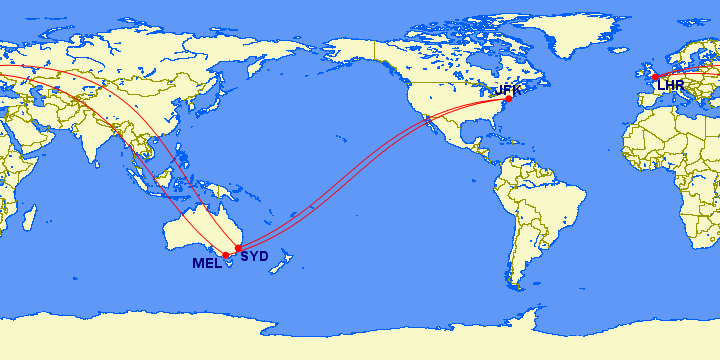 The catch is that currently no plane is in service that can operate these 10,000+ mile, 20+ hour flights nonstop. Qantas had asked Airbus and Boeing to develop planes capable of operating these flights, and both have apparently presented their best offers, including Airbus pitching an A350-1000ULR of sorts.
The airline had been targeting the end of 2019 for deciding on aircraft to operate the route, and that's what they've just announced… sort of.
Qantas Selects A350-1000 For Project Sunrise
Qantas has evaluated both the Boeing 777X and Airbus A350 in great detail, and has selected the A350-1000 as the preferred aircraft if Project Sunrise proceeds.
Qantas notes that the A350 uses Rolls Royce Trent XWB engines, which have a strong reliability record after being in service with airlines for more than two years. In order to facilitate these ultra long haul flights, Airbus will add an additional fuel tank and slightly increase the maximum takeoff weight to deliver the performance required.
No orders have been placed yet, but Qantas is working closely with Airbus to prepare contract terms for up to 12 aircraft ahead of a final decision.
Airbus has extended the deadline to confirm delivery slots by a month, from February 2020 to March 2020. This would allow Qantas to launch these Project Sunrise flights in the first half of 2023.
What Qantas Still Needs To Decide On
Qantas will make a final go/no go decision on these flights in March 2020, so what will that decision be based on? There are a few things they still need to work out.
By next week the airline will have operated three Project Sunrise test flights (using very lightly loaded Boeing 787-9s), and they say the data from those flights will be used in discussions with the Civil Aviation Safety Authority to approve an extension to current operating limits required for these flights to operate.
Based on detailed information provided on fatigue risk from the test flights, CASA has provisionally advised that they see no regulatory obstacles.
On top of that, Qantas has to continue negotiations with their pilots union, AIPA. Discussions center on productivity and efficiency gains, including the ability to use the same pilots across A350 Sunrise aircraft and the existing A330 fleet. As I wrote about previously, the pilots could potentially veto this entire project.
Furthermore, the airline will have to decide on cabin layouts for the planes, though presumably all of that would be finalized well past when the order is placed.
What Qantas' CEO Says
Qantas CEO Alan Joyce has said the following about this update:
"Between the research flights and what we've learned from two years of flying Perth to London, we have a lot of confidence in the market for direct services like New York and London to the east coast of Australia.

The A350 is a fantastic aircraft and the deal on the table with Airbus gives us the best possible combination of commercial terms, fuel efficiency, operating cost and customer experience.

The aircraft and engine combination is next generation technology but it's thoroughly proven after more than two years in service. This is the right choice for the Sunrise missions and it also has the right economics to do other long haul routes if we want it to.

From the outset, we've been clear that Project Sunrise depends on a business case that works. We'll only commit to this investment if we know it will generate the right return for our shareholders given the inherent commercial risks.

We've done a lot of work on the economics and we know the last gap we have to close is some efficiency gains associated with our pilots. We're offering promotions and an increase in pay but we're asking for some flexibility in return, which will help lower our operating costs.

Airbus has given us an extra month to lock in an aircraft order without impacting our planned start date, which means we can spend more time on hopefully reaching a deal with our pilots."
Bottom Line
Qantas has now selected a modified A350-1000 for Project Sunrise flights. Qantas is expected to formalize this agreement in March 2020, should they choose to move forward.
The A350-1000 is a joy to fly, so this seems like a good decision. I'm still curious to see if the airline actually follows through with these planes, or if negotiations with pilots get in the way last minute.
What do you make of Qantas' A350-1000 selection for Project Sunrise?