It's anyone's guess how serious of a concept this is, though this is certainly one of the more unusual airline startups we've heard about.
What is PRAGUSA.ONE?
Simple Flying reports on PRAGUSA.ONE, a new European airline startup:
The airline plans to launch in June 2021 with four wet leased planes, including two A350-900s and two A330-300s
By 2024 the airline hopes to have a permanent fleet of four A350-900s, which the airline is allegedly currently in negotiations for
The airline would be based in both Dubrovnik and Prague, operating long haul flights from there, including to Beijing, Chengdu, Johannesburg, Kuala Lumpur, Los Angeles, New York, Singapore, and Tokyo
The name "PRAGUSA" isn't a combination of "Prague" and "USA," but rather is a combination of "Prague" and "Ragusa," with the latter being the historical name for Dubrovnik
Perhaps most bizarre of all is that the airline would be an all-premium economy airline, so A350-900s would feature just 251 seats; as a point of comparison, French bee has 411 seats on its A350s, with 35 premium economy seats and 376 economy seats
A British company is behind this, and plans to apply for an air operator certificate in April 2021; the airline has allegedly already secured incentives from the two airports
Rendering of PRAGUSA.ONE A350-900
Planned routemap for PRAGUSA.ONE
Yeah, I don't know about that…
We hear of an endless number of airline startup concepts, and most of them never come to fruition. So I write about these not because I'm telling anyone to pencil in a June 2021 trip on PRAGUSA.ONE between Los Angeles and Dubrovnik, but rather because I find this stuff to be fascinating.
I've gotta be honest, this concept is a real mystery to me, though:
We've learned over and over that low cost, long haul airlines (like Norwegian) don't work; but that also raises the question of what exactly this airline is supposed to be?
Does the airline hope enough people will pay a significant premium in order to fly premium economy over economy? I could maybe see merit to something like this in a prime business market or super-premium leisure market, but not in budget-conscious, low frequency, point-to-point leisure markets
While this concept could work in summer, how is this supposed to work in winter? Is the hope that enough people in Croatia and the Czech Republic try to travel in winter on these flights?
The fact that the company is even proposing a June 2021 launch makes me doubt the legitimacy of this; it takes more time to set up an airline and get all the necessary regulatory approval, and that's not even accounting for the fact that international travel is largely impossible in the markets the airline is targeting
Don't get me wrong, Central and Eastern Europe could use more long haul connectivity, and I'd love to see this unique concept work. But it's particularly challenging to run a successful long haul airline, especially one that relies on seasonal tourism. To make the airline exclusively offer premium economy only makes the economics more challenging, in my opinion.
The A350s with the most premium economy seats are Singapore Airlines' A350-900ULRs, which have historically been used for nonstop flights from Singapore to Los Angeles, New York, and San Francisco. These planes feature just 161 seats, including 67 business class seats and 94 premium economy seats.
Even Singapore Airlines has struggled to sell premium economy seats on these routes, and fares have largely been surprisingly low.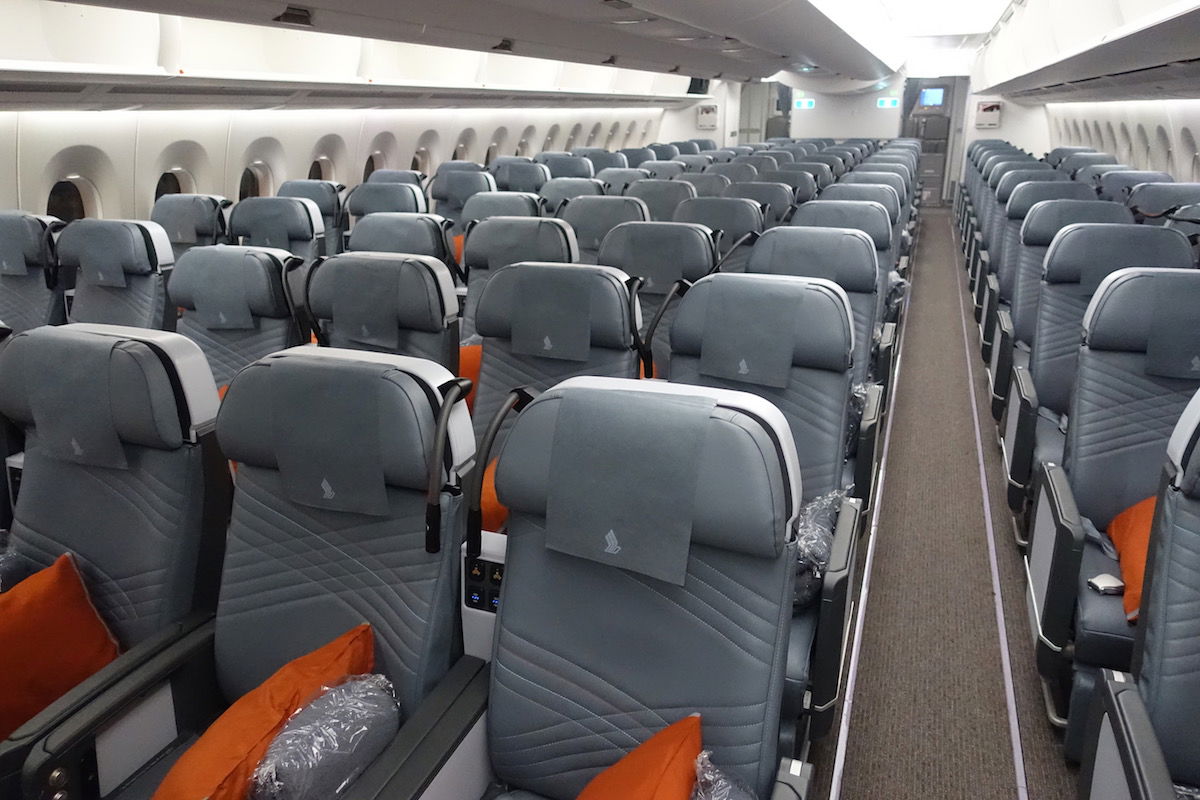 Singapore Airlines' A350-900ULR premium economy
Bottom line
PRAGUSA.ONE is a startup that hopes to eventually fly a fleet of four A350s in an all premium economy configurations from Dubrovnik and Prague to destinations around the world.
While I love to see innovation in the airline industry, and while I'd love a concept like this to work, I just don't get how the math could possibly make sense.
What do you make of the PRAGUSA.ONE concept?