OpenSkies to Paris
Howdy folks!
I have the pleasure of reporting on the inaugural flight of a start-up airline, an awesome weekend in Paris with great people, a five star hotel, and a great business class product. Best of all, I had no clue any of this would happen just over a week ago! I'm going to write this report in a few installments, just to keep it easy to read.
First of all, I've posted background information on the trip in this post and my pre-flight thoughts of OpenSkies in this post, for those interested. I should also note that I'm trying to restrict the number of pictures I post so that this page doesn't take forever to load. For those that want more pictures, check out my full photo album from the trip, which is located here.
The first installment (this one) will be about the outbound travel, the second installment about my stay in Paris, and the third installment about the return journey. I will include the positioning portions of the trip, namely TPA-JFK and JFK-TPA on AA. Just one note: ultimately the flights were free thanks to the generosity of OpenSkies and Randy. While I could just post "everything was perfect," I think I'd be doing OpenSkies a disservice. That's not to say they didn't have a great product, but just that I'll pick up both on the positive aspects of the in-flight experience, as well as the negative aspects, so please keep that in mind.
Outbound journey:
I had class until 10:45AM and my flight was at noon, so I rushed to the airport to catch my flight. I got to the airport and checked the status of my flight, noticing that the departures board displayed the departure time for all flights except mine. That worried me a bit considering that this was a flight I needed to be on, and I couldn't afford a big delay, so my worries came at the expense of not playing the ID game one last time with the TSA.
Security was a breeze, except for this one absolutely evil TSA agent who I didn't even interact with. Never have I seen such an angry, bipolar looking TSA agent. Out of nowhere he decided he wanted to check ID's (he was working the security line before), so he goes to the counter, yells "next," doesn't get an immediate response, and rolls his eyes as if someone pepper sprayed the inside of his eyelids.
I got past security right as boarding began, and was relieved to see that the flight was on-time and that whatever was displaying before security was a glitch. As first class finished boarding, a guy comes up to me and asked "Are they boarding anyone yet?" I told him first class was boarding, and almost as if he were trying to impress the boarding area responds "Good, that's all I need to know," with a massive grin on his face. Jeez, I certainly hope I don't rub off as such a jackass when flying up front. Eventually they called seating area one.
AA1785 TPA-JFK
Friday, June 19
12:00PM-2:50PM
Economy, seat 20B
MD80
Boarding took forever, since there seemed to be a family of around eight people in first class, most of which were small children, and they didn't seem to want to sit down. I eventually got to my seat and squeezed my US-size (aka massive) carry-on in the overhead, which took quite a bit of energy, but eventually worked.
I enjoyed watching the boarding process, since it was an interesting crowd. Not a single passenger looked like a business traveler, and it seemed like a mix of NY'ers coming to FL to visit family and an equal number of FL'ers visiting NY, as well as connecting traffic. On my left was a British lady that read and ate nuts most of the flight, and across the aisle from me was a lady that didn't once put down her Barack Obama book. Behind me were two Germans that were finding something negative to say about nearly everyone that was boarding, some of which was comical to me since I could understand every word they were saying.
As boarding finished up a very nice flight attendant came to the exit rows and provided one of the most thorough and professional exit row briefings I've ever witnessed. She explained exactly how to open the exit, what should be done with the door, and how to get off the plane, all in a friendly manner.
As she finished up, the male flight attendant jokingly came up to her and stood there glaring at her. She jokingly said to everyone that saw his strange look that he was her husband (and for a few seconds I thought she was serious, which surprised me since he didn't seem like husband material, if you know what I mean), at which point a teenager about two seats away from me asked if he was the co-pilot. She then said "Well, no. He's my airplane husband, at least for three days, and he's also a flight attendant." The kid then responded "Airplane husband? Does that mean you do it in the bathroom?" Hmm, that's probably the oddest thing I've heard on an airplane in a while, but it did make her laugh.
The safety video started a little bit late, and finished right as we made it to the runway. We rocketed off for our 2hr4min flight. The flight itself was very uneventful. I was bored stiff without any entertainment aboard. Since I didn't have time to grab lunch and hadn't had breakfast I purchased some chips for $3. I don't think I'll ever understand why AA sells the chips in such massive quantities, where you get a full sized "stack." If for nothing else, the looks other passengers give you when you get a massive stack of chips can make anyone feel pretty shameful.
We got to JFK about 15 minutes early. On the way out the captain was standing at the door and as he said goodbye he gave me an odd look, probably because I was wearing a UA pin on an AA flight. I thanked him for the safe ride, and had to remind myself not to mention Channel 9.
AA's terminal at JFK is quite nice, with a spacious feeling to it, but takes forever to get through. It must have taken at least 15 minutes to get to the AirTrain to transfer to Terminal 7. To be on the safe side I took the intra-terminal AirTrain, which made the long loop around the terminal instead of just going one terminal over to T7. That meant it would be a 15 minute ride, but that was fine by me, as I was happy to have landed early.
I got to T7 at around 3PM, and headed to OpenSkies check-in. Originally I thought their check-in was with BA, but I was happy to find two separate OpenSkies counters in the very left of the terminal, by future ticketing for BA. I saw several "suits" standing around, as well as several OpenSkies agents, all smiling. I snapped a few pictures of the check-in area, including one of me with the agents, and then gave them my passport to check in.
I requested a second boarding pass to keep as a memory, and the agent mentioned I wasn't the first one to ask, but that I could keep my original one. I explained that the original boarding pass would be all scribbled up by the TSA, and I'd prefer a "fresh one," and she chuckled and obliged. She also mentioned that we'd be receiving something aboard to acknowledge that we were on the inaugural flight. The check-in process was quick, efficient, and most importantly professional.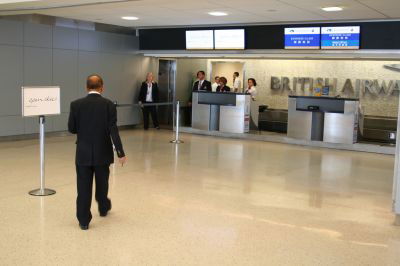 Check-in area
There's a seating area near the check-in counter where I spotted a few FlyerTalkers. We talked for a few minutes, and eventually Randy Petersen showed up. He checked in, and at around 3:45PM we headed towards security, which was also surprisingly quick.
We headed towards the gate that the OpenSkies flight was leaving from, gate one, fully expecting some kind of a gate party. Whenever I see reports of the inaugural flight on a new route, even on an existing airline, I always see mention of a huge party at the gate. We were disappointed to see nothing special at the gate at all, so headed to the RCC.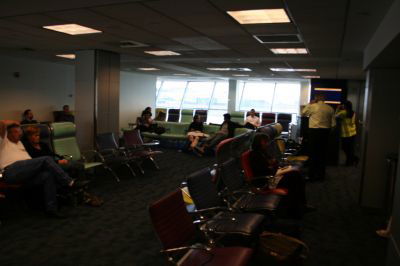 Gate one at JFK
Since I was in PREM+ on the way out, I didn't have access to the BA Terraces lounge, but fortunately I had access to the Red Carpet Club since I'm a member, which is conveniently located immediately down the corridor. I took two guests with me that were also in PREM+, and we had a mini-inaugural party in the very back room, my secret corner at the JFK RCC. I made a few phone calls, checked my email, and did all that fun stuff, and before we knew it 5PM rolled around. We headed to the gate for boarding, and this time around found a few more "suits" standing around, as well as the monitor reading "Inaugural." Still, no party.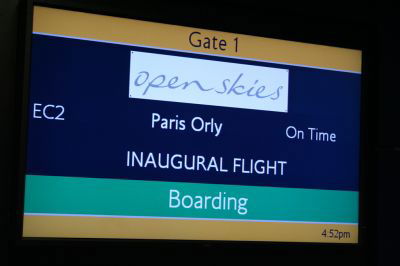 At least the monitor acknowledged it was the inaugural flight…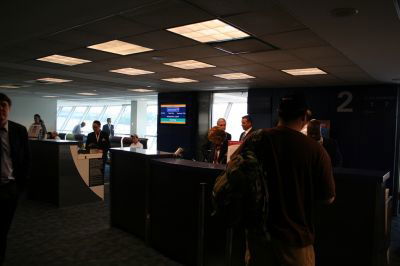 Gate prior to boarding
Based on what I saw, boarding started backwards, with Economy, then PREM+, then BIZ.
EC002 JFK-ORY
Thursday, June 19
5:30PM-7:25AM (next day)
PREM+, seat 9E
Boeing 757-200
Upon boarding I was asked by one of the two FA's standing at the door for my boarding pass, which was in my pocket. Considering that I had my camera out as well as about thirteen carry-ons, it was a bit more problematic than it would seem. I then proceeded through BIZ, which looked very nice. The forward BIZ cabin had about three rows, while the next BIZ cabin had three more rows. Overall the cabin struck me as very "fresh," and it seemed like the BIZ product was very impressive. As I walked through the cabin I snapped tons of pictures, which was a bit of a challenge while still dragging along my bags.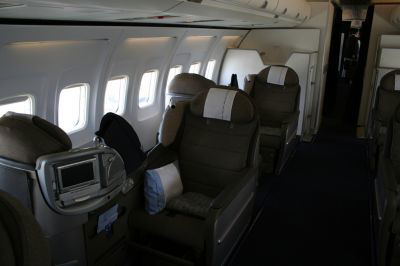 Rear part of the forward BIZ cabin
I then got to the PREM+ cabin, and was pleasantly surprised. The seats were massive and looked very comfortable.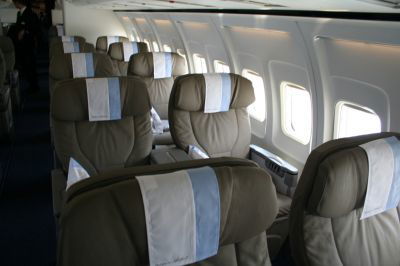 Impressive PREM+ cabin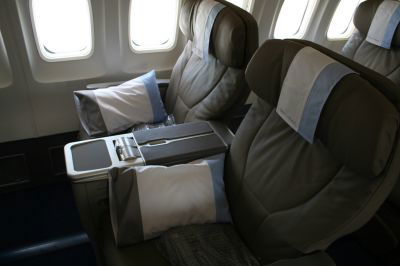 My seat
I stowed my bags and headed back to Economy quickly to snap a few pictures. It didn't take long to see that this flight wasn't going to be full. BIZ looked about half full, PREM+ had several empty seats, and economy was nearly empty. I think without FlyerTalkers this flight would have had maybe 10 passengers total. The PREM+ cabin has 24 seats, and has four rows in the front, then two restrooms in the center of the cabin, and again two more rows behind that. While the row immediately behind the restrooms has a lot of legroom, the stowage space seems lacking.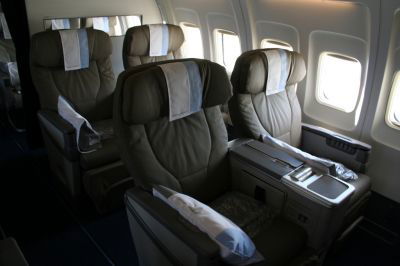 Rear PREM+ cabin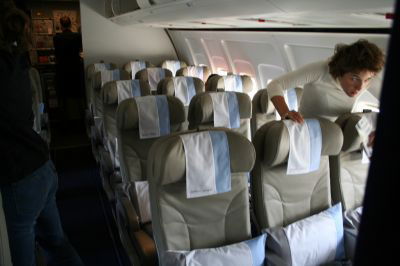 Economy cabin with only 30 seats
Within seconds of settling down we were offered pre-departure beverages, consisting of champagne, orange juice, and water, by a very youngish looking male FA. I went with orange juice, which had an excellent flavor and texture to it. Shortly thereafter menus were distributed (or as these menus read, and as something that seems to be a consistent theme in OpenSkies marketing, "This is not a menu"). I thought the selection was pretty impressive, and was quite looking forward to the presentation aspect of the meals. Following shortly were amenity kits. Meal orders were also taken.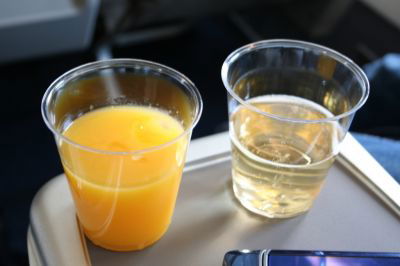 Pre-departure beverages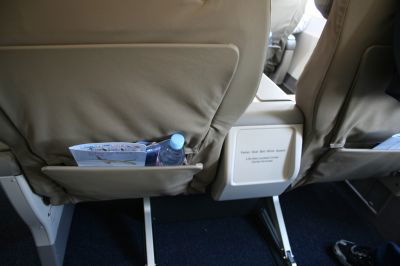 Seatback with bottle of Evian and safety card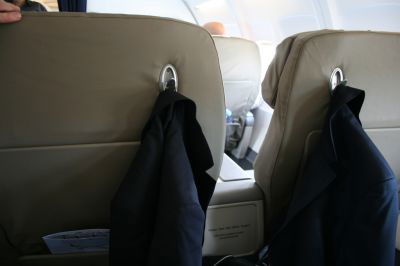 Every seatback has a coat hanger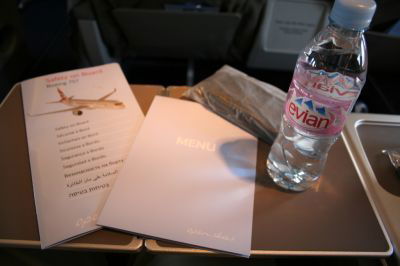 Water, safety card, amenity kit, and menu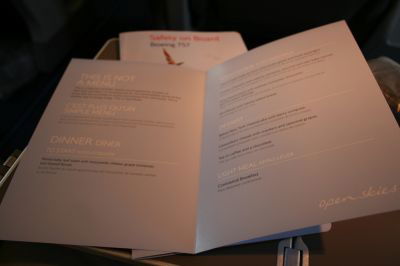 The menu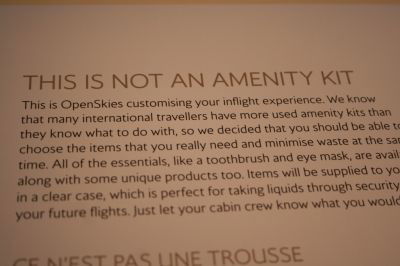 OpenSkies marketing at work…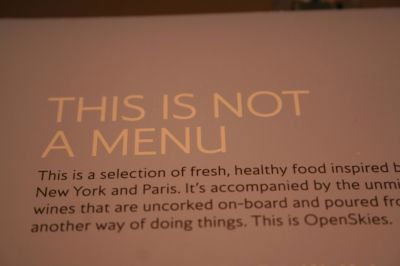 OpenSkies marketing at work… again
The door closed shortly after the Captain made his announcements, which were nearly inaudible. All I could hear was the spitting noise which comes from talking too close into the mic, but I could make out that he welcomed everyone aboard the inaugural and he seemed sincerely welcoming. The purser's announcements followed shortly thereafter, also welcoming us aboard the inaugural flight. The purser announced the names of all the flight attendants, and shortly thereafter began the safety demo.
By the time the safety demo was finished (which, by the way, was done twice, once in the forward direction and once backwards for those passengers seated backwards, as well as once in the forward PREM+ cabin and once in the rear PREM+ cabin), we were taxiing to the runway. The Captain came on the PA for another announcement, this time apologizing for the delay, saying we would be number 20 or so for takeoff. I kind of chuckled, because knowing Kennedy, number 20 for takeoff is not a delay. He provided constant updates throughout our wait, and the flight attendants were constantly through the cabin.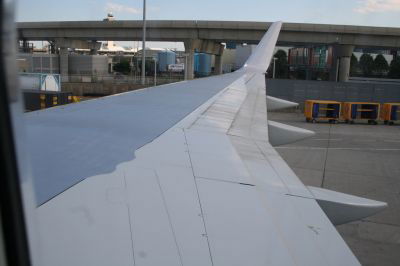 As we began our taxi…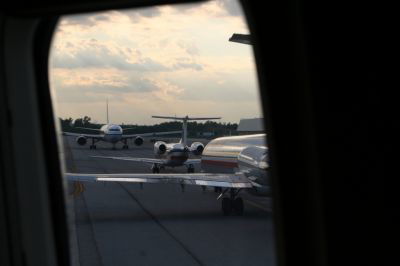 One of the many reasons you have to love JFK…
One of the FA's stopped by our row to chat for a few minutes, and I was able to get answers to some of the questions I had about OpenSkies. From her I found out that all of the FA's are based out of JFK, and they're all US citizens. She explained that their experience in the industry ranged anywhere from plenty of experience (she mentioned she has been in the industry for 22 years, working for PanAm and USAir, and certainly didn't look like it), to being brand new in the industry, but none of the FA's came from BA. She also said that the first graduating class of OpenSkies FA's consists of 20 people, while there was another one that just graduated, so right now there are a total of 40 FA's. Each flight is staffed with five FA's.
Another thing I was curious about was the pilots. As it turns out they're based in Brussels. I know that OpenSkies will probably add Brussels as a destination soon, but that they have to commute in order to fly seems odd. Who knows, maybe that'll change over time.
By the time we were done talking we were further up in the queue, and before we knew it were airborne. The climb out was pretty smooth and steep, and the seatbelt sign came off within minutes. I went to use the lavatory and noticed just how steep the angle still was, which reminded me a bit of how Singapore Airlines turns off the seatbelt sign quickly and how the FA's are running around the plane, almost as if they're mountain climbing.
I had a chance to play with the seat a little bit at this point. This seat is hands down better than the United Business seat, which isn't saying a lot if this were business class, but is saying a lot of a premium coach product. While the pitch was slightly less, the seat had ample storage space, sturdy tray tables, massive center consoles, easy to use controls (although manual), much better seatback storage, and overall a more comfortable feel to it.
The seat was much wider, at least around the shoulders, which made it easy to get comfortable. I also found the leather to be non-sticky and easy to find a comfortable position in, which is a big plus. Each seat included a very stylish OpenSkies pillow and comfortable blanket. Overall I can't find one thing to fault the seats for, and would find them easy to sleep in. It's also worth noting that between the seats is what looks like PTV's, except they're only the holders, as pictured below. The FA's "installed" the portable entertainment systems shortly after takeoff, which fit in the holder easily.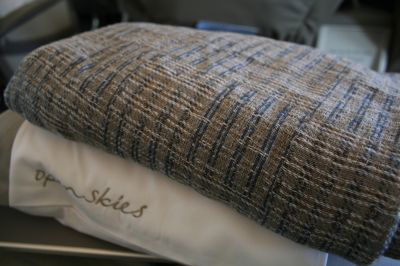 Comfy pillow and blanket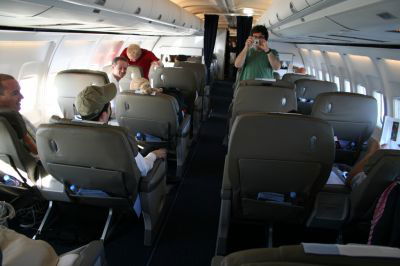 PREM+ cabin, filled mostly with FlyerTalkers shortly after takeoff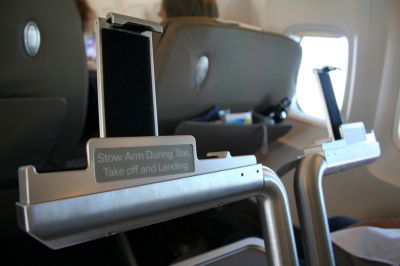 PTV holders
About an hour after takeoff the meal service began, starting with drinks. I took a Diet Coke, and almost died of laughter at the size of the cans. They are FIVE ounce cans. That's right, FIVE ounces, like less than half the size of a normal can. The glassware OpenSkies has is very classy but also small, so drinks run out frequently, and mostly has BA logos
While the crew couldn't have been any nicer, it was clear that they didn't quite have the system down yet. The whole drink/meal service took forever, but I'm not necessarily blaming them for that. Oftentimes no matter how much training you go through, actually doing it for the first time in front of customers can be a challenge, so I'm confident they'll improve in that aspect over time.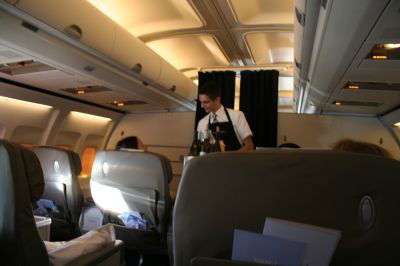 Service begins
Another 30 minutes or so after the first round of drinks the meal service began. The PREM+ menu read as follows:
Dinner

To Start
Hors-D'eouvre
Mixed baby leaf salad with mozzarella cheese, grape tomatoes, and shaved fennel

Main Course
Fillet of beef "Café de Paris' with potato gratin and fresh asparagus
Chicken Chasseur with celeriac potatoes, broccoli and new baby carrots
Orecchiette pasta with summer tomatoes, broccolini and Parmesan shavings
All offered with freshly baked bread.

Dessert
Baked New York cheesecake with berry compote
Camembert cheese with crackers and seasonal grapes
Tea or coffee and a chocolate

Light Meal
Continental Breakfast
Also, for those interested, the BIZ menu (which an FA provided me with) read as follows:
Dinner

To Start
Hors-D'eouvre
Summer tomato and lavender soup with crème fraiche
Grilled foie gras with apple tart, apple and celery salad and blood orange glaze
Sesame-crusted Ahi tuna with Asian salad, pea shoots and miso dressing
Vegetable antipasto with balsamic dressing

Main Course
Braised short rib of beef with wasabi mashed potato, bok choy and fried crispy noodles
Confit of duck with country-style potatoes and cherry port glaze
Crab-crusted seabass with dauphinoise potatoes, wilted spinach and baby tomato
Fava bean and summer pea risotto with sweet pea puree
All offered with freshly baked bread.

Dessert
Baked New York baked cheesecake with berry compote
Warm plum tart with ginger ice cream
West Coast cheeses served with Kilchurn Estate rhubarb ginger preserve
Tea or coffee with chocolates

Light Meal
A selection of Epicurean breakfast treats

Snacks
A range of snacks available at any time
To my surprise, everything was served on a tray. At first I was a bit shocked by the fact that it was all served at once, but my sentiment quickly changed. The food was truly delicious. I don't think I've ever had such a good salad on a plane, and the main course and dessert were excellent as well. Sadly my beef was only lukewarm (probably because it took so long to serve), my glass empty most of the meal service, and bread was only served with dessert in my row (I think they forgot about it). Again, their intentions were very good and they were extremely friendly, but they just didn't have the pattern down yet. During the meal service we hit a good bit of turbulence, and I couldn't help but feel sorry for the crew, as they were obviously struggling with trying to prepare meals while rockin' and rollin' at 37,000 feet.
It's also interesting to note that those in Economy get the same meal, so they're in for a real treat.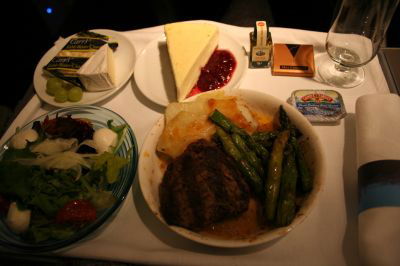 Dinner
When I thought about it I actually understand why they serve the meal all at once, and also appreciate it because I know that most people want to sleep on a redeye to Europe. I spent most of the first part of the flight chatting with my seatmate, Michael.
After dinner the lights were dimmed and instead of sleeping like most of the other passengers I decided to test out the entertainment system. I watched several sitcoms, including The Simpsons, Frasier, 30 Rock, and a few more. While I ultimately prefer a built-in personal entertainment system with flight tracking capabilities, I thought this one was great! It was functional, easy to use, had plenty of options, and fit in the convenient holder so didn't really get in the way. The quality of the programming was good as well, so no complaints there. The entertainment system also comes with noise canceling headsets, which are small but very good.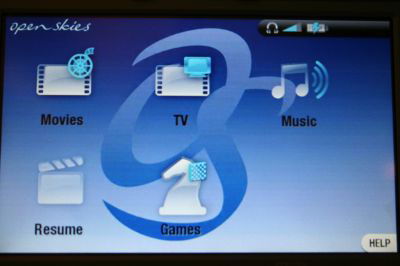 Main screen on the entertainment system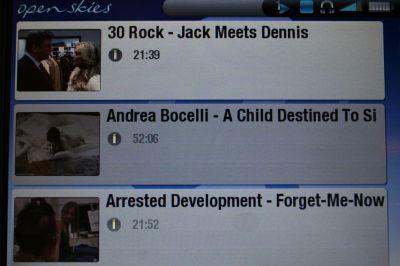 Sample of video selection
About an hour out of Paris breakfast was served, which started with hot towel service (oddly enough, no hot towels before dinner, I guess they forgot), followed quickly by breakfast. My seatmate and I were worried when they told us breakfast would be served an hour out, since we couldn't see how they'd be able to complete the service so quickly. It was no surprise when they plopped down boxes in front of us (all of a sudden I wanted to use their own marketing campaign against them and say "This is not a breakfast";)), consisting of orange juice and a danish. They also offered tea and coffee.
I found it interesting that they served coffee and tea in plastic cups, although they're larger ones, probably similar in size to a medium coffee at a gas station/coffee shop. I found that to be pretty practical, because as nice as china is, a little bit of turbulence can totally empty out the saucer.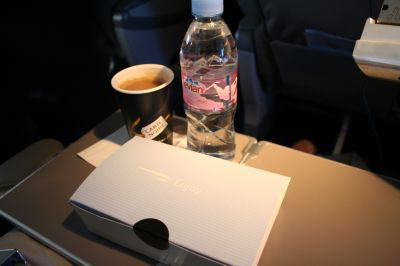 Breakfast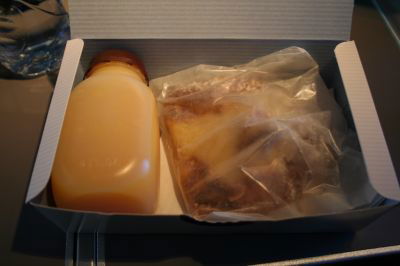 Contents of the box
The more I thought about the offering, the more I liked it. The fact that it's in a box would make it easy to take with you if you prefer to sleep in, not to mention is plenty filling after such a short redeye, in my opinion. The danish was tasty, as was the orange juice, the same one as the pre-departure offering.
After breakfast the entertainment devices were collected, and at the same time the immigration cards were handed out by the purser. They were some of the simplest forms I've ever seen.
As we began our descent the Captain came on the PA again to give us some arrival information, announcing we'd be just a few minutes late. He seemed to have the clarity issue worked out. Once we began our descent the seatbelt sign was turned on. We descended through the clouds in what looked like a cloudy day, and touched down right around 7:40AM.
We taxied to the gate, and the Captain made yet another announcement thanking us for joining OpenSkies for the inaugural flight. The purser didn't mention the fact that it was the inaugural flight at all with his last announcements. We disembarked and headed towards customs/immigrations. Once we were outside we all met up for a few minutes and bid farewell to Randy, who was turning around right back to JFK, being OpenSkies' first mileage runner! He even gave out a few shirts to FlyerTalkers, and as always couldn't have been a more gracious or generous host.
We then discussed plans for our stay in Paris, and eventually all headed towards our hotels. I shared a cab with another FlyerTalker to the InterContinental Le Grand, and about 30 minutes later we were there.
More to come in my next installment (the actual stay in Paris, followed by the return journey), but I'd just like to wrap up this installment by summing up my OpenSkies experience on the outbound. Overall I was very impressed by the product. The seat is amazing and is an excellent value at the price they charge for PREM+, the entertainment is good, the food is good, and the employees are friendly. I am convinced that with time they'll continue to improve their efficiency and maintain their friendliness, and have the ability to be by far the best carrier on this route.
The one thing which surprised me was the fact that this didn't at all seem like an inaugural flight. Maybe my perception was off, but I thought there would have been a party at the gate at JFK, gift bags aboard (including inaugural flight certificates), and executives onboard. None of this was the case, which was a bit disappointing purely in terms of an inaugural flight experience, especially from an airline like OpenSkies, which is part of a company that isn't exactly short on funding in this regard.
Still, overall two thumbs up!
More to come…