OpenSkies to Paris
We got to the IC Le Grand Paris at around 8:30AM. As I've mentioned before, I booked this hotel on points, for 40,000 points/night. At first I was a bit hesitant about booking this hotel, because technically InterContinental as a chain doesn't honor Royal Ambassador benefits on award stays, which means the hotels are not required to give room upgrades, club access, or free minibar consumption, and the basic room (Classic Room) is about 200 square feet at the IC Le Grand! Also, I love modern hotels, and am usually not a fan of 100 year hotels, even if they are classics. Nonetheless I've heard nothing but stellar reviews of this property, including from Royal Ambassadors on award stays, and my experience couldn't have been better!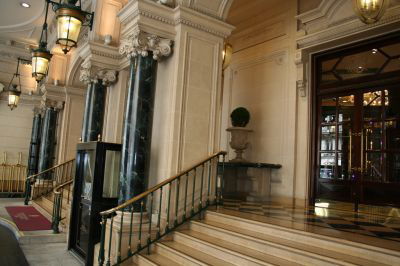 Hotel entrance
I went to the reception desk and was greeted by a very charming lady. First let me start with my bad stereotype. Based on my experience in Paris, there are three types of customer service personalities: those that don't care one way or another, those that have what many of us would consider an anti-customer attitude, and those that have an attitude in a positive way with incredible charm. The lady checking me in without a doubt fit in the last category. She was nothing short of amazing, and was a great start to my stay.
For example, one gripe I always have about hotels as an elite is when they don't recognize status, so you're left wondering whether or not you should ask for an upgrade. The lady checking me in said with a smile, "Mr. Lucky, as you are a Royal Ambassador with InterContinental we have taken the liberty of upgrading your accommodations to an Executive Room, and you'll also have access to our exclusive club on the fifth floor." She went on to explain all the details of the club, asked me whether I would like late check-out on Sunday, and asked me if I had any questions. Never have I had such a professional check-in experience, and from that moment on it was clear to me that this hotel was nothing short of "Grand," as the name suggests.
I walked around the lobby for a bit to snap some pictures, and found it to be very nice.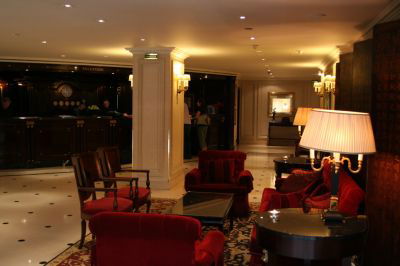 Lobby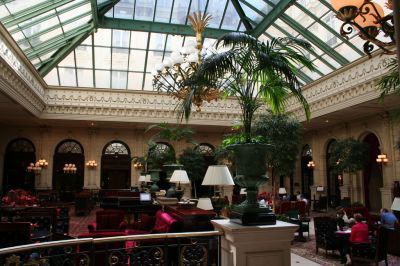 Café de la Paix
I then headed to my room, and while it wasn't a massive suite, I couldn't have liked it more. It had high ceilings, probably around 20 feet, and was extremely elegant and aged, yet still felt "fresh." The room was the perfect size, and thanks to the high ceiling felt huge. I'm pretty sure my bathroom was about as big as the standard room here, as it was also a very good size. The bathroom amenities were L'Occitane, my favorite. Lastly, and most importantly, the minibar was impressive, with great champagne, white wine, beer, all kinds of soft drinks, and snacks. Best of all, everything, including the snacks (which usually isn't the case at IC's) were free!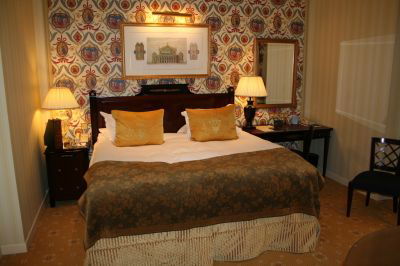 My room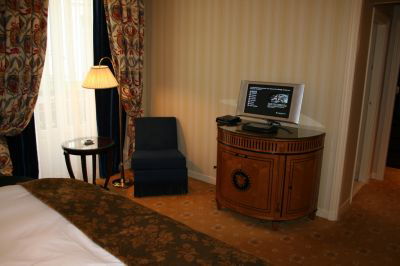 Another room picture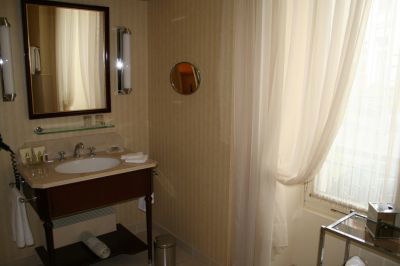 Bathroom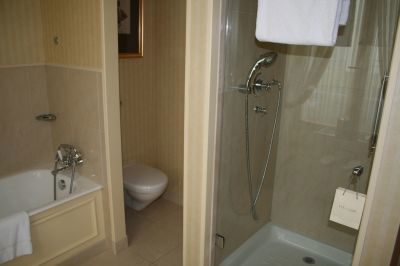 Bathroom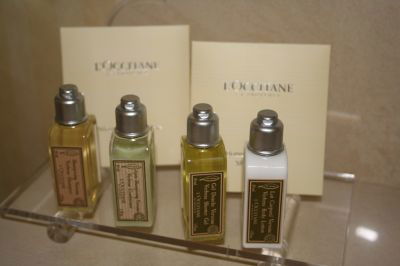 Toiletries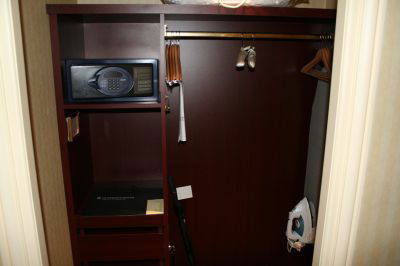 Dresser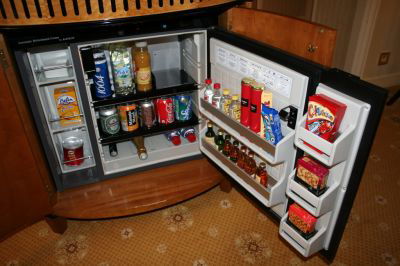 Minibar
I then headed up to the club floor, where my friend was waiting since his room wasn't ready (although he was promised a nice suite, so it all worked out in the end). The club lounge is also fantastic. While small, it's never crowded and is very elegant. The buffet is on the main club floor, along with the club concierge and a small seating area, and then there's additional seating along with computers on the floor above. The offerings were excellent. As the letter I received states, here are the club offerings:
Buffet Breakfast 0:700-11:30hrs
Lunch with sweets and savouries 12:00-14:30hrs
Tea time with French home made pastries 15:00-17:30hrs
Cocktail with Open Bar, sweets and savouries 18:00-20:00hrs
Soft drinks, champagne, and wine with sweets 20:00-22:00hrs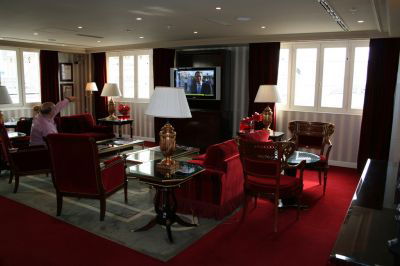 Top club floor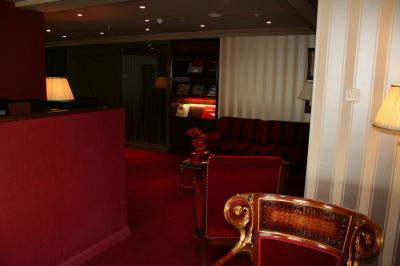 Business center/top of club floor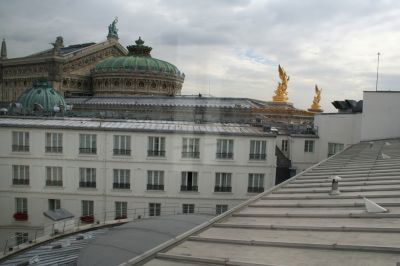 View from the club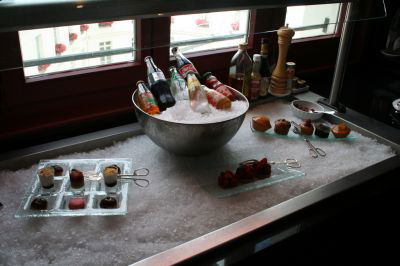 Afternoon lounge nibbles and drinks
Later on I went back to my room, only to find out on the way that OpenSkies' office is located in the IC. When I got to my room I found the Royal Ambassador welcome gift, consisting of two bottles of Vittel mineral water in nice glass bottles, a plate of fruit, a nice card from the managing director of the hotel, and a box of chocolates from Café de la Paix. Seriously, I can't say enough good things about this hotel. Every employee I interacted with was sincere, friendly, warm, gracious, welcoming, and beyond professional.
I am convinced this hotel is the single best use of points in the whole Priority Club system for Royal Ambassador members, since they don't treat award stays any different than revenue stays.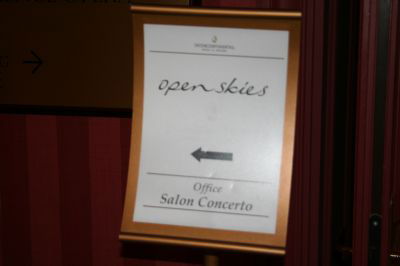 OpenSkies sign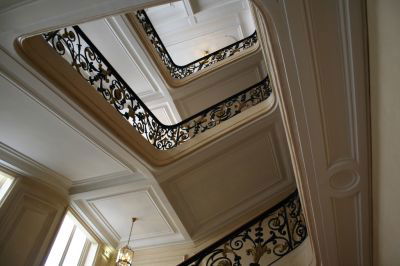 Staircase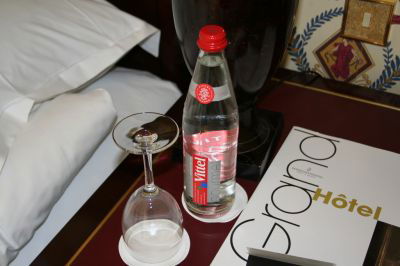 One of the two bottles of water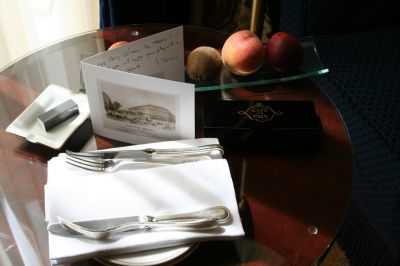 Welcome gift
I took a shower, and at around 11:30AM the other FlyerTalker (Sev) and I staying at the InterContinental started walking towards the Hilton Paris, where we were meeting up with other FlyerTalkers. Sev is in Paris a lot, so was able to basically provide a guided tour along the way, which was great. Nothing beats having someone that's basically a local in a foreign city.
During our walk to the Hilton Paris we had three people try the "ring trick" on us, which Sev explained to me. They drop a ring right by your feet which they claim to have just found, and talk about how valuable it is (it might say 18K on the inside, for example). They convince you to take the ring, say they're in a rush, and just ask for a little bit of money so that you split the profits somewhat. Of course the ring is totally worthless, but I guess some people actually fall for it.
After a brisk 45 minute walk we made it to the Hilton Paris, which was quite underwhelming, or at least the lobby was. Only one FlyerTalker decided to join us, and we started walking. Since I'm not really an expert and would prefer not to butcher any names, I'll let the pictures do the talking here. As was a recurring theme during the weekend, we stopped at street cafes frequently, a quintessential part of experiencing Paris, in my opinion.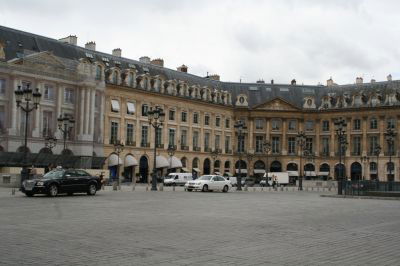 Near IC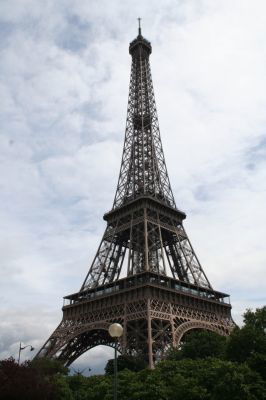 Forgot what this is called, but apparently it's famous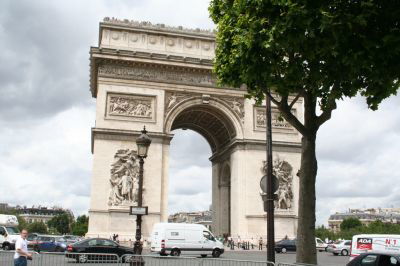 *Scratches head*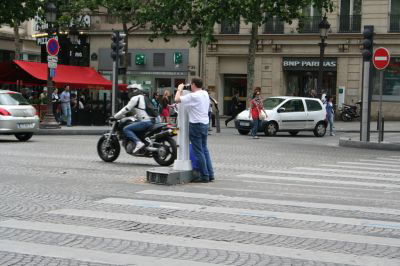 FlyerTalker Canarsie taking pictures on the Champs Elysees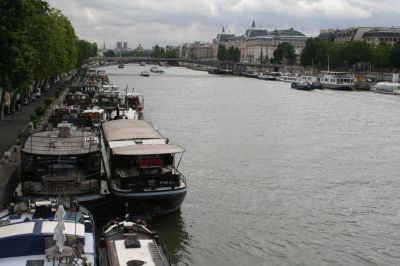 Seine River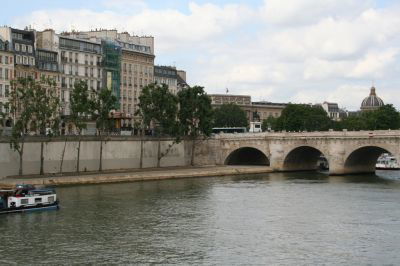 Looking across the Seine
By 5PM we were back at the IC and enjoyed the club for a while. Shortly thereafter we had a few more FT'ers join us for a mini-minibar party. The others went to dinner, but I decided to go to bed since I didn't sleep at all on the flight and was dead tired.
Next day:
I woke up at the delightful hour of 4AM, something I enjoy doing when outside the country, believe it or not. I was able to get three quality hours of "trip reporting" done before going to the club lounge at 7AM for breakfast. The breakfast selection was superb, including pastries, cheese, meat, fruit, scrambled eggs, crepes, hash browns, yogurt, many juices, and much more. The InterContinental Le Grand consistently delivered, especially in the club lounge when it came to offerings.
At around 11AM we hit the town and headed towards the Notre Dame, which was quite a walk. Eventually we sat down at a street café, which was in a great area, including live entertainment in the "square" the café overlooked. We sat there for a good few hours, joined by several other FlyerTalkers, and eventually I headed back to the hotel as I was getting sunburned.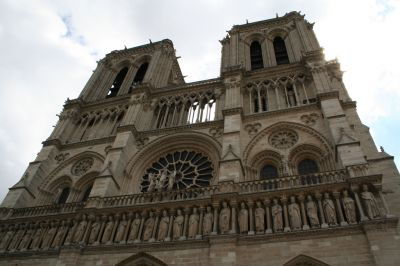 Notre Dame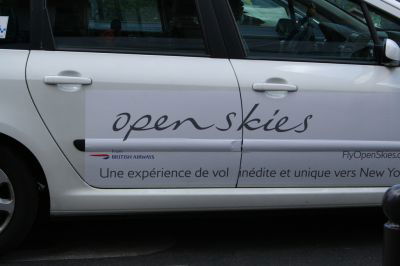 Advertisement on the side of a taxi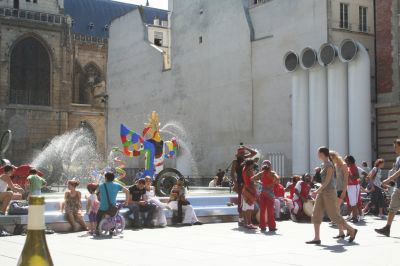 Lively area where we sat down
I was convinced I could find my way back to the hotel, but after wandering for about an hour, realized I couldn't find it. My mind wasn't all there, and even though I had a map I couldn't figure it out. I got in a cab and said where I was going, and as it turns out my hotel was only two blocks away. Oh well, at least I saved a few Euro!
I took a shower when I got to the hotel and went to the club lounge to check my email and enjoy some snacks. FlyerTalkers contacted me regarding dinner, which we'd have at Pershing Hall at around 9:30PM. Unlike the night before, I was wide awake and ready to enjoy the evening. The FlyerTalkers came to the IC to pick me up, and we shared a cab to the restaurant, being driven by the peppiest Parisian I interacted with during the trip. This lady tried to speak English, was hitting the side of her car with her hand when she was annoyed at other drivers, and tried to entertain us. Very funny lady.
While Pershing Hall is by no means a quaint French bistro, I'm pretty sure it was my favorite restaurant ever (although my palate is quite unsophisticated). It's located in a chic boutique hotel with Ferrari's and Porsche's parked in front, and the restaurant itself is in the courtyard of the hotel. I had a hamburger for 25 Euro, which was probably the best hamburger I've ever had. The quality of the restaurant went beyond that though, and in my opinion the food wasn't what totally set the restaurant apart from anywhere else I've been. I really loved the ambiance. Think W Hotel (and anyone that knows me knows I'm really not a fan of W hotels), minus the obnoxiousness. The music was just the perfect volume and beat, the restaurant was beautiful (I'm working on getting a picture), and the wait staff was equally so. Seriously, if you're in Paris, GO HERE!!!
We wrapped up dinner at around 12:30AM, at which point we tried to find a cab back to the hotel. Being as it was Saturday night and they had music festivals all over, this proved to be quite a task. There were hardly any cabs available, and it took nearly half an hour until we got one. Regardless, it was interesting to watch Parisians at the early hour (for them) of 1AM, as we saw exotic cars pull up, drunk people walk by, and everything else you'd expect in Paris.
I requested a wake-up call for 7AM as we'd leave to the airport at around 8:30AM the next morning, and slept like the ultimate baby.
Upon waking up I showered, had breakfast, and met with Sev and Pat (two FlyerTalkers) downstairs to share a cab to the airport. We got to the airport by around 9AM and entered what was an absolute zoo, making US airports look like an oasis of comfort.
More to come…