OpenSkies to Paris
I'd like to share a few impressions of Orly. It's the neglected step-child of Charles DeGaulle, and has all the airlines you really don't want to f$%& with, from the massive charter 747's of Corsair to the airlines that are from countries you've never heard of, to the airlines you've heard of but wouldn't fly if your life depended on it. The people in the terminal are an eclectic combination of all of the above, which made it an interesting airport to navigate. As luck would have it (or not) we entered the terminal at the totally opposite end of where the check-in was for OpenSkies. We entered at check-in counter 100, and had to go all the way to check-in counter 2.
After navigating our way through the crowds we reached the check-in counter, where there was no wait. Of course it couldn't be that simple, being as security is very important to OpenSkies.;) Before getting to the check-in counter an OpenSkies agent scanned my boarding pass and asked me a series of questions. What I found most comical was the way the questions were asked (as if the content wasn't dumb enough), and I had a very difficult time keeping a straight face. This lady clearly wasn't a behavior detection officer, but she took her job damn seriously.
The agent said something like "I have three very important questions I will ask you, and I need you to answer me please." Her English was very broken, and she proceeded to ask her questions. The questions were along the lines of "Who packed your bags for you?" and similarly pointless questions. After getting her seal of approval I proceeded to the check-in counter, where the agents were friendly. Within about a minute I had a boarding pass as well as a lounge invitation to the iCare lounge, which seems to be the contracted lounge at Orly.Those in PREM+ also got invitations, unlike at JFK where PREM+ passengers don't get lounge access.
We proceeded up the escalator and towards passport control, where the agent was very friendly. We then got in the security line, which was quite painless. I could leave my shoes and belt on, but was patted down, as my belt set the metal detector off. One of my bags got hand searched, as I had forgotten that I had a bottle of water from the hotel in the bag. I apologized and the agent even asked if I wanted to drink the water before continuing. At that point I pictured a similar situation with the TSA, whereby I'd probably be scolded for my threat to our national security, and maybe even be added to the no fly list for my dangerous attempt.
Past security we headed to the lounge, where we handed in our invitations and went inside. While the lounge was by no means world class, it wasn't bad at all. It had a very good beverage selection including bottles of Evian water, champagne, etc, as well as some decent snacks such as delicious chocolate cookies. Yum!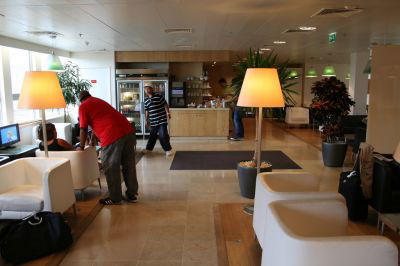 iCare lounge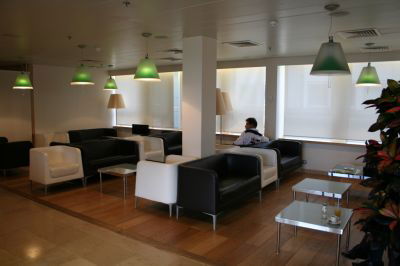 Sitting area in iCare lounge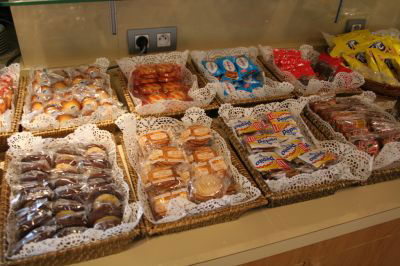 The cookies in the center top in blue packaging were especially good
About 10 of us met in the lounge and discussed what we all did during our stay in Paris. At around 10AM we proceeded to the gate, which was near the lounge. We once again had to show our passports and were asked three similar questions by the same agent that asked the questions at check-in, which I found funny. I approached her with "hello again," and she asked three equally stupid question, one of which was the same. The repeat question was whether or not anyone packed my bags for me, and one of the other ones involved where I was since checking-in. I found the one about where I've been since checking-in funny, since I imagined some of the more creative responses I could come up with, but just said I was at the lounge.
While I can see the point of these questions on a flight to/from Israel where the agents are actually experts, this lady seemed about as passionate about the answers as a flight attendant asking whether someone is willing and able to assist in the case of an emergency when in the exit row.
As many of us learned the hard way, there was another security checkpoint after the questioning, whereby we had to put everything through the x-ray and walk through the metal detector again. They were a lot stricter, and confiscated several items from our group. Fortunately I wasn't one of the "victims," and walked away with all of my stuff intact.
We were then in the gate holding area, but they were only boarding Economy, so we waited. Eventually they called BIZ and PREM+, so we headed down the jetway.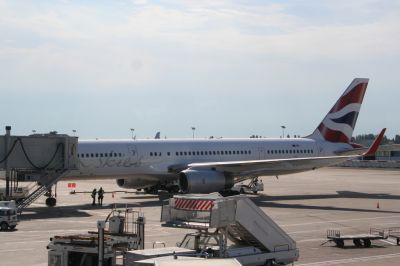 Our plane
EC001 ORY-JFK
Sunday, June 22
10:55AM-1:25PM
BIZ, seat 3B
Boeing 757-200
At door 1L I was welcomed aboard by an older French gentlemen, Chris, who directed me towards the mid-business class flight attendant, Raquel, who directed me towards my seat, 6B. The BIZ cabin is separated into two cabins, each of which has three rows. I was in the last row of the last cabin, which is the area where many of the FlyerTalkers were sitting. As it turned out all the people in the rear BIZ cabin were FlyerTalkers, which worked out very well. The Captain announced our flight time to be 8hr2min, every minute of which I was thoroughly looking forward to.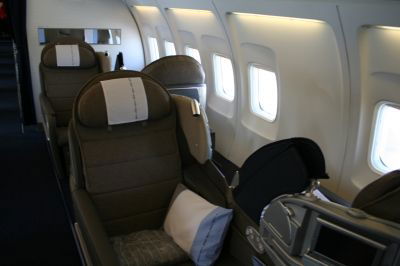 Rows five and six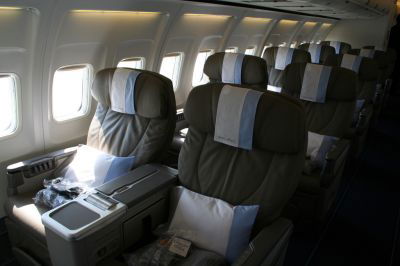 Quick shot of the PREM+ cabin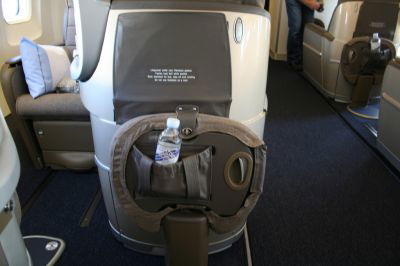 Legrest and seat in front of me
After settling in and snapping a few pictures we were offered pre-departure beverages, with choices including champagne, orange juice, water, and strawberry smoothies. I went with a strawberry smoothie, which was delicious.

One of our awesome FA's, Sonja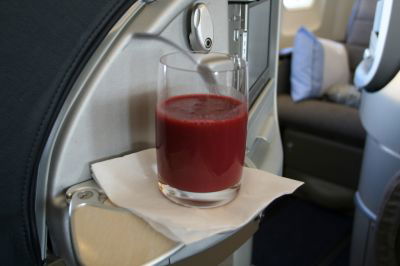 Starwberry smoothie
Shortly thereafter menus were distributed and we started to talk to the crew a little bit. Since OpenSkies' marketing department seems to love the phrase "This is not _____," including the menus clearly stating "This is not a menu," I decided to have some fun with the flight attendant. As Raquel handed me the menu I said with near disgust "What's this?" She responded "That's your menu for the flight, sir." I quickly responded, "No, this is NOT a menu." She laughed and said "you got me," so let's hope she doesn't make that grave mistake again.;) I find the advertising to not make a whole lot of sense. As FlyerTalker Canarsie suggested during the flight, it might be better for the marketing department to use a phrase like "This is not just _____," since ultimately everything that they say isn't something really is.
As we learned, four of the five flight attendants aboard were ex-Maxjet, so it was interesting to hear their stories. It seemed like they were a lot more polished than the outbound crew, which only makes sense considering they came from a premium airline so the product isn't an entirely foreign concept, compared for example to the FA's from NW and US.
While I was assigned 6B I moved to 5F for the takeoff, since I wanted to experience the takeoff and landing backwards. I've never done it before, so figured it was a good opportunity since only six seats were taken in our cabin.
It's very odd to be going forwards when pushing back and backwards when taxiing, taking off, and doing everything else, but was fun. We taxied to the runway past all kinds of traffic, including many Air France heavies and other airlines I've never even heard of (probably for the better). We had a powerful takeoff and a few minutes later the seatbelt sign was turned off. I headed back to my assigned seat, 6B, and played with the seat a little.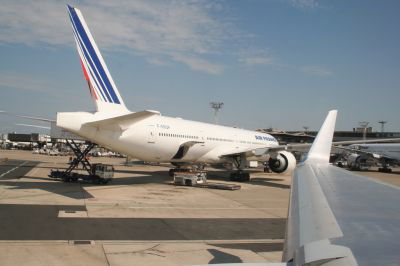 Air France 777 during taxi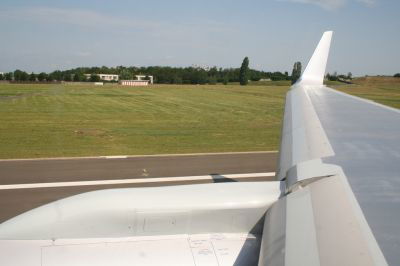 On the runway, almost ready to takeoff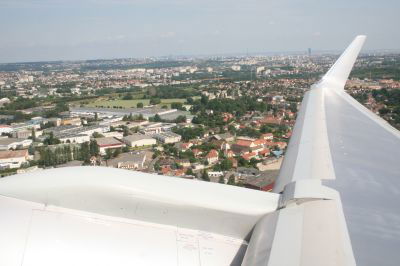 Shortly after takeoff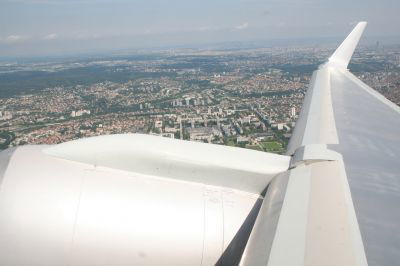 View as the seatbelt sign is turned off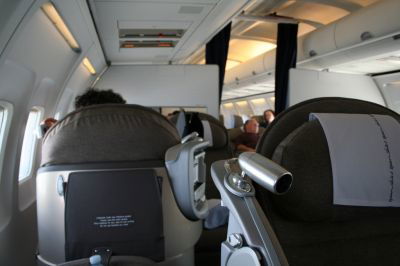 View from 5F, a backwards facing seat
I found the seat to be very good and quite functional. The PTV, much like in PREM+, is a separate unit from the seat but fits in a holder, so you can hardly tell the difference. On this flight the PTV's were already placed in the holders for the occupied seats, so one could start enjoying the entertainment immediately after takeoff. The headsets were also much larger in BIZ.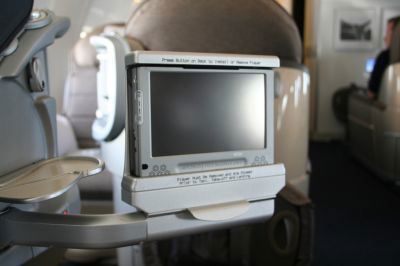 PTV
The seat has a small cup holder which folds out and can hold two glasses. The seat itself is more firm than most business class seats, but I found it to be pretty comfortable.
The one thing you'll either love or hate is the fact that the seats are facing both forwards and backwards. One person sitting forwards while the seatmate sits backwards might not sound that bad, but it can be very awkward when traveling alone. While there's a partition, it's not practical to put up during the meal service since the flight attendant would have trouble serving the window seat. For people traveling together it's excellent, since it's truly conducive to conversation. You can actually have a conversation with almost everyone in any row with the way it's set up. This shouldn't be too much of a problem during non-meal times, since you can pull out the partition and have a bit more privacy.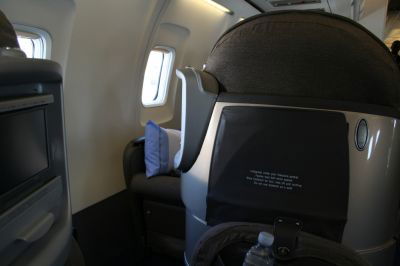 View of 5A from my seat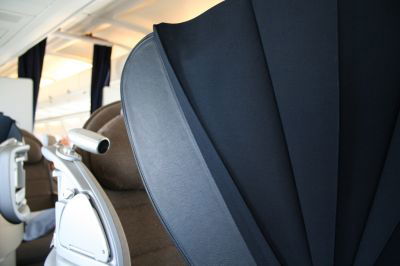 Privacy with partition extended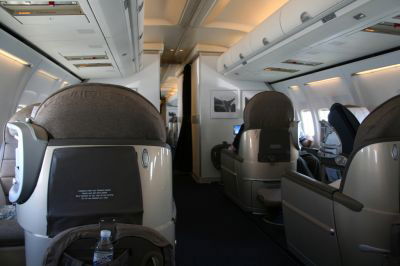 Note the art located on the bulkhead of both New York and Paris
The seat controls are located on the left side of the seat, and include the ability to recline, sit upright, get into takeoff position, or choose any of the four directions individually. The light (which, by the way, is very weak) is also controlled from there.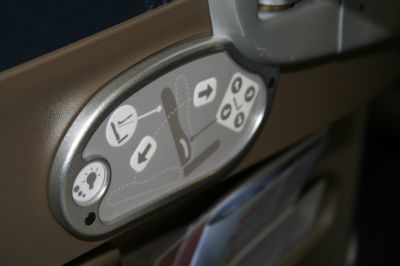 Seat controls
Now, let me get back to the flight itself. Here is the menu in BIZ:
Lunch

To Start
Hors-D'eouvre
Carrot and cumin soup with mixed vegetable crisps
Smoked duck rillettee on fresh mixed leaf salad with a raspberry and walnut vinairgrette
Chicken and artichoke pate with a beetroot and fig salsa
Seafood sushi with crab maki, salmon fillet with nori, sautéed prawn and scallop, wasabi and soy dressing

Main Course
Seared fillet of beef with green peppercorn sauce, garlic roast potatoes and French beans
Pan-fried chicken in a rich red wine sauce, sautéed potatoes and rosemary-infused vegetables
Grilled red snapper with Malaysian spiced quinoa and stir-fried vegetables
Mushroom-stuffed ravioli with a morel sauce, buttered spinach and Parmesan tuile
All offered with freshly baked bread.

Dessert
Fresh summer berries with vanilla sauce
Apricot tart with fresh cream
French farmhouse cheeses served with seasonal fruit
Tea or coffee and chocolates

Light Meal
A selection of filled sandwiches and the famous macaroons from the Parisian tea salon 'Laduree'
And here is the beverage list:
BEERS & SPIRITS
Carlsberg
Heineken
Campari
Martini Dry
Warre's LBV Port
Massenez Crème de Cassis
Tio Pepe
Glenlivet 12 Year Old Malt Whisky
Glenlivet 15 Year Old Malt Whisky
Johnnie Walker Red
Johnnie Walker Black
Jack Daniel's American Whiskey
Tanqueray
Gordon's
Camus VS Elegance Cognac
Camus VSOP Cognac
Drambuie
Cointreau
Tia Maria
Baileys
Southern Comfort
Bacardi Carta Blanca
Smirnoff Red Label
Smirnoff Blue

SOFT DRINKS
Coke, Diet Coke, Sprite, Fanta Orange
5 Alive Juice
Bitter Lemon
Tonic/Diet Tonic Water
Canada Dry
Still/sparkling mineral water
Fruit juices
Orange, Apple, Cranberry, Tomato

WINE

WHITE

Marmesa Edna Valley Chardonnay 2005
Bright and fresh with a powerful core of fruit, this is an outstanding Central Coast wine.

Chateau Thieuley Francis Courselle 2006
It retains the clean purity of the Sauvignon Blanc but the addition of a generous dollop of Semillon gives the wine a lot more weight and richness on the mid-palate.

RED

Wattle Creek Shiraz 2003
This wine has a vibrant color, opulent fruit on the nose with support oak in the background and a hint of cracked black pepper on a very long finish.

Corona de Castilla Prestigio 2004
It's powerful and full bodied, but made in a fresh, fruit-driven modern style.

CHAMPAGNE

Charles Heidsieck Brut Reserve
There are classic toasty, ripe fruit aromas with a complex, mouth-filling flavor lifted by firm acidity. The finish is long and rich but also beautifully refreshing.
The meal orders were taken about 15 minutes into the flight (and we were addressed by name), and I went with the soup as the appetizer and beef as the main course.
Shortly thereafter another flight attendant, Sonja, came around offering drinks. I went with a Fanta Orange, which made my day. I was concerned it would be the crappy, sweet American version, but it was the European version, in full Fanta glory. It's one of my favorite drinks, so I overindulged on that a bit during the flight. Sonja also delivered a little tray with warm nuts as well as some kind of melted mozzarella cheese and small chunks of tomatoes. Sonja was honest to us (huh, since when is anyone in the airline industry honest?!?!?!) and said they were still working on perfecting the use of the oven, so asked us to pardon the fact that it seemed more like melted cheese than warm cheese. Nonetheless, it was delicious.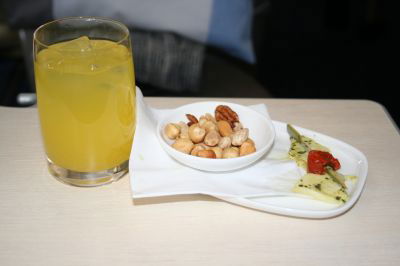 Nuts, cheese, and Fanta… yum!
Within another 15 minutes or so tablecloths were placed on the trays, shortly followed by the soup. The soup was perfect, and this time around the bread was served only a few seconds after the delivery of the soup. One odd thing about my setup was that I got two pepper grinders instead of a salt and pepper grinder, a detail I'm surprised slipped past this detail-oriented crew.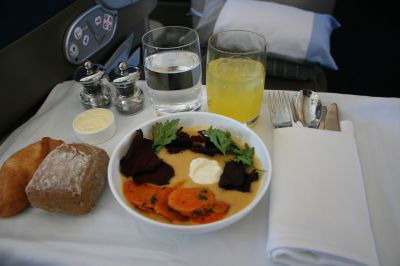 Amazing soup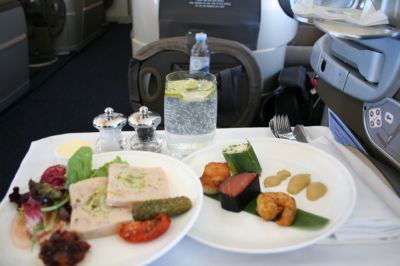 baccarat_king's appetizer– chicken pate and sushi
As soon as the soup was finished my bowl was taken, shortly followed by my main course. The beef was once again excellent, as were the sides. The service was also at a very good pace and drinks were continuously being topped off.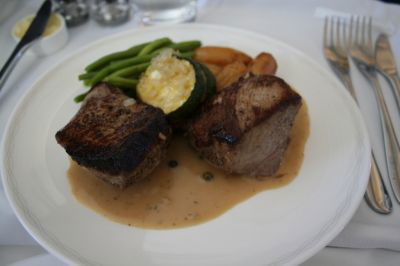 My main course– beef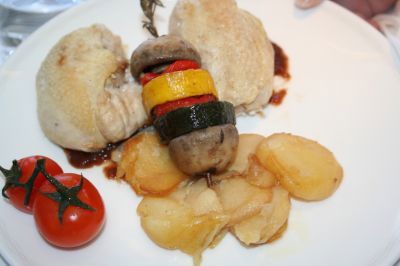 Pat's main course– chicken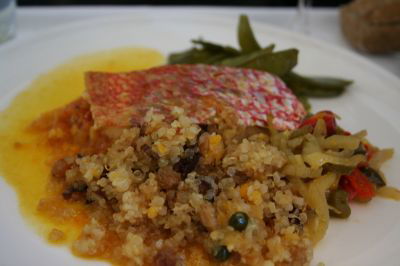 baccarat_king's main course– snapper
Once my main course plate was cleared my dessert order was taken, and I decided to go for both the tart and berries. Raquel obliged, and within minutes I had both plates. The dessert was especially good, as the berries tasted fresh and the tart was flavorful.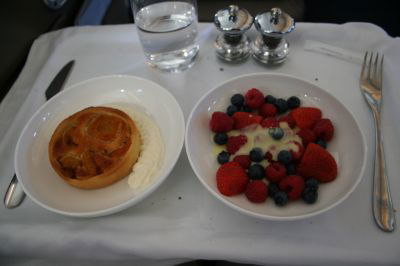 My ridiculously amazing dessert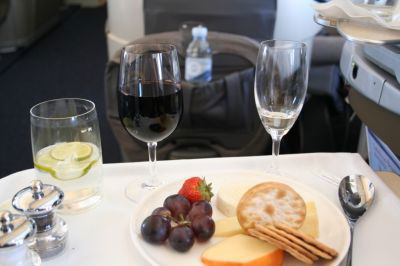 baccarat_king's dessert (he loved the variety of "proper" glassware)
Lastly I asked for a cup of coffee, and Raquel brought coffee, milk, and a whole box of chocolates. I really liked the glassware on the flight, especially for the coffee. Most of the cutlery/glasses/napkins were from BA, many even from First.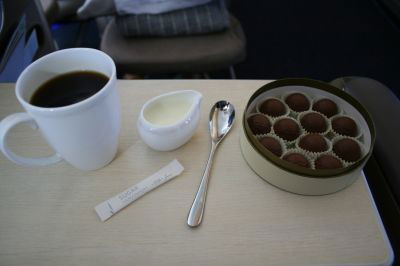 Coffee, milk, and chocolate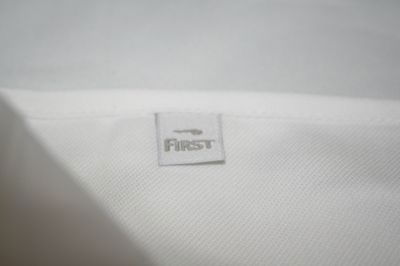 BA First napkin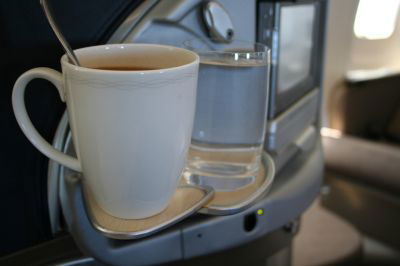 Functionality of the drink tray
After lunch I reclined into a more comfortable position, to test out the lounging capabilities of the seat.
The flight attendants were very friendly and were walking through the cabin continuously to see if anyone wanted anything, and also came around with a basket including a toothbrush and toothpaste, earplugs, combs, and moisturizer. All of it came with a TSA allowable bag, which was very practical.

Amenities
We also had the opportunity to talk to the crew for a bit. The purser, Chris, is a retired Air France FA, where he flew the Concorde! He shared some fun stories, especially about a few celebrities (I wish I could post the details as they were pretty damn funny, but that wouldn't be fair to him), and just about his collective experience there. The other FA's spoke a bit about Maxjet and how the product and workload there compared to OpenSkies. One interesting thing to note is that on OpenSkies the FA's have to plate the food, while on Maxjet it came pre-plated.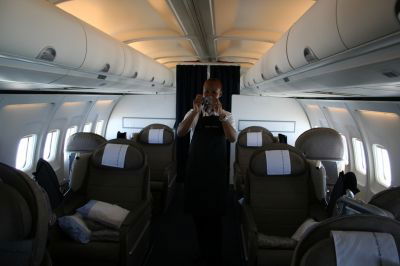 Picture of FA Raquel taking a picture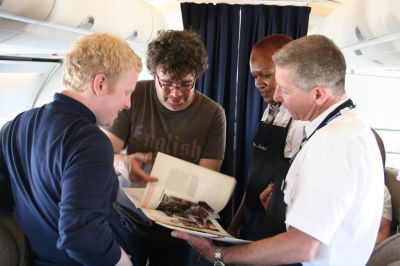 baccarat_king showing the Chris and Raquel his TWA book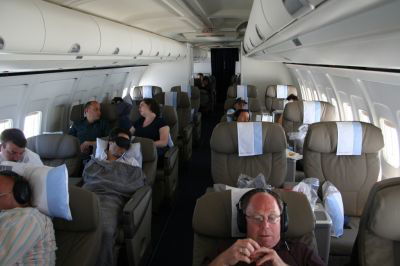 Post-lunch look at the PREM+ cabin
Eventually the Captain made an appearance, although we didn't know at first who he was since he wasn't wearing his "stripes." FlyerTalker baccarat_king asked him if he was the first officer, and he responded he was the Captain. He said he didn't wear his stripes in the cabin, and also mentioned that OpenSkies' chief pilot was aboard and that it was his check ride. He signed baccarat_king's menu and even showed us his stripes so that we'd believe he really was the Captain (of course in a joking way).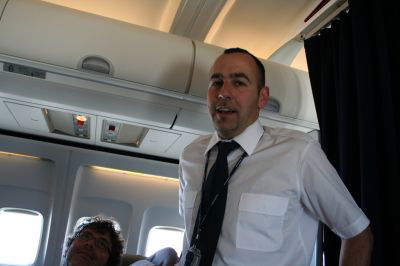 Great Captain
I tested out the bed for a few minutes by reclining the seat into the fully flat position, and even asked for a duvet from the FA. It was promptly brought by Chris, the purser, and was very cozy. The bed as a whole was excellent, in my opinion. The only slight complaint I have is that the bed is a bit too short. I believe it is 72 inches, and at six feet tall my feet were firmly planted against the seat in front of me (as expected). I can imagine it would be somewhat uncomfortable for someone taller that wants to sleep without bending their knees. Still, it was one of the most comfortable beds I've tried in the sky, especially in Business.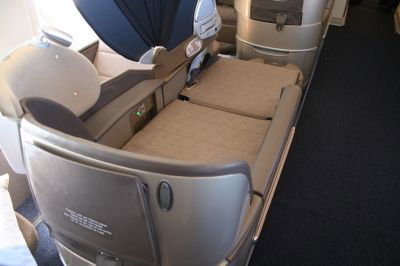 BIZ seat fully reclined
A little over an hour out of JFK the pre-arrival snack service began. First tablecloths were placed on the tray tables, followed quickly by a box, much like we saw on the outbound for breakfast. For a moment I was shocked to get a boxed snack in business class, but as it turns out it was from "Laduree," a famous French tea saloon (or so I'm told). While I'm no fan of seafood, the fishy sandwich was pretty good, and the cake and macaroons were amazing! I would suggest they offer an alternative type of sandwich (maybe chicken or vegetable), but overall I give it two thumbs up. Most of the people in BIZ were beyond impressed by the fact that they were serving this, but once I caught on I was quite pleased as well.
Another reason this is very practical is that you can really take the box with you if you don't feel like eating on the plane.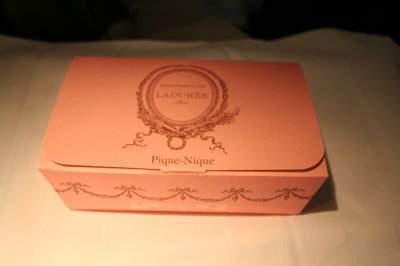 Box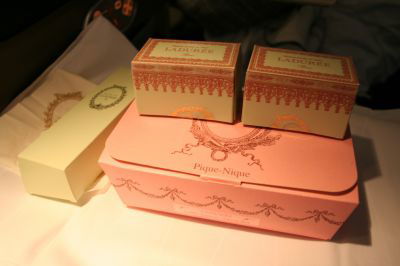 Contents of box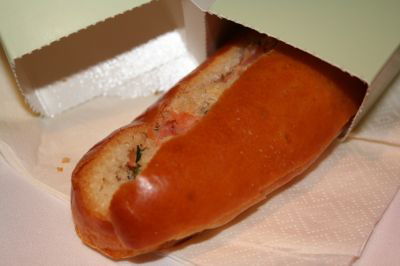 Sandwich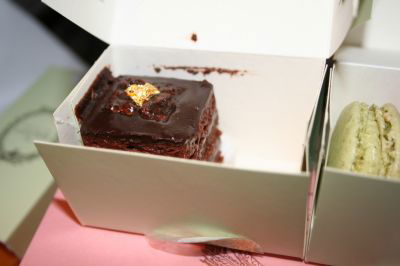 Chocolaty brownieish thing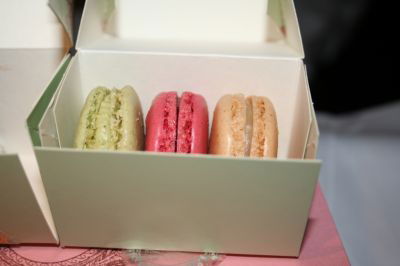 Macaroons!
After lunch I repacked all of my bags, put away the menus, and took a backwards facing seat for the approach. The seatbelt sign was turned on early, and we had a bumpy approach into NY. We had one particularly large pocket of turbulence which nearly took one of the FA's off her feet.
We landed at JFK a few minutes early and as we approached T7 I saw a BA747 approaching on the same taxiway in the other direction. I was hoping we'd get to go to our gate first, but we didn't. As a result we had to wait for about 15 more minutes as they taxied in, as an ANA 777 taxied out, and as another plane taxied out. We ended up being about ten minutes late, which wasn't too bad. We bid farewell to the great crew, and headed into the arrivals area.
At JFK:
I was in shock when I entered the terminal and found a line snaking nearly to our jetway! As it turns out that was the foreigner line, which must have had 1,000 people in it, while the US citizen line had a five minute wait at most.
For the first time ever I wasn't asked a single question by the immigration officer, and said "thank you very much," to which he responded "you're welcome very much." I handed the agent my form as I was exiting, and I heard him asking his colleague "What's EC001?"
I walked towards the AirTrain, which seemed to be on vacation since it took forever. Fortunately the AirTrain was going the "right" direction, so T8, the AA terminal, was the first stop. I got off, found a check-in kiosk, and printed my boarding pass.
I went towards security, where they had the new TSA lanes where you choose what kind of a flyer you are (casual, expert, family, or whatever it is), and I didn't see the expert lane open, so went towards the casual lane, which was shorter than the elite lane, as it turned out.
Once again the TSA agents here were a perfect example of why this workforce gets ZERO respect. It was clear that almost no one in the line spoke a word of English (they all had foreign passports and seemed very confused), and the TSA agents kept yelling "HAVE YOUR PASSPORT OPEN TO YOUR PICTURE PAGE!" Basically no one did it, and the agent scolded basically everyone that didn't. The people had a confused look on their face, and I shook my head out of embarrassment of these guys (TSA agents) representing our country.
Thanks to my AMEX Plat I was able to use the AAdmirals Club, which was nice for a US lounge. It had veggies and pretzels, so was a little better than my DFW experience. After about 30 minutes I headed to the gate.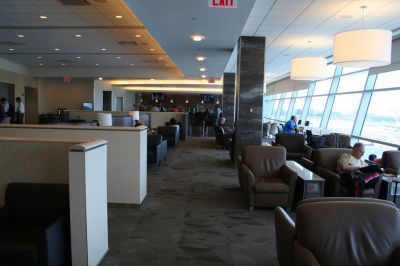 The club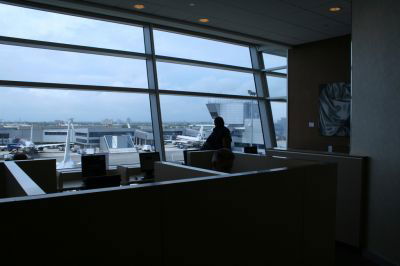 View of the tarmac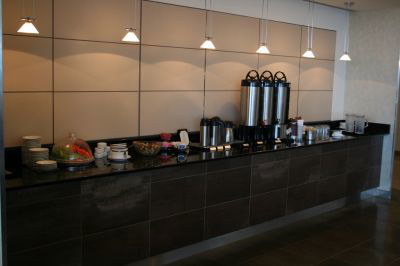 Snack bar
The gate was a complete mess, and while the flight still showed on time there wasn't a plane at the gate and we were schedule to board in five minutes. I asked the gate agent whether they were overbooked and needed volunteers and he responded "Nope, we're full but not oversold today, but thanks for asking, we always appreciate it." I also asked about the delay, and he said we'd probably be about 30 minutes late, as the inbound aircraft was late.
As it turned out we were about an hour late. I worked on my trip report a bit, so didn't mind the delay too much, although I really wanted to get home.
AA1787 JFK-TPA
Sunday, June 22
3:40PM-6:25PM
Economy, seat 20D
MD80
As I settled in a guy tapped me on the shoulder and said "You doing a mileage run, Ben?" As it turns out it was a teacher I had a few years ago, and in his class we always talked about mileage runs (he kind of understood them by the end of the year). It was pretty funny to run into him of all people on a plane.
The flight itself was uneventful. It was pretty long, 2hr30min in the air, and the seatbelt sign wasn't turned off once. The Captain announced a very rough ride down the coast, and despite having smooth air for at least half the flight, it was never turned off. The two people across the aisle from me talked about flying for most of the flight, and were surprisingly knowledgeable. They even talked about OpenSkies, and as I was writing my report aboard and looking at pictures of the flight, she noticed them so we started talking about them.
We talked about travel patterns and airline loyalty (she was DL Gold and AA Plat), and laughed when I said I was loyal to UA/Ted. We debated the merits of the various airlines up until deplaning, which at least made the flight pass a little quicker.
I got home about an hour late, and was happy to get to bed after a long and exciting weekend.
Thanks so much for all that have read the report and commented, I really appreciate it! I had an amazing weekend, and can only hope to return to Paris and fly OpenSkies again in the near future!