I flew Oman Air early last year for the first time, and had a great experience on them. They're one of my favorite airlines, largely thanks to how "exotic" they feel. Unlike some other Gulf carriers, they do a great job integrating Omani culture into the experience.
At the moment Oman Air has a couple of longhaul business class products. They were originally known for their incredible business class hard product, which was about the best out there when it was first introduced. Select A330s still have this product, which is in a 1-2-1 configuration.
Meanwhile their 787s and select A330s have Apex Suites in business class. Initially I thought this would represent a downgrade in terms of the quality of product, but in reality I think these seats are superior to the old ones, at least if you manage to snag one of the window seats.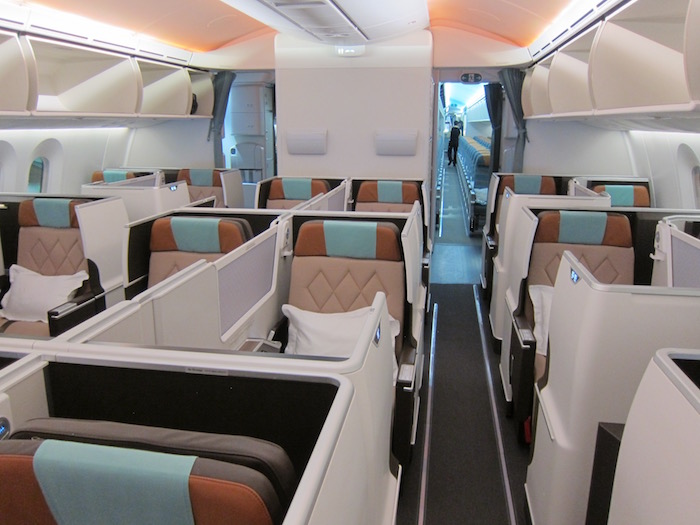 While Oman Air has a great business class, their first class seems a bit underwhelming, and has been in the process of being scaled back. Reader John shared his experience in Oman Air first class a while back, which didn't seem that great. Select A330s still have a first class cabin, which is in a 1-2-1 configuration, much like business class.
The seats look very similar to those in business class, except there's a rather random couch in the middle of the cabin.
Oman Air has slowly been reconfiguring A330s with the new Apex Suites, and in the process has been removing first class.
However, Oman Air is taking delivery of 21 new 787s, including 15 787-8 aircraft and six 787-9 aircraft.
Oman Air is just now taking delivery of their first 787-9, and it has been my understanding that they were planning on installing eight first class suites on these planes. Unfortunately that's not the case anymore.
Oman Air has just scheduled their first commercial 787-9 flights. They'll be operating the 787-9 between Muscat and Bangkok starting on March 1, 2017. Unfortunately it looks like Oman Air won't offer first class on their 787-9 aircraft — they'll feature 30 business class seats and 258 economy seats.
On one hand that's sad, since I was hoping they'd introduce a great new product. At the same time I'm not surprised to see this, given that the airline seems to have horrible yields, based on how consistently low their economy and business class fares are.
Fortunately they have a great business class product on these planes, and I hope they follow through with their plans to begin flights between Muscat and New York.
But if you're hoping to fly Oman Air's first class, I think it's safe to say that the cabin's days are numbered, and unfortunately there's no product refresh coming…