Northwest to Seattle
Upon deplaning I took the train to the main terminal and followed the sign towards the courtesy shuttles. It was a rather brisk evening, although I came from Florida where it was a cool 18F that morning (I kid you not), so it wasn't that bad, relatively speaking. After waiting for about 20 minutes and seeing shuttles from virtually every hotel except mine (Hilton Garden Inn Seattle/Renton), I gave the hotel a call to see how often the shuttle runs, something I should have probably looked into before.
I was informed by the front desk agent that the shuttle stops running at 10 PM and that I should take a cab which should cost no more than $15. Shoot, I'm an idiot for not checking the website earlier, where it clearly states that. I assumed it would run until later, since 11 PM is as busy of a time as any at SEA, with tons of arrivals from the east coast. Based on the arrivals hall you would have thought it's the busiest time of day, actually.
I tried to find the cab line, although it was nowhere to be found. I eventually saw one legitimate-looking cab, which I took. Unfortunately, the ride ended up costing $25 (including tip) instead of $15, and even worse I didn't exactly feel safe, since the cab driver was fumbling around in the front for nearly the whole ride, and I didn't know what he was looking for. Had I known about the lack of a shuttle I would have stayed at either the Hilton or the Doubletree, since they were only slightly more expensive and had 24-hour shuttles.
At check-in I had the most cheery agent I've ever seen. I guess it takes a certain type to work the night shift at a hotel, and he certainly was that type. He just wouldn't shut up and was so overly enthusiastic that I had to just walk away as soon as I got my keys. For example, he said something like "Did you want your complimentary bottle of super-duper spring water from our well-stocked pantry now or did you want it delivered to your room later on?" While I might have appreciated his humor about 12 hours earlier in the day, it was too late. Sorry, I wasn't trying to be rude!
My room was located on the fourth floor and was nice, actually. Considering I paid $90/night and get free breakfast as a Gold along with free internet access, not to mention the 7,000+ points and 2,000 BMI miles I earned, it was a steal.
The room had a flat-screen TV and was quite "fresh" looking, so no complaints there.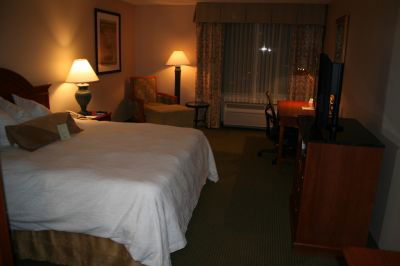 Room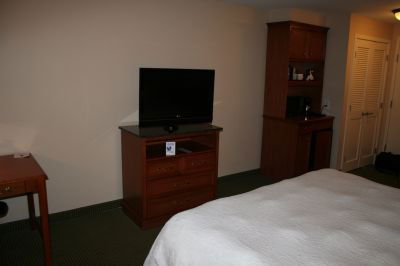 TV
After getting some work done I finally made it to bed at around 1:30 AM. What a day!
The next morning I had breakfast in the restaurant downstairs, which didn't exactly serve what I would consider a "full American breakfast." All of the buffet stuff was "continental," and the menu selection was limited.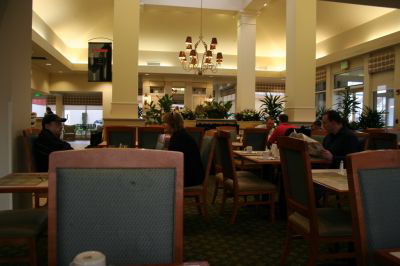 Lobby/restaurant
I ordered a waffle for breakfast, which was fine.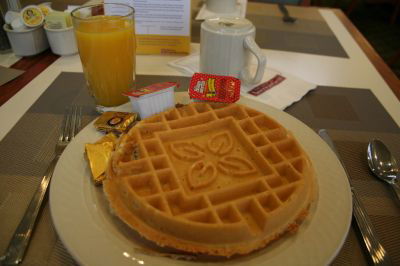 Breakfast
There's not really anything else of interest to report about the hotel, other than that the employees were friendly overall, so I would probably return as long as I didn't have a flight arriving late at night.
The real reason for this trip was to visit Boeing, thanks to an awesome person that managed to organize this tour. On Friday we made a trip to Renton to tour the 737 line, and on Saturday morning we made a trip to Everett to see the 777 line along with the 787.
Unfortunately, I couldn't take pictures, but it was awesome nonetheless. The 737 line in Renton was incredible. It's amazing that 737's are built in a mere 10 days, and it's literally an assembly line. The building they're made in is huge, which goes without saying considering that they line up 10 737's nose-to-tail for production. Incredible.
Everett was also amazing. As we drove up I could immediately tell it was aviation geek heaven. On the ramp were probably a dozen brand new 777's from Air Canada, V Australia, Singapore, and many more. As we went into the hangar we got to see how 777's are made, from the wings to the fuselage. Walking so close to such massive beasts was amazing, and really puts into perspective just how big these planes are.
Of course, the highlight was seeing the 787. What a sleek plane! I can't wait to see it in the skies.
I spent the rest of the weekend catching up on sleep. The only other eventful part of my stay was Saturday morning, where I had to get to downtown. I decided to take the bus from the mall, which the hotel shuttle drives to. The shuttle bus driver was quite possibly the most interesting human being I've ever come in contact with. He spilled his whole life story in the ten-minute ride, including the fact that he has been married for 25 years, only to correct himself and say that he's not really married but is as good as married, minus the "I do" part….. only to correct himself and say he's in a relationship but neither partner is particularly loyal. Wow, talk about details!
As if that wasn't exciting enough, waiting at the bus station at 6 AM on Saturday morning in Renton was equally interesting. This was a bus station near a mall, so naturally, it's going to be shady at that time on a Saturday. What I didn't expect, however, was a grown man barking and growling like a dog for the better part of 15 minutes while waiting for the bus, and also for the entire bus ride. Oh, the joys of public transportation (and people with problems).
More to come on my return flight shortly.