Northwest to Seattle
FlyerTalker oliver2002 gave me a lift to the airport (as he was on my flight as well), and we got there about 45 minutes before departure. Unfortunately that left no time to visit the lounge, which looked nice. For some odd reason Northwest boards 757's 40 minutes prior to departure, and I didn't want to be the one gate checking my bag, since it looked like a full flight.
Northwest 428, SEA-DTW, Boeing 757-200
Saturday, January 24
Depart: 12:45PM
Arrive: 8:04PM
Seat: 5B
I was originally booked in 6B and Oliver was booked in 5A, but the guy in 5B graciously switched seats with me so that we could sit together. Within minutes of settling down we were offered pre-departure drinks of choice, although the flight attendant forgot to bring mine. After about five minutes I went up to ask her for some water, and she apologized for forgetting my drink. I'm guessing it had something to do with the seat change.
I noticed that this aircraft was especially tired looking, with dirty panels and seats. I also found it kind of funny that the areas where the TV's used to be were visible — one in the front right of the aircraft and two in the aisle, which were now covered.
The push back, announcements, and take-off were uneventful, and as we leveled off the service began. As I tried to lower my tray table I noticed that it was stuck, and unfortunately it refused to stretch out towards me. At least it would stay down, so I had somewhere to put my drinks and lunch.
First the cart came through with drinks and snack mix, and I went with a Diet Pepsi along with a package of mixed nuts and pretzels, while Oliver went with some beer he seems to like.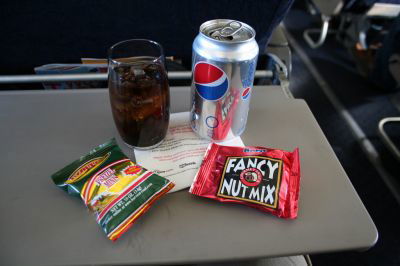 Diet Pepsi, mixed nuts, and pretzels
Shortly thereafter the other flight attendant came through the aisle asking whether we wanted a sandwich or pasta for lunch. I asked for more details about the options, and she responded by saying we could either have a ham and cheese sandwich or just "normal pasta." What the hell is "normal pasta?" I gave her a weird look, but she didn't seem to understand my confusion. I went with the pasta, while Oliver went with the ham and cheese sandwich. Oh, how nice it is to have a seatmate that doesn't give me weird looks when I take pictures!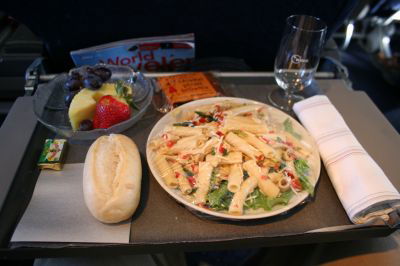 Pasta salad, roll, fruit, and brownie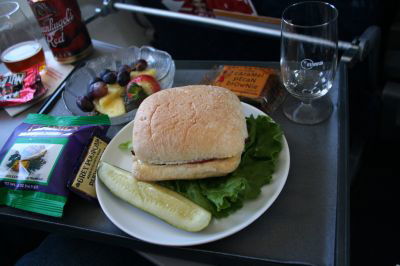 Ham and cheese sandwich, chips, fruit, and brownie
The lunch was tasty, although I couldn't figure out why the flight attendant didn't take the plastic wrap off of the main course. I was leaning towards laziness, but maybe there's some "FAA" regulation I'm not familiar with?
The roll was warm and soft, the fruit was good, and the brownie was great. Overall the lunch was slightly better than lunch on United.
I spent basically the whole flight talking to Oliver. There's no better in-flight entertainment than a good seatmate. I also peaked into the magazine, only to notice a typo on the page talking about the new integrated mileage program. Under "2009 Qualification Requirements" it lists both Silver and Gold members as needing 60 segments to qualify, while Silver members only need 30 segments.
Shortly before landing the flight attendants brought the cart down the aisle for another beverage service, and shortly thereafter we landed in DTW. On the plus side we were over 30 minutes early, but unfortunately there was a plane parked at our gate, which meant we had to wait about 15 minutes before we could disembark.
While I've heard great things about DTW, little did I know how great it really was. As soon as I stepped into the terminal I felt like I was in a world class airport, sort of similar to ICN or HKG. It's such a simple, practical, and beautiful airport, that I'd have a hard time doing it justice.
The Northwest "A" gates basically stretch from one end of the concourse to the other, and there's a tram running the entire distance every four minutes, which makes transfers easy. The coolest part about the tram has to be that it's indoors! It's like Disney World for people that love airports.
As Oliver gave me the tour of his home airport, we walked by one of the newly repainted Delta A320's. Unfortunately there was no way to get a good picture due to the darkness and tinting of the windows, but I gave it my best shot.
I'm sure most of you are familiar with the "tunnel" at O'Hare that connects the B & C concourses. DTW has something similar, only better.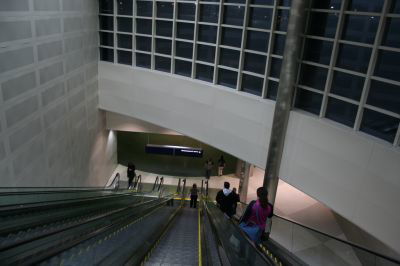 Heading down towards the tunnel
The DTW tunnel is much more colorful and has more dramatic lights, along with music that matches the lighting.
We headed back up to the concourse to the central part of the terminal, where there was a nice area to sit along with a fountain.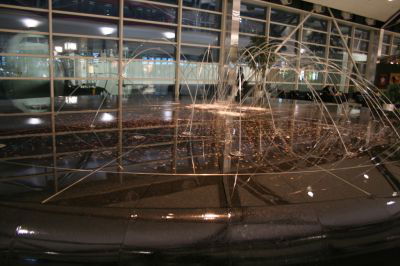 Fountain (bonus points to anyone that can tell me what a NW 747 is doing in the background at 9PM)
I've heard a lot about the "stones" at DTW without ever knowing what people were talking about, so I finally got to see that firsthand. Basically people sign stones and place them in the pot, many in different languages. I tried to look for my friend Megan's (since she's the one that first told me about it) stone, but unfortunately I couldn't find her's.
Something interesting to note is that there's an announcement throughout the airport every few minutes reminding passengers that Detroit is on east coast time, and to check a clock for the correct local time. Before landing I (incorrectly) assumed Detroit was central time, so I'm guessing I'm not the only one that's confused.
We then headed towards the central WorldClub. There are three WorldClubs in this terminal, one in the center, and one conveniently located at each end.
The central WorldClub is on the second floor, as seen below.
Since I didn't have a long layover we just made a quick round to see what it was like.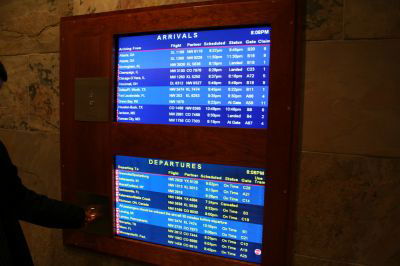 Departures monitor with cool elevator buttons to search for different destinations
After the quick WorldClub visit Oliver headed home and I decided to ride the tram. The signage for the tram is great, as it shows the exact location of both trams and the wait until the next tram leaves from the station.
Riding a tram inside an airport is any airport geek's idea of a great time, so I had to ride it to each end once (fine, maybe twice….. ok, maybe three times).

On the left you can see the track on which the tram runs.
I wanted to quickly visit the WorldClub at the far end of the airport, only to find out that it was closed.
I then headed to the gate, as boarding was starting shortly. Only a few people got up when boarding for first class was called, despite a large cabin.
Northwest 480, DTW-TPA, Boeing 757-200
Saturday, January 24
Depart: 9:20PM
Arrive: 11:59PM
Seat: 3C
Upon entering I was greeted by some friendly flight attendants that offered me a pre-departure beverage before I could even sit down. For a second I felt like I was on Singapore Airlines. 😉
Over the next 30 minutes or so it was obvious that first class would only be about half full, which shows that even lower tier elites have a great shot at upgrades. Seated across from me was a soldier in uniform that got upgraded at the gate. The purser thanked him for his service, saying he was a "military brat" himself. I thought that was a nice touch.
Furthermore, right before the door closed one passenger in first class asked whether there was any way his wife could sit with him, who was seated in coach. The purser said he couldn't authorize that, but went to see the gate agent. Minutes later his wife was escorted up to first class.
We pushed back on time and were on our way to Tampa. At this point I was quite exhausted, so I tried to nap for most of the flight. Service was attentive and friendly while I was awake, so no complaints there. We landed in TPA about 30 minutes ahead of schedule, and I was happy to be home after a long day.
So what's my conclusion? Northwest offers a solid product overall, and certainly doesn't deserve the title "Northworst," which I've heard thrown around a few times, and in all honesty have probably used a few times as well. I found the service to be consistently friendly and attentive and the snacks/meals to be quite good, definitely above average for US airlines. Add that to the relatively easy upgrades and awesome hub airports, and I'd say it's a good all around product.
My biggest complaint would be the antique looking planes (at least from the inside) and lack of in-flight entertainment.
Still, I think I'll make Northwest my secondary carrier for now. You definitely can't go wrong with them, at least until Delta screws them up further (based on what we've seen so far).