Northwest to Seattle
I got to the airport at around 5 PM, a bit earlier than usual since I was battling rush hour traffic and couldn't afford to miss my flight. I printed out my boarding pass from one of the check-in machines, which was easy to use. The first thing I noticed is that Northwest prints out all segments of an itinerary on one piece of paper. It's nice in the sense that it saves paper, but I'd hate to see that on United where I have five segments and I'm certain I'd be questioned by each agent that sees my boarding pass.
I headed airside, where I noticed the agents were collecting carry-on bags from some passengers since apparently, NW has a special procedure whereby those without carry-on bags can board early. It seemed like a lot of work in the name of "efficiency," but what do I know?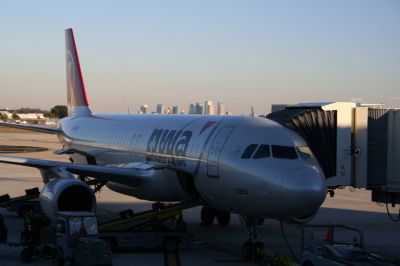 Plane at gate
First-class boarding began on time at 5:35 PM, and I proceeded on board with my camera in hand.
Northwest 439, TPA-MSP, Airbus 320
Thursday, January 22
Depart: 6:05PM
Arrive: 8:35PM
Seat: 1B
I generally find A320's to be "modern" airplanes, but the Northwest cabin made me feel like I was flying "back in the day," long before I was born. I stowed my carry-on and snapped a quick picture of the large first-class cabin, which had 16 seats.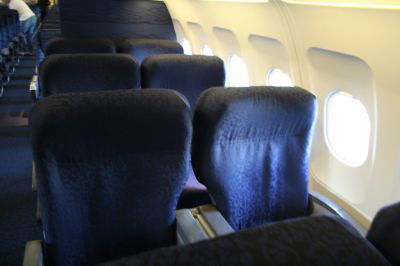 First class cabin
I was seated in the bulkhead, which had ample legroom, and the floor by the bulkhead sloped upwards a bit, which made it more comfortable.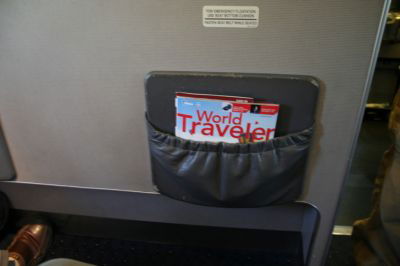 Bulkhead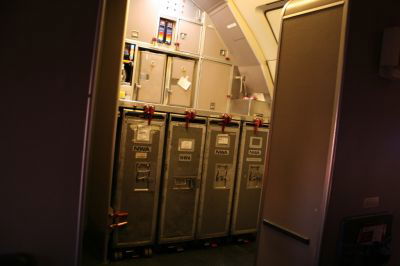 Galley
Within minutes of settling down one of the friendly flight attendants offered pre-departure beverages of choice, and I asked for some water, which was served promptly. Throughout the boarding process the flight attendants seemed helpful, friendly, and genuinely caring.
Eventually the door was shut, the captain made an announcement welcoming passengers aboard the "new Delta," and the safety demo was performed. Since Northwest has no audio/video domestically, the safety demonstration was manual. On the plus side it was quick, one of the fastest I've seen of any airline.
About 10 minutes after departure time we were airborne and on our way to MSP. As we leveled off service began, and I noticed the first service difference — service was done with carts, even in first class. Surprisingly enough, I kind of found it to be efficient and practical. The cart was quite small, much like the carts used in intra-Europe business class, and the aisles were wide, so a passenger could easily get up and pass the cart if need be.
The friendly flight attendant took my drink order, and I asked for a Diet Pepsi (something tells me they won't be serving Pepsi products much longer). She poured some in a glass, gave me the can, and also asked me if I wanted any snacks. I took both a bag of pretzels and a bag of "fancy nuts" (I'm not so sure what's fancy about them, it's not like they were hot or anything). The nuts were quite good, while the pretzels were tasteless.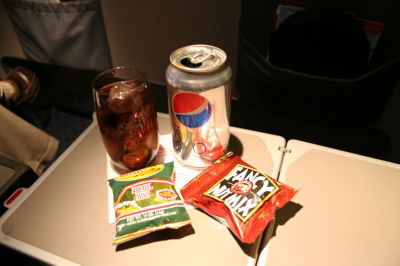 Diet Pepsi and snacks
As soon as the flight attendant did one round, she came by and did another one. Shortly thereafter the other flight attendant came by with meals on another cart, the choice being between "rigatoni with sweet peas" and "chicken with beans and rice." As far as I could tell service was front to back, with no preference given to high status passengers. I couldn't decide what I wanted to eat, so let my seatmate go first. He took the chicken, and when it was unwrapped by the flight attendant it looked quite good to me, so I took the same.
The main course was surprisingly good (although unhealthy), with a flour tortilla and smothered with cheese, along with sour cream and salsa on the side. In addition there was a tasty salad with dressing along with some cheesecake for dessert. This is an excellent meal service for a three hour flight, in my opinion.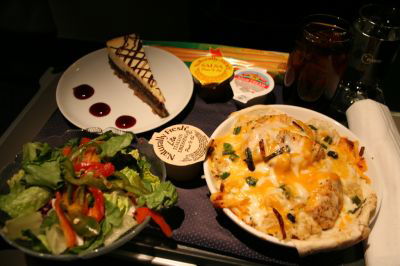 Dinner
Service was attentive, as the flight attendants were constantly coming through the aisle offering refills. Once I finished the main dish and salad I asked for a cup of coffee, which was brought in a nice mug.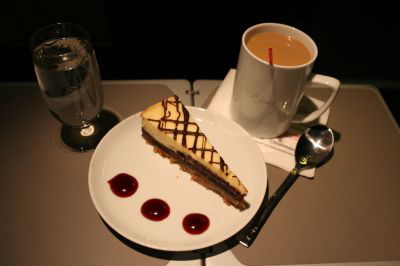 Dessert
After the meal service, the flight attendants disappeared into the galley for a while, but came through the cabin often enough to refill drinks.
Thanks to an interesting seatmate (who at first was mystified by my picture taking, not that I can really blame him) we landed in no time. Overall I found the dinner to be great, the service to be good, and the hard product to be pretty sad. My view of Northwest first class at this point was basically that of United Economy Plus with food and good service, but of course I had three more flights before I could draw any conclusions.
We got to MSP a few minutes early, which was perfect since I had a 55 minute connection but wanted to check out the World Club for at least a few minutes. This was the first trip I've made through MSP, at least as long as I can remember, and I had mixed feelings. The airport was beautiful in the shopping and dining areas, but quite crummy in the gate areas.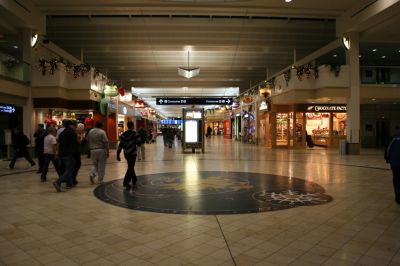 Shopping area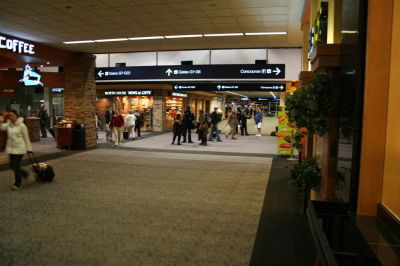 Heading to gate
The one thing that sucks about this airport is the layout. It's literally a maze with a seemingly random design, which made it tough to get around. Eventually I found the World Club, which I accessed thanks to my AMEX Plat card. The agents were friendly, unlike the matrons at some of the other lounges I frequent.
On one hand the lounge was spacious, but on the other hand the furniture was a bit tired.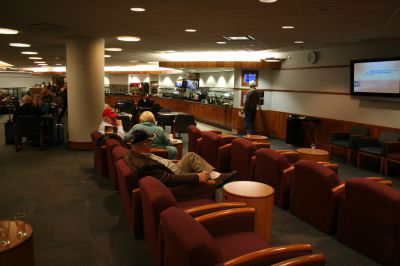 World Club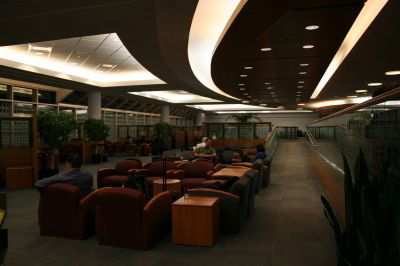 World Club
Nonetheless, the free booze, free wireless internet, and decent snacks make it a good lounge by US standards overall. My favorite part had to be the cookies, which were delicious. Apparently they have them out all day.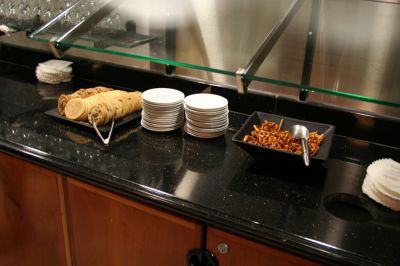 Cookies and pretzels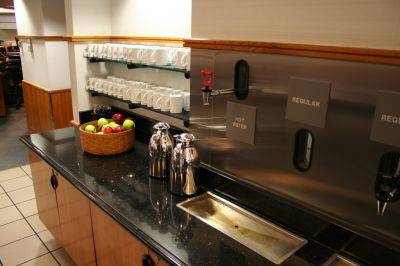 Apples and coffee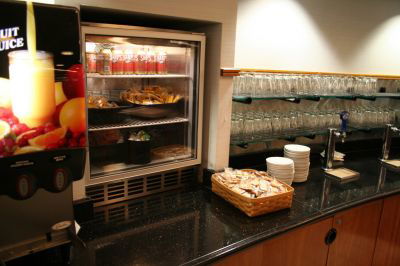 Cheese and crackers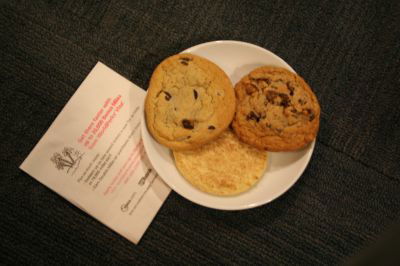 Chocolate chip, oatmeal, and sugar cookies
I got to the gate right as boarding began, only to notice that there were still 28 people waitlisted for upgrades with no first class seats remaining. Ouch, so much for "unlimited complimentary upgrades!"
Northwest 165, MSP-SEA, Boeing 757-300
Thursday, January 22
Depart: 9:30PM
Arrive: 11:10PM
Seat: 6C
As soon as I boarded I remembered just how big the 757-300 is! Looking down towards the back of coach made me feel like I was on a single aisle A340-600. Anyway, the flight attendants at door 2L welcomed everyone aboard, and already expressed concern about overhead bin space. I stowed my bag in the overhead and immediately noticed that the bins weren't big in the vertical direction, as I had to apply quite a bit of power to squeeze my carry-on in there. As it turned out several passengers had to gate check bags, including three first class passengers that boarded late.
I settled into 6C and couldn't help but notice that the cabin had a remarkable resemblance to coach, except for the extra room. I guess the reason I felt this way is because the tray tables are on the seatback as opposed to the armrest, and I usually only see that in coach. Also, the pitch was tight by first class standards, similar to Economy Plus.
On the plus side I noticed a foot rest. Nothing annoys me more than being able to recline but having no way to put my feet up, so this was much appreciated.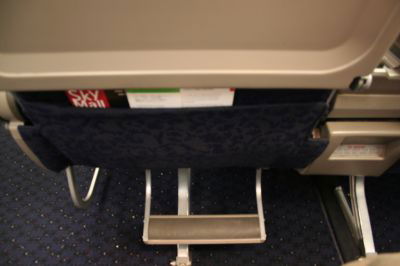 Foot rest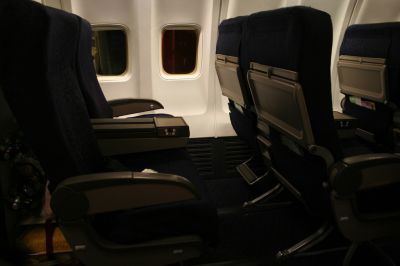 Seats 6A and 6B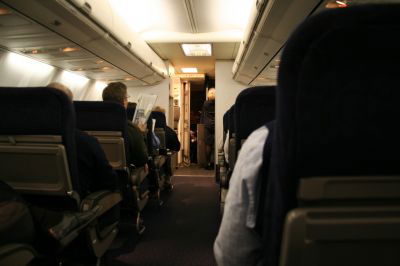 View of the cabin
I'm not going to go into too much detail about this flight, since Northwest strikes me as being consistent. The flight attendants were friendly and the service was done with a cart. Since this was a late departure, there was no meal service, but instead they had selections from the snack basket. The options included some sort of pretzels (the one in the blue packaging below), nuts, Twix bars, apples, etc; overall a pretty decent snack basket.
My iPod was useful on this flight since I would have sat in utter boredom for three hours if it weren't for it. I decided to actually do some work and then tried to take a nap, which I had an easy time doing, I'm guessing due in part to the footrest.
My major complaint about this flight was the seatbelt sign, which was on for nearly the whole flight, despite mostly smooth air. About an hour in we had a slight amount of chop, but nothing else. This has to be the most annoying thing about US airlines in general and was especially bad on this flight.
As we approached SEA there was less than half a mile visibility, so there was nothing to see outside the window until we were just over the runway threshold. We taxied to the gate and arrived just about on time.
Overall this was a pleasant experience with Northwest, and I can see why they have their loyal following.
My stay in Seattle (including a visit with the 787) and return flight reports will be coming shortly.