EXTRA PERKS AVAILABLE
Enjoy breakfast, upgrades, & more
Want to take advantage of Hilton Impresario benefits at no extra cost (when paying for your stay with cash), including a room upgrade, free breakfast, a hotel credit, and more? Contact Ford ([email protected]) for more details. He doesn't charge booking fees, and may even be able to help if you already have a stay booked.
Hilton Honors' newest luxury property in North America has just opened as of today. Let's go over the details.
Basics of the Waldorf Astoria Cancun
The Waldorf Astoria Cancun is open as of November 1, 2022. The resort is located along 100 acres of Mayan coastline, and is just 15 minutes from Cancun International Airport (CUN).
The Waldorf Astoria Cancun features 150 guest rooms and suites, plus a variety of other amenities:
The Waldorf Astoria Cancun offers ocean views from all rooms, and accommodations are a minimum of 675 square feet, with each featuring a plunge pool
The Waldorf Astoria Cancun has 21 spa treatment rooms (13 of which are outside), a salon, a sauna and steam room, an ice fountain, a relaxing pool, and a gym
The Waldorf Astoria Cancun features a variety of dining outlets, including Malpeque (a fine dining restaurant), Chaya (an international and Mexican restaurant), Ja'o (a poolside restaurant with specialty cocktails), and Peacock Alley (the signature Waldorf Astoria bar)
The Waldorf Astoria Cancun features three outdoor pools, including a family pool, an adults-only pool, and a spa pool
Below are some pictures of the Waldorf Astoria Cancun.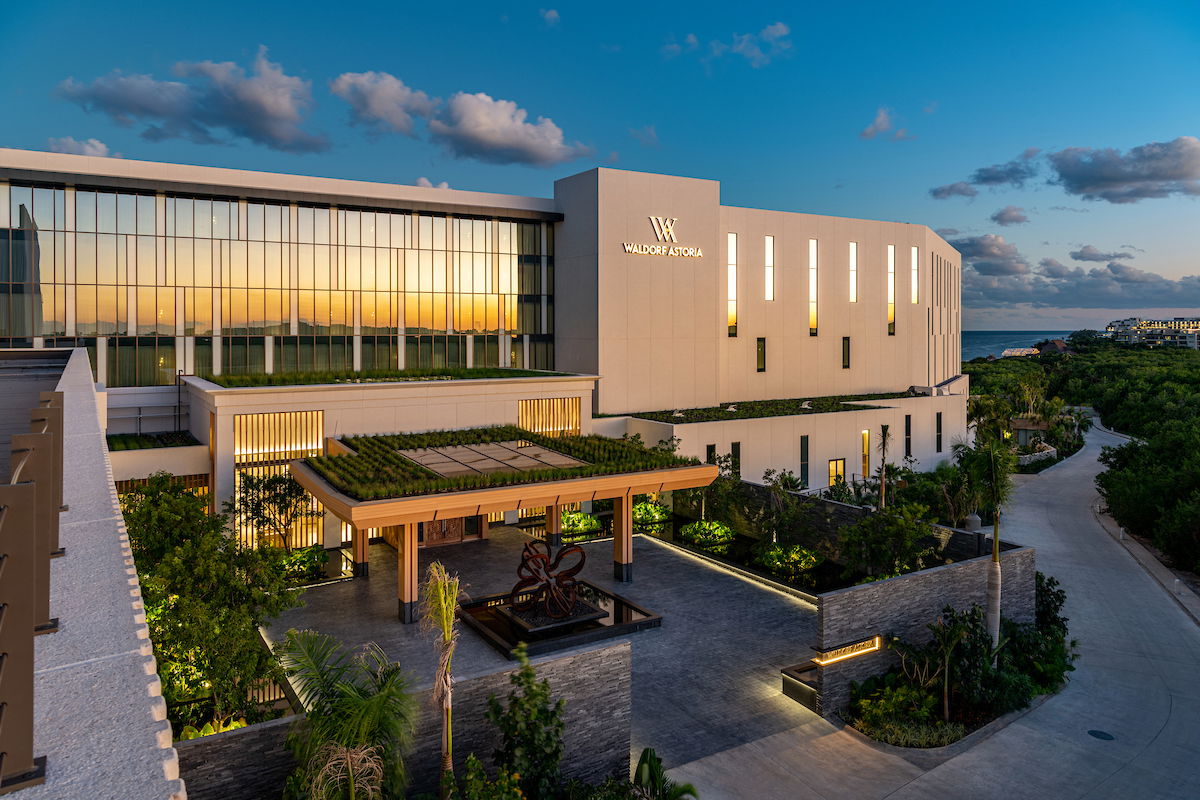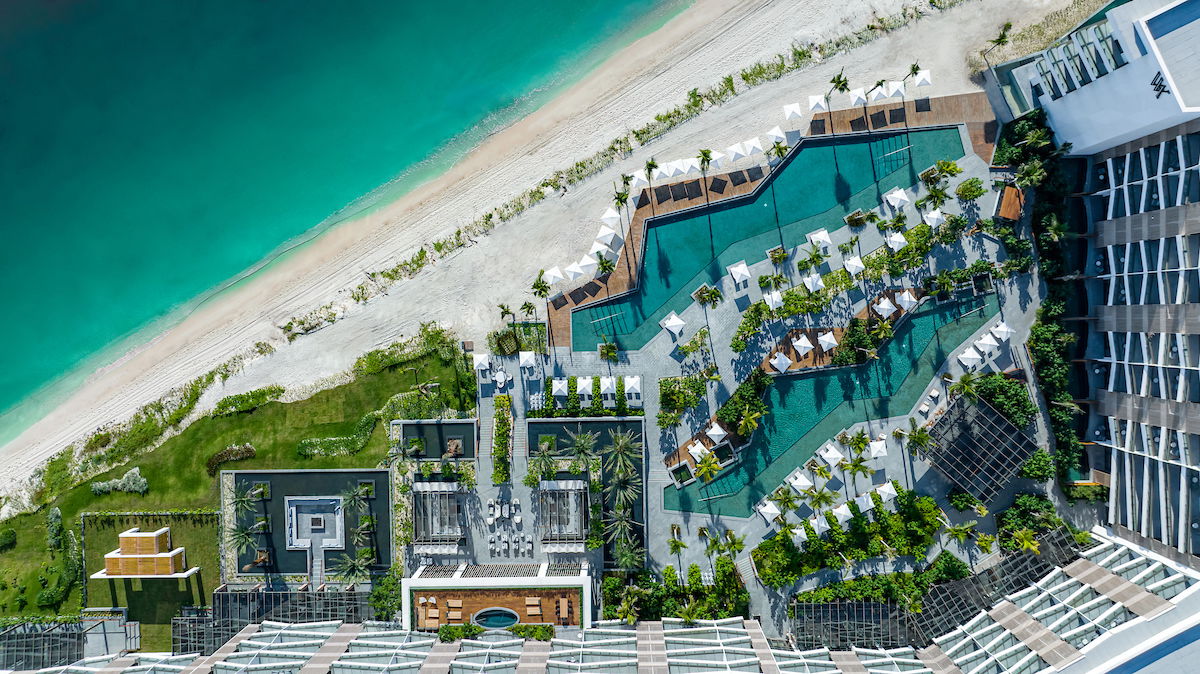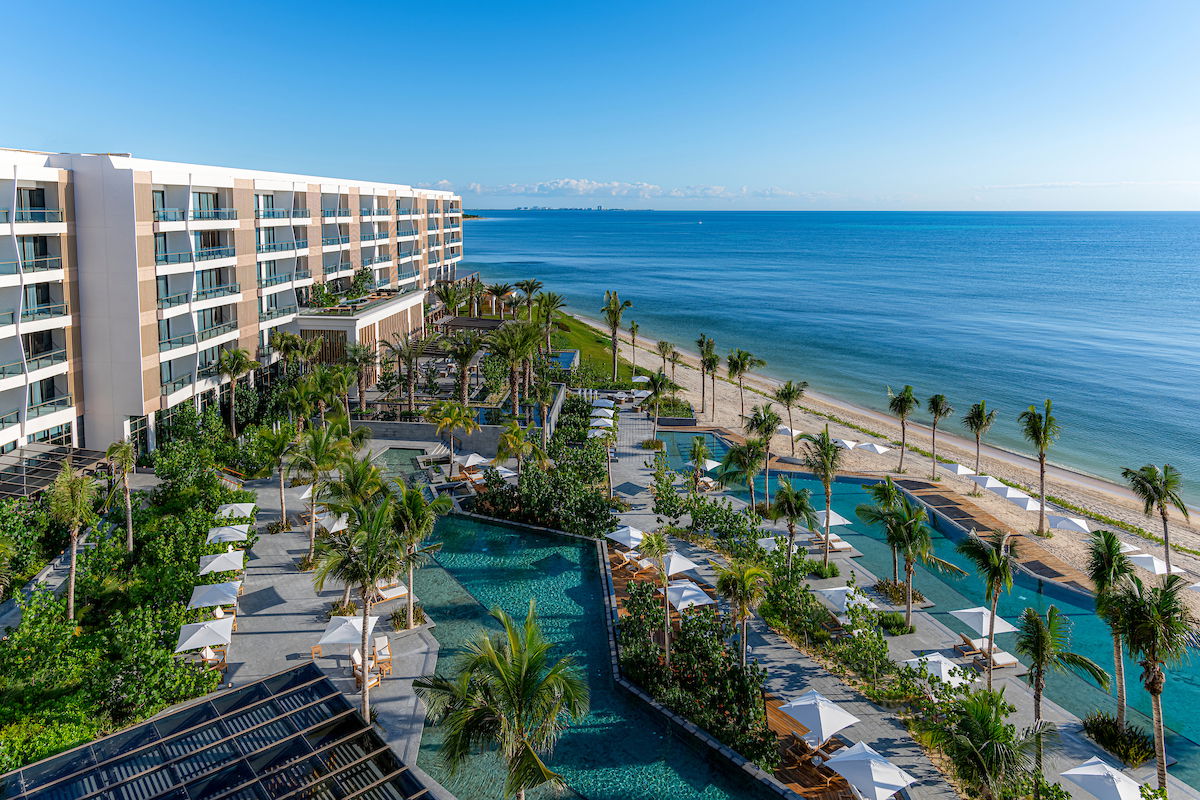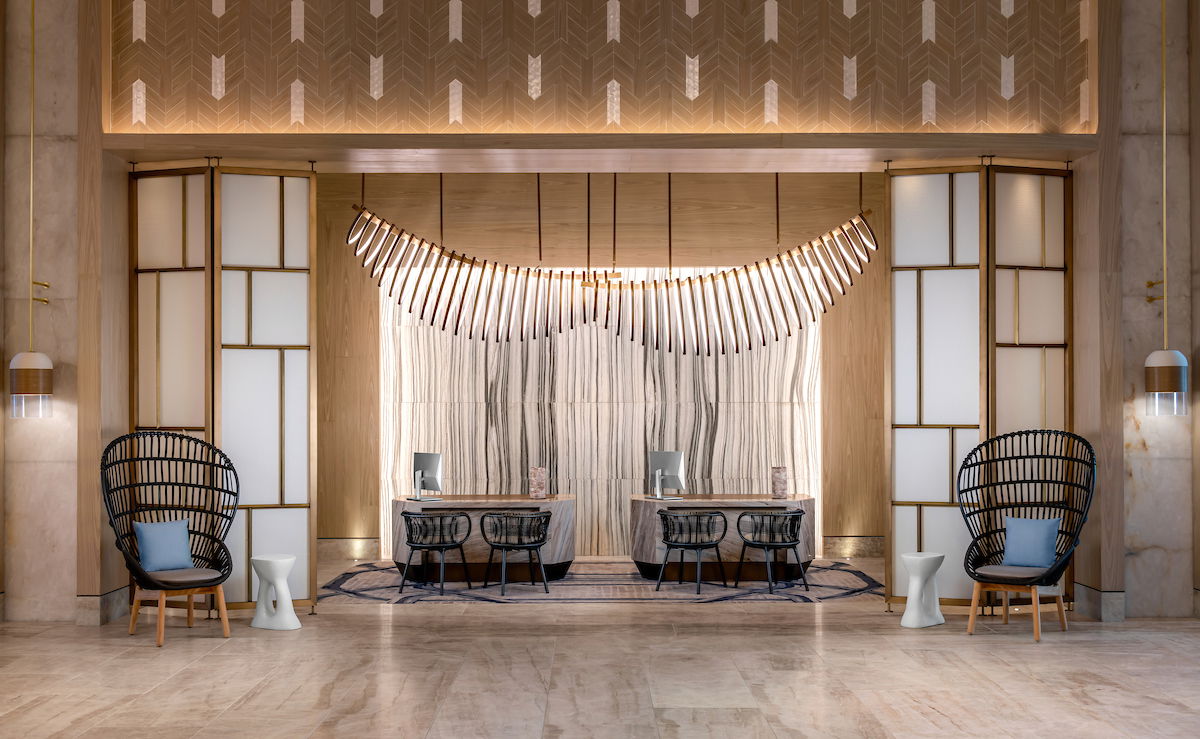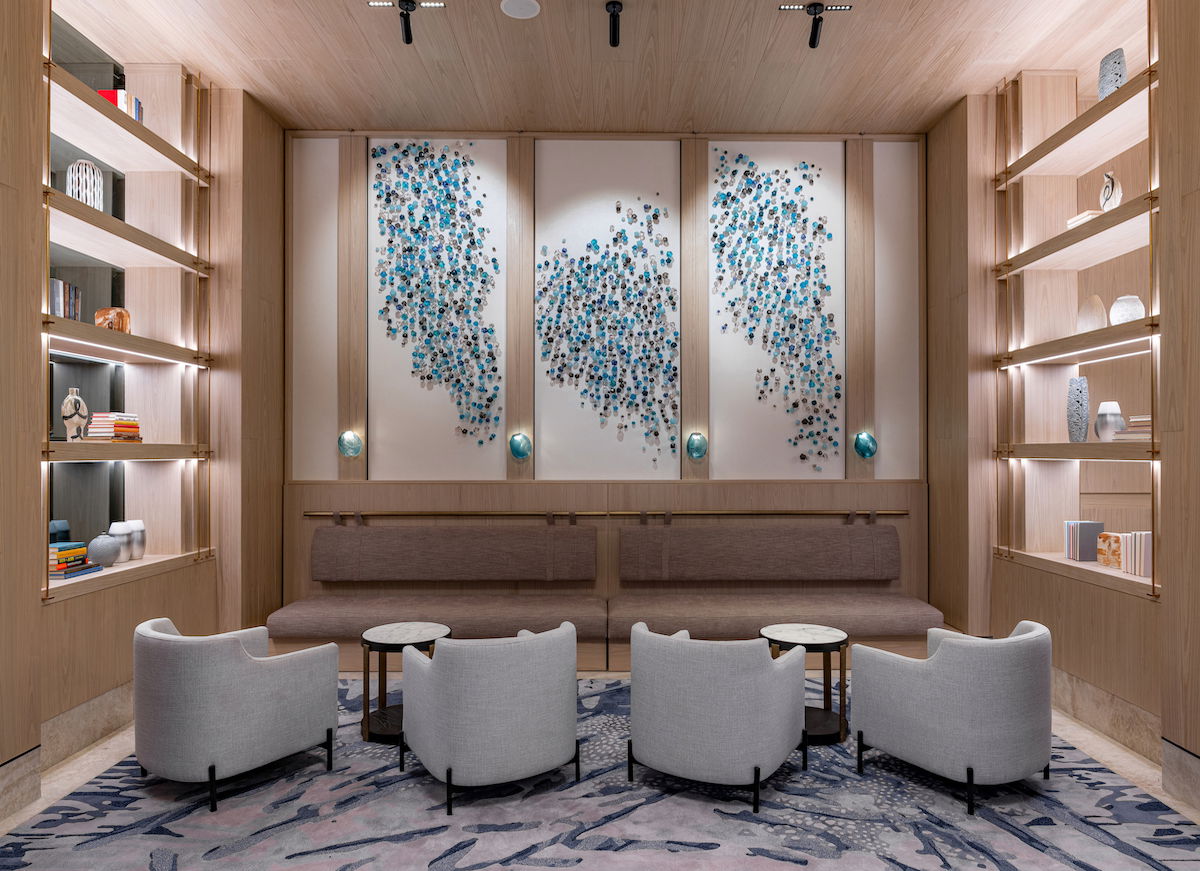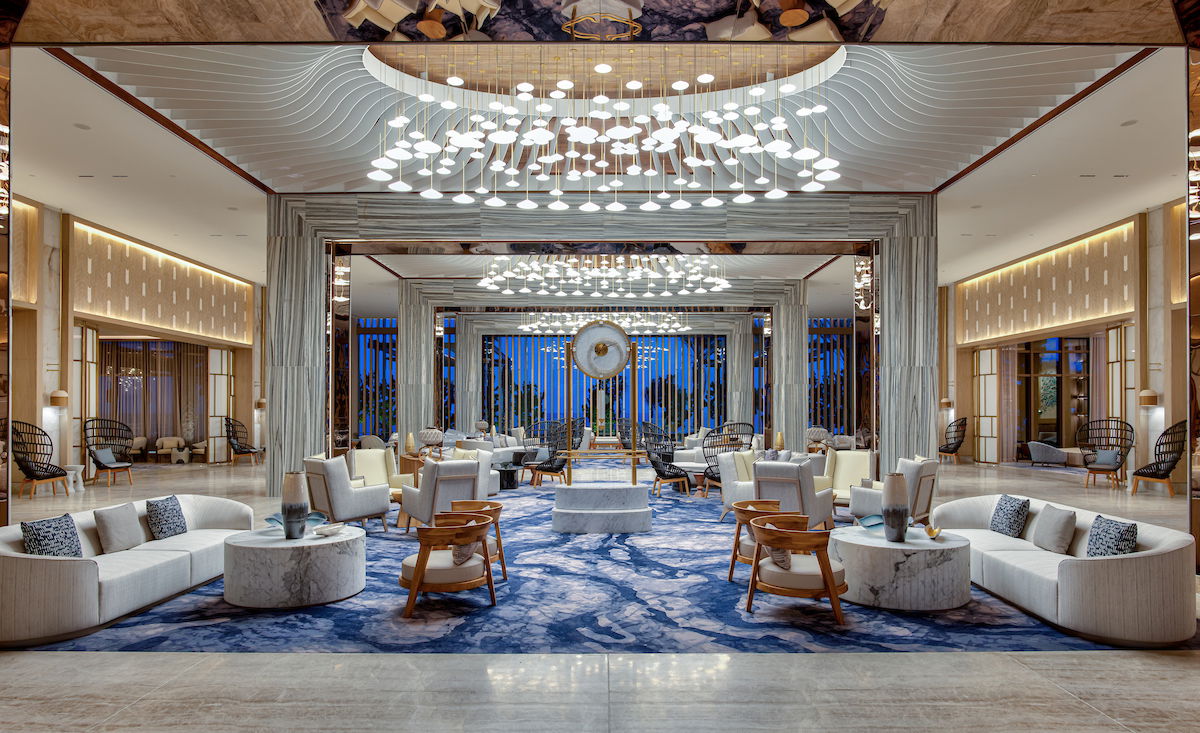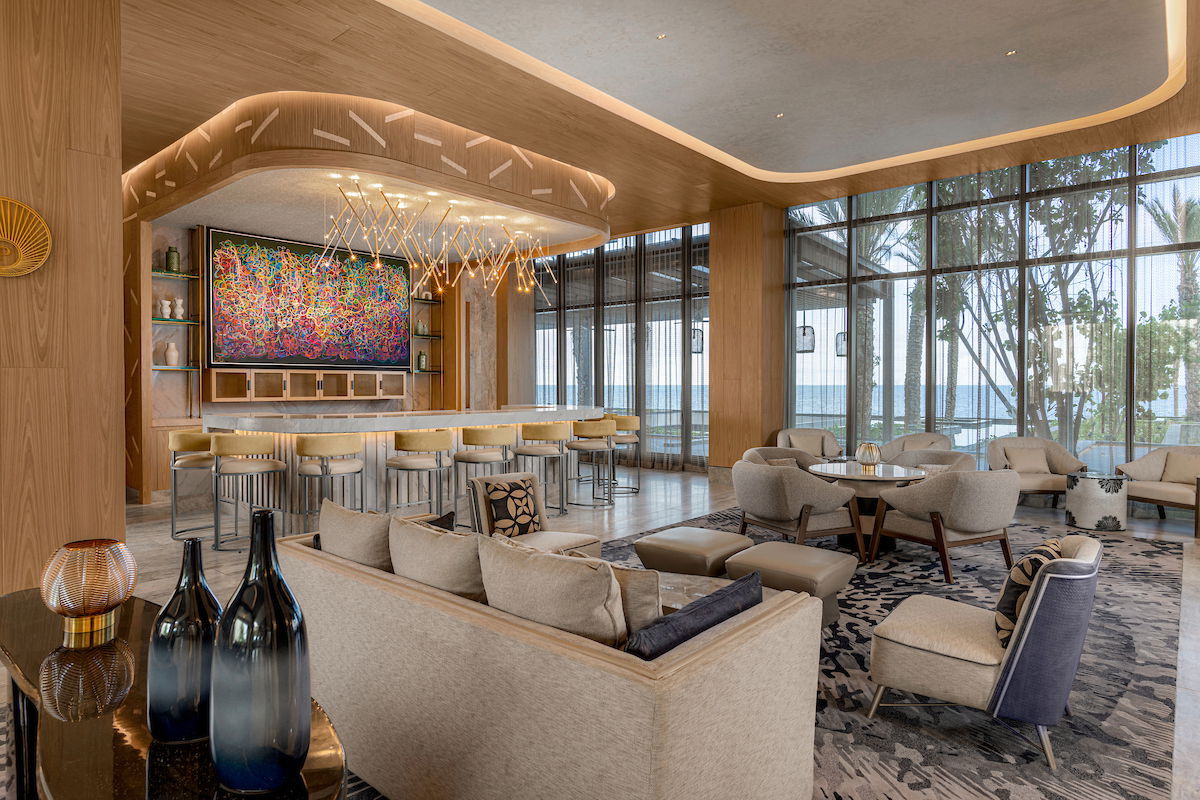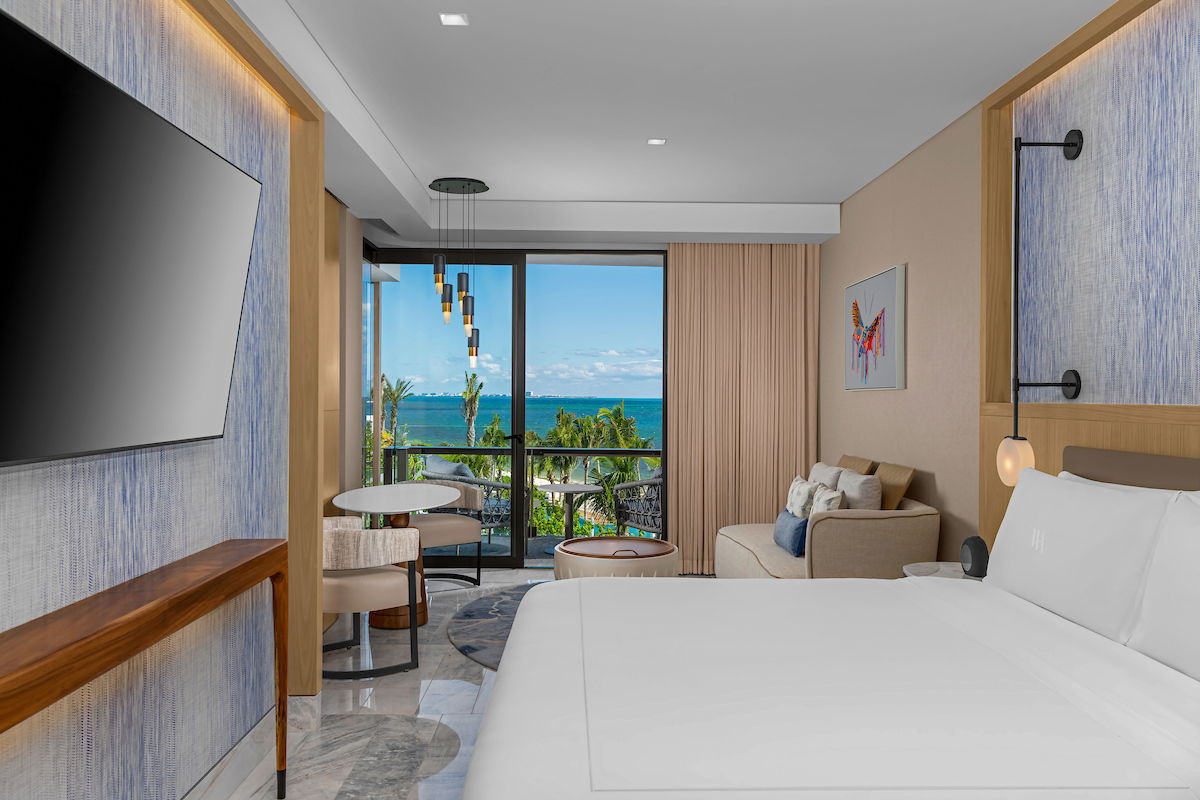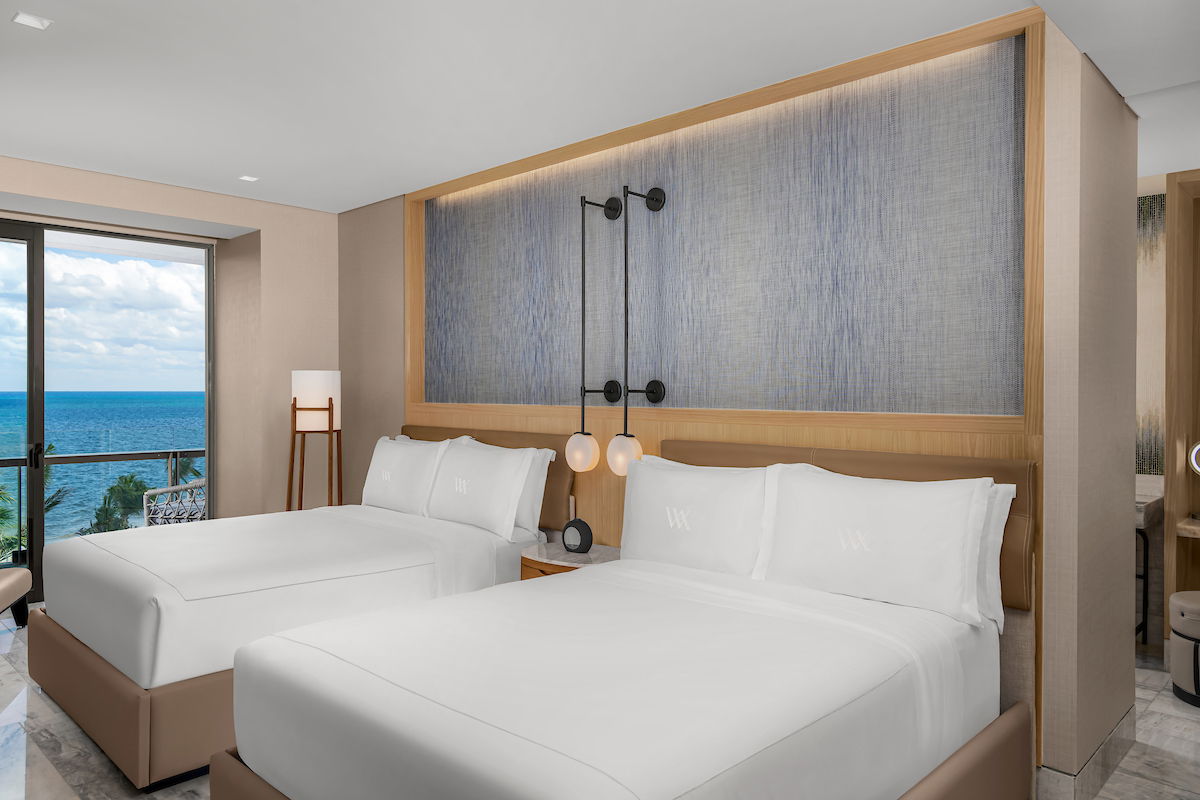 Furthermore, below is a brochure from the hotel about dining options, to give you a sense of hours, more details on what to expect from each restaurant, etc.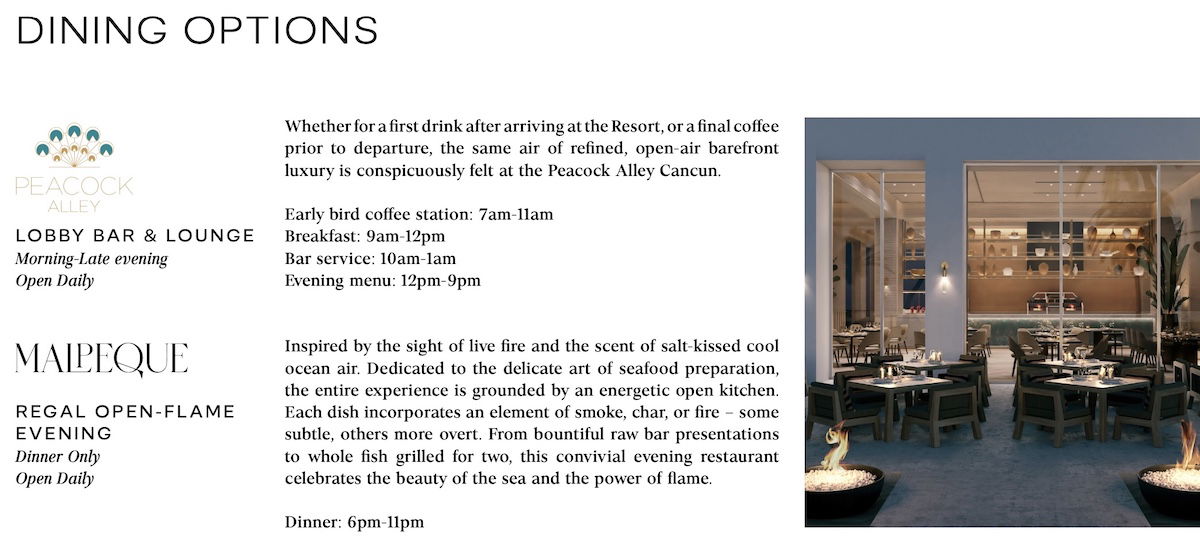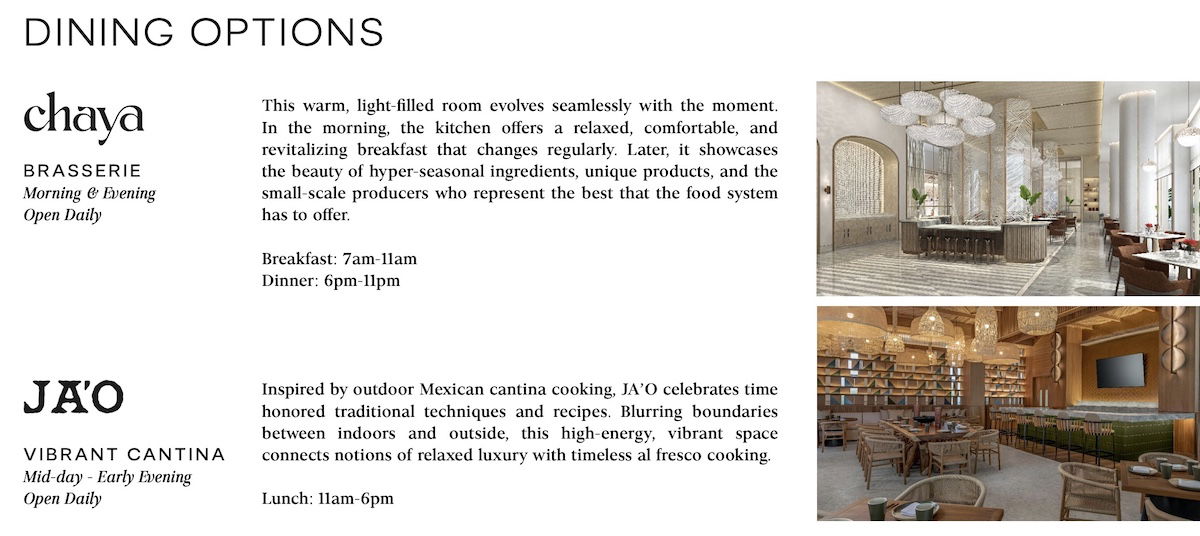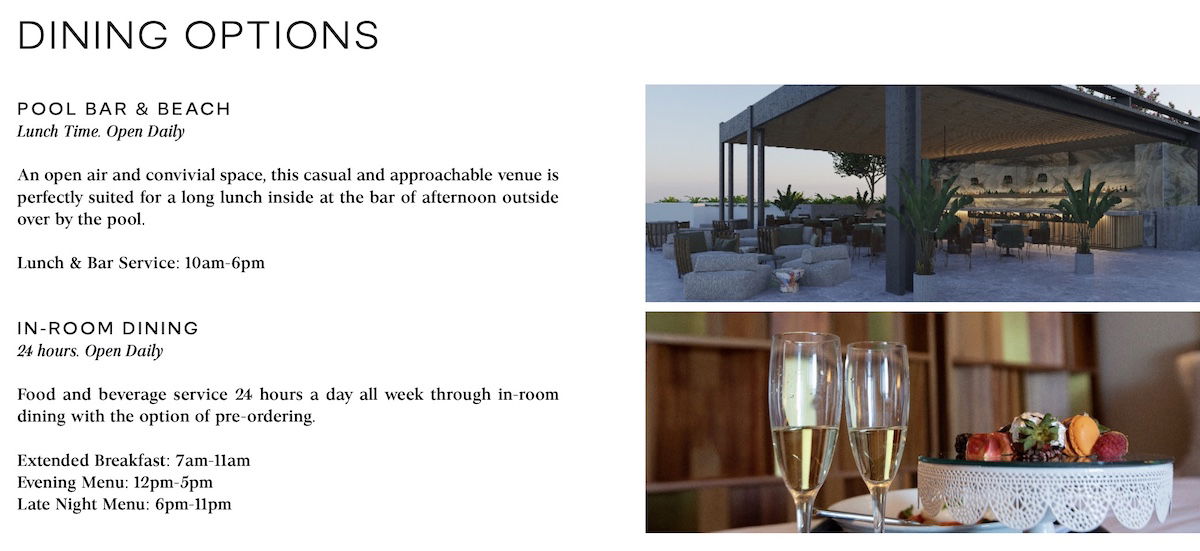 Waldorf Astoria Cancun rates & points requirements
What's pricing like at the Waldorf Astoria Cancun? As you'd expect, rates vary seasonally, and start at somewhere around $550-800 per night. I'd say that rate is roughly in line with what I'd expect. Unfortunately that doesn't include Mexico's steep 29% tax & service charge, which increases cash rates significantly.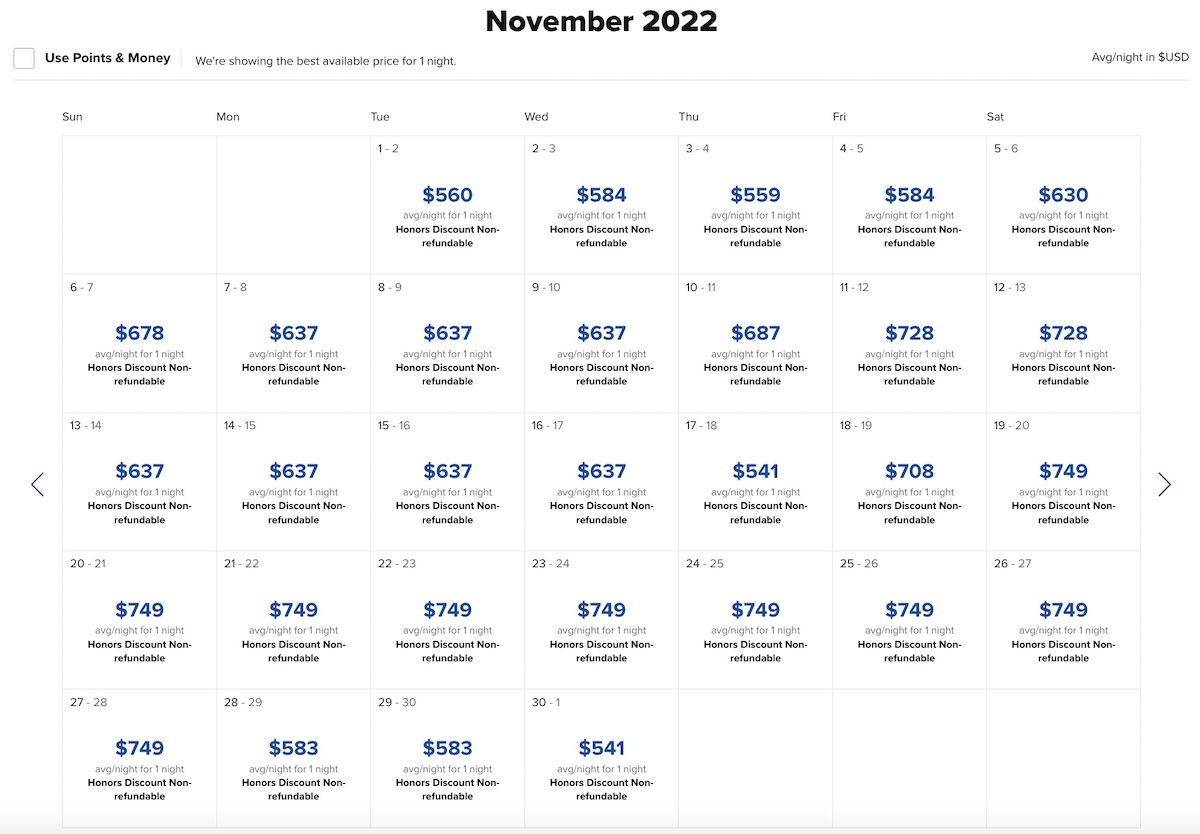 If you are going to book a paid stay at the Waldorf Astoria Cancun, I'd highly recommend doing so through the Hilton Impresario program (Ford happy to help with these requests, and can be reached at [email protected]).
This will score you perks like complimentary breakfast, a $100 food & beverage credit, a room upgrade subject to availability, and more. Furthermore, exclusively through Hilton Impresario, the hotel is currently offering a fourth night free promotion for stays through March 31, 2023.
If you're looking to redeem points at the Waldorf Astoria Cancun, the hotel is generally retailing for 95,000 Hilton Honors points per night when there's standard room availability. All Hilton Honors elite members get a fifth night free on award redemptions, which would bring down the average cost over five nights to 76,000 points per night.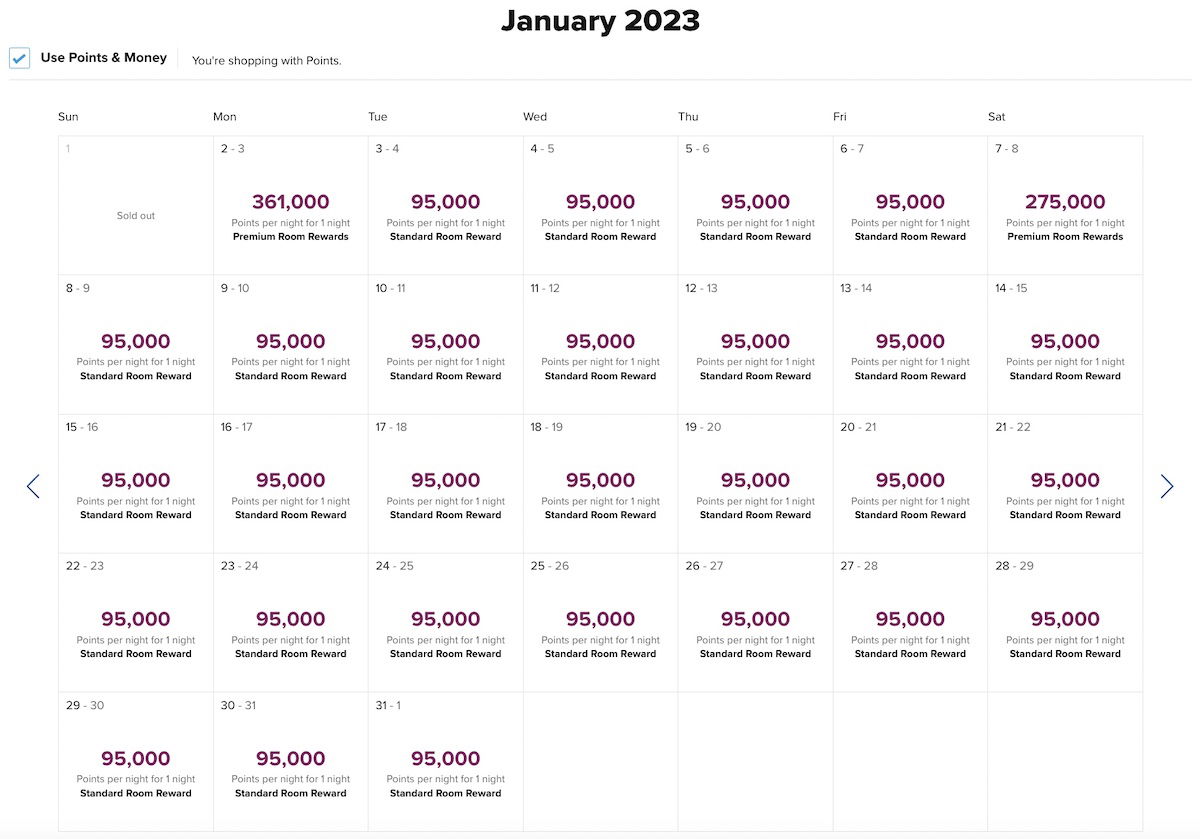 You can of course also redeem free night certificates at this property, which can be earned with Hilton's co-branded credit cards. Since you can often acquire Hilton Honors points for ~0.5 cents each (also what I value them), I consider 95,000 points to be the equivalent of paying $475 per night, including all taxes & fees (and you pay even less if you get a fifth night free).
Redeeming points here is a great value, especially since you're not on the hook for the taxes & service charges.
Why I feel lukewarm about this property
On the one hand, I'm excited about the Waldorf Astoria Cancun. Cancun is just a short flight from Florida, so this seems like a great getaway for redeeming Hilton Honors points and free night certificates. I love visiting Mexico in general, from the friendly people, to the amazing food, to the beautiful scenery.
As far as Mexican beach destinations go, I'm a huge fan of Los Cabos — there are top notch hotels there (including the Waldorf Astoria Pedregal), the climate is amazing, and I love the rugged desert-meets-ocean landscape.
Unfortunately I don't quite share the same love the Cancun area, even though it's so much more convenient to get to. Maybe part of the issue is that it's too similar to Florida for me, in terms of the climate (the seasons are similar) and the landscape (you have ocean and you have lagoons with crocodiles/alligators).
Similarly, I haven't found hotels in Cancun to be of the same caliber to those in Los Cabos. They're typically luxury factories, with hundreds of rooms, while Los Cabos has lots of more intimate properties.
I enjoyed visiting the Andaz Mayakoba, but it's not a place I have to return to anytime soon. Admittedly if you're looking to just get away for a long weekend, often a nice resort can be enough reason to pick a destination.
As the Waldorf Astoria opens, I was hoping to be impressed, but unfortunately I'm not too optimistic. First of all, am I the only one who thinks the rooms look rather bland and uninspiring? It's giving me Ritz-Carlton Turks & Caicos vibes. The initial renderings of the property made the rooms look much more luxurious, so I'm not sure if the developers ended up being on a budget, or what.
The actual picture of the room looks more like what I'd expect from a Hilton than a Waldorf Astoria. Furthermore, presumably the 675 square foot minimum room size includes outdoor space, but even so, I can't really make sense of how the room is that big based on the room picture. Where is the plunge pool, exactly, as it doesn't seem to be visible on the balcony?
The Waldorf Astoria is also located in the same complex as the all-inclusive Hilton Cancun. The Waldorf Astoria is even selling day passes so that guests can use the Hilton Cancun facilities, and take advantage of the all-inclusive aspect of that. The pricing is generally $150-200 per person, though could vary over time.
For two adults, it's almost the same price to just stay at the Waldorf Astoria. Nothing against the all-inclusive Hilton, as I'm sure it's a great value and fun. But why would you pay such a huge premium to stay at the Waldorf Astoria, only to then pay these prices to spend your day at an all-inclusive Hilton?
I get they're part of the same hotel group, but for a slightly different example, you don't book a Four Seasons so that you can hang out at an all-inclusive Sheraton.
Bottom line
The Waldorf Astoria Cancun is opening as of today. This seems like a potentially great new luxury option for those who enjoy visiting Cancun, and for Hilton Honors loyalists looking for a vacation in Mexico.
This looks like a pretty nice hotel, though I continue to have a hard time getting excited about the Cancun area, as convenient as it is to get there. I'm also not totally sold on this hotel as such, based on the real pictures, as well as the general complex this is in.
What do you make of the new Waldorf Astoria Cancun? Anyone plan on checking it out?