A longtime OMAAT reader who prefers to remain anonymous shared a recent situation he encountered on United Airlines, and asked for my advice. This is an interesting one, so I wanted to discuss it here.
Passenger missed United Airlines flight because door closed early
A traveler was scheduled to fly United Airlines business class (on a paid cash fare) from Newark to San Francisco to Calgary. While the flight from Newark to San Francisco was initially scheduled to depart at 6:30AM, the departure time had been updated to 7:00AM in advance, with boarding scheduled to finish at 6:45AM, according to official communication.
The traveler was in the United Club, and a United Club representative even confirmed these times to him, including boarding being scheduled to finish at 6:45AM. So he arrived at the gate at 6:38AM, which should have been plenty early, since United requests that passengers board their plane at least 15 minutes before departure.
When he arrived at the gate, he was surprised to find that the door had already closed. Gate agents working another flight tried to call the gate agent for this flight to ask if she would let him on, but they were told no.
So he returned to the United Club, where the representative was shocked — he also saw the flight should have finished boarding at 6:45AM and not earlier, and the passenger was back in the United Club by that time, after having arrived at a closed gate.
The club agent called the gate agent for the flight, and was told that the passenger needed to be rebooked. As a result, he was rebooked on a nonstop Air Canada flight from Newark to Calgary. The reader reached out to customer service, and was offered 2,500 miles for the inconvenience.
The reader asks what his legal rights are, as he's keen to take further action. He's especially frustrated that the airline wouldn't even admit to being in the wrong for closing the door early.
For what it's worth, below is a picture of the monitor at the departure gate, showing the 7AM departure. As you can see, it's 6:40AM when the picture is taken, and the monitor says "boarding now." Also, as you can see, the monitor lists the flight as being in "final boarding."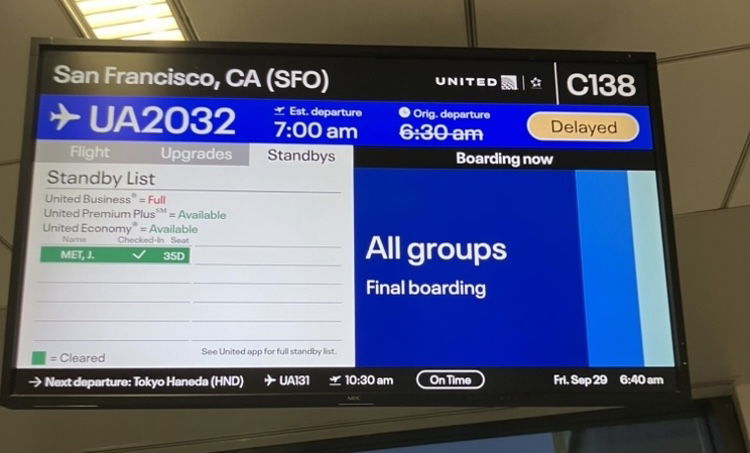 Below is a screenshot of the United app, showing that boarding was estimated to end at 6:45AM.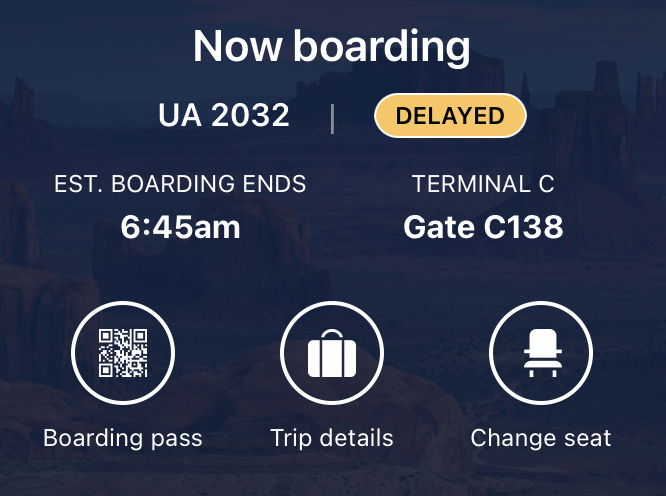 Another interesting wrinkle is that the United Club agent confirmed that someone else ended up flying in his seat, so the gate agent cleared a standard or upgrade into this seat.
What recourse does the traveler have?
Let me start by saying that the traveler did absolutely nothing wrong here. United Airlines posted an updated departure time, and he showed up at the gate well ahead of the time that boarding was scheduled to be finished. A United Club agent even confirmed the timeline for him.
The way I view it, there are two matters at play here — the initial denied boarding, and then the downgrade. So, what is this traveler legally entitled to, and what is the right thing for United to do?
What is this traveler legally entitled to?
The Department of Transportation (DOT) publishes guidelines about situations where airlines are legally obliged to compensate customers. Denied boarding compensation is typically intended for situations where airlines oversell flights, but applies under some other circumstances as well.
Per the DOT's website:
You qualify for involuntary denied boarding compensation if an airline requires you to give up your seat on an oversold flight and you have a confirmed reservation, you checked-in to your flight on time, you arrived at the departure gate on time, and the airline cannot get you to your destination within one hour of your flight's original arrival time.
When it comes to this situation, the traveler fulfills most of these requirements (like having a confirmed reservation, checking in on time, and being at the gate on time), but doesn't meet the last one. That's because he was rebooked on a nonstop Newark to Calgary flight that ended up arriving before his initial itinerary was supposed to (though in economy, rather than business class). So unfortunately for that reason alone, denied boarding compensation wouldn't apply.
So, does the government mandate that United provide downgrade compensation in this situation? Well, that's a tricky one as well. The airline would likely consider this a voluntary downgrade, in the sense that he could have been rebooked on another itinerary in business class, though it would have likely gotten in much later.
That's not to say that United didn't do anything wrong, but rather that the law isn't written in a way that really makes the customer whole in a situation like this. The DOT's regulations don't consider every possible scenario, and this is one of those that slips through the cracks.
Now, let me add the obvious disclaimer that I'm not a lawyer, and this is just my interpretation of the regulations.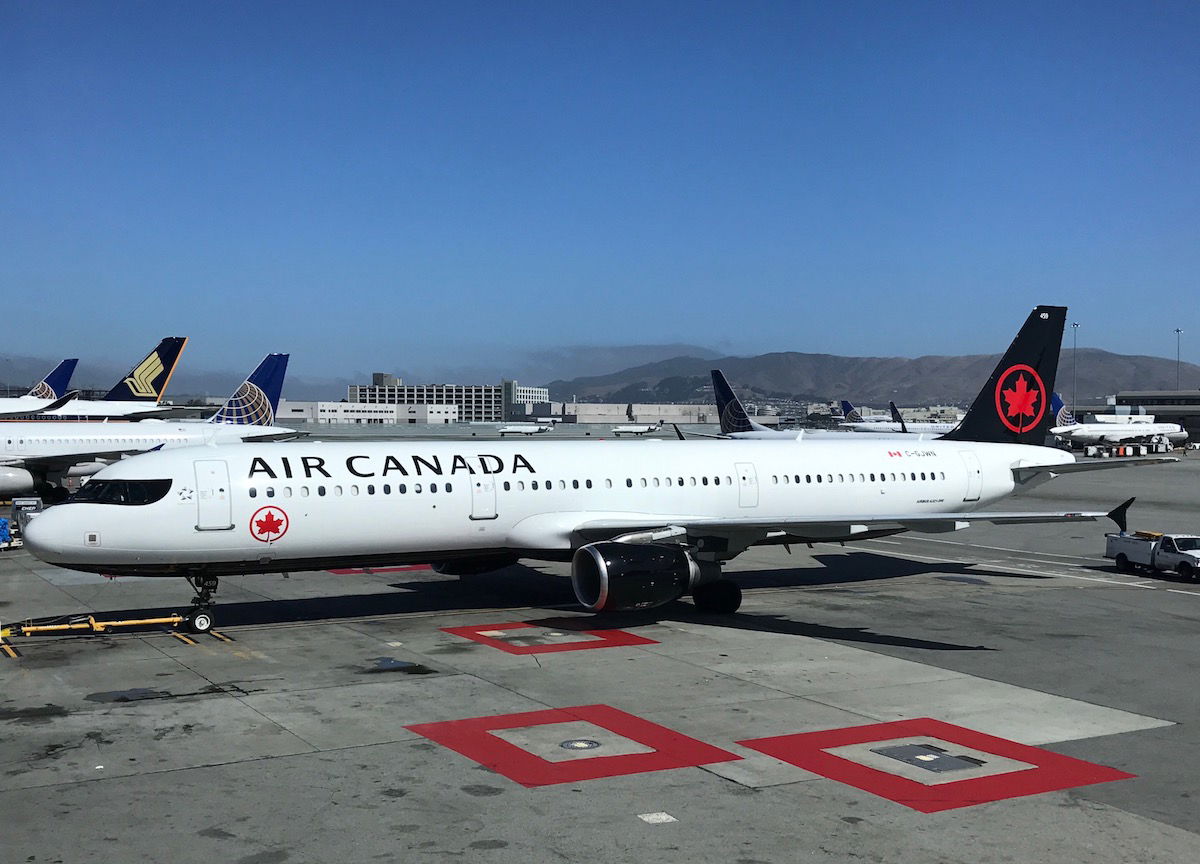 What should United do for this traveler?
I think the fair resolution from United would be to:
Refund the fare difference between business and economy
Issue some number of miles or a travel credit as a gesture of goodwill for the inconvenience (more than 2,500 miles)
How do you actually get that resolution, though? As anyone who has reached out to airline customer service may know, it's not always so easy. I'd send a succinct email to customer relations explaining what happened with pictures of the departures board. If you don't get the response you're looking for, simply email again and ask for it to be escalated.
If that doesn't work, I'd do what I hate doing, but which seems to work quite well — I'd email the CEO, as the email then typically gets forwarded to some sort of executive customer service, which is a bit more competent and empowered.
United screwed up here, and needs to take accountability. However, actually getting an airline to be accountable isn't always so easy.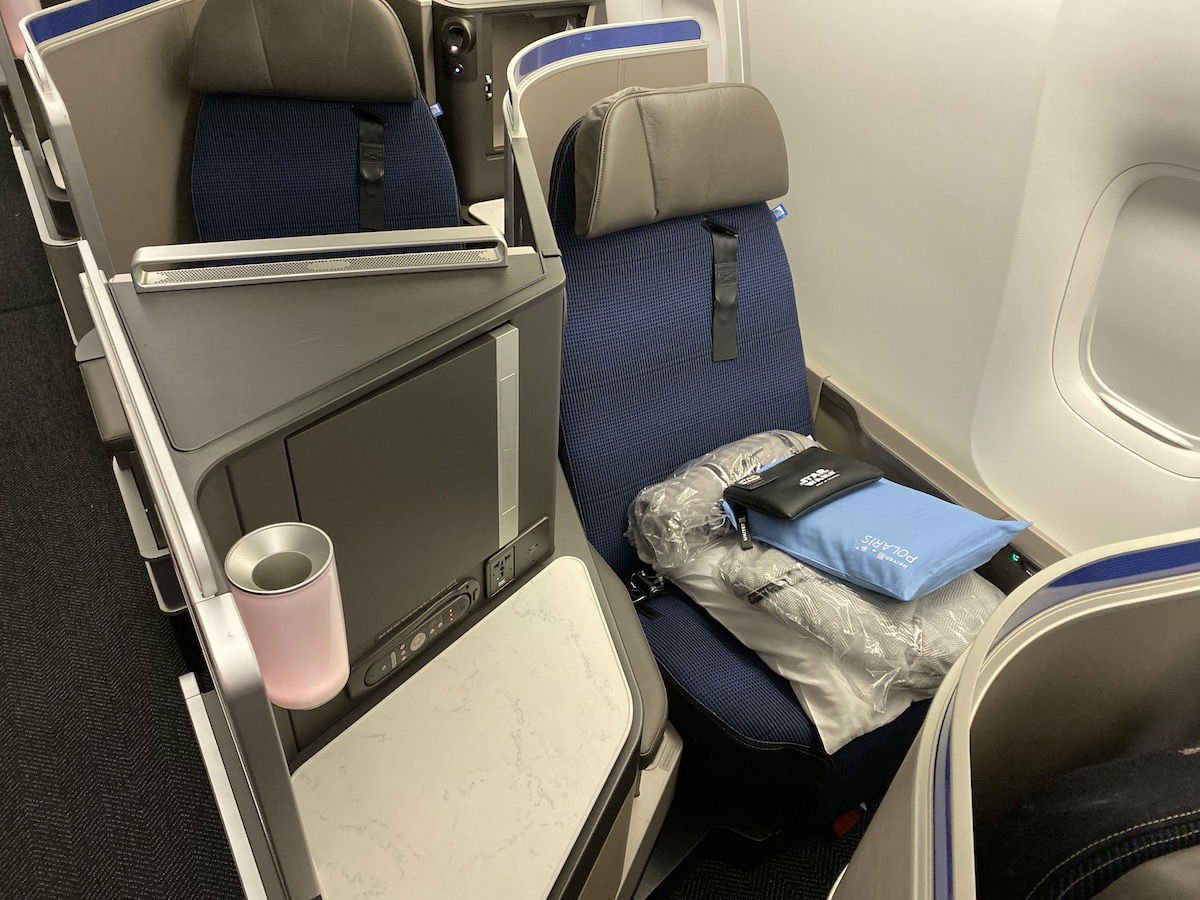 Bottom line
A United Airlines passenger dealt with a frustrating situation. A flight was delayed by 30 minutes, and he then showed up 22 minutes prior to the new departure time (and seven minutes prior to the new door closing time), only to find the gate closed. On this paid business class fare, he ended up being rebooked in Air Canada economy on a nonstop flight. So while he arrived earlier than initially planned, he traveled significantly less comfortably.
Unfortunately government regulations don't really protect the traveler in this situation (at least based on my interpretation), but United should do better than offering 2,500 bonus miles. It seems reasonable to offer both the fare difference between business class and economy class, plus some substantial gesture of goodwill, in my opinion.
What do you make of this strange situation?