To me this is probably the most interesting new aircraft delivery in quite a while, though I'm not sure others will share my enthusiasm.
The world's last Boeing 777-200LR gets delivered
Turkmenistan's flag carrier, Turkmenistan Airlines, has just taken delivery of the world's last passenger Boeing 777-200LR to roll off the Everett production line. While it's my understanding that the 777-200LR program hasn't formally ended, there are no more of these passenger planes on order, as future 777 orders are primarily for the new 777X, which is now delayed until late 2023.
Prior to this delivery, Turkmenistan Airlines' wide body fleet consisted of three 777-200LRs (one of which is in a VIP government layout), which the airline took delivery of between 2010 and 2014. Then oddly in 2019, the airline decided to order one more 777-200LR, which is the one being delivered now.
Why the 777-200LR is a weird fit for Turkmenistan Airlines
I've never really understood Turkmenistan's decision to use 777-200LRs for long haul flights.
For those of you not familiar with the 777-200LR, it's the longest range version of the 777, and for that matter the longest range mass produced aircraft in the world (this excludes the Airbus A350-900ULR, which is exclusively operated by Singapore Airlines).
Yet historically the carrier's longest flights have been around 3,000 miles (flying as far west as Manchester, and as far east as Beijing), which is about a third of the plane's range.
I'm not sure if the airline somehow got an amazing deal on 777-200LRs (even though 777-200ERs are typically cheaper), at some point had ambitions of nonstop flights between Ashgabat and Fiji, or what, but this has to be one of the strangest fleet decisions of any airline.
Turkmenistan Airlines' existing 777-200LRs have a total of 291 seats, including 28 business class seats and 263 economy seats. I wonder if the latest 777-200LR has the same interiors as the previous ones. With business class being in a 2-3-2 layout (identical to Turkish Airlines' 777s), it's quite an outdated product. Then again, Turkmenistan Airlines doesn't exactly have much competition in most markets, so I imagine fleet commonality is more important than having a cutting edge product.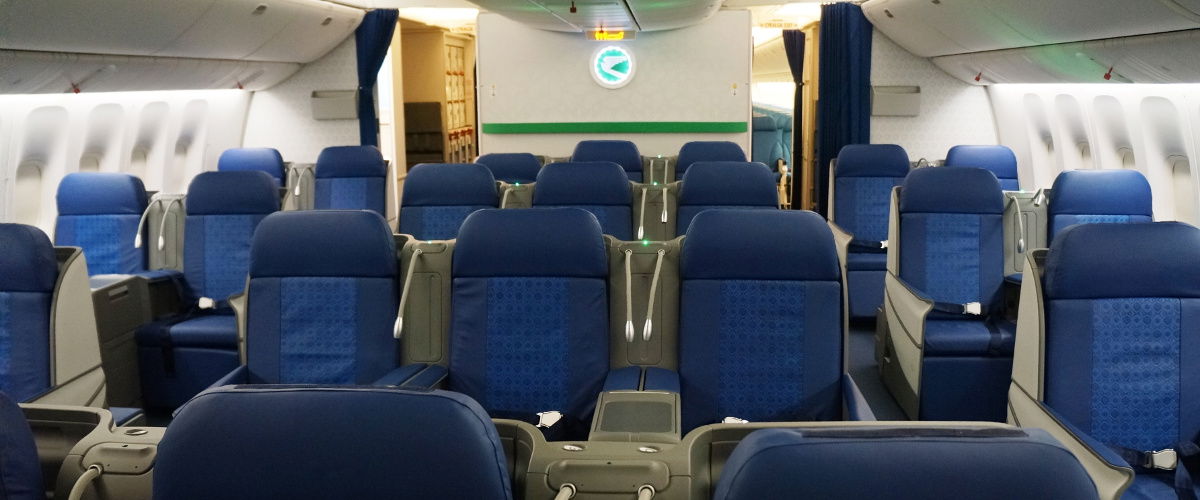 The 777-200LR's journey to Turkmenistan
Turkmenistan Airlines' newest 777-200LR has the registration code EZ-A780, and it has had quite an exciting routing in the past few days:
On June 11, the 777-200LR flew from Everett, Washington (PAE) to Lake Charles, Louisiana (CWF); that flight took 3hr42min
There's a maintenance and modification center at the airport, which I suspect is the reason the plane flew there first
On June 14, the 777-200LR flew from Lake Charles, Louisiana (CFW) to Turkmenbashi, Turkmenistan (KRW); that flight took 15hr42min
On June 16, the 777-200LR flew from Turkmenbashi, Turkmenistan (KRW) to Ashgabat, Turkmenistan (ASB); that flight took 53min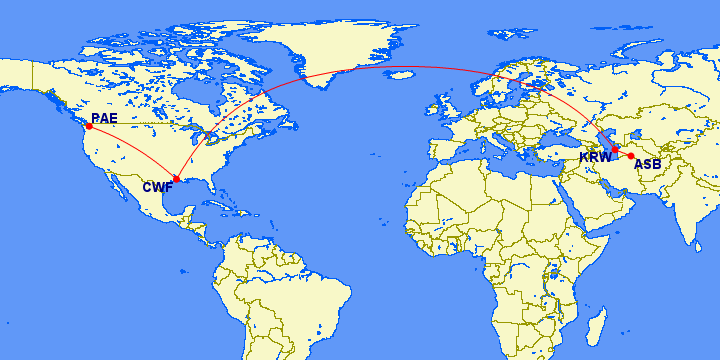 I imagine it's not every day you see a nonstop flight between Lake Charles and Turkmenbashi. 😉
Bottom line
Turkmenistan Airlines took delivery of the last Boeing 777-200LR to come off the production line, which came after the airline placed an order for one additional aircraft in 2019. I've never understood Turkmenistan's fleet decision, given that the airline chose an especially long range aircraft, yet doesn't operate any true long haul routes.
Turkmenistan Airlines continues to fascinate me, and I hope to fly the airline (and visit Turkmenistan) one day. I'm not sure the flight would end very well for me given the carrier's no photography policy. Then again, I flew Uzbekistan Airways from New York to Tashkent — the airline had a similar policy, but I lived to tell the tale.