While this is no doubt an unpleasant situation, I'm not sure I'm all that sympathetic, at least beyond my standard sympathy for people dealing with major delays?
Jetstar cancels flight, "stranding" people in Japan
There's a story that's going viral about how travelers are allegedly stranded at Narita Airport, without food or water. So, what's going on?
A couple of dozen travelers were scheduled to fly from Helsinki, Finland, to Gold Coast, Australia, via Narita, Japan, with the first flight on Finnair and the second flight on Jetstar. Looking at flight schedules, it would appear that they were supposed to take the following flights:
08/27 AY73 Helsinki to Tokyo departing 5:45PM arriving 12:45PM (+1 day)
08/28 JQ12 Tokyo to Gold Coast departing 9:00PM arriving 6:40AM (+1 day)
While the flight from Finland to Japan operated without incident, the situation took a turn for the worse after that, when the flight to Australia was delayed by 11 hours. Instead of departing at 9PM, the flight would depart at 8AM the following morning. This was due to a maintenance issue with the Boeing 787 operating the flight. This happened on the outbound flight from Australia to Japan, and in turn the flight wouldn't be able to depart Narita Airport the same day, before the 11PM curfew.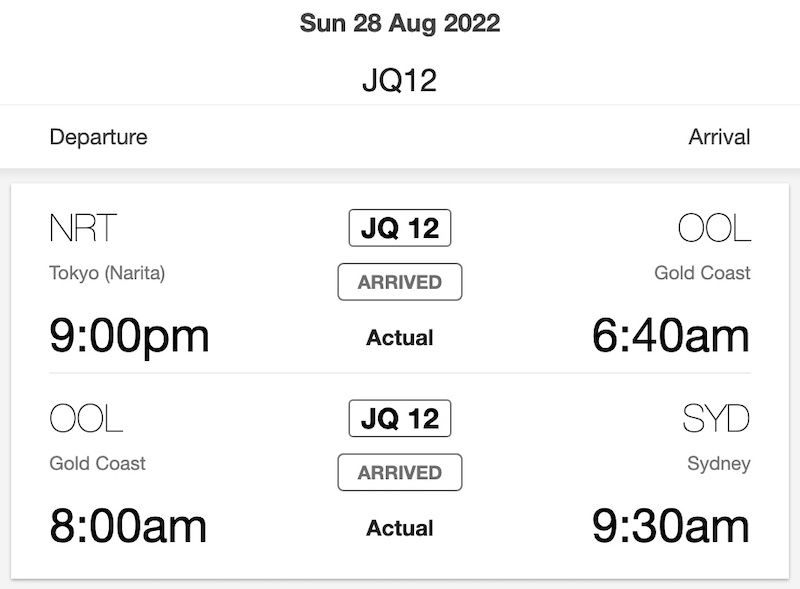 This meant that travelers were stranded at Narita Airport overnight. The catch? Japan's borders are still closed to most foreigners, meaning that those in transit would have to stay in the terminal overnight. In the past the airport didn't even allow overnight transit, but I guess with current travel restrictions, it is allowed.
One passenger was particularly vocal on Twitter, which caused the story to go viral. Below are some of the Tweets.
I'm sympathetic to these travelers, but…
Would I be happy about spending the night in an airport terminal, without being able to leave? Of course not. That sounds exceptionally unpleasant. At the same time, international travel is complicated nowadays, and it's on the travelers to consider the risks they take when connecting certain places.
Airplanes sometimes have mechanical issues that cause delays. It's especially unfortunate when it happens for a flight where you can't enter the country, but it happens, and at the end of the day it's a risk travelers take.
While this situation isn't fun, I find the theatrics here to be a bit much:
The traveler is angry about not being provided security, while airside at Narita Airport?!? Is he worried he's going to be killed with kindness, or what's the risk?
The traveler complains about not being provided "food and water," making it sound like they had no access to this — while Jetstar absolutely should reimburse that, they were in the terminal starting at 1PM, so surely they could have purchased food and water, no?
The complaint of "12 hours on" is dramatic, because these travelers knowingly booked a connection of over eight hours — the flight was "only" delayed by 11 hours
Is it really worth trying to get the Australian Embassy in Japan involved because you're in a terminal for an 11 hour delay due to choosing to connect in a closed country?
In a statement, Jetstar claims to have provided all travelers with accommodation and meal vouchers:
"All customers were offered accommodation and meal vouchers and for customers who no longer wished to fly, the option of a full refund was also available. Unfortunately, some customers who were transiting through Japan from other countries, were not able to leave the airport due to Japan's COVID requirements to enter the country, including providing a negative PCR test. We are working with Narita Airport to determine how we can better accommodate transiting passengers during disruptions like this one."
Presumably this happened at the landside check-in counters, and travelers who were airside obviously weren't offered accommodation, since they couldn't enter the country.
What I find interesting is that the traveler is trying to get Jetstar as much bad press as possible here, yet doesn't once use his platform to acknowledge the real issue here, which others should learn from — be cautious when transiting through countries you can't enter.
To be clear, I don't think Jetstar or the airport should be off the hook here either:
Jetstar knew people were connecting, and the airline should have sent staff into the terminal to communicate with passengers, offer them meal vouchers, etc.; at the same time, when you're flying an ultra low cost carrier from an outstation, customer service sometimes leaves a bit to be desired
Authorities in Japan should consider what to do for passengers in these kinds of situations; the country chooses to close its borders to travelers, yet welcomes transit passengers, so they should have some kind of reasonable accommodations for situations like this
Many passengers on this itinerary probably had no clue that Japan was fully closed, and about the risks they were taking by booking an itinerary like this
Bottom line
A Jetstar flight from Japan to Australia was delayed by 11 hours due to a mechanical problem. This became a big issue for those in international transit, since Japan is closed to most travelers, causing a couple of dozen people to spend the night in the terminal.
This was no doubt unpleasant, especially since these travelers had already planned a layover of over eight hours at the airport, making their delay feel even longer. At the same time, I feel like people have to take some personal responsibility for choosing to connect in a closed country. Mechanical issues happen, and as a result there's a lesson to be learned here about where you should connect.
That doesn't excuse Jetstar's seemingly lacking customer service, but I'm not sure this rises to the level of requiring an embassy's assistance.
What do you make of this situation? Are the travelers justified with their frustration, or…?