Qantas is getting quite a bit of attention for the crew rest facilities that the carrier is offering on some ultra long haul flights…
Qantas' crew rest facilities on 14 hour transpacific flight
With Australia having fully reopened to visitors, Qantas is ramping up its international service. This includes the airline resuming its route between Brisbane (BNE) and Los Angeles (LAX). In the past the airline operated this route with a Boeing 787-9. However, Qantas has had to shift around its fleet planning a bit, given that many of the carrier's Airbus A380s are still grounded.
Some routes that used to be operated by the A380 are now operated by the 787-9, and that means there were no 787-9s available for this route. As a result, Qantas is "only" flying an Airbus A330-200 between Brisbane and Los Angeles.
The westbound portion of this 7,161-mile flight is blocked at 14hr20min, so this is quite a long flight. While this is within range of the A330, the major catch is that Qantas' A330s don't have crew rest facilities. Instead, some of the seats in the last few rows of economy are being blocked off for rest.
Pictures have just emerged of a recent flight where the crew decided to build a "blanket fort." You can see that the crew draped blankets over the seats, which sure isn't a very professional look.
So, what exactly happened here?
Qantas claims that there was a glitch on the flight whereby the lights wouldn't turn off, so this was intended to make it a bit less bright for the crew (couldn't eyeshades have accomplished that?); lights not turning off also seems really unpleasant for the rest of the crew
So while the blankets being draped like that is a one-off, it sounds like it's standard to just see your crew stretched out across seats in economy trying to sleep
Qantas is apparently working on installing curtains on these planes around certain seats, so that it's less awkward for both staff and passengers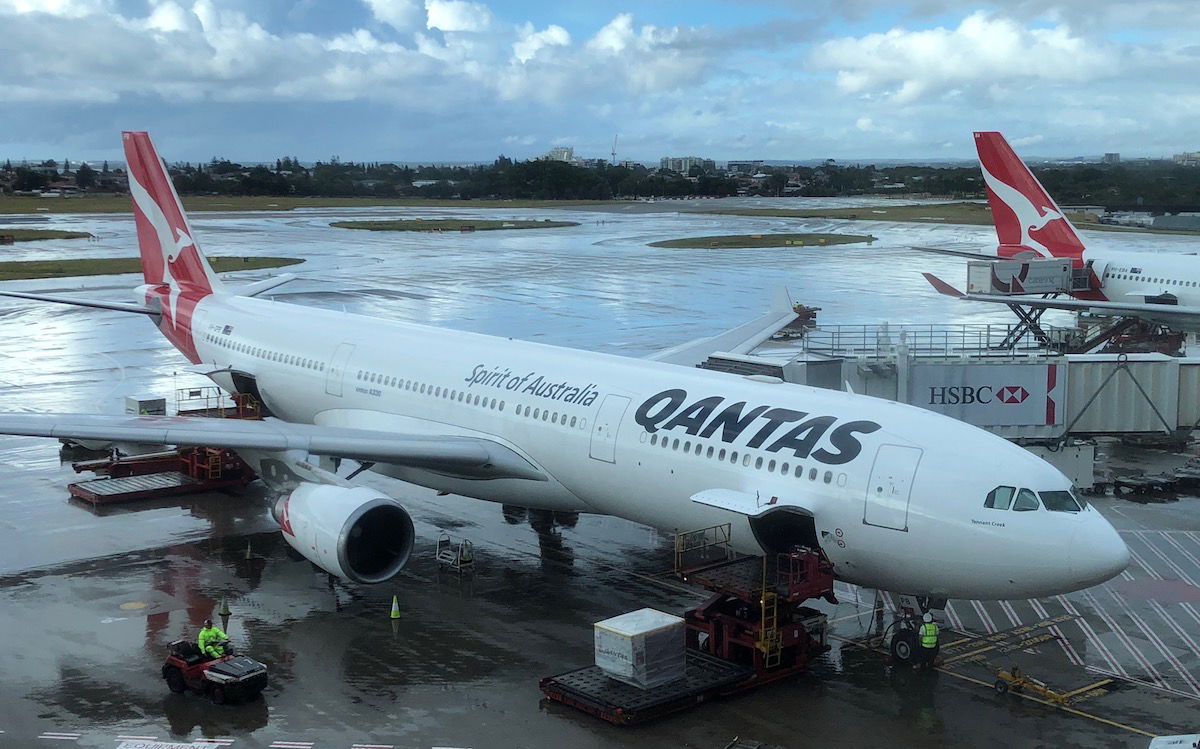 How this situation is leading to further labor issues
There's a bit more to the story, which I'd argue makes it even more interesting. Qantas uses New Zealand-based crews for the flight between Brisbane and Los Angeles. Why? Well, Qantas doesn't exactly have great labor relations to begin with, at least not with the Australia-based cabin crew, which are represented by the Flight Attendants' Association of Australia.
When Qantas restarted this route with an A330 rather than the 787, the Australian flight attendant union asked for an extra day of rest on both sides of the trip for crew members, given that these planes lack proper crew rest facilities. To me that doesn't seem like an unreasonable request.
However, Qantas claimed that wasn't viable, so the airline is instead using New Zealand-based crews (who work on a different contract) for this flight, so that's what you see above. As Rachel Yangoyan, Qantas' cabin crew manager, describes this situation:
"A small amount of flying is being done by New Zealand-based crew because the union was not prepared to support Australian-based crew working on longer routes with some of our A330 aircraft, including the Brisbane to Los Angeles route, on terms that we were able to agree to. We wanted to have our Australian-based crew do this flying, but without the union's support for this to happen, we've instead had to use New Zealand-based crew on some of these flights."
Bottom line
Qantas has resumed its Brisbane to Los Angeles route with an Airbus A330. At 7,000+ miles, this is one of the longest A330 flights in the world. Unfortunately Qantas doesn't have proper crew rest facilities on these planes, so crews just have to sleep in economy seats.
While I imagine this isn't ideal for crews, the situation went viral on a recent flight, where a glitch meant that lights couldn't be turned off, and that caused crews to built blanket forts. If Qantas is going to keep flying A330s on flights this long, hopefully the airline can at least install some proper curtains around crew rest areas.
What do you make of this Qantas A330 crew rest situation?