In mid-2022, Iberia announced plans to introduce a new business class product with doors as of late 2023. That product was quietly put into service roughly a year ahead of schedule. The airline has now revealed some more details about this new jet, as there are more changes than just a new business class product.
Iberia's new business class now flying
In July 2022, International Airlines Group (IAG) revealed an exciting development about Iberia's business class. Specifically, we learned that Iberia intends to install a new business class product with doors on Airbus A350 aircraft.
Iberia has a total of 20 Airbus A350-900s on order — 15 have already been delivered, and five more are set to be delivered in the near future. As it turns out, Iberia's newest A350, with the registration code EC-NXE, already sports these cabins.
The future delivery Airbus A350s are also expected to feature these cabins. Interestingly a couple of the previous A350s that Iberia took delivery of came without business class cabins, due to supply chain issues. Hopefully these planes eventually get the new business class product, rather than the old one.
As of now, Iberia doesn't have firm plans to reconfigure any existing planes with these seats, so don't expect to find this product on existing Airbus A350s, or on any Airbus A330s. Iberia also has eight Airbus A321XLRs on order, and we don't know what those cabins will look like.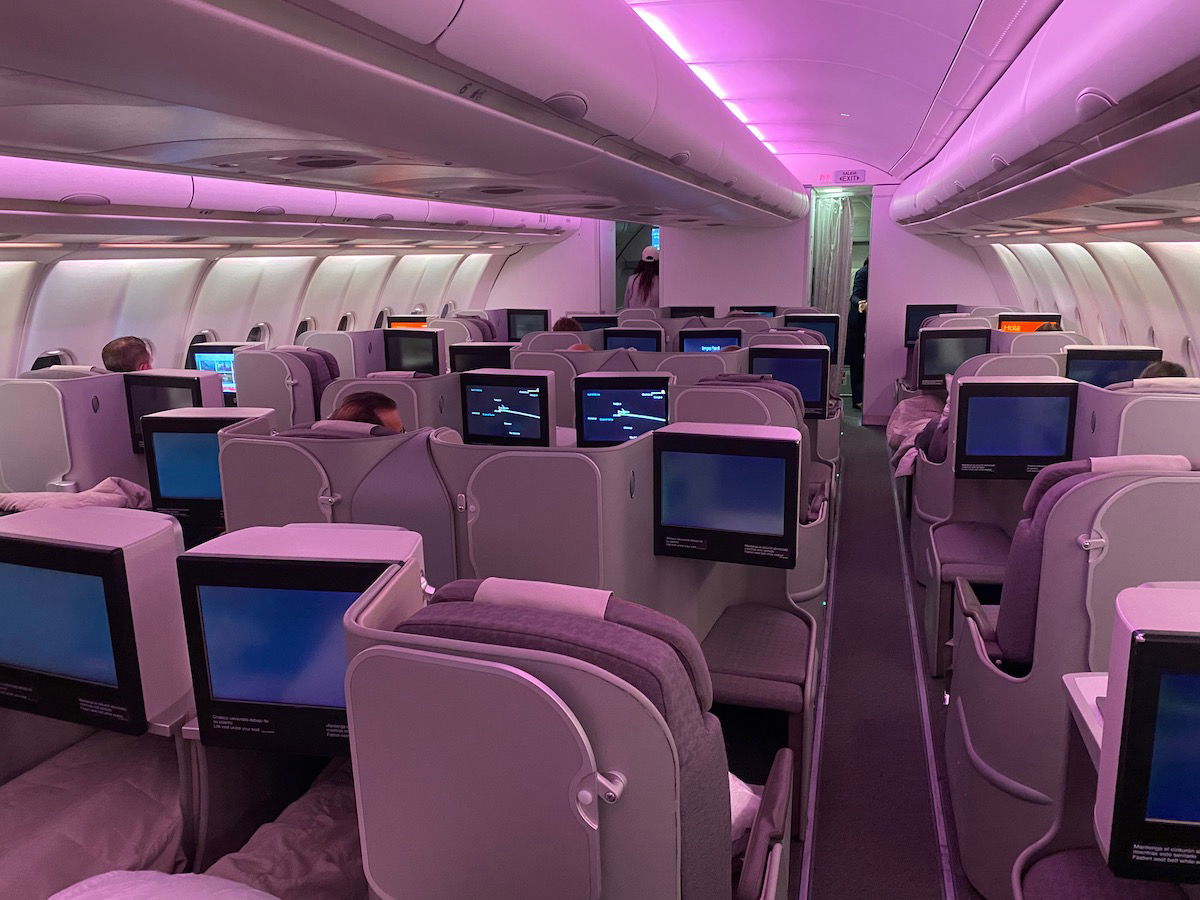 What is Iberia's new business class seat like?
Iberia is partnering with Recaro on its new business class seat, and specifically Iberia has selected Recaro's CL6720 seat, with the optional door.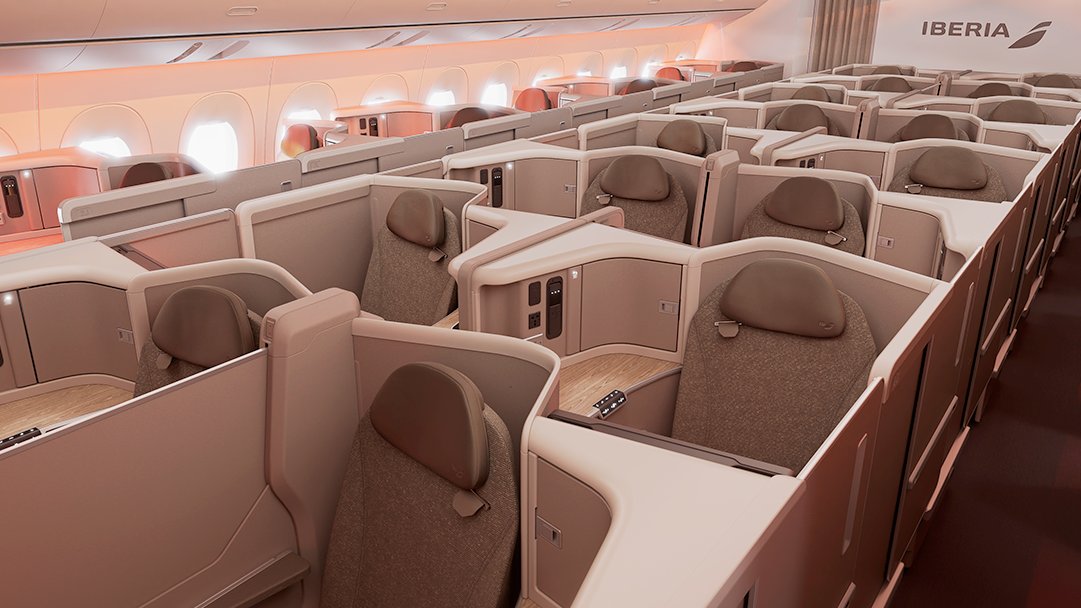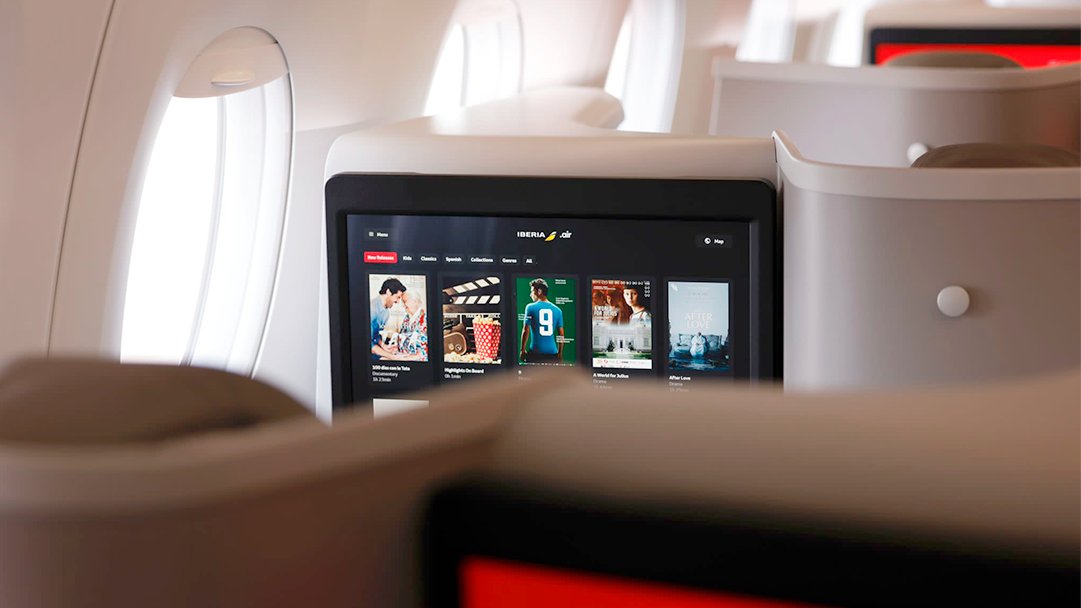 For context, the CL6720 seat is an evolution of the CL6710 seat, which can be found on EL AL's Boeing 787-9s, TAP Air Portugal's Airbus A330-900neos, and Azul's Airbus A330-900neos. This is a staggered configuration, but unlike some other similar configurations, not all seats are directly forward facing.
Air China was the launch customer for Recaro's CL6720 seat, as Air China is installing these seats on newly delivered Airbus A350-900s.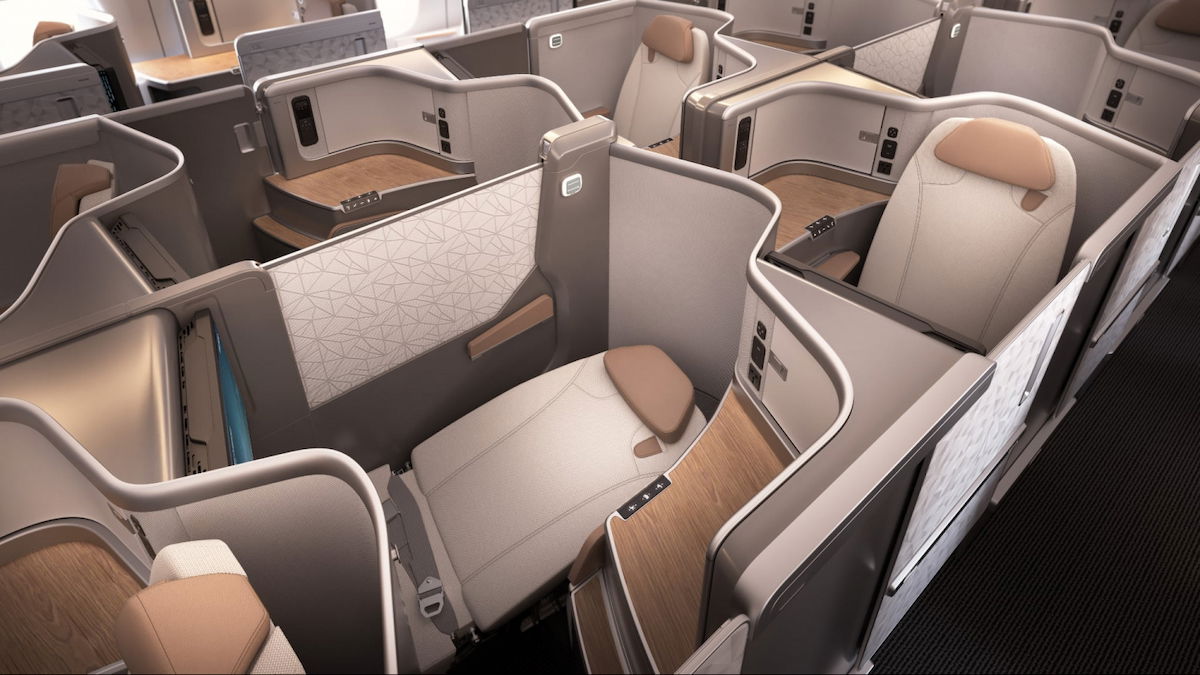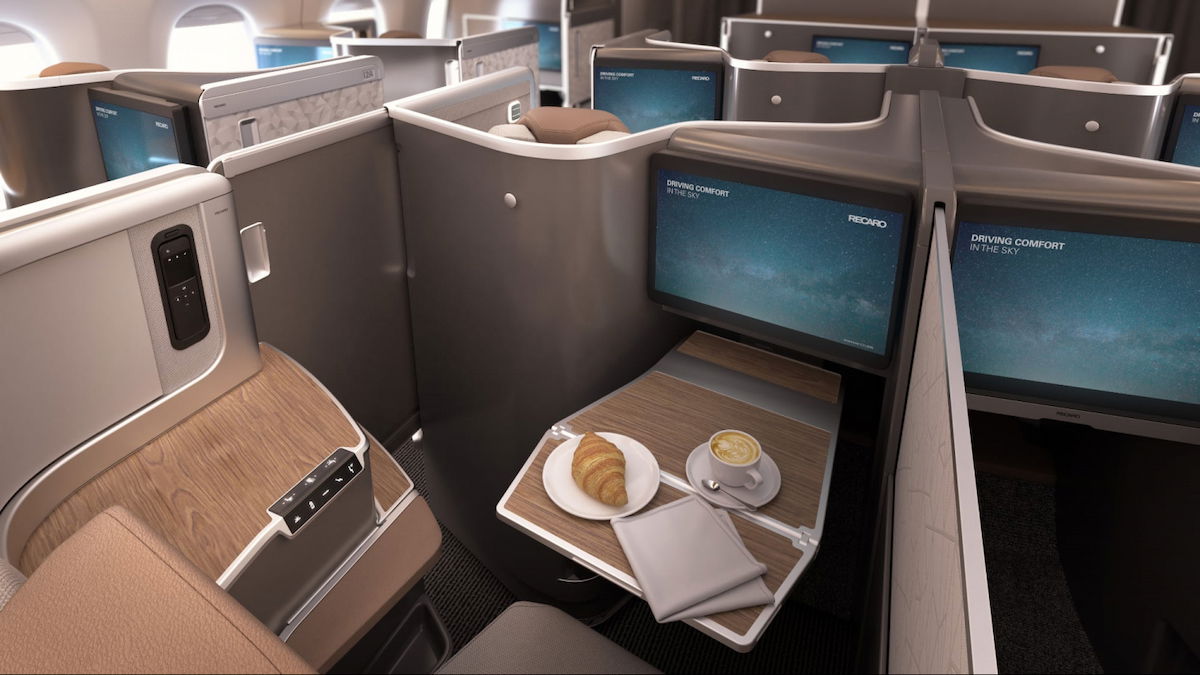 This looks like a significant upgrade over Iberia's current staggered business class configuration.
Other changes with Iberia's new Airbus A350s
The changes with Iberia's new Airbus A350 go beyond a different business class product. Iberia is the first airline in the world to take delivery of an Airbus A350 with the new production standard, featuring a reduction in weight (by roughly one ton) and a slightly wider fuselage. I've written in the past about the new A350 production standard, which will allow airlines to offer 10 abreast seating on economy.
So, what else is Iberia changing with its new Airbus A350?
Premium economy seats feature added privacy, thanks to adjustments to the headrests
Economy seats are one centimeter wider and have new storage for personal items; it's impressive that Iberia chose to make economy more comfortable, rather than adding an extra seat per row
The plane features a new IFE NEXT entertainment system, boasting the latest Panasonic technology, a more modern and interactive design, 4K resolution, larger screens in premium economy and economy, and bluetooth pairing at every seat
The lavatory surfaces are made from antibacterial materials, with contactless taps to provide greater hygiene
You can take a virtual tour of the new A350 cabin here.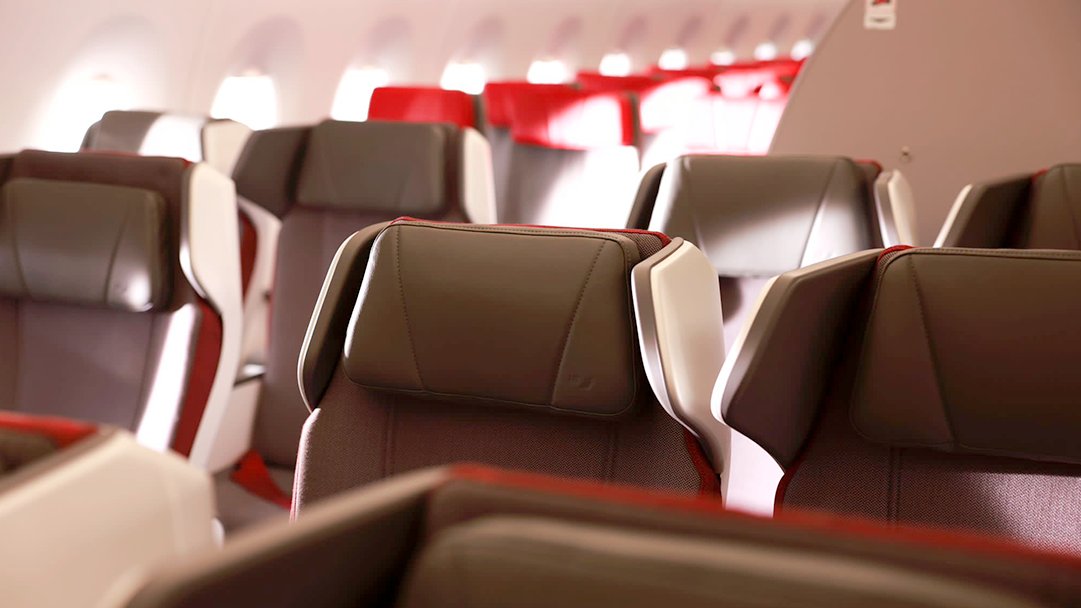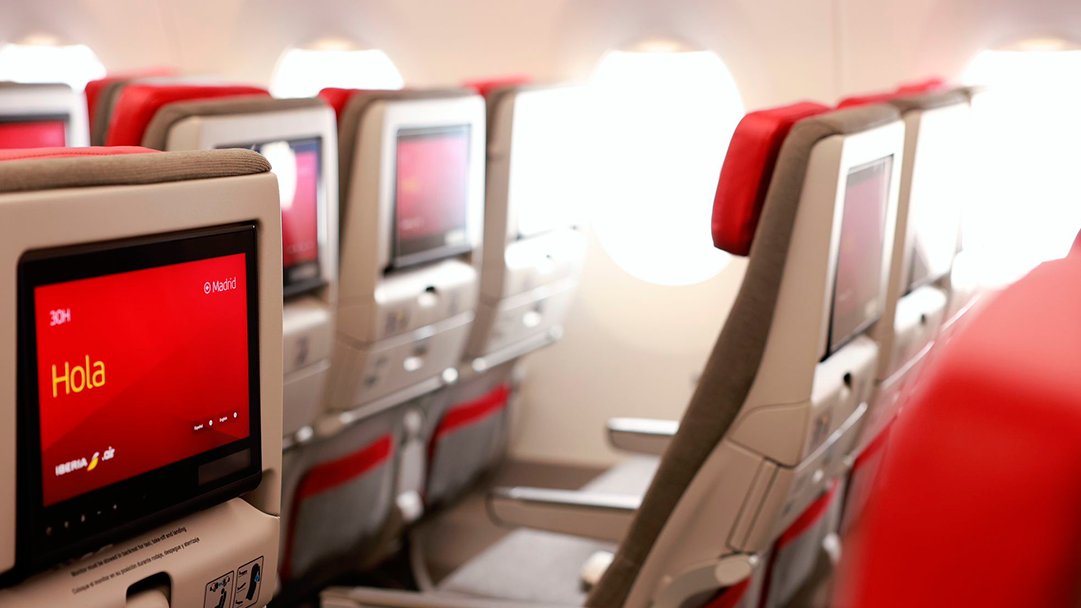 Bottom line
Iberia is installing an all new business class product on Airbus A350s. While this was supposed to launch as of late 2023, the first plane already features these seats as of late 2022. Iberia has selected Recaro's CL6720 seat, which Air China has also selected for its A350s.
That's not all, though — Iberia has also made improvements to premium economy and economy on these jets, largely possible thanks to the cabin on this jet being a bit wider than previous A350s. The plane also features a much improved entertainment system, including bluetooth pairing.
Well done, Iberia!
What do you make of Iberia's new business class, and improved A350?