Here's something you don't see every day…
Iberia's new Airbus A350s missing business class
Twitter user @aviosAdventurer noted something very strange about Iberia's newest Airbus A350-900s. Iberia has been working on growing its A350 fleet, and in September 2022, the airline took delivery of its two newest A350s, with the registration codes EC-NVR and EC-NXD.
There's only one slight issue — the planes don't have a business class cabin yet. This is apparently due to supply chain shortages impacting the seating manufacturer.
Nonetheless the airline wanted to get these planes into service, since planes don't make money sitting on the ground. So Iberia has started flying these planes around without business class. Instead the area that usually has business class has several rows of the most spacious economy seats you've ever seen in your life.
These can't actually be used — instead they're blocked off, so I'm not sure why the airline even bothered installing them. Maybe there's some requirement for a passenger cabin to have seats throughout, or something? The planes have ballasts to help them compensate for the lower weight toward the front of the jet.
Suffice it to say that it would be rather strange to board a plane and see the below cabin…
While this is strange, it's not necessarily bad news
In fairness to Iberia, the airline is currently using these two Airbus A350-900s exclusively for short haul flights that would ordinarily be operated by narrow body aircraft. These planes aren't being put on long haul routes until they get their proper interiors.
Those who booked business class are being seated in the premium economy section. This is arguably still a significant upgrade over what those passengers would otherwise get, since intra-Europe business class otherwise typically consists of economy seats with a blocked middle.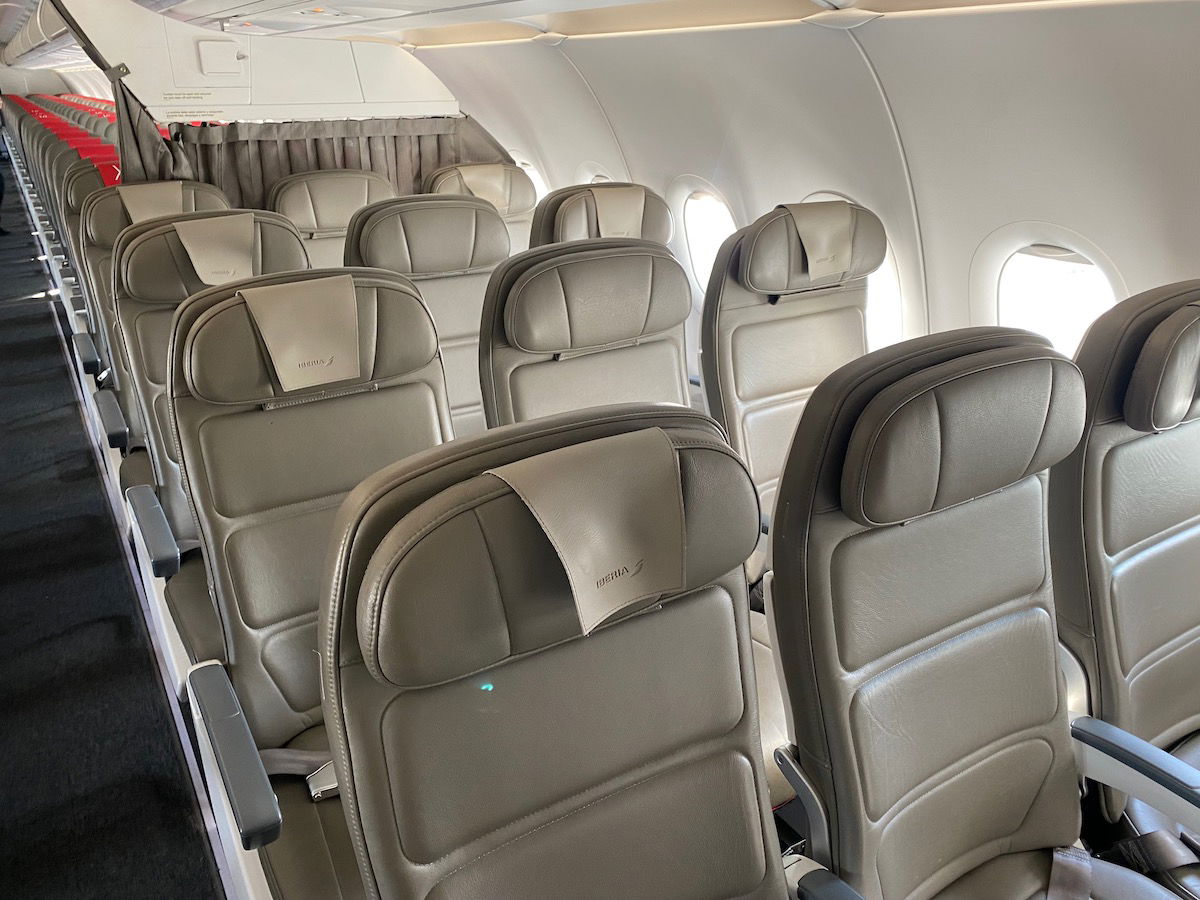 Meanwhile premium economy in a 2-4-2 configuration on an A350 is probably a bit more comfortable.
There's no denying that the optics of boarding a flight and seeing the forward cabin look like the above are still a bit strange.
Bottom line
Iberia's two newest Airbus A350-900s don't yet have business class cabins due to supply chain issues. Nonetheless the airline has decided to put these planes into service. The business class cabin just has a few rows of economy seats that are blocked off, along with some extra weights for weight and balance.
For now these planes are in service on short haul flights that would ordinarily be operated by narrow body planes, and business class passengers are being seated in premium economy.
What do you make of Iberia's unique A350s?
(Tip of the hat to @dontbuybluth)