You wouldn't expect to see two Qantas Airbus A380s on the ground in Azerbaijan, but that's exactly what will happen shortly…
London-bound Qantas A380 diverts to Baku
356 Qantas passengers and crew are currently stranded in Baku, Azerbaijan, and may be missing Christmas in the United Kingdom.
This incident involves QF1, Qantas' flagship flight from Sydney (SYD) to Singapore (SIN) to London (LHR). Specifically, on December 22, 2022, the Singapore to London portion of the flight was scheduled to be operated by a roughly 13 year old Airbus A380 with the registration code VH-OQH.
The flight was scheduled to depart at 11:55PM, but ended up leaving around one hour behind schedule. The flight climbed up to 34,000 feet and initially operated as scheduled. The plane flew over Malaysia, India, Pakistan, Tajikistan, Uzbekistan, Azerbaijan, and then Georgia.
Toward the latter part of the flight, pilots saw smoke warnings for the cargo hold going off in the cockpit. While there was no indication of an actual fire, safety is of course always the top priority, so the decision was made to divert out of an abundance of caution. Specifically, pilots and Qantas' operations team made the decision to divert to Baku, Azerbaijan (GYD).
This decision was made once the plane had already passed Baku, so the plane made a 180 degree turn to land there. It ended up touching down in the capital of Azerbaijan just under 10 hours after departing Singapore, shortly after 7AM local time.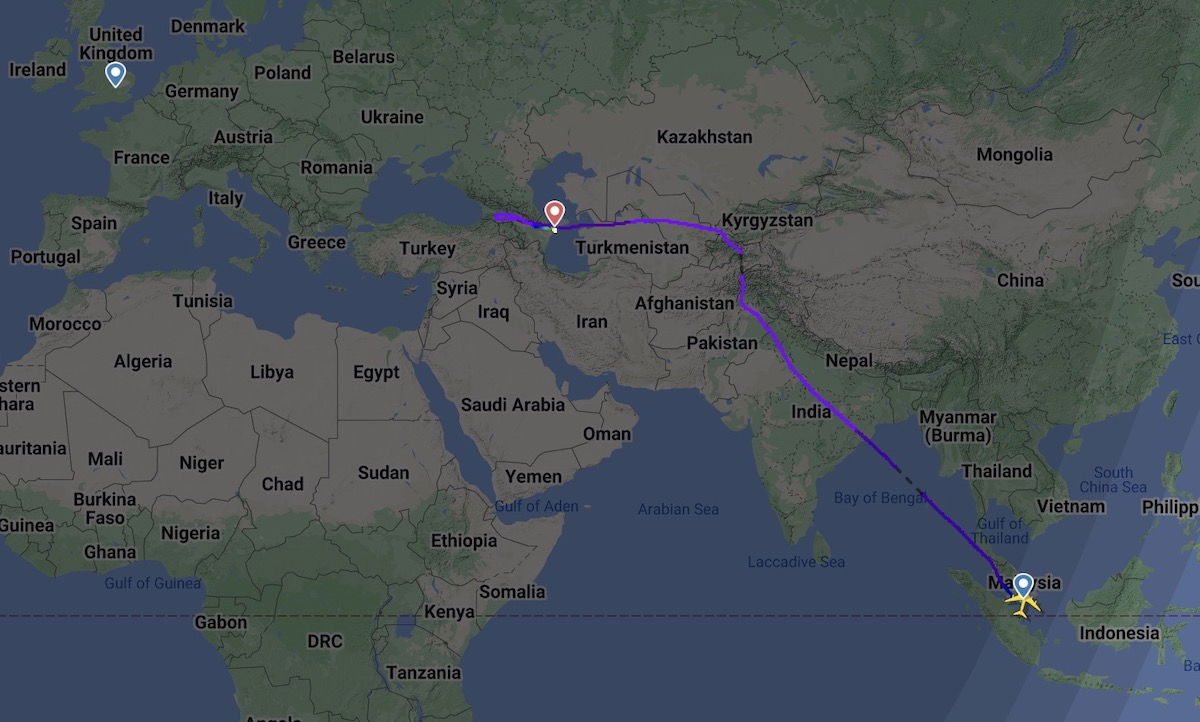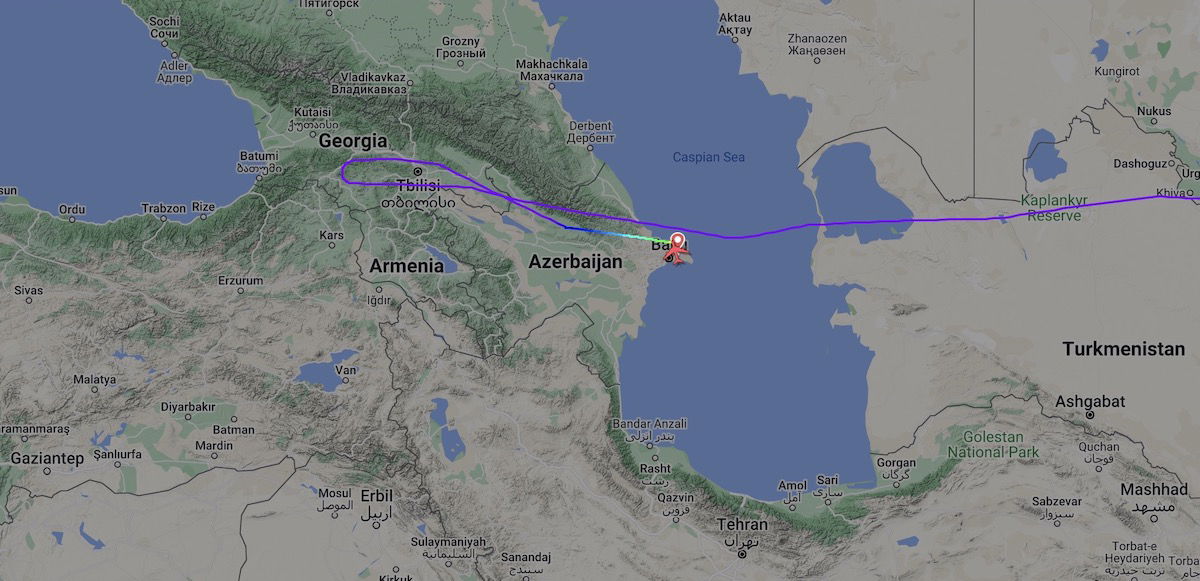 At this point you had 350+ people in Baku, a destination not ordinarily served by Qantas, with a plane that had to be grounded for some amount of time. So, what happened next?
Qantas A380 makes rescue flight from Sydney to Baku
So, what did Qantas do next? The airline is sending a roughly 14 year old Airbus A380 with the registration code VH-OQD to rescue stranded passengers. The plane took off from Sydney at around 11:40AM local time on December 24, and will be flying the ~8,200 mile journey nonstop to Azerbaijan.
As of the time this post is published, the plane is just entering Indian airspace. It has flown for nearly 11 hours, and has roughly four hours remaining to Baku. The plane is expected to land in Baku at around 7:40PM, just over 36 hours after passengers first arrived in Baku.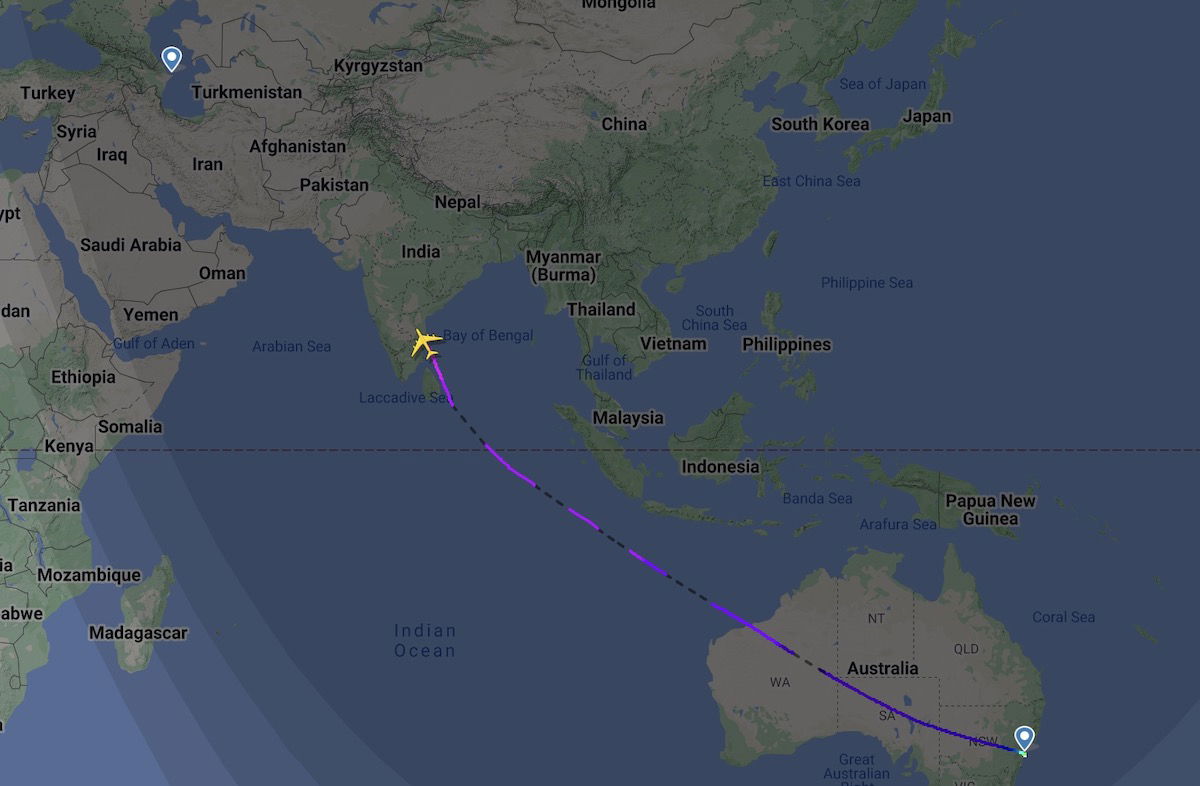 Qantas claims that passengers will end up making it to London on the morning of December 25. I suppose it's probably too tight to "turn" the plane in Baku and still fly it to London before Heathrow's curfew kicks in. I would imagine it will be the crew from the original flight that diverted that will be operating this flight, given that they've now had sufficient rest.
It took Qantas quite some time to send a rescue flight, though permission was required from several different governments, which is why it allegedly took so long. Qantas is also sending engineers to Baku to hopefully figure out what went wrong with this flight, and get the A380 back into service.
Interestingly the rescue A380 flying to Baku is a spare aircraft that Qantas has for exactly situations like this. It's impressive that Qantas has a spare, despite how small the carrier's A380 fleet is. The other passengers impacted by this diversion would be those who were scheduled to travel on the return flight from London to Singapore to Sydney.
This diversion can't have been cheap for Qantas, between the cost of taking care of passengers during the layover, not to mention the cost of flying an A380 empty for 15 hours to rescue these passengers.
Bottom line
Some passengers on Qantas' flagship route were in for quite an adventure this week. Qantas' Singapore to London flight had to divert to Baku due to a fire warning going off in the cargo hold. The airline is now sending a rescue aircraft, and passengers should make it to London on Christmas morning, roughly 48 hours behind schedule.
Of course nobody wants their Christmas plans ruined, though I have to say, Baku is a pretty awesome city, and I wouldn't mind an unplanned layover of a couple of nights there.
What do you make of this Qantas diversion?