While details are limited (and there might just not be more information made public), two Emirates flights departing Athens yesterday had significant operational disruptions, and it seems to involve a suspicious passenger. I initially wrote about this yesterday, but we now have a few more details, which I wanted to add to this post.
Before we get into the details, it's worth understanding that Emirates operates a fifth freedom flight between Newark (EWR) and Dubai (DXB), which stops in Athens (ATH) in both directions. Passengers can fly any of those segments individually, or can book the flight to travel between the United States and United Arab Emirates.
Emirates flight from Athens to Newark returns to Athens
On Thursday, November 10, 2022, a Boeing 777 was scheduled to operate Emirates flight EK209 from Athens to Newark. The flight departed as planned, and for the first 90 minutes operated the standard routing. While flying over Sardinia, the plane entered an extended holding pattern.
Eventually the 777 started to fly back toward Athens. However, it didn't take the same routing back. Instead the plane exclusively flew over water rather than land, which caused a significant detour. Furthermore, as the plane approached Greece, it was escorted by fighter jets. In the end the plane landed back in Athens roughly 4hr20min after takeoff.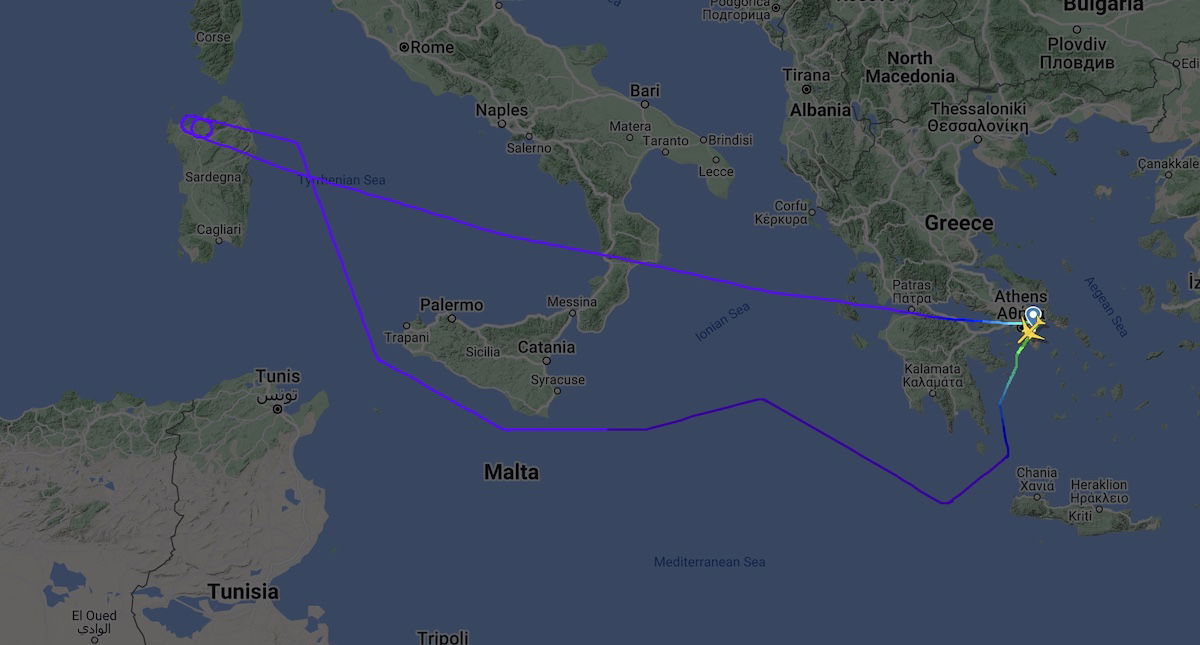 As reported by the Associated Press, the flight recall was made following a request by US authorities. Greek media reported that the Central Intelligence Agency (CIA) had a reason to believe that there was a passenger onboard who posed a threat to the plane.
I don't know if that's true or not. Personally I'd be surprised if this much information about the source of these details was revealed publicly. However, I imagine some intelligence agency somewhere had concerns.
Italy and France both allegedly refused to allow the plane to land there. The fact that the plane had to fly over the open water paints a pretty grim picture of what may have been suspected here. Typically in the event of a diversion, it's not normal for the plane to avoid land the entire way to the destination airport.
According to passengers, when the plane landed back in Athens, those who had originated in Athens were allowed to disembark, while those who had connected from Dubai had to stay onboard. However, Greek police reports that after a thorough inspection of the aircraft and passengers was performed, nothing suspicious was found.
Emirates flight from Athens to Dubai delayed by hours
Interestingly it wasn't just the Dubai to Newark flight that was impacted by this incident. Emirates also had a Boeing 777 scheduled to fly from Athens to Dubai on Thursday, November 10, 2022, with flight number EK210. The Athens to Dubai Emirates flight that was scheduled to depart around the same time ended up being delayed by several hours on departure.
The plane had started to taxi to the runway, but was asked to return to the gate before takeoff. Passengers were told to deplane, and a thorough search was performed of the aircraft, though nothing was found. The plane was scheduled to depart at 5:55PM, but ended up only departing Athens at 9:53PM.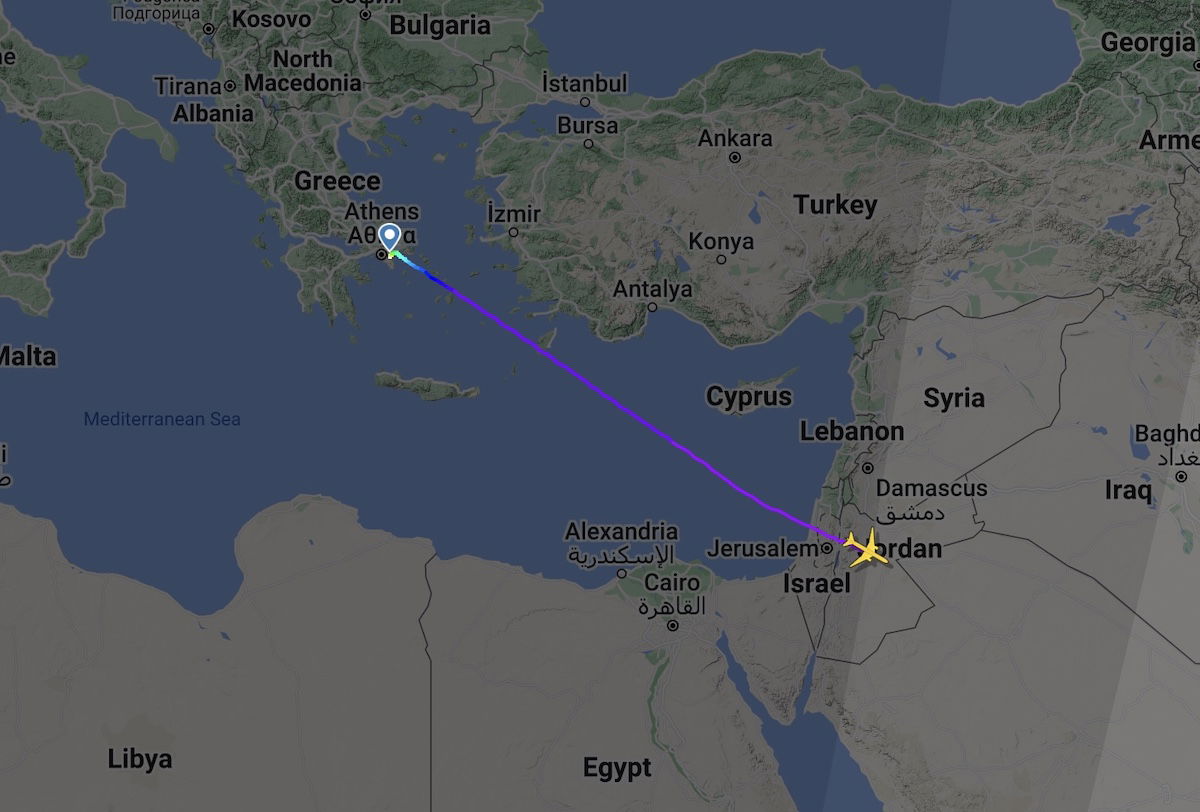 What Emirates says about this incident
An Emirates spokesperson has issued the following statement regarding this incident, more or less confirming what we knew:
"Emirates can confirm flight EK210 from Athens to Dubai on 10 November returned to stand before take-off, and flight EK209 from Athens to Newark on 10 November also made an unscheduled return to Athens, due to security checks requested by the authorities. Passengers on flight EK209 have been rebooked to travel on 11 November and provided overnight accommodation. Emirates apologises for the inconvenience caused."
Bottom line
At this point we have more questions than answers, though suffice it to say that something strange was going on with Emirates' Athens flights yesterday. The Newark-bound flight returned to Athens while avoiding all land along the way, it was escorted by fighter jets, and those on the flight who had originated in Dubai were asked to stay onboard. Meanwhile Emirates' flight from Athens to Dubai was delayed by hours, so that the aircraft could be searched.
It seems that this was all triggered by some sort of security threat. Presumably authorities either didn't know which of the two flights was impacted, or had reason to believe that both were. However, after both planes were inspected, nothing suspicious was found. That makes you wonder even more what exactly happened.
What do you make of this Emirates situation in Athens?