Could Breeze Airways become the first airline to operate the Airbus A220 on transatlantic flights? It seems like it's at least being considered.
Breeze Airways seeks proposals from European airports
Breeze is the US airline startup that is founded by David Neeleman, the same guy behind JetBlue. The airline launched operations in late May 2021, initially exclusively operating domestic flights.
While Breeze is launching operations with used Embraer E190/195 aircraft, the airline also has 60 Airbus A220-300s on order, which will eventually be the primary aircraft used by the airline. Breeze is taking a very specific approach to picking routes — the airline is operating routes that are underserved, with a vast majority of them not currently having nonstop service.
Breeze is taking a similar approach to airlines like Allegiant, rather than trying to compete directly with the "major" carriers.
Along those lines, Breeze has put out a "request for proposals" (RFP) from airports, in partnership with Route Exchange. Perhaps what's most interesting is that Breeze is "looking to tap into underserved markets across the Americas, the Caribbean, and Western Europe." Yep, that's right, Breeze is considering flying to Europe.
As this is described:
Breeze Airways is looking to tap into underserved markets across the Americas, the Caribbean, and Western Europe. With firm deliveries of 60 Airbus A220-300 aircraft over the next five years, the RFP will support the carrier in identifying new airports to build its network.
Airports have the opportunity to fill out a pre-qualifying questionnaire, intended to express interest in Breeze flying to the airport. Not only is this intended to confirm that an A220 could actually be operated to the airport, but airports are also invited to share routes that they feel are underserved.
Think of this process as speed dating for airlines and airports. While Breeze no doubt has route planners that are crunching numbers here, I imagine an element of this is also airports potentially expressing willingness to provide subsidies and incentives for Breeze to start service.
Where in Europe could Breeze Airways fly?
I think it's important to emphasize that Breeze Airways launching flights to Europe is far from a sure bet. At this point the airline is simply seeking proposals, which makes perfect sense, as the airline should at least investigate all options within the A220's range.
The A220 has a range of 3,400 nautical miles, meaning it can easily operate some of the shorter transatlantic city pairs. For example, below is a map showing the range of the A220 out of Boston (with the light blue area showing what's within 3,400 nautical miles).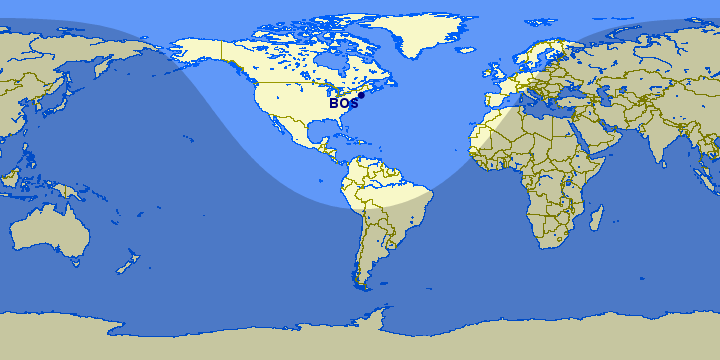 It's important to emphasize that the above shows the full range, and doesn't factor in fuel reserves, headwinds, etc., so realistically the plane wouldn't be able to fly quite as far as you see above.
With that in mind, I have a few general thoughts:
If Breeze does fly to Europe, I'd expect this to only come after significant domestic expansion, so I don't anticipate this happening in the next few years (since the airline will be taking delivery of an average of one A220 a month)
Breeze is all about operating in underserved markets, so don't expect the airline to fly from New York to London or Boston to Paris; instead expect service from smaller markets in the US to bigger markets in Europe, bigger markets in the US to smaller markets in Europe, or smaller markets in the US to smaller markets in Europe (though finding sufficient demand may be a challenge in that last category)
I could maybe see Breeze giving transatlantic service a try with subsidies and incentives from airports on both ends, but personally I don't see this being a focus for the airline
Transatlantic leisure travel is highly seasonal, and that's something that transatlantic low cost carriers have previously struggled with; if Breeze does launch transatlantic flights, I wouldn't be surprised to see it just be seasonal
While Breeze hasn't ruled out the concept of offering flat beds at some point in the future, it's expected that Breeze's A220s will have more typical domestic first class seats, which would be equivalent to premium economy on a transatlantic flight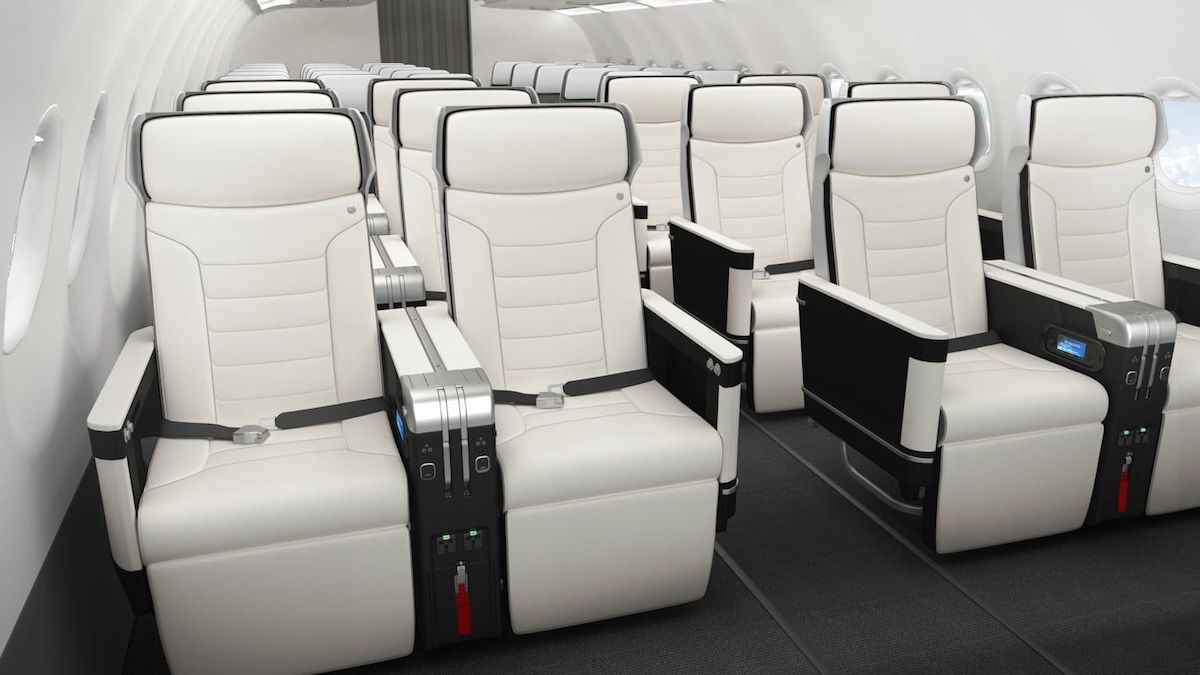 No low cost carrier has ever been successful operating narrow body aircraft on transatlantic flights, so many would assume that Breeze won't be any different. Then again, the airline has an attractive cost structure, which is one major advantage.
Bottom line
Breeze Airways is seeking service proposals from airports in the Americas, Caribbean, and Western Europe, for Airbus A220 flights over the next five years. The potential for A220 service to Europe is what I find most interesting. The A220 is an incredibly capable plane with fantastic economics and passenger comfort, and it can easily operate select transatlantic flights.
Only time will tell whether Breeze ever flies to Europe with A220s. Personally I'd be surprised if Breeze flies to Europe, but who knows — the industry evolves at a fast pace, and with enough subsidies from airports and the ability to do low frequency seasonal flights, maybe it's not out of the question.
What do you think — will Breeze Airways eventually start flying to Europe?