US ultra low cost carrier Breeze Airways, which was founded by David Neeleman (also the founder of JetBlue), is celebrating its second anniversary. The airline has just announced that it's rebranding its first class seating option, though there aren't many implications beyond a new name.
The basics of Breeze Airways first class seating
Breeze Airways is an ultra low cost carrier that primarily operates point-to-point routes that aren't served by other airlines. The carrier's business model is based around taking advantage of the amazing economics of the Airbus A220-300, given the plane's great fuel economy, range, and capacity.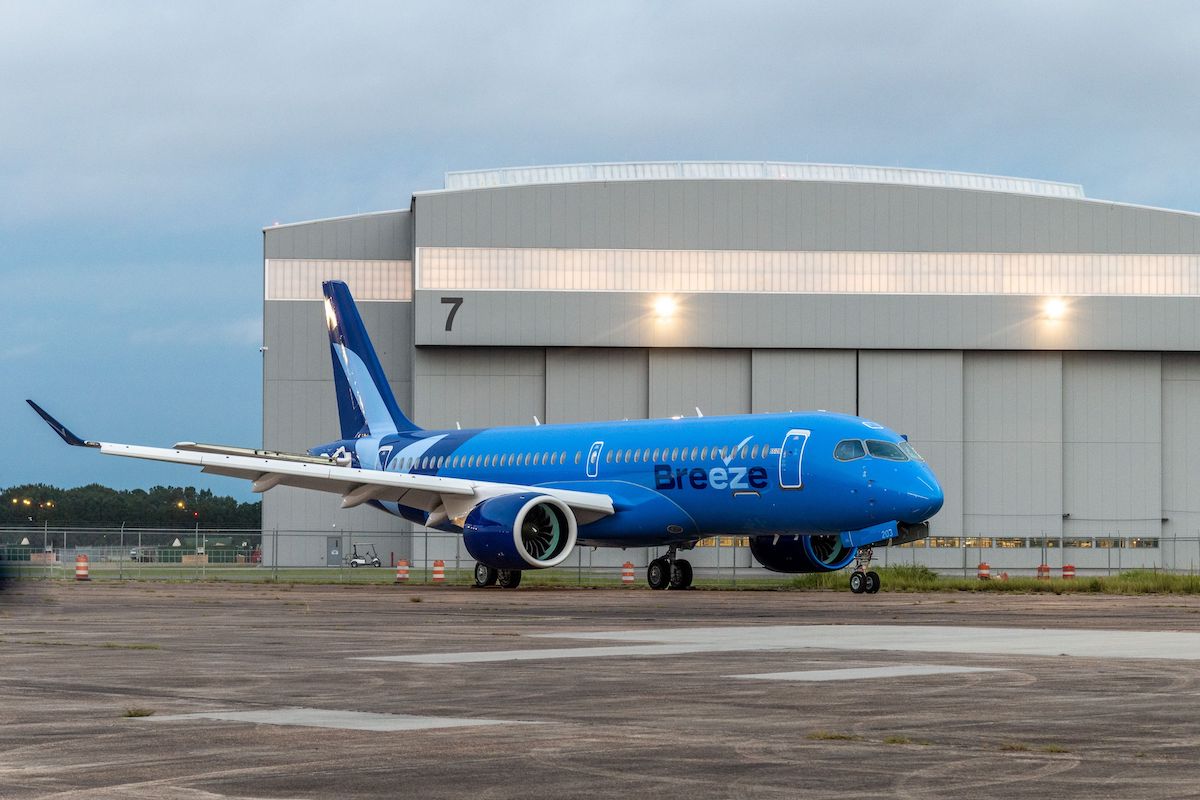 Breeze has a different configuration than most other ultra low cost carriers. Specifically, Breeze has a large cabin of first class seats at the front of the plane, where seats feature 39″ of pitch and 20.5″ of width, and are in a 2-2 configuration. The seats also feature footrests, and in-seat AC and USB-C power outlets.
Those seated in the cabin also receive complimentary snacks and drinks (including alcohol), but don't receive proper meals.
So this isn't quite as elevated of an experience as you might otherwise get in first class, but it's an exceptional value, given that these seats often cost a fraction of what you'd pay with other airlines. These seats are either included if you purchase the "Nicest" bundle, or can be purchased a la carte when buying a "Nice" or "Nicer" fare.
The size of the cabin varies, with some A220s having 36 first class seats, while other planes have 12 first class seats. One of the reasons that Breeze has gone all-in on the first class concept is because the opportunity cost of this cabin is lower on the A220 than other mainline jets.
That's because you're losing just one seat per row (due to economy being in a 2-3 configuration), rather than losing two seats per row (since A320s and 737s have a 3-3 configuration in economy).

Breeze first class seating rebranded as Breeze Ascent
Historically Breeze Airways has simply marketed its forward cabin as first class seating. That will be changing. Breeze has announced that it's rebranding these seats as "Breeze Ascent."
Here's how Breeze President Tom Doxey describes the rebranding:
"Our logo features a checkmark known as the 'ascent' and is a depiction of a plane ascending into the sky, so it made sense for us to name our most elevated onboard experience 'Breeze Ascent.' We are creating a new standard for what it means to 'fly up front' with comfortable, premium seating and complimentary snacks and beverages at an affordable price."
I think this change is pretty sensible. It was always a bit odd how the airline referred to this as "first class seating," and not "first class" or any other branded name. That made it almost sound like Spirit's "Big Front Seat," where you don't get anything extra included. I think this new branding makes a lot of sense.
Below you can see a video that has been published about the Breeze Ascent cabin.
Bottom line
Breeze Airways' forward cabin on the Airbus A220 is now known as Breeze Ascent. Previously it was simply known as first class seating. It seems logical that the airline would try to brand this cabin in some way, and I like the new name. Breeze Ascent represents a great value, and I'd really like to try this product soon. Breeze just doesn't fly in many markets I need to travel to.
What do you make of the Breeze Ascent branding?