Of Marriott's 30 brands, Sheraton is the one that's the most confusing to me. It seems to me like the brand has been struggling with an identity crisis for far too long. There are a couple of issues in particular:
The variance in quality of properties is huge, to the point that properties like the Sheraton Grand London aren't being done justice belonging to the same portfolio as properties like the Sheraton Miami Airport
More importantly, the brand lacks an identity; Le Meridien is known for their faux French design and excellent coffee, and Westin is known for their Heavenly Beds, gyms, and toiletries, while Sheraton is known for just being mediocre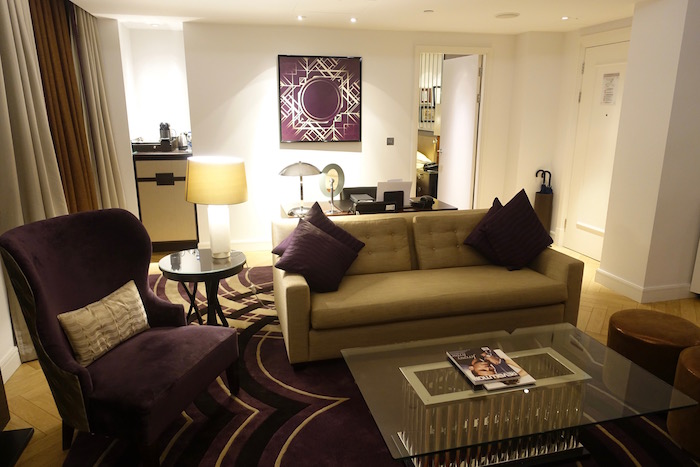 Gorgeous suite at the Sheraton Grand London
With that in mind, early last year Tiffany wrote a post entitled "Dear Sheraton, It's Time To Rethink Your Bath Amenities." As she explained at the time:
Sheraton has been undergoing a bit of a "soft" rebrand, adding more luxurious properties to the portfolio, and updating others with the "Grand" designation. And I've had really great experiences at some of these new-concept hotels — like the charming Sheraton Dubrovnik and the Sheraton Grand Dubai (which I haven't had a chance to tell y'all about, but was just lovely).

The problem isn't with the "Shine" amenities as such (although I don't really get labeling a fragrance as "Mandarin and Mint" when it smells nothing like either of those things), but rather the association.

Matt wrote about this a few months back — fragrances are part of our memories of a place, and can create impressions of a brand.

So it is incredibly jarring to walk through a new or freshly-renovated room in a fun hotel to discover the same crummy Sheraton Shine bath products I'd find at a junky airport hotel (or the Sheraton Catania, which is likely worse than any airport property you've been to).
Well, it looks like Sheraton has listened… sort of. Sheraton is introducing new bathroom amenities. Sheraton is discontinuing their "Shine" toiletries and is transitioning to Le Grand Bain as their new brand standard bath amenities. It might be a while until all properties have these, since hotels will first use their existing stock of Shine amenities.

Sheraton's current Shine amenities
I'm curious to try these out. This seems to truly be a no-name brand, as I can't find anything about Le Grand Bain products online. I'm also not sure it's the best fit based on the name. "Le Grand Bain" means "the great bath" in French, and that's not something I'd typically associate with a Sheraton.
While I didn't think the quality of Sheraton's old toiletries was that bad, it just seemed like a missed opportunity. I'll have to see the packaging and try the new products to see if this was a good solution. Based on the fact that this is a no-name brand, I'm somewhat skeptical…
What do you make of Sheraton introducing new bath toiletries?
(Tip of the hat to thomas199023)