Yesterday I posted about Japan Airlines' upgraded service to Sydney later this year during peak season. They're upgrading their daily Tokyo Narita to Sydney flight from a 777-200ER to a 777-300ER, which is exciting since that plane features fully flat beds in business class, plus eight first class suites.
Given the introduction of first class on the route, Japan Airlines is releasing eight first class seats per flight, which is amazing.
In addition to that, Japan Airlines actually announced some other exciting service changes. There are lots of minor equipment changes, though personally I think the most interesting changes are as follows:
Daily 787 flight between Osaka and Los Angeles
Japan Airlines announced that they will be introducing daily nonstop 787 service between Osaka and Los Angeles as of March 20, 2015. Presently all of Japan Airlines' North American routes are out of Tokyo Haneda and Tokyo Narita, so this is a nice extension of their network.
JL60 Osaka to Los Angeles departing 3:20PM arriving 9:20AM
JL69 Los Angeles to Osaka departing 11:20AM arriving 3:50PM (+1 day)
For what it's worth Japan Airlines hasn't yet loaded this flight into the GDS, so it's not bookable yet.
Japan Airlines Refurbished 787s to New York and Frankfurt
It always amazes me when airlines take delivery of brand new aircraft with outdated hard products. That has been the case with Japan Airlines and their 787, on which they installed angled flat business class seats.
That's something they're slowly fixing, as later this year Japan Airlines will be reconfiguring their 787s with new interiors.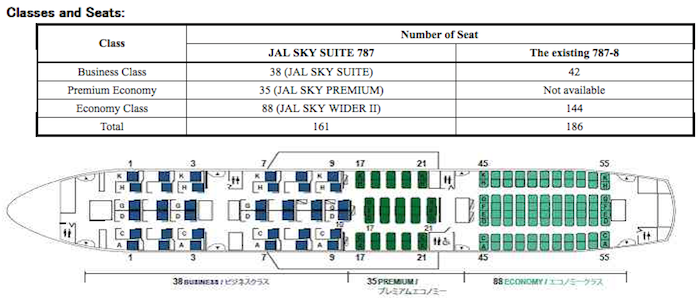 We will see the following changes:
The business class cabin reduced from 42 angled flat seats to 38 fully flat seats
The introduction of a premium economy cabin, consisting of 35 seats
The economy cabin being reduced from 144 seats to 88 seats
The most exciting news is that the 787 will feature the same business class hard product that Japan Airlines has on their 777-300ERs, which is really great.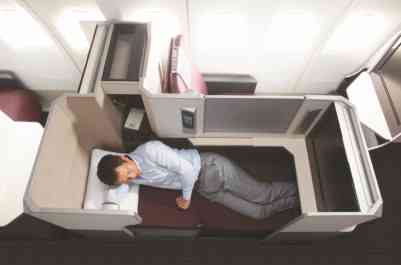 These reconfigured 787s will be going into service on the following routes over the coming months:
Starting December 1, 2014, JL407/408 between Tokyo Narita and Frankfurt will be operated by a refurbished 787 (replacing the existing 777-300ER on the route)
Starting January 1, 2015, JL003/004 between Tokyo Narita and New York JFK will be operated by a refurbished 787 (replacing the existing 787 with the old hard product on the route)
Bottom line
Hopefully the new route between Osaka and Los Angeles has a good amount of award space, as Osaka is Japan's second largest economy, and a great gateway to Kyoto and other areas of Japan. I'm also hoping that their 787 refurbishments are swift, as that will be great news for flyers in Japan Airlines 787 markets (Boston, San Diego, Vancouver, etc.).