I've been impressed by what Hilton Honors has done the past few years. They've introduced a lucrative points pooling program, they've added breakfast at Waldorf Astorias for elite members, they give you top tier Diamond status just for having a credit card, they have a rewarding structure for earning points for hotel stays, and they consistently offer promotions. It's a high value program, and unlike many of their competitors, I genuinely believe the value proposition of the program has improved.
Yet somehow I can't bring myself to actually be fully loyal to Hilton Honors, and that has nothing to do with the program as such. What's holding me back?
For the most part I don't love Hiltons brands, and being loyal to Hilton would require staying at a lot of brands that I don't love
I perceive Hilton to have a lack of aspirational properties, so while I can earn tons of points and get status, there aren't that many hotels I want to redeem at; don't get me wrong, they have some properties that look good, like the Conrad Maldives, Waldorf Astoria Beverly Hills, etc., but I feel like on the high end their portfolio pales in comparison to their competitors
With that in mind, I think it's worth pointing out when awesome new hotels join their portfolio, since it potentially adds a lot of value to Hilton Honors points. The Maldives is one of the most aspirational and expensive vacation destinations out there, so any new points hotels there are exciting. Hilton is opening two new hotels in the Maldives in the next year — a Waldorf Astoria and a Curio Collection.
Waldorf Astoria Maldives
We've known since last year that a Waldorf Astoria will be opening in the Maldives in early 2019. The property will have 130 rooms, and will span three islands in the South Male Atoll, only 23 kilometers from the International airport. This means that the resort will be accessibly by speedboat.
There are pros and cons to the resort being so close to Male. The benefit is that you can easily reach the resort without having to take an expensive and time consuming flight. The downside is that generally the islands closest to Male won't provide the level of seclusion you get further away, and also won't be as pristine.
Waldorf Astoria used to have a property in the Maldives that has since closed, so this will be the first newly built Waldorf Astoria in the country.
Still, having a Waldorf Astoria in the Maldives will be an incredible opportunity for those redeeming points. Currently Hilton's most expensive hotels go from 95,000 points per night for a standard room, so I have to wonder whether they'll be charging higher prices for this property, or what.
The renderings of this property look gorgeous.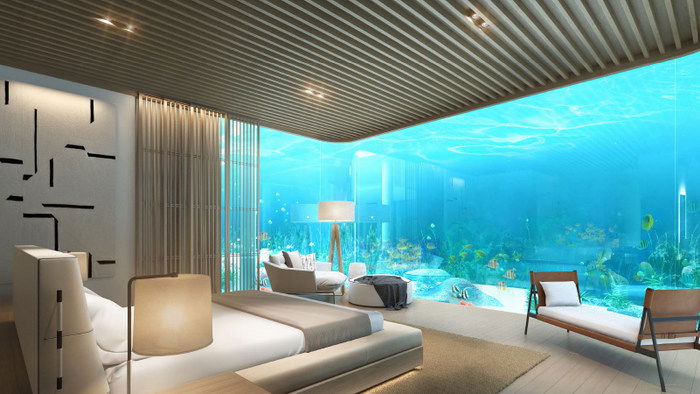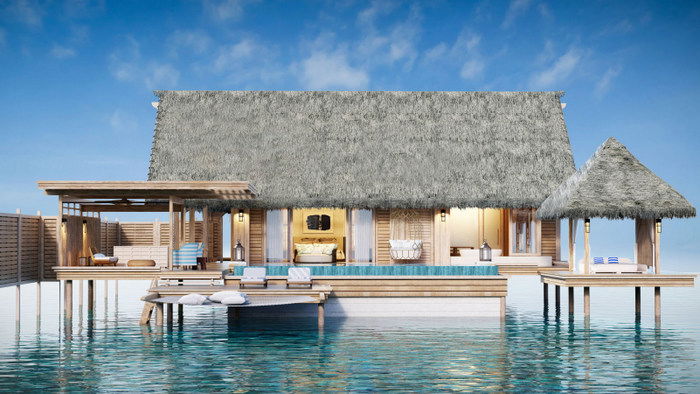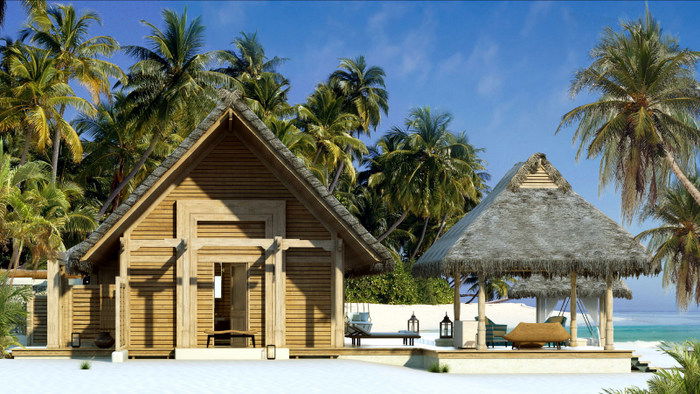 Curio Collection Maldives
The latest news is that later this year a Curio Collection by Hilton is expected to open in the Maldives. Curio Collection is Hilton's independent hotel brand, consisting of hotels that are supposed to be unique. The resort will be part of the CROSSROADS project, which is supposedly the first-ever integrated leisure and entertainment resort destination in the Maldives. The project will span nine islands, which sure looks… unique.
The resort will have 198 rooms, and will be a 15 minute speedboat ride away from the international airport.
It seems like this will be a very different Maldives experience than you'd find at most other resorts, and will probably have more of a party atmosphere. While most places in the Maldives are quiet and feel secluded, this probably won't have that feeling.
Bottom line
It's exciting to see two new Hilton brands add properties in the Maldives over the next year. As of now neither hotel is bookable, though once they are, I'm curious what pricing will be like. It's interesting that both hotels are so close to Male, which will make for a convenient transfer, but not be ideal if you're looking for seclusion. These are both also really big hotels by Maldives standards.
Still, I can't wait to check them out. Here's to hoping that neither of them costs more than 95,000 points per night.
(Tip of the hat to Traveling For Miles)